This recipe for Mushroom Alfredo features a lightened up flavorful Alfredo sauce with balsamic sautéed mushrooms and tender broccoli florets. Pasta Alfredo with Mushrooms and and Broccoli is a delicious meatless meal if you're a vegetarian, or maybe you're looking for a great recipe for Meatless Monday. You'll love how easy this pasta Alfredo recipe is to make!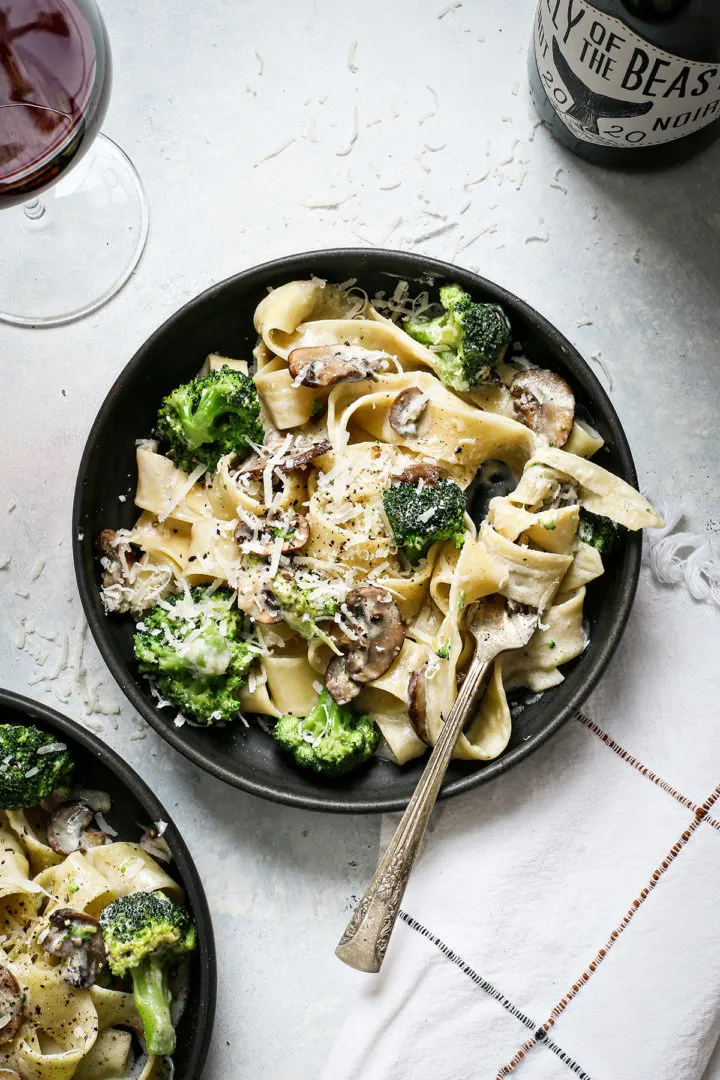 Making this Mushroom Alfredo with Broccoli
We made this recipe for Pasta Alfredo with Broccoli and Mushrooms a lot back when we had broccoli growing in our garden. I loved that it tasted like a nice Italian meal, but it was really simple to put together.
This Pasta Alfredo with Broccoli and Mushrooms doesn't contain any fancy ingredients, just good quality basics that most people probably have on hand.
I always substitute half and half for cream in Alfredo sauces. I don't like eating super heavy feeling meals and this lightens it up while maintaining that creaminess. You don't even notice the missing calories.
It's not health food, but this Pasta Alfredo with Broccoli and Mushrooms is a lightened version of a favorite and with the added vegetables it feels a little less indulgent.
2023 Recipe Update!
It's been thirteen years since I first posted this recipe! It is easily one of our teen boys' (at the moment, age 17 and 15) favorite recipes.
It is total comfort food to them, and they especially love it when we add grilled chicken for a chicken mushroom alfredo and serve it with crusty bread.
Tools to Make this Mushroom Alfredo Pasta Recipe
You'll need a few different tools to prepare this mushroom lovers pasta. Here's what I recommend having on hand before beginning this recipe:
Sharp Knife and Cutting Board – to cut the mushrooms and broccoli.
Measuring Cups and Spoons – to measure the ingredients for the mushroom alfredo sauce.
Large Sauté Pan – to sauté the mushrooms in and prepare the alfredo pasta sauce.
Large Pot – to cook the fettuccine pasta in.
Colander – to drain the cooked pasta
Wooden Spoon – to stir the pasta in the boiling water and to stir the alfredo sauce.
Wire Whisk – for whisking the parmesan into the cream mixture.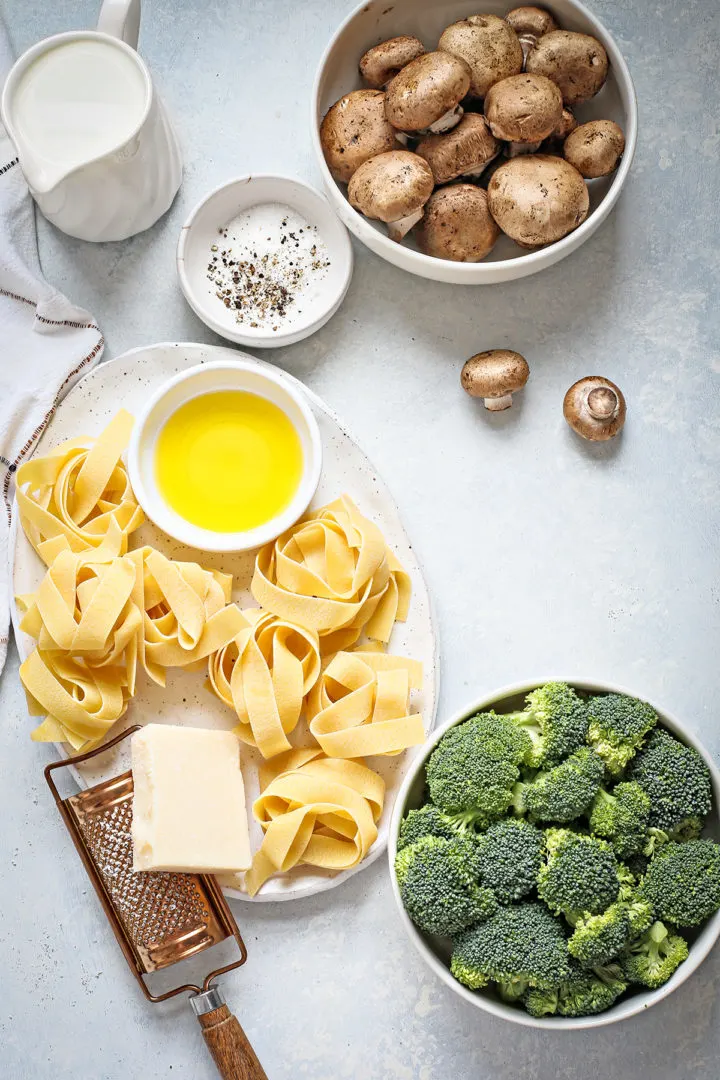 What is in this Broccoli and Mushroom Alfredo Recipe?
For this recipe, you'll prepare a creamy pasta sauce, cooked pasta, broccoli, and balsamic mushrooms.
Here's a quick overview what you'll need before getting started:
For the Alfredo Pasta Sauce
Half and Half
Heavy Cream
Unsalted Butter
Parmesan Cheese
Black Pepper
Salt
Nutmeg
Pasta
For the Mushrooms and Broccoli
Mushrooms
Balsamic Vinegar
Olive Oil
Fresh Broccoli Florets
For the complete ingredient list and detailed instructions, scroll to the bottom of this post for the FREE printable recipe card.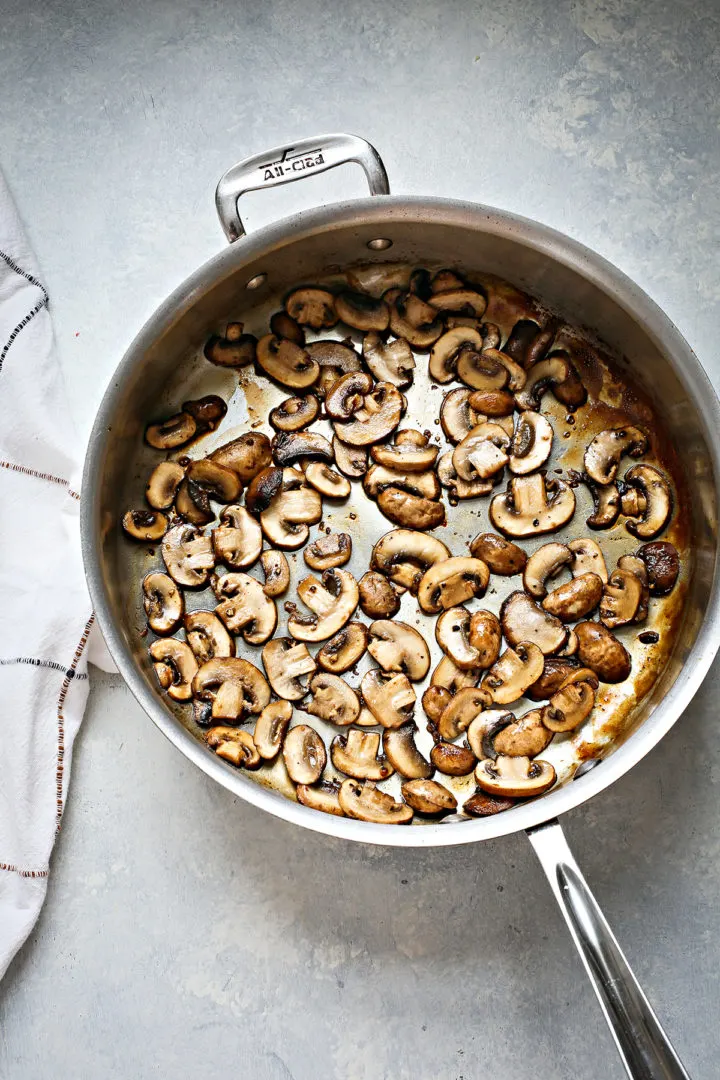 How to Make Pasta Alfredo with Mushrooms and Broccoli
First, you're going to sauté the mushrooms in olive oil with the balsamic vinegar.
Then, cook the pasta in a large pot of salted water until al dente according to package directions. Add the chopped broccoli florets to the pasta water in the last 2 minutes of the pasta cooking time.
While the pasta cooks, melt butter with the half and half in a large skillet. When it the butter has melted and the mixture is simmering, add the drained pasta and broccoli.
After that, stir in the heavy cream, parmesan, pepper, and nutmeg. Cook just until the sauce has thickened. Season with additional salt if desired and serve immediately.
The above is simply a quick summary of this recipe. Check out the full recipe in the free printable recipe card at the bottom of this post for all the detailed instructions.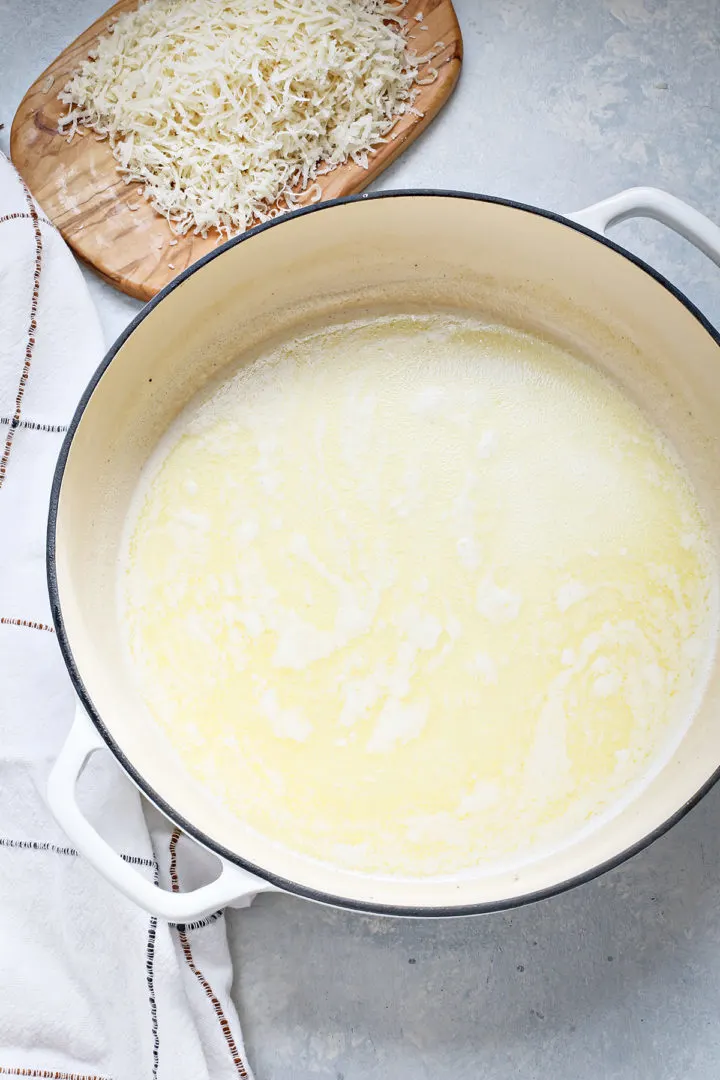 Creamy Homemade Alfredo Sauce Recipe FAQ
Got questions about how to make this pasta alfredo with mushrooms? Here are the answers to a few commonly asked questions. Feel free to leave any other questions in the comments on this post and I'll respond with answers.
What are the Best Mushrooms to Use?
We like cremini mushrooms or baby bella mushrooms best in this delicious meal, but you can also use button mushrooms just fine.
For best results, make sure you're using fresh mushrooms rather than dried or canned.
What Pasta Can I Use Instead of Fettuccine for Alfredo?
Fettuccine noodles are traditionally used when serving Alfredo sauce (that's why you'll often see it called Fettuccine Alfredo). They're especially good if you can find (or make!) fresh pasta.
When using shaped pasta, penne pasta is our favorite shape to use in this recipe. I love the way the sauce coats the pasta and the the tubes of penne end up filled with some of the sauce, too.
Feel free to choose your favorite noodles or shaped pasta when making this recipe. Fettuccine, Linguine, Penne, Farfalle (Bow Tie), and Rotini pasta are all great choices!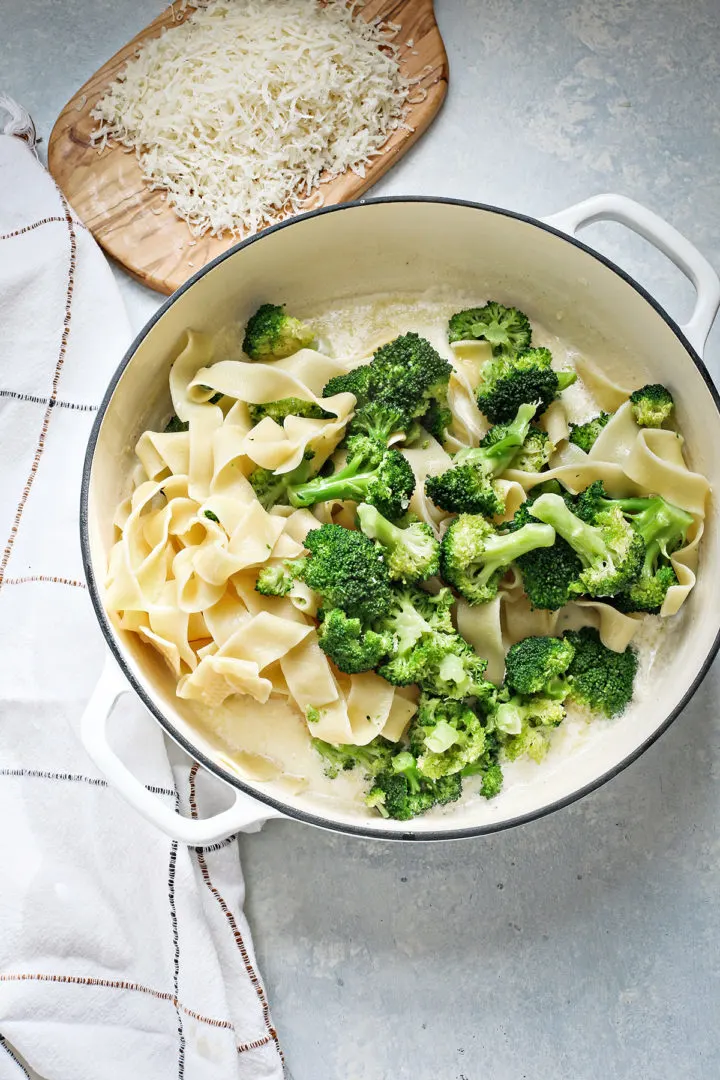 Is this Mushroom Alfredo Gluten-Free?
The sauce is gluten-free as long as you double check that your parmesan cheese doesn't contain any trace gluten. The only substitution you'll need to make is using your favorite gluten-free pasta.
How Do You Make Alfredo Sauce Less Thick?
You can easily thin a cream sauce if the recipe cooks thicker than your liking, or because tacky once slightly cooled. Here's how:
Reserve some of the hot pasta water before you drain the pasta. Set it aside in case you need it. If you need to thin the alfredo sauce, stir in some of the reserved water before serving to loosen the sauce up a bit.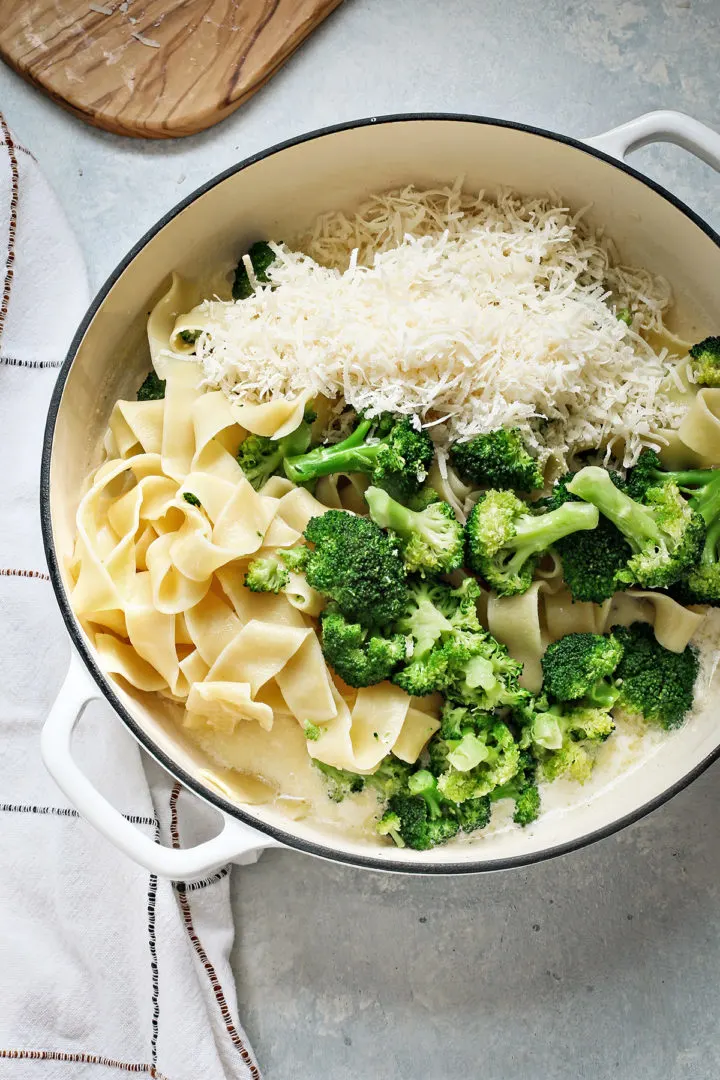 Can I Make a Lighter Alfredo Sauce?
Yes! This recipe for Alfredo sauce is already a tad lighter than traditional because it uses mostly half and half with a splash of heavy cream, but you can decrease the calories further if you'd like.
I have also tested this recipe substituting half and half in place of the heavy cream and this version also tastes delicious, but with slightly less calories.
Can You Freeze this Pasta Alfredo with Broccoli?
If you're freezing just the creamy Alfredo sauce, the answer is yes! I don't recommend freezing leftover pasta with the sauce on it. The sauce will separate and the reheated pasta will often come out mushy.
How to Freeze Alfredo Sauce
Cool the alfredo sauce to room temperature.
Transfer the sauce to an airtight container and freeze it.
Use within 3 months of freezing for best results.
Note: specific details are included in the notes section of the recipe card.
How to Reheat Frozen Alfredo Sauce
Note that cream sauces can have a tendency to separate after thawing from frozen state, so you will need to heat the sauce stovetop and whisk it well to reincorporate.
Cornstarch will also help the sauce re-mix after separating. Make a slurry with 1/4 cup of water and 2-3 teaspoons of cornstarch and then whisk that into the sauce as you reheat it.
Mushroom Alfredo Recipe Adaptations
This great thing about this Alfredo sauce recipe is that it is incredibly versatile. Want to switch things up and make this pasta Alfredo recipe your own? Here are some suggestions to get you started: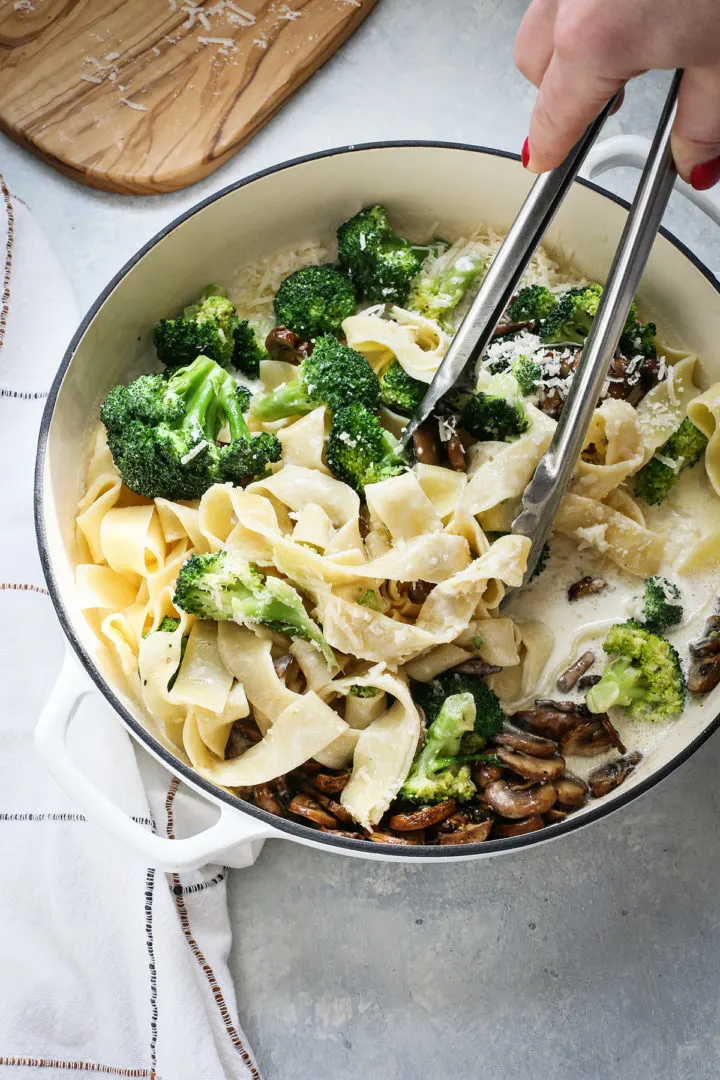 Adding Protein to this Pasta Alfredo Recipe
In the summer, we love to marinate chicken tenders with some balsamic vinegar and homemade pesto sauce, then grill them and slice them up to serve on top of a bowl of this pasta.
You can also cut bite-size pieces of boneless skinless chicken breasts, toss them with garlic powder, onion powder, Italian seasoning, salt, and pepper, then brown them in a cast iron pan. After cooking, stir the tender chicken into the pasta with the sauce and veggies.
Sliced Italian Sausage is another great protein add in when making this pasta Alfredo recipe. You can grill the sausage or cook it in a skillet.
Grilled, sautéed, or roasted shrimp would be another great add on. Depending on your flavor preferences, you could season the shrimp with the same flavor profiles recommended above for the chicken or you could also season it with cajun blackening seasoning.
Try Switching Up the Veggies
The veggies in this recipe can easily be swapped out depending on what's in season, what you have on hand, and personal preferences. Or you can leave the veggies out all together if you prefer.
Here are some ideas of other vegetables options that would go well in this recipe:
Asparagus
Fresh Spinach
Sun-dried Tomatoes
Fresh Shelled Peas
Zucchini or Yellow Summer Squash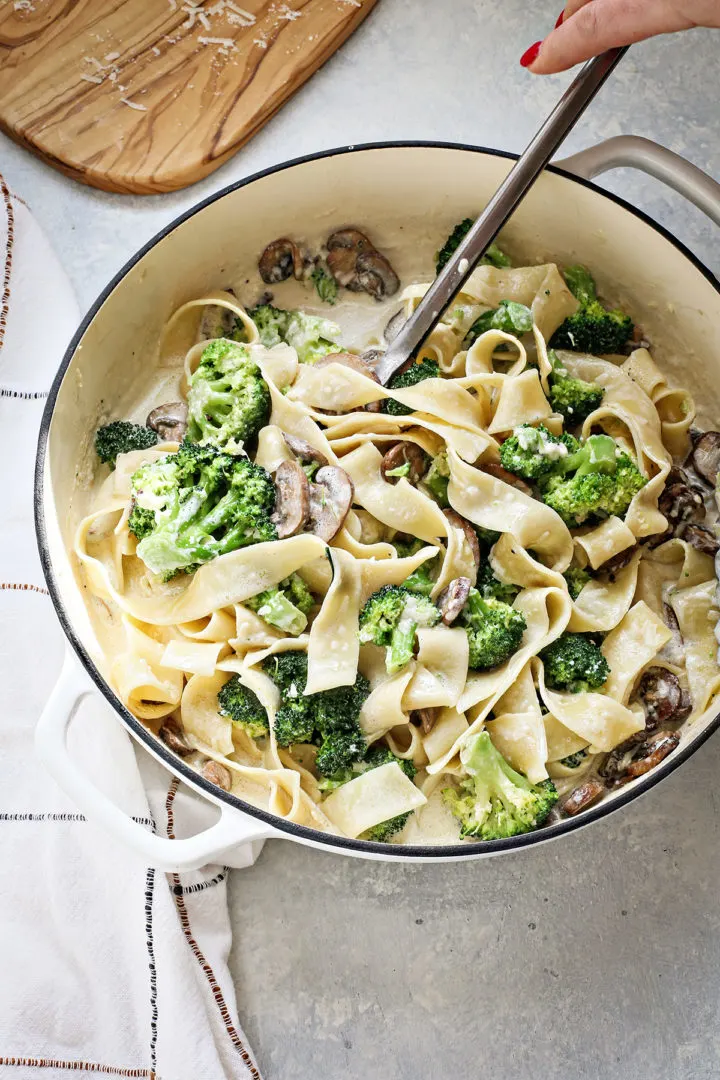 What to Serve with Mushroom Alfredo
This Pasta Alfredo with Broccoli is a pretty rich meal, so I don't think you need a lot to go with it. Aside from a protein, we usually just serve a side salad. Here are some ideas:
Side Salads to Serve with Pasta Alfredo
Bread Recipes that go with Mushroom Alfredo with Broccoli
If we are making this for a birthday meal or Logan is carb loading before a race I might also serve garlic bread alongside our Broccoli Alfredo Pasta. Here are a few favorite homemade bread recipes: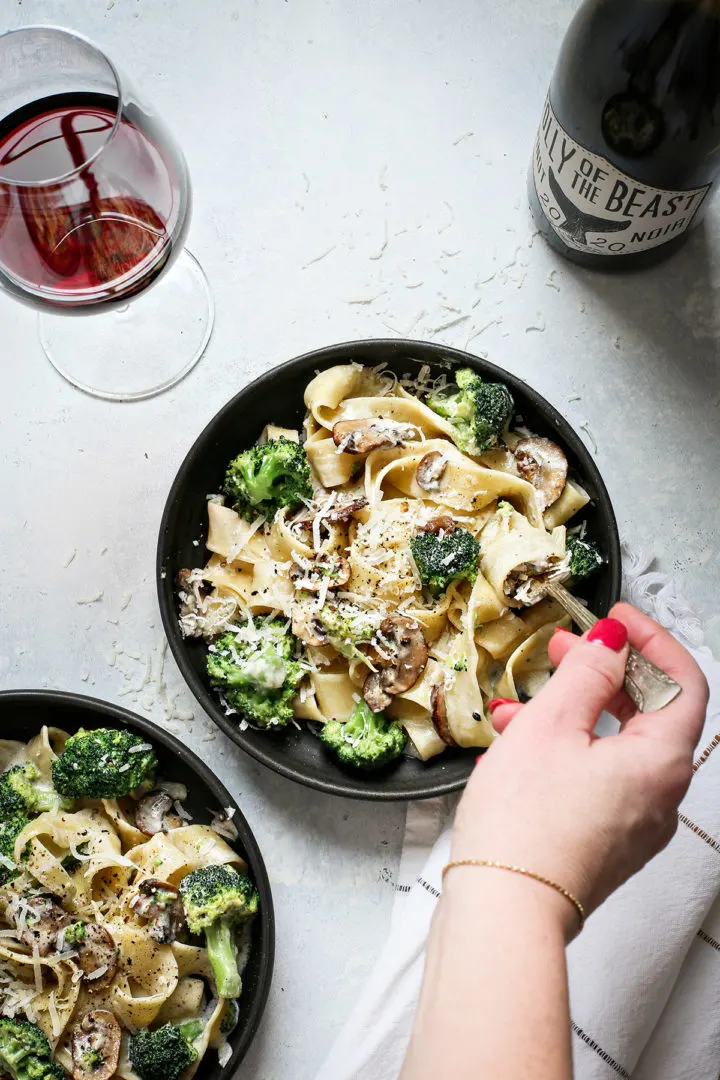 When to Serve Creamy Mushroom Alfredo
When we're cooking at home, this is a great recipe for a special occasion or a date night in.
But, I like that it is also simple enough that I can make it as an easy weeknight dinner for the family. As long as I've planned ahead and have the ingredients, it doesn't take too long to prepare.
Try this Delicious Mushroom Alfredo!
Next time you're looking for an easy appetizer to make for game day, give this creamy mushroom alfredo pasta a try!
Did you love the earthy mushrooms with the creamy alfredo sauce? Leave a comment below and give it a review for others to see what you thought of this great recipe.
On Instagram? Share your photo and tag me with @goodlifeeats and #goodlifeeatsrecipes. I'd love to see your photo of our favorite mushroom alfredo recipe!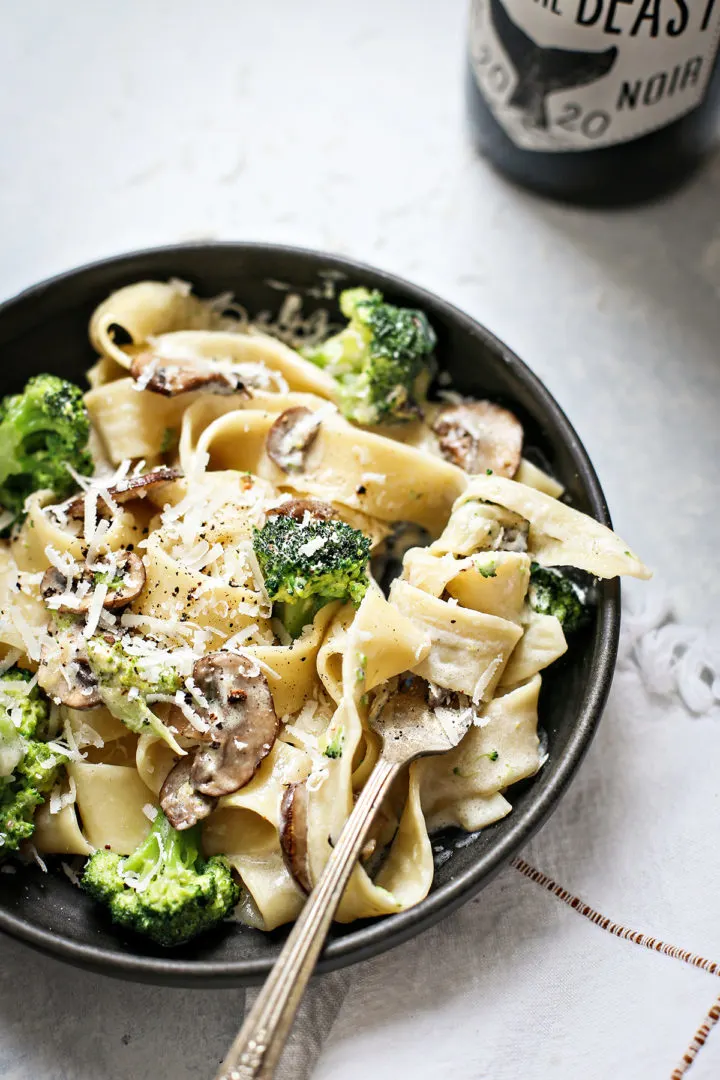 More Pasta Dishes
Looking for more easy pasta dishes? Here are a few that are popular with the whole family:
Italian Chicken, Mushroom, and Zucchini Skillet is a super easy dinner recipe for busy school nights. It features pan seared chicken tenderloins, zucchini and sliced mushrooms in garlicky herbed tomato sauce. Such an easy Chicken Skillet Recipe!
One Skillet Baked Ziti with Meat Sauce is the perfect, easy comforting pasta dish. Baking it in a single skillet makes for quick preparation and very minimal clean up. Perfect for a busy weeknight dinner!
This spicy Bow Tie Pasta with Sausage is made using a simple pasta formula that you can use to create your own pasta dishes in the future!
Arrabbiata Sauce is a simple, just-spicy-enough sauce you can make from pantry ingredients and serve with pasta – a great easy recipe when you need to get food on the dinner table fast.
Don't see what you're looking for here? You can always head over to check out the recipe index to look for more recipes.
Get New Recipe Ideas via Email
Did you love this recipe? Sign up to receive Good Life Eats Email Updates and never miss another recipe!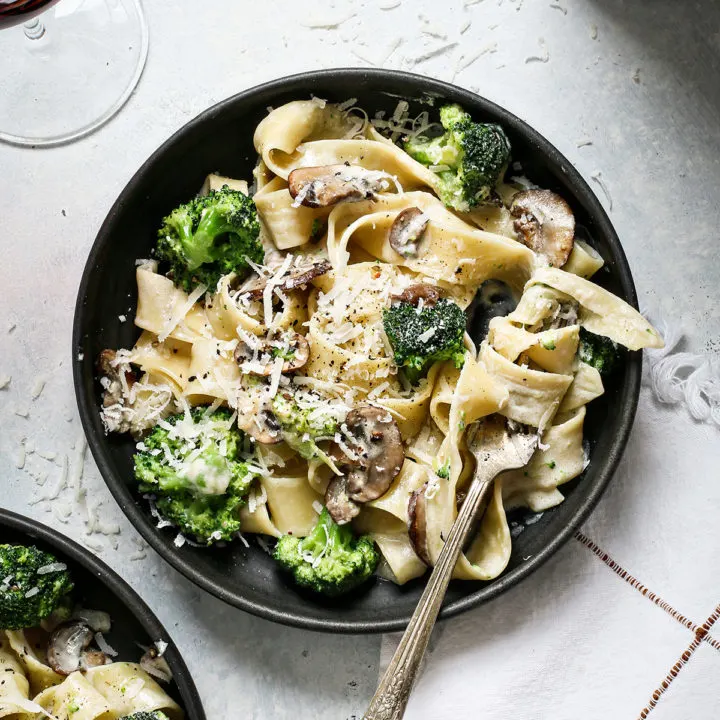 Mushroom Alfredo
This recipe for Mushroom Alfredo features a lightened up flavorful Alfredo sauce with balsamic sautéed mushrooms and tender broccoli florets.
Ingredients
For the Mushrooms and Broccoli
10 ounces Cremini or Baby Bella Mushrooms, sliced
1 tablespoon Balsamic Vinegar
1 tablespoon Extra-Virgin Olive Oil
2 - 3 cups, approximately, Broccoli Florets
For the Alfredo Sauce
1 2/3 c Half and Half
6 1/2 tablespoons Heavy Cream
6 tablespoons Butter
1 lb. Pasta (we love Fresh Fettuccini Noodles)
1 1/4 cup (2.5 oz.) fresh grated Parmesan
1/4 teaspoon Fresh Ground Black Pepper, or to taste
1/4 teaspoon Sea Salt, or to taste
Pinch of Ground Nutmeg
Instructions
Preparing the Mushrooms
In a large sauté pan, heat olive oil for sautéing, about a tablespoon.
Add the mushrooms, balsamic vinegar, and salt and pepper to taste (if desired)
Sauté until mushrooms are tender, have released their liquids and absorbed the vinegar.
Remove from the pan and set aside on a plate.
Cooking the Pasta
In a large stock pot, add 4 quarts of water and a tablespoon of sea salt. Bring to a boil.
Once the water is boiling, add the pasta, stirring to separate so it doesn't stick together, and cook to just under al dente (about 1 minute less according to package instructions).
Add the broccoli to the boiling water during the last 2 minutes of the pasta's cooking time.
Drain cooked pasta and broccoli and set aside.
Preparing the Pasta Alfredo
Combine 1 1/2 c of the half and half, butter, nutmeg, salt, and pepper in a sauté pan large enough to accommodate the cooked pasta (or the same one used for the mushrooms if large enough, giving it a quick rinse out first).
Heat the butter mixture over low until the butter is melted and the half and half is barely simmering. Stir periodically so the butter combines with the half and half as it melts.
Drain cooked pasta and broccoli and add it to the sauté pan.
Add the heavy cream, Parmesan cheese, and mushrooms.
Cook on low heat, tossing to combine the ingredients, until sauce is slightly thick, 2-3 minutes. Taste for seasonings, adding additional salt and pepper, if desired.
Serve immediately in heated pasta bowls.
Notes
Serving Tips:
for a prettier presentation, if desired, reserve the broccoli and mushrooms until after the pasta is combined with the sauce, then arrange as desired on individual servings of pasta or in a serving bowl full of pasta.
heat the pasta bowls in the oven on warm before serving the pasta. Heated pasta bowls will keep the mushroom alfredo nice and hot and help the pasta stay creamy.
Freezing Instructions:
The sauce can be frozen if not combined with pasta and vegetables.
To do so, add the heavy cream, parmesan cheese, and any additional salt or pepper after step 2.
Cook until sauce is creamy, thick, and cheese is melted and incorporated.
Cool the sauce to room temperature, then transfer to an airtight container(s) and freeze for up to 3 months.
Thaw overnight in the refrigerator and reheat on medium low in a saucepan, while stirring periodically so the bottom doesn't burn. Serve with pasta and veggies.
Nutrition Information
Yield

6
Serving Size

1
Amount Per Serving
Calories

396
Total Fat

23g
Saturated Fat

13g
Trans Fat

1g
Unsaturated Fat

9g
Carbohydrates

36g
Fiber

4g
Sugar

6g
Protein

13g
Favorite Pasta Night Recipes