We made this recipe for Pasta Alfredo with Broccoli and Mushrooms a lot back when we had broccoli growing in our garden.
I loved that it tasted like a nice Italian meal, but it was really simple to put together.
This Pasta Alfredo with Broccoli and Mushrooms doesn't contain any fancy ingredients, just good quality basics that everyone should have on hand.
I always substitute half and half for cream in alfredo sauces.
I don't like eating super heavy feeling meals and this lightens it up while maintaining that creaminess.
You don't even notice the missing calories.
I have been experimenting with whole wheat pasta to try to find a brand we like the best.
I can't remember which I used with this recipe.
Do you have a favorite?
It's not health food, but this Pasta Alfredo with Broccoli and Mushrooms is a lightened version of a favorite and with the added vegetables and whole wheat pasta it feels a little less indulgent.
If you're not so worried about indulgence.
Maybe it's a special occasion and you want to fancy it up a bit more, I think that some sliced Italian sausage would be a really tasty addition to the meal.
As is, Pasta Alfredo with Broccoli and Mushroomsa great meatless meal if you're a vegetarian or maybe just want to cut meat out once in a while by participating in Meatless Monday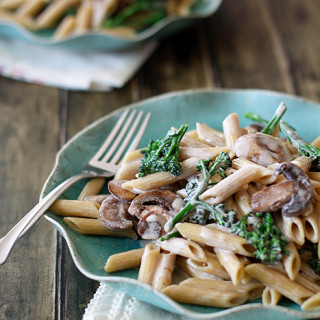 Pasta Alfredo with Broccoli and Mushrooms
This Alfredo sauce is a tad lightened up but every bit as rich and creamy. We use whatever pasta we have on hand and lo
Ingredients
10 ounces mushrooms, sliced
1 tablespoon balsamic vinegar
1 tablespoon olive oil
2 cups, approximately, broccoli florets
1 1/3 c half and half
1/3 cup whole milk
5 Tbs butter
1 lb. pasta
1 c (2 oz.) fresh grated Parmesan
ground black pepper
pinch of nutmeg
Instructions
In a medium saute pan, heat olive oil for sauteing, about a tablespoon.
Add the mushrooms, balsamic vinegar.
Add salt to taste, if desired.
Saute until mushrooms are tender and have absorbed the vinegar. Set aside.
Bring 4 quarts water to a rolling boil in a large pot.
Add 1 Tbs salt and the pasta to the water. Stir to separate pasta.
Cook pasta until almost al dente.
Add the broccoli to the boiling water during the last 2 minutes of the pasta's cooking time.
Combine 1 1/3 c of the half and half and the butter in a saute pan large enough to accommodate the cooked pasta.
Heat over low until the butter is melted and the cream comes to a bare simmer.
Turn the heat off and set aside. (I found that this took the length of the time it took the pasta to cook, so I never turned it off and set it aside).
Drain cooked pasta and broccoli and add it to the saute pan.
Add the 1/3 c of whole milk, Parmesan, pepper, and nutmeg.
Cook on very low heat, tossing to combine the ingredients, until sauce is slightly thick, 1-2 minutes.
Serve immediately in heated pasta bowls.
Nutrition Information
Yield

6
Serving Size

1
Amount Per Serving
Calories

396
Total Fat

23g
Saturated Fat

13g
Trans Fat

1g
Unsaturated Fat

9g
Carbohydrates

36g
Fiber

4g
Sugar

6g
Protein

13g
Favorite Pasta Night Recipes