Chicken Tetrazzini [Holiday Recipe Exchange]
Chicken Tetrazzini was one of the first recipes that I cooked for Eric before we were married. After his first bite he was convinced that I was a great cook. It's no secret here that I liked to remind him of this early memory and give myself a pat on the back once in a while.
In the past 10 years I've made many changes to the original recipe that my mom used to make for our family growing up. My remastered Chicken Tetrazzini recipe nixes the over salted, MSG laden Cream of Chicken soup in favor of a homemade creamy chicken sauce created from a roux, chicken broth and whole milk.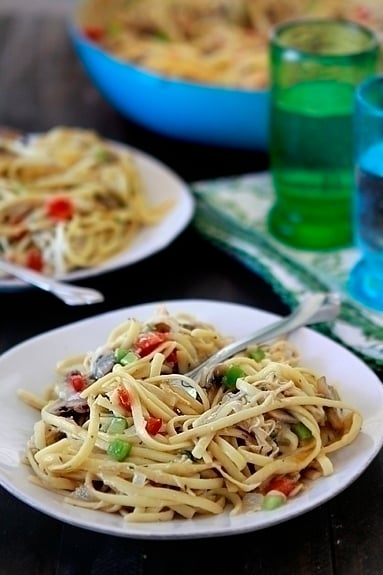 My mom never added mushrooms to her version of this recipe, but seeking to increase the vegetables and nutrients I have been adding mushrooms for a while. I think they are a great addition. I also opted for half red and half green bell peppers to add color to this otherwise monotone dish.
Chicken Tetrazzini is a great recipe to have in your files because it is so useful around the Holiday season. For my family, this recipe bakes up perfectly in the Le Creuset 3 1/2 quart braiser, one of my favorite pans for delicious one-pot comfort foods, but it is easily doubled to feed a crowd (use a larger pan for a double recipe) and simple to put together when you have leftover roasted chicken or turkey.
I am so excited for this theme because I love to cook hearty one pot meals in the winter months and I am a big fan of Le Creuset. If you haven't added any of Le Creuset's beautiful pieces to your collection yet, it's time to start saving. I love their gorgeous, vibrant colors and the enameled cast iron they're constructed from, which distributes heat slowly and evenly. I hope you'll take a moment to share your favorite One Pot Dish in this week's Holiday Recipe Exchange.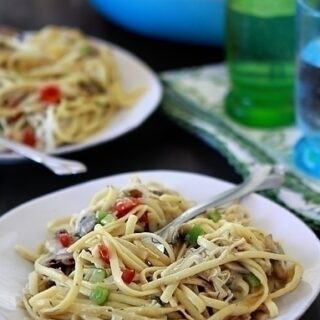 Ingredients:
3 tablespoons butter
1 stalk celery, diced
1 cup diced bell pepper - mix of red and green
1 yellow onion, diced
10 ounces sliced mushrooms
1 stalk celery, diced
1 cup diced bell pepper - mix of red and green
3 cloves garlic, minced
1/4 cup flour
3/4 cup whole milk
2 tablespoon sherry
2 cups chicken broth
2 teaspoons fresh thyme
1 tablespoon fresh parsley, minced
1/4 - 3/4 teaspoon salt, according to taste
1/4 - 1/2 teaspoon black pepper
1/4 teaspoon nutmeg
10 - 12 ounces spaghetti or linguini, cooked slightly less than al dente
3 cups cubed or shredded chicken or turkey
1 cup freshly grated Parmigiano Reggiano
1/2 cup sharp cheddar cheese
Directions:
Preheat oven to 400 degrees F.
In a large saute pan (I like to use a Le Creuset braiser), melt 1 tablespoon of butter. Saute the onion over medium heat until tender and golden, about 3-5 minutes. Add the mushrooms and celery and saute for about 5 minutes. Add garlic and bell pepper and saute for an additional minute. Transfer to a bowl and set aside.
Add remaining 2 tablespoons of butter to the pan. Whisk in the flour. Slowly add the milk, whisking as you pour. Then add the sherry and chicken broth, whisking to eliminate any lumps. Stir in the thyme, parsley, nutmeg, bay leaf, salt and pepper. Simmer for about 5 minutes, then remove and discard the bay leaf.
Return the vegetables along with the chicken to the pan and stir to combine. Add the pasta, stirring again and 3/4 cup of the Parmigiano Reggiano and the cheddar. Stir until well combined. Sprinkle the remaining 1/4 cup of cheese on top.
Cover with a lid or foil and bake in the oven at 400 degrees F until heated through and bubbly.
How To Participate
For a chance to win a 3 1/2 Quart Round Le Creuset French Oven:
Write and post a recipe on your blog featuring ONE POT MEALS.
Include "Come join the fun at the My Baking Addiction and GoodLife Eats Holiday Recipe Swap sponsored by Le Creuset." in your blog post.
No blog? Just leave your recipe in the comments section.
Add your link to the widget on either GoodLife Eats or My Baking Addiction (we have the same widget code, so only add it on one site).
Submit your post before Oct. 17, 11:59 PM.
Anyone can participate in the link up, but the prizes will ship to US addresses only.
More detailed info are available here.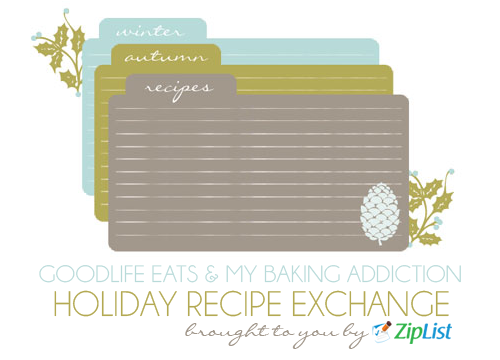 Link Up Your Recipes:
Love any of the recipes featured in today's Holiday Recipe Exchange? If so, be sure to to use the Ziplist Web Recipe Clipper to add your holiday favorites to your online recipe box.
This Week's Prize:
3 1/2 Quart Round Le Creuset French Oven (1 winner), provided by Le Creuset.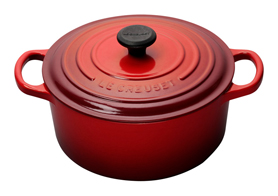 $180 Value.
Recipe Theme Schedule: