"How can I dress up my vegetables?
Is there a way to make them more interesting? I get tired of salads all the time."
That's a question I am asked quite frequently. And for a long time, I too, struggled with what to do with our side dishes. I mean, I could only take so many nights of steamed broccoli or basic green salads. I needed variety!
In time, I learned that there are many simple ways to make veggies interesting as a side. You don't have to follow some complicated recipe or create a whole new dish.
Instead, you just have to be creative about how you cook the vegetables and then think about the flavors you want to go with them.
FIRST: CHOOSE A COOKING METHOD

Grilled Vegetables
Summertime in our home brings lots of grilled vegetables, especially if I find myself grilling our main dish. It's easy to add the vegetables and it helps keep the mess outside.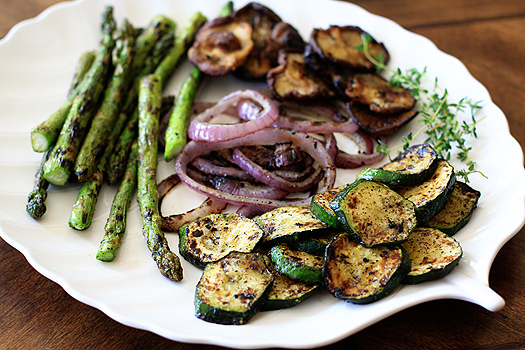 Larger vegetables can be placed directly on the grill grates without needing skewers, but you can also use one of those grilling trays made for vegetables, or wrap the vegetables in foil.
Grilled Red Potatoes with Rosemary in a foil packet is a favorite summertime side of ours. Last summer I experimented with Grilled Baby Artichokes and cooked these directly on the grill.
Roasted Vegetables
With the cooler temperatures of fall and winter, I'm often looking for more reasons to turn the oven on to add a cozy warmth to the kitchen. Roasting vegetables becomes my method of choice.
Roasted vegetables acquire a nice subtle, sweet flavor that enhances the vegetables without adding a lot of fat or calories. You can simply toss a vegetable with oil and roast it.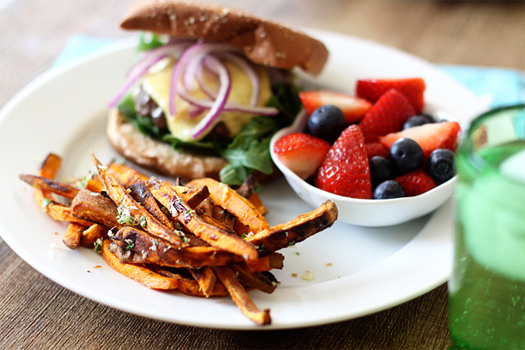 If you want to be more creative, you can add other flavor elements like I did in these Honey Balsamic Roasted Carrots.
Although I tend to rely on roasting in the cold weather months, you can easily roast vegetables in a large toaster oven in the summer without worrying about overheating the house. Try these Roasted Sweet Potato Fries with Parmesan as a side with our burgers in the summer.
Sauteed or Stir-Fried Vegetables
When I want to cook my vegetables stove-top but don't want them steamed (or boiled – yuck) I saute them in a cast-iron skillet or large stainless steel frying pan.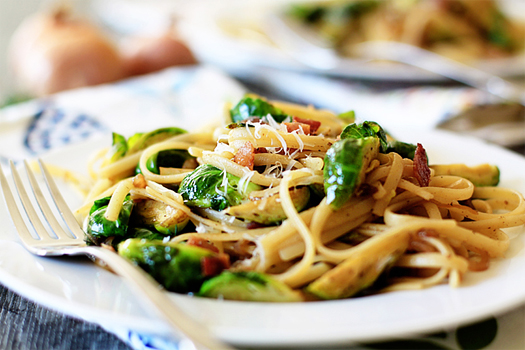 Brussels sprouts that are sautéed with bacon and shallots are so much better than steamed sprouts.
In this recipe for Brussels Sprouts, I've taken a side dish of sautèed Brussels sprouts and turned it into a main dish by adding pasta. Just follow the recipe formula, minus the pasta, for a great side dish.
SECOND: CHOOSE FLAVOR ADD INS
As you feel more confident in the kitchen, you will definitely want to experiment with a combination of the above choices, and maybe you'll think of more options and add-ins that work for you.
Here are a few of my favorite add in ideas, but you can certainly experiment beyond this list!
Fat and Acid
Adding fats and acids to a vegetable – it can be steamed, roasted, grilled or sautéed – adds a lot of flavor. I especially love to grill summer squashes and drizzle them with olive oil and balsamic vinegar.
It's fun to experiment with different acids (flavored vinegars, soy sauce, and citrus juices work great) and fats (oils, butter, browned butter, bacon drippings are all complimentary to many vegetables).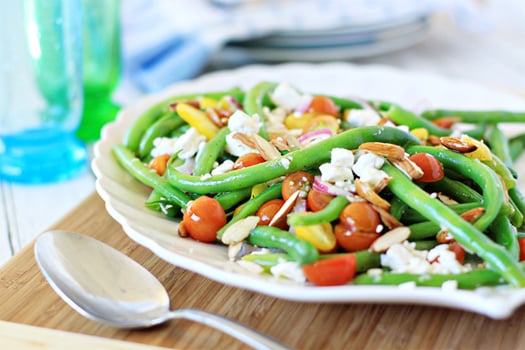 Green Beans with Feta, Tomatoes, and Almonds
Fresh Herbs and Spices
Fresh herbs and bold spices can bring out flavor and complexity to the simplest of vegetable sides. Cumin and Chili Powder are surprisingly good with roasted sweet potatoes for a Mexican side.

The Flavor Bible is a great resource for coming up with unique flavor pairings. Just look up any ingredient and check out their "matches."

Partner Vegetables
Vegetables can often be made more exciting by pairing them with a partner. Try pairing two complimentary vegetables together, such and zucchini and tomatoes in the summer. In the winter, caramelized shallots go great with broccoli, green beans, Brussels sprouts, and more.
Garnish with Cheese and/or Nuts
Add cheese – that's pretty simple. Mozzarella, parmesan, blue cheese, feta, and goat cheese…there are so many choices!
Nuts are a great way to add a little more excitement and texture to a vegetable. Toss toasted almonds or pine nuts with roasted broccoli.
More Side Dish Vegetable Recipes
How do you dress up your vegetable side dishes to keep from getting bored?