Linguine with Brussels Sprouts, Bacon, and Shallots
We spent last Monday at the Botanic Gardens with the kids. It was a lot of fun, though exhausting because it was 90 degrees without a cloud in sight that day. On the way home we drove past Whole Foods and decided to stop since I had a list of fruits and vegetables I needed to buy. The nearest Whole Foods is a good 35 minutes from our house so we don't often go.
We've really been working with Logan on trying new foods ever since I found out about all the foods his teacher said he would eat at school during snack time. Foods he would never eat for us. I told him that anytime he saw a new food at the grocery store that looked interesting he should tell me that he wanted to try it. This time it was Brussels sprouts. Surprised? Me too!
I knew that by the time we would get home it would be pretty late and we weren't really that hungry because we had stopped for frozen custard after the Botanic Gardens. But I felt like we needed to eat some real food. Browsing the How to Cook Everything iPhone app (highly recommend this!) while Eric drove so I could get a head start on dinner, I found a recipe for Sauteed Brussels Sprouts with Bacon. Incidentally, Logan has also been asking to try bacon.
I decided to turn this simple and quick side dish into an easy main dish for us to eat. Logan didn't like the Brussels sprouts or bacon, though at least he tried them – that's a huge improvement! Madeline only wanted the bacon. And Eric and I loved the whole meal. We even had it again the next day (I needed pictures of the success!) and still loved it. I never knew that bacon would compliment the sprouts so well and I think the shallots really rounded out the flavors.
I hope the Brussels sprouts in our garden do well so we can enjoy this dish many more times.
Linguine with Brussels Sprouts, Bacon, and Caramelized Shallots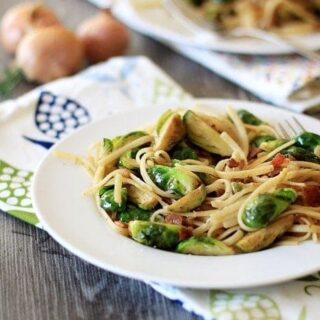 Ingredients:
8 ounces center-cut bacon, chopped*
1 lb. brussel sprouts
1 tablespoon balsamic vinegar
6 shallots, halved and sliced thin
10 ounces linguine, cooked according to package instructions
1 tablespoon fresh thyme leaves
1/2 teaspoon sea salt, plus more to taste (if desired)
1/2 teaspoon black pepper
freshly grated Parmesan, for serving
Directions:
Wash the Brussels sprouts Cut each Brussels sprouts into quarters, cutting from the top of the sprout to the bottom (not horizontally). Set aside.
Cook the bacon in a large skillet over medium heat until crisp, about 7-10 minutes. When done, discard about 1/4 of the rendered fat. Keep the remaining in the skillet along with the bacon. Stir in the shallots and saute over medium heat until tender and caramelized, 3-5 minutes.
Add the sprouts and 1/4 cup of water to the pan. Season with salt and pepper, turn the heat to medium, and cook covered and undisturbed for about 3-5 minutes. Sprouts should be nearly tender.
When the sprouts are ready, uncover and turn the heat to medium-high. Cook until excess water has evaporated and sprouts have reached desired tenderness – but do not overcook. Remove from heat. Stir in the pasta, balsamic vinegar, thyme, and additional salt (if desired).
Serve immediately and top with freshly grated Parmesan.
*Note: I prefer center-cut bacon in most all recipes because it has less fat and calories with all the great taste of bacon.