Maple Chipotle Roasted Sweet Potatoes and Brussels Sprouts
At my house, we are of the opinion that a good side dish can make or break a meal. A piece of meat or fish isn't anything special until you add a delicious side dish and then you've got a meal worth talking about.
These Maple Chipotle Roasted Sweet Potatoes and Brussels Sprouts are the kind of vegetable side dish that has everyone asking for seconds!
written by Allison of Some the Wiser
Creating this recipe for Maple Chipotle Roasted Sweet Potatoes and Brussels Sprouts
Roasted vegetables are one of my most favorite types of side dishes. This time of year, there are so many good roasting vegetables to choose from too!
After buying a great big bag of Sweet Potatoes last week, we are adding sweet potatoes to everything. They are healthy, but because they are so naturally sweet, my kids love them too.
Pairing the Brussels Sprouts with delicious Sweet Potatoes ensures that the kids end up eating more veggies.
To make these roasted veggies stand out, I coated them in a blend of butter, maple syrup and ground chipotle pepper.
After roasting, both the sweet potatoes and Brussels sprouts are crispy on the outside, tender on the inside and sweet spicy all over. So tasty!
We've been enjoying this side dish at dinner regularly since the weather turned cold here a few weeks ago. It's simple enough for weeknight dinners, but delicious enough to show up with it at Thanksgiving. I added this to our Thanksgiving dinner lineup the first time I made it – it was that good.
Speaking of Thanksgiving, I can't believe it's here already. If you're still scrambling to pull last minute details together like I am, this easy side dish is something you can pull together without much thought.
More Brussels Sprouts Recipes
Roasted Brussels Sprouts with Bacon and Balsamic are a fantastic side dish that is full of delicious flavor — caramelized, roasted Brussels sprouts, savory bacon, and tangy balsamic vinegar.
This recipe for Linguine with Brussels Sprouts, Bacon, and Shallots is a simple way to enjoy the delicious flavors of caramelized brussels sprouts with bacon.
Rainbow Winter Quinoa Bowls with Maple Dijon Balsamic Dressing features lots of delicious winter produce, like brussels sprouts, and hearty Organic Tricolor Quinoa for a filling, satisfying meal.
Dinner just got super quick and easy thanks to this Fall Sheet Pan Pork Tenderloin with Honey Balsamic Roasted Vegetables. It features carrots, golden beets, red onion, Brussels Sprouts, and parsnips.
Did you love this post?
Sign up for Good Life Eats email updates and never miss another update!
Maple Chipotle Roasted Sweet Potatoes and Brussels Sprouts
Yield: 6
Prep Time:10m
Cook Time:40m
Total Time:50m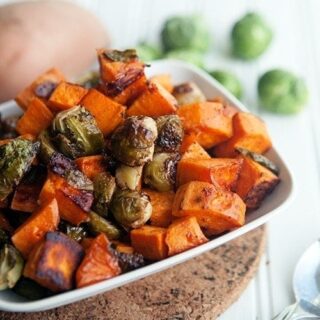 Ingredients:
2 medium sweet potatoes, peeled and cubed
1 1/2 pounds Brussels sprouts, ends removed, halved
2 tablespoons butter, melted
2 tablespoons maple syrup
1/2 to 1 teaspoon ground Chipotle pepper, or to taste
1/2 teaspoon salt
Directions:
Preheat oven to 350 degrees Fahrenheit. Grease a large sheet pan or line with parchment paper or foil.
Combine the cubed sweet potatoes and quartered sprouts in a large bowl. Combine the remaining ingredients in a small bowl and stir. Pour the butter mixture over the veggies and toss until completely coated. Pour onto prepared sheet pan and roast for 30 to 40 minutes, stirring the pan halfway through.