Roasted Garlic Cauliflower Mashed Potatoes
Roasted Garlic Cauliflower Mashed Potatoes are anything but traditional. They're are ramped up with the flavors of roasted garlic, cauliflower puree, and the smoothness of cream cheese.
Plain old traditional Mashed Potatoes are awesome. Classics are always well received at the Thanksgiving table. There's a reason that they are tried and true favorites. Who doesn't love a fluffy pile of potato goodness with a dollop of softened butter on top?
Chances are your family has a way of making mashed potatoes that just isn't to be messed with. But, I will tell you that these Roasted Garlic Cauliflower Mashed Potatoes are so awesome that your family might not even care if you deviate from your norm. Regular old Yukon Gold Potatoes are enhanced with the perfection that is roasted garlic and the nutty flavor of roasted cauliflower puree.
I first started making these Roasted Garlic Cauliflower Mashed Potatoes a few years back when I didn't have quite enough potatoes to make the quantity of mashed potatoes that I wanted. So I supplemented with some roasted cauliflower puree to give me a little extra volume – and to convince myself that they were "healthier" than regular mashed potatoes.
Whether they're "healthier" or not is up to debate. But, hey, it's Thanksgiving month and what matters is that they taste great! I hope you'll give them a try.
More Mashed Potato Recipes For Thanksgiving
If you're looking for additional mashed potato inspiration for your Thanksgiving Menu this year, here are a few other favorite recipes. Be sure to check out the whole Thanksgiving Recipes Archive right here if you need help building the rest of your menu.
Blue Cheese Rosemary Mashed Potatoes are your favorite Russet Potato Mashed Potatoes after a surprising and flavorful makeover. With the addition of pureed cannellini beans, plenty of salty gorgonzola cheese, and fresh rosemary you go from yum to YUM!
Browned Butter Parmesan Mashed Potatoes are your classic mashed potatoes elevated.. This recipe is ramped up with the nutty flavors of browned butter and parmesan.
Mashed potatoes can often be quite boring in terms of appearance, so I love the little flecks of green chives scattered throughout these creamy Mascarpone Chive Mashed Potatoes, not to mention the fresh taste they add to the recipe. If you can't find mascarpone, traditional cream cheese is a simple and readily available substitute.
Greek Yogurt Mashed Potatoes use Greek yogurt instead of sour cream or cream cheese to make the potatoes extra creamy; they're healthier thanks to the addition of the yogurt and plenty rich. Surprise! There is no butter added! Feel free to add some if you prefer.
Or for something a little different, try Cream Cheese Chive Duchess Potatoes –  delicious, individually portioned mounds of mashed potatoes that have been baked. Inside they're creamy and fluffy while the outside is beautifully golden and crisp. The kids love these!
Roasted Garlic Cauliflower Mashed Potatoes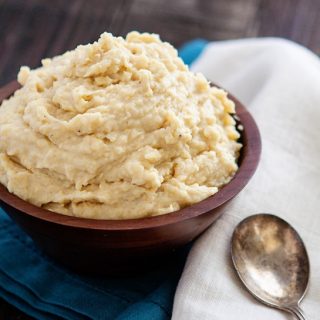 Ingredients:
1 lb. cauliflower, cut into florets and roasted
1 cup whole milk
1/3 cup chicken broth
6 tablespoons butter, softened
6 ounces cream cheese, softened
2 lbs. Yukon Gold potatoes, peeled and quartered
2 dried bay leaves
1 teaspoon salt (for the water)
1 head roasted garlic cloves
salt and pepper, to taste
Directions:
For instructions on how to roast cauliflower, please see: Easy Roasted Cauliflower.
After roasting the cauliflower, add it to a blender with the milk, chicken broth, butter, and cream cheese. Blend until completely smooth. Transfer to a large mixing bowl.
Add potatoes to a large stockpot with hot water. Add the bay leaves and 1 teaspoon of salt. Bring to a boil, then lower to simmer and allow to cook until the potatoes are very tender, approximately 20-30 minutes.
Once potatoes are tender, drain the water and discard the bay leaves. Press the potatoes and the roasted cloves through a potato ricer (I use the OXO Good Grips Potato Ricer) and into the bowl with the cauliflower mixture. Stir to combine. Taste for seasonings and add salt and pepper, if desired.
Bake covered with foil in a 350 degree oven until heated through or keep warm on low in a slow cooker. Serve.
Notes:
Tip: To roast garlic, cut the top off of the whole head, just enough to expose the cloves inside, and remove some of the outer peel. Place on top of a 6x6 inch square of foil. Drizzle with 2 teaspoons olive oil. Fold the foil inward to completely wrap the garlic. Bake at 375 degrees F for 30-40 minutes, until the cloves are golden, soft and fragrant. Remove the cloves from the head and set aside.