Classic buttery russet potato mashed potatoes are elevated thanks to the addition of plenty of browned butter and fresh grated parmesan in this Browned Butter Parmesan Mashed Potatoes. They're perfect for Thanksgiving!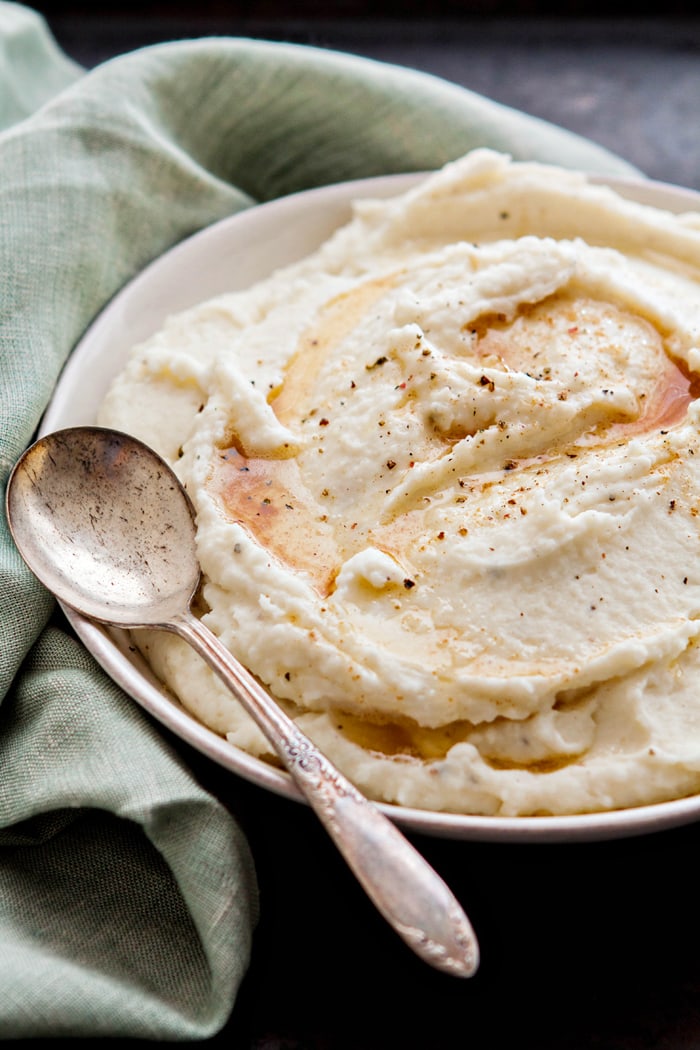 Save this recipe for Browned Butter Parmesan Mashed Potatoes to Pinterest!
This post was first published November 9, 2017 and the original text remains. This year we will not be traveling for Thanksgiving, but plan to have a quiet Thanksgiving home with our 4 kids.
Creating this recipe for Browned Butter Parmesan Mashed Potatoes
September flew by, then October was over in the blink of an eye, and now we are already almost half of the way through November.
I wish time would just slow down a little bit because before you know it it will be Thanksgiving!
This year is going to be a little different for us on Thanksgiving because we won't have any of the kids home with us.
I've hosted more Thanksgiving Dinners during my adult years than I've been a guest at, but we won't be hosting this year, in fact we won't even be in Colorado or with family for Thanksgiving.
I have the awesome opportunity to go with Kevin to Alaska to visit some of the soliers under his command for Thanksgiving.
I'm so glad we have the opportunity to take part in the awesome tradition of senior leaders serving holiday meals to the troops! Plus, I've never been to Alaska (Kevin has traveled there many times already during the last year).
It will be a neat trip that I'm really looking forward to!
Mashed Potatoes: a Tried and True Favorite!
I'm sure we will be serving mashed potatoes as part of the meal, because you really can't have Thanksgiving Dinner without mashed potatoes. Plain old traditional Mashed Potatoes are awesome.
I don't think there are many people who would turn down a holiday classic like that. They're always a crowd pleaser, and pretty easy to make.
There's a reason that Mashed Potatoes are tried and true favorites. Who doesn't love a fluffy pile of potato goodness with a dollop of softened butter on top?
Bonus points if you have some really delicious gravy to pour over top (check out my tips for how to make turkey gravy with no lumps!).
Chances are your family has a way of making mashed potatoes that just isn't to be messed with. But, maybe this is the year to change things up just a tad with this recipe for Browned Butter Parmesan Mashed Potatoes.
They're so good that your family might be ok with your deviation from the norm.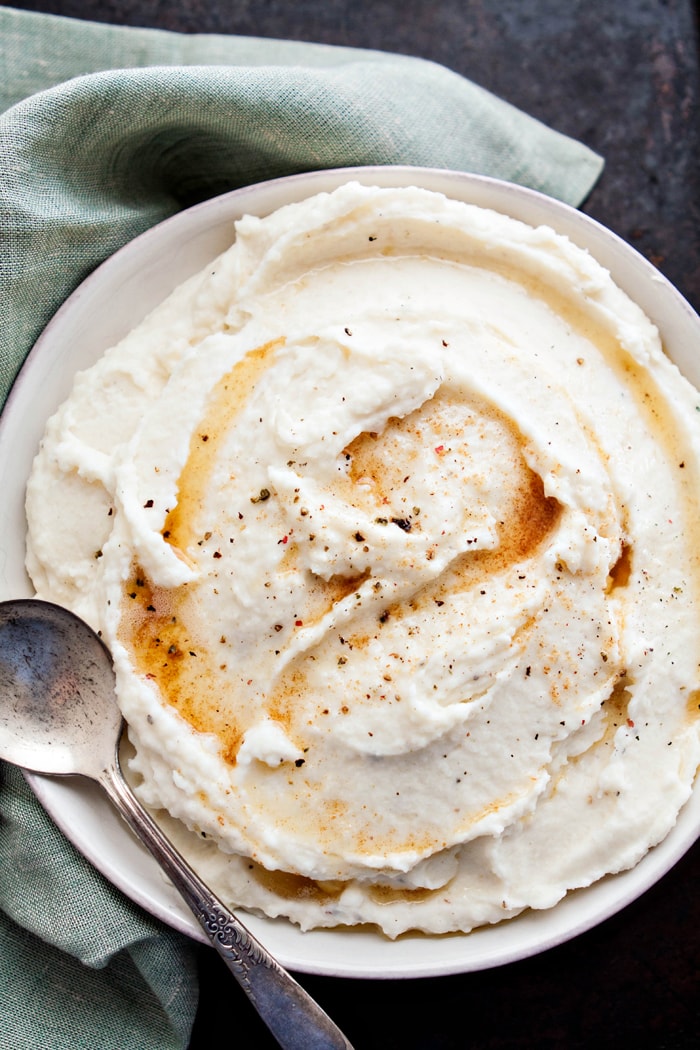 Save this recipe for Browned Butter Parmesan Mashed Potatoes to Pinterest!
Ingredients for Browned Butter Parmesan Mashed Potatoes
To make these amazing mashed potatoes, you'll need some simple ingredients, most of which are pretty traditional:
Russet Potatoes
Bay Leaves
Butter
Whole Milk
Fresh Parmesan Cheese
Kosher Salt
Black Pepper
For the complete ingredient list and detailed instructions, scroll to the bottom of this post for the FREE printable recipe card.
How to Make Browned Butter Parmesan Mashed Potatoes
At first glance at the recipe ingredients, these Browned Butter Parmesan Mashed Potatoes don't look a ton different from your basic mashed potato recipe. The two key differences lie in the technique!
Browning the butter, not just melting it, gives it a delicious, rich, and nutty flavor. In addition to using this butter in the mashed potatoes, you'll reserve some of the browned butter to drizzle on top of the potatoes because the golden butter looks really pretty over the top.
The second key difference is the addition of some fresh grated parmesan cheese, please don't use the canned stuff for this, which adds some great flavor paired with the fluffy potatoes and nutty golden brown butter.
What is the Best Way to Mash Potatoes
My favorite tip for the best mashed potatoes is to invest in a Potato Ricer. I started using one about 7 years ago and it makes a huge difference.
When you use a Potato Ricer, your potatoes will be fluffier and won't develop a glue-y texture that over-mashed mashed potatoes can often develop.
You'll be so happy with the results. Plus, it is kind of a cool kitchen gadget to use. My kids actually love to help with this task!
More Mashed Potato Recipes For Thanksgiving
If you're looking for additional mashed potato inspiration for your Thanksgiving Menu this year, here are a few other favorite recipes.
Be sure to check out the whole Thanksgiving Recipes Archive right here if you need help building the rest of your menu.
Blue Cheese Rosemary Mashed Potatoes are your favorite Russet Potato Mashed Potatoes after a surprising and flavorful makeover.
With the addition of pureed cannellini beans, plenty of salty gorgonzola cheese, and fresh rosemary you go from yum to YUM!
Roasted Garlic Cauliflower Mashed Potatoes are anything but traditional mashed potatoes.
This recipe is ramped up with the flavors of earthy roasted garlic, nutty roasted cauliflower puree, and the smoothness of cream cheese.
Mashed potatoes can often be quite boring in terms of appearance, so I love the little flecks of green chives scattered throughout these creamy Mascarpone Chive Mashed Potatoes, not to mention the fresh taste they add to the recipe.
If you can't find mascarpone, traditional cream cheese is a simple and readily available substitute.
Greek Yogurt Mashed Potatoes use Greek yogurt instead of sour cream or cream cheese to make the potatoes extra creamy; they're healthier thanks to the addition of the yogurt and plenty rich.
Surprise! There is no butter added! Feel free to add some if you prefer.
Or for something a little different, try Cream Cheese Chive Duchess Potatoes – delicious, individually portioned mounds of mashed potatoes that have been baked.
Inside they're creamy and fluffy while the outside is beautifully golden and crisp. The kids love these!
What is your favorite mashed potato recipe for Thanksgiving?
Love this recipe for Browned Butter Parmesan Mashed Potatoes?
Sign up for Good Life Eats email updates and never miss another recipe!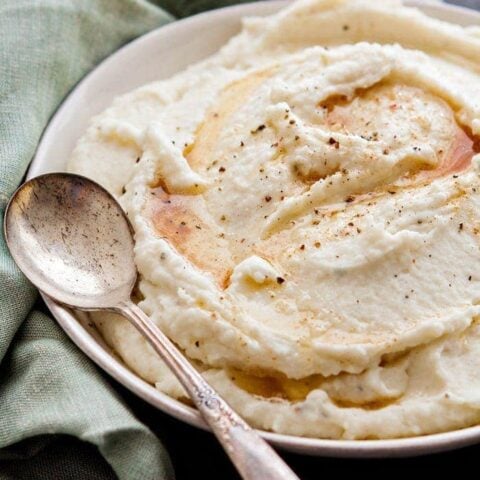 Browned Butter Parmesan Mashed Potatoes
Classic buttery russet potato mashed potatoes are elevated thanks to the addition of plenty of browned butter and fresh grated parmesan in this Browned Butter Parmesan Mashed Potatoes. They're perfect for Thanksgiving!
Ingredients
3 pounds Russet Potatoes, peeled, cut in chunks
2 Dried Bay Leaves
8 tablespoons Butter, sliced
1 1/4 cup Whole Milk, warmed
1/2 cup Finely Grated Fresh Parmesan Cheese
1/2 - 1 teaspoon Kosher Salt, according to preferences
1/4 - 1/2 teaspoon Black Pepper, according to preferences
Instructions
Add the potatoes to a large stockpot with hot water. Add the bay leaves and 1/2 teaspoon of Kosher Salt to the water. Bring to a boil, then lower to simmer and allow the potatoes to cook until they are very tender, approximately 20-30 minutes.
While the potatoes cook, brown the butter. To brown the butter: Place a large heavy-bottomed skillet over medium heat. Add the butter to the hot skillet and melt, whisking frequently. As the butter cooks, it will foam up a bit. Continue cooking and light browned specks will form at the bottom of the pan. The butter is done "browning" when it has a nutty smell and is golden brown.
Combine half of the butter in a large bowl with the whole milk. Set aside.
Once potatoes are tender, drain the water and discard the bay leaves. Press potatoes through a potato ricer (I use the OXO Good Grips Potato Ricer) and into the bowl with the butter and milk mixture. Add the parmesan cheese and stir to combine. Taste for seasonings and add salt and pepper, if desired.
Transfer the potatoes to a serving bowl and drizzle the remaining browned butter over top.
Notes
If the potatoes are too thick, add additional milk until desired consistency is reached.
If needed, this can be prepared ahead of time and stored in the refrigerator for up to 48 hours. Reheat to serve - a foil covered baking dish works well in the oven.
Recommended Products
As an Amazon Associate and member of other affiliate programs, I earn from qualifying purchases.
Nutrition Information
Yield

6
Serving Size

1
Amount Per Serving
Calories

457
Total Fat

22g
Saturated Fat

13g
Trans Fat

1g
Unsaturated Fat

7g
Cholesterol

60mg
Sodium

829mg
Carbohydrates

54g
Fiber

5g
Sugar

5g
Protein

12g
GoodLifeEats.com offers recipe nutritional information as a courtesy and is an estimate only. This information comes from online calculators. Although GoodLifeEats.com makes every effort to provide accurate information, these figures are only estimates.
Be sure to follow Good Life Eats on Instagram. Tag @goodlifeeats and include the hashtag #goodlifeeatsrecipes so I can see what you're cooking up in YOUR kitchen!
Did you make this recipe? I'd love to hear what you thought! Leave me a comment below.
Save this recipe for Browned Butter Parmesan Mashed Potatoes to Pinterest!