Browned Butter Rosemary Popcorn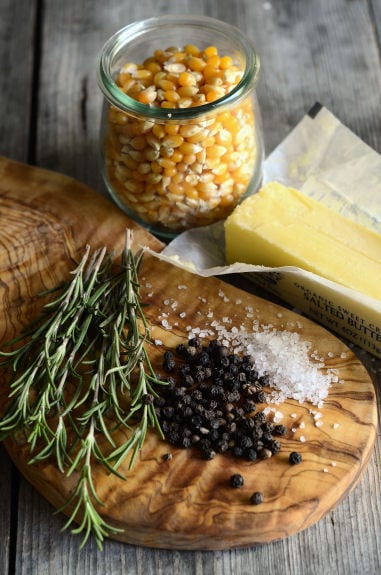 Written by: ERICA KASTNER of Cooking for Seven

I must admit that I was a bit skeptical about this recipe. After all, it's pretty hard to beat popcorn with melted butter.
"I'm sure Reuben (my husband) won't like this. I'll have to sell it from the 'bring it to a girls' party' angle," I thought.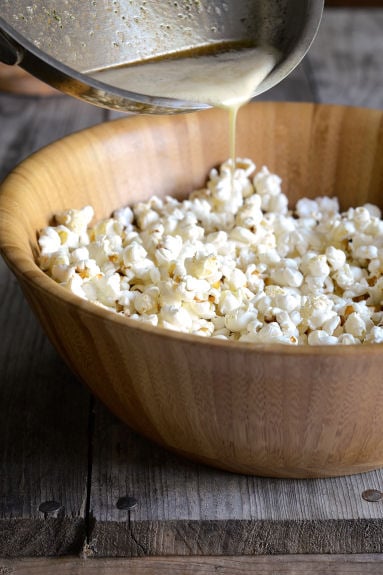 To my surprise, he ate the whole recipe save for the small bowl I reserved for myself.
"That's some good popcorn, girl," he told me. I was delighted.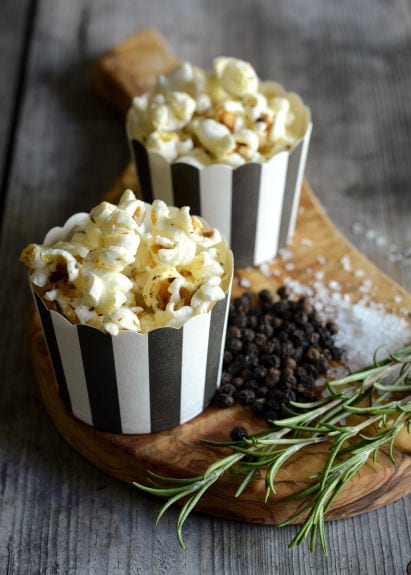 Will I give up my beloved buttered popcorn? No…but this popcorn is a lovely change from the norm. Browning the butter intensifies the flavor. The finely chopped rosemary is added right into the pan with the melted butter to infuse. Top it all off with freshly ground pepper and coarse sea salt and you've got some popcorn with oomph!
Now go make yourself a big bowl and settle down to watch something fun!

What snacks do you enjoy while watching a movie or reading a book?
Browned Butter Rosemary Popcorn
Yield: about 3-4 cups
Prep Time:5 minutes
Cook Time:5-10 minutes
Total Time:15 minutes
Regular popcorn gets a bit of an update with browned butter, rosemary, pepper and sea salt.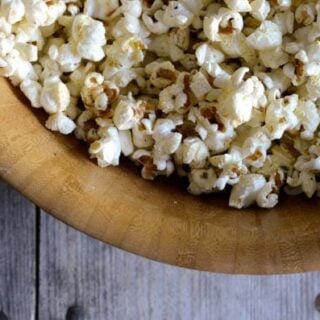 Ingredients:
1/2 cup popcorn kernels
1/4 cup (1/2 stick) good quality butter
2 teaspoons finely chopped fresh rosemary
1/2 teaspoon each of freshly ground black pepper and coarse sea salt, or to taste
finely ground salt to taste
Directions:
1) Pop the popcorn using your preferred method (I pop my with a tablespoon of palm oil over the stove). Place in a large serving bowl.
2) In a small saucepan, melt the butter over medium heat, stirring, just until the butter has browned and become fragrant. Remove from heat, add the rosemary, and stir to coat.
3) Pour the butter and rosemary over the popcorn; toss to coat evenly. Sprinkle on the black pepper and sea salt and add some finely ground salt to taste. Toss again.
Notes:
The original recipe called for half the amount of butter. I'm a butter fiend so of course I doubled it. If you prefer your popcorn less buttery, just decrease the amount.
I like to use part coarse salt and part finely ground salt. The larger pieces of salt add interest while the finely ground salt evenly flavors the popcorn.