Gnocchi with Brown Butter and Sage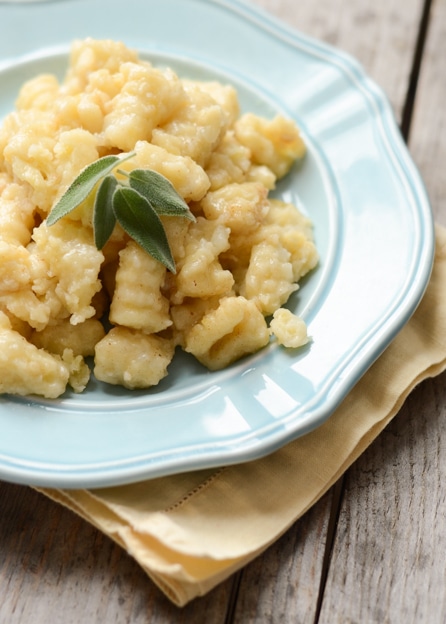 Written by: Erica Kastner of Buttered Side Up
Before you scan this recipe and think to yourself, Eh, that's way too much work, let me assure you that making gnocchi from scratch is much less complicated than it seems. I myself always liked the idea of homemade gnocchi, but I wrote it off as something that required loads of time and equipment.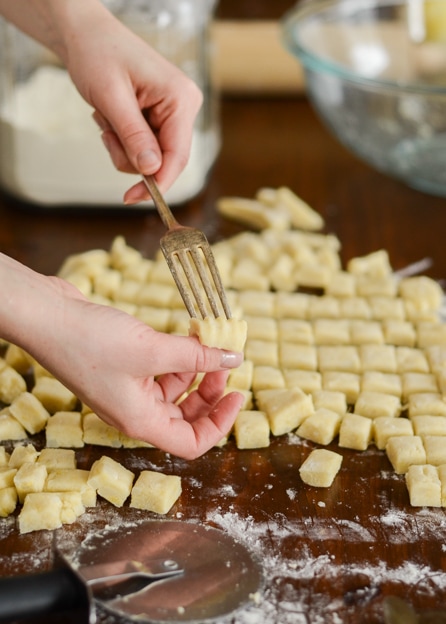 It's true, making gnocchi does take a bit of extra time. But it's no harder than making fresh pasta, and it doesn't require any special tools.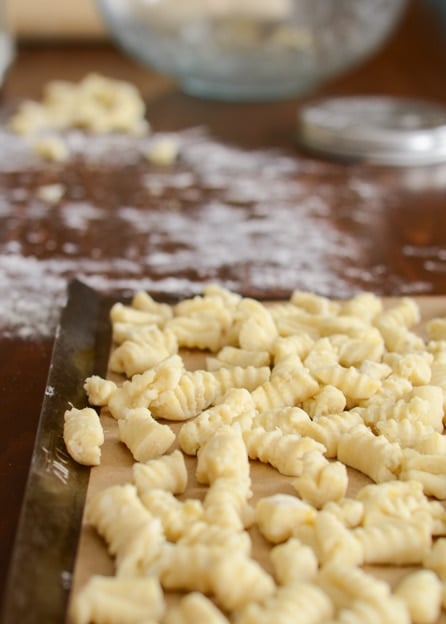 In fact I made a video for you, demonstrating how to roll the gnocchi off of a fork. So you have no excuse. It's very simple once you learn the technique of pushing the middle of the piece of dough onto the back of the fork and rolling it right off.
How to Roll Gnocchi
Watch the video below to see how it's done:
Once you boil up your gnocchi, you can take it to the next level by frying it with a bit of butter and sage. It's comfort food to the max.
What dish are you a bit intimidated to try making?
Gnocchi with Brown Butter and Sage
Yield: 4-6 servings
Prep Time: 30 minutes
Cook Time: 10 minutes
Total Time: 40 minutes
Gnocchi made from scratch, sauted with a little butter and sage.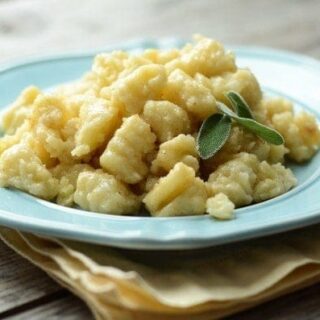 Ingredients:
For the Gnocchi:
2 1/2 cups of cold mashed russet potatoes
1 large egg yolk, beaten
1 teaspoon lemon zest (preferably from an organic lemon)
3 tablespoons extra virgin olive oil
1 1/4 cups all-purpose flour + extra for dusting your work surface
3/4 teaspoon salt + more for water
For the Browned Butter Sauce:
3 tablespoons butter
1/4 teaspoon salt
Pinch of fresh ground pepper
8 fresh sage leaves
1/4 cup grated parmesan cheese
Directions:
To make the Gnocchi:
Place all of the gnocchi ingredients in a medium bowl and mix together with your hands to make a fairly smooth dough. You don't want to over work the gnocchi.
Dust your work surface with flour and roll the gnocchi out to a 3/4-inch thickness. Using a pizza cutter or knife, cut the dough into 3/4-inch wide strips. Cut the dough crosswise into 3/4-inch cubes. Roll the pieces off of the back of a fork. Place the gnocchi onto a parchment-lined baking sheet as you go. Let the dough rest for about half an hour.
Meanwhile, bring a large pot of water to a boil. Add 2 teaspoons or so of salt. Place a colander in a large bowl and set aside. Drop about 1/4 of the gnocchi into the boiling water and cook until it floats to the top, about 1-2 minutes. Scoop the gnocchi out of the pot with a slotted spoon and place in the colander to drain. Repeat with the remaining dough.
To make the browned butter sauce:
Heat a large saute over medium heat. Add the butter and cook until it begins to brown, about 2 minutes. Add the salt and pepper. Turn the heat up to high and add the gnocchi and sage leaves. Cook, stirring gently every once in a while, until the sage has wilted and the gnocchi is hot. This should only take about a minute or two.
Serve immediately with grated parmesan cheese.