Blue Cheese Rosemary Mashed Potatoes
Blue Cheese Rosemary Mashed Potatoes are your favorite Russet Potato Mashed Potatoes after a surprising makeover. With the addition of pureed cannellini beans, gorgonzola cheese, and fresh rosemary you go from yum to YUM! 
You probably haven't ever thought about adding beans to your mashed potatoes, but I decided to do some experimenting and yum!
I love the silky texture and nutty flavor of Bush's® Cannellini Beans.
I think that they are an incredibly versatile bean variety, especially this time of year when the flavors of this bean can pair so well with the flavors inspired by the fall and winter seasons.
They puree really well and add a nice, creamy texture to recipes – like these Blue Cheese Rosemary Mashed Potatoes. 
Adding pureed beans to something like mashed potatoes is a super simple way to add a little bit of nutrition to something that is otherwise, often a pretty indulgent side dish.
I love the pairing of blue cheese and rosemary in these mashed potatoes and I'm definitely going to make it a habit of adding pureed Cannellini Beans to my mashed potatoes more often.
The flavor combination in this recipe is, in my mind, perfection!
It pairs perfectly with an Herb Roasted Prime Rib or Filet Mignon for your next holiday or special occasion meal. Leftovers make an amazing topping for Shepherd's Pie, too!
More Recipes Using Cannellini Beans
Cannellini Beans are perfect for adding a little something extra to a lot of winter recipes.
They go especially well in soup recipes like Italian Sausage Orzo Soup, Rosemary Chicken Chowder with White Beans, and Winter Minestrone Soup with Swiss Chard and Sausage.
But that doesn't mean you can't use them in non-soup recipes.
Cannellini Beans can be used in a lot of other ways that don't involve soup, Blue Cheese Rosemary Mashed Potatoes for instance. But that isn't all.
Just take a look at the recipes for White Bean Bruschetta, Pasta with White Beans, Tomatoes, and Sausage, and Artichoke Spinach Pizza with White Beans.
You'll see that they're all very different, but they all contain Cannellini Beans.
More Mashed Potato Recipes to Try
Mashed potatoes are one of my favorite side dishes this time of year. They're hearty and warm, perfect with the colder temperatures. If you're looking for another way to serve potatoes this Holiday Season, try one of these great recipes:
Blue Cheese Rosemary Mashed Potatoes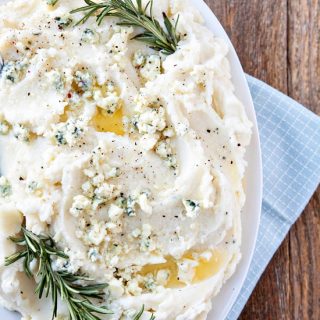 Ingredients:
4 lbs. peeled and quartered Russet Potatoes
1 bay leaf
1 teaspoon salt
1 can Bush's® Cannellini Beans, drained and rinsed
1 1/4 cups half and half, warmed
8 tablespoons butter (divided), melted
6 ounces Gorgonzola cheese (divided), crumbled
1 - 2 teaspoons minced fresh rosemary
1/4 - 1/2 cup milk, optional - if needed for desired thickness
salt and pepper, to taste
Directions:
Preheat the oven to 350 degrees F.
Add potatoes to a large stockpot with hot water. Add the bay leaves and 1 teaspoon of salt. Bring to a boil, then lower to simmer and allow to cook until the potatoes are very tender, approximately 20-30 minutes.
Meanwhile, add the beans and the 1 1/4 cups half and half to a blender and puree. Transfer the mixture to a large mixing bowl.
Once potatoes are tender, drain the water and discard the bay leaves. Press the potatoes through a potato ricer (I use the OXO Good Grips Potato Ricer) and into the same large bowl that contains the bean puree mixture.
Add 7 tablespoons of melted butter, 5 ounces of the gorgonzola, 1 teaspoon rosemary, and salt and pepper. Stir to combine.
Taste for seasonings and add additional rosemary, salt, or pepper, if desired. If you prefer thinner mashed potatoes, you may at this time add the milk.
After mixing all of the seasonings, transfer the potatoes to an oven safe dish. Sprinkle the top with the remaining 1 ounce of gorgonzola and drizzle with the remaining 1 tablespoon of butter.
Bake covered with foil in a 350 degree oven until heated through. Serve.
This post was written as part of my partnership with Bush's® Beans. All opinions are my own.