Blue Cheese Rosemary Mashed Potatoes are a unique take on classic mashed potatoes. With the addition of gorgonzola cheese and fresh rosemary, you go from yum to YUM!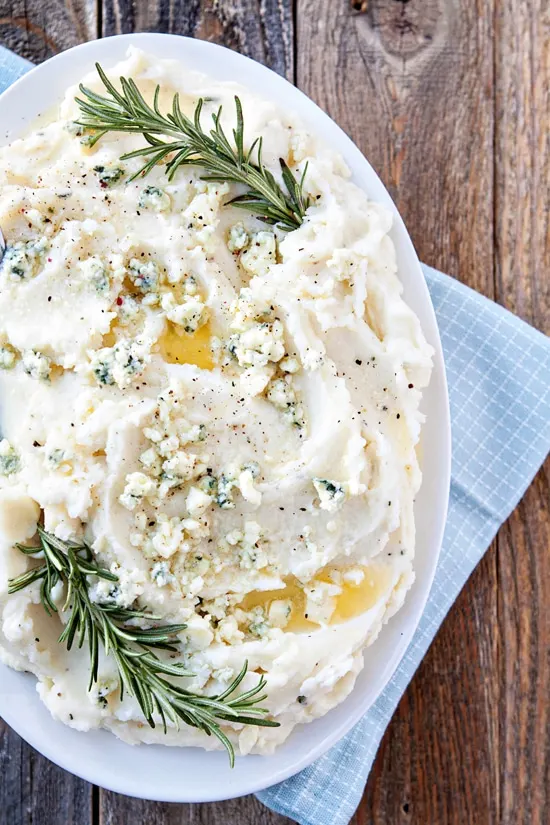 Click HERE to save this recipe for Blue Cheese Rosemary Mashed Potatoes!
Blue Cheese Rosemary Mashed Potatoes Recipe
I love the pairing of blue cheese and rosemary in these creamy mashed potatoes. The flavor combination in this recipe is, in my mind, perfection!
It is the perfect side dish to pair with Herb Roasted Prime Rib or Filet Mignon for your next holiday or special occasion meal. Leftovers make an amazing topping for Shepherd's Pie, too!
Tools Needed to Make Blue Cheese Rosemary Mashed Potatoes
Make sure you have the following tools available in your kitchen before getting started with this recipe:
Vegetable Peeler – to peel the potatoes.
Cutting Board and Sharp Knife – to cut the potatoes into 2-inch pieces before boiling.
Large Stockpot – large pot of boiling salted water is best for cooking the potatoes
Colander or Strainer – to drain the cooked potatoes after boiling.
Potato Masher or Potato Ricer – used to mash potatoes. A potato ricer is my preferred method for fluffy potatoes.
Measuring Cups and Spoons – to measure the rest of the ingredients in this recipe for mashed potatoes with rosemary and blue cheese.
Large Bowl and Serving Spoon – for serving the blue cheese rosemary mashed potatoes.
What's In Blue Cheese Rosemary Mashed Potatoes?
To make these rosemary blue cheese mashed potatoes, you'll need the following ingredients:
Potatoes
Bay Leaf
Sea Salt or Kosher Salt
Half and Half
Butter
Gorgonzola cheese
Fresh Rosemary
Whole Milk
Salt
Black Pepper
What are the Best Potatoes for Mashed Potatoes?
I prefer using Russet potatoes in my blue cheese rosemary mashed potatoes. Russets are quite starchy, so they make for super creamy mashed potatoes.
If you would like to use another kind of potatoes, Yukon gold potatoes also work well for making this rosemary mashed potato recipe. You can also use a mix of russet and Yukon gold.
What Can I Substitute for Rosemary?
If you need other fresh herbs to substitute for the rosemary in these blue cheese rosemary mashed potatoes, thyme is the best option.
Can I Use Dried Rosemary?
Addition of fresh rosemary adds so much flavor and depth to this recipe for rosemary mashed potatoes. You can use dried rosemary, but it definitely wouldn't be my first choice.
The rosemary flavor won't be as fresh and herbal tasting. For dried rosemary use 1/4 – 1/2 teaspoon rather than the amount listed for fresh so the rosemary flavor isn't overpowering.
Start with the smaller amount, and adjust for your personal preference.
How to Make Blue Cheese Rosemary Mashed Potatoes
It's incredibly easy to make homemade mashed potatoes.
First, bring salted water to boil over high heat. Then, reduce heat to medium. Carefully place potatoes in the salted water and simmer the quartered and peeled potatoes over medium heat until fork tender.
Stir in a mixture of half and half, milk, chopped rosemary, and melted butter, as well as some of the gorgonzola. Taste and adjust seasonings as needed.
Spoon the blue cheese rosemary mashed potatoes into an oven-safe dish, then top with remaining gorgonzola and more melted butter.
Bake the blue cheese rosemary mashed potatoes until heated through and the cheese is soft. Garnish with rosemary sprigs.
How Long to Boil Potatoes for Mashed Potatoes
The peeled and quartered Russet potatoes will need to boil for roughly 20 to 30 minutes, or until fork tender.
Tips for Making the Best Rosemary Mashed Potatoes
Make sure to warm the half and half before stirring it into the blue cheese rosemary mashed potatoes. You don't want the mashed potatoes to seize up and become clumpy by adding cold half and half.
Note that if you don't have half and half on hand, you can also use whole milk. Just note that whole milk will make for less creamy mashed potatoes.
How to Get the Fluffiest Mashed Potatoes
One more quick tip on the mashing technique – invest in a Potato Ricer.
When you use a Potato Ricer, your potatoes will be fluffier and won't develop a glue-y texture that over-mashed mashed potatoes can often develop.
You'll be so happy with the results. Plus, it is kind of a cool kitchen gadget to use.
How to Keep Mashed Potatoes Warm
If you have space in your oven, you can keep these blue cheese rosemary mashed potatoes warm in the oven. Cover the mashed potatoes with foil to prevent them from drying out. Heat oven to 200 degrees F to keep them warm.
Alternately, you can keep mashed potatoes warm in a CrockPot or slow cooker that's been set to the "warm" setting. Keep an eye on the mixture and stir in extra warmed milk or half and half if the potatoes ever look dry.
How to Reheat Mashed Potatoes
The best way to reheat mashed potatoes is in the oven.
You'll want to use a baking dish covered with aluminum foil. You'll likely need to add more butter and/or milk to loosen up the potatoes a bit.
Can You Freeze Mashed Potatoes?
Yes, very easily! Here's how to freeze this rosemary mashed potato recipe:
Let them cool completely.
Then store the blue cheese rosemary mashed potatoes in a freezer bag.
When you're ready to eat the frozen mashed potatoes, let them thaw in the fridge overnight.
Then, reheat them from frozen in a covered baking dish until they're warmed through.
Try this Recipe for Mashed Potatoes with Rosemary and Blue Cheese!
Next time you're looking for a mashed potato recipe with a lot of flavor, give these Blue Cheese Rosemary Mashed Potatoes a try!
Did you love the did you love the rich flavor and creamy goodness? Leave a comment below and give it a review for others to see what you thought of this great recipe.
On Instagram? Share your photo and tag me with @goodlifeeats and #goodlifeeatsrecipes. I'd love to see your photo of these Blue Cheese Rosemary Mashed Potatoes!
More Mashed Potato Recipes
If you're looking for additional potato inspiration for your Thanksgiving Menu this year, here are a few other favorite recipes. Be sure to check out the whole Thanksgiving Recipes Archive right here if you need help building the rest of your menu.
Roasted Garlic Cauliflower Mashed Potatoes are anything but traditional mashed potatoes. This recipe is ramped up with the flavors of earthy roasted garlic, nutty roasted cauliflower puree, and the smoothness of cream cheese.
Mashed potatoes can often be quite boring in terms of appearance, so I love the little flecks of green chives scattered throughout these creamy Mascarpone Chive Mashed Potatoes, not to mention the fresh taste they add to the recipe.
Greek Yogurt Mashed Potatoes use Greek yogurt instead of sour cream or cream cheese to make the potatoes extra creamy; they're healthier thanks to the addition of the yogurt and plenty rich. Surprise! There is no butter added! Feel free to add some if you prefer.
Or for something a little different, try Cream Cheese Chive Duchess Potatoes – delicious, individually portioned mounds of mashed potatoes that have been baked. Inside they're creamy and fluffy while the outside is beautifully golden and crisp. The kids love these!
These Browned Butter Parmesan Mashed Potatoes are yet another unique take on classic mashed potatoes. Perfect for Thanksgiving!
Get More Easy Recipes via Email
Love this recipe for Blue Cheese Rosemary Mashed Potatoes? Sign up for Good Life Eats Email Updates and never miss another recipe!
Have you ever added blue cheese or rosemary to mashed potatoes?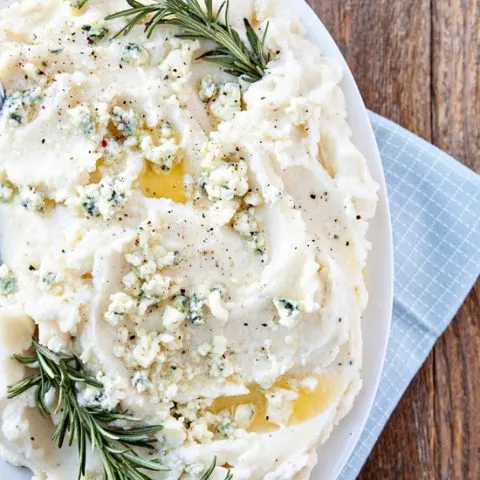 Blue Cheese Rosemary Mashed Potatoes
Blue Cheese Rosemary Mashed Potatoes are your favorite Russet Potato Mashed Potatoes after a surprising makeover. With the addition of gorgonzola cheese, and fresh rosemary you go from yum to YUM!
Ingredients
4 lbs. peeled and quartered Russet Potatoes
1 bay leaf
1 teaspoon salt
1 1/4 cups half and half, warmed
8 tablespoons butter (divided), melted
6 ounces Gorgonzola cheese (divided), crumbled
1 - 2 teaspoons minced fresh rosemary
1/3 - 2/3 cup milk, optional - if needed for desired thickness
salt and pepper, to taste
Instructions
Preheat the oven to 350 degrees F.
Add potatoes to a large stockpot with hot water. Add the bay leaves and 1 teaspoon of salt.
Bring to a boil, then lower to simmer and allow to cook until the potatoes are very tender, approximately 20-30 minutes.
Meanwhile, heat the half and half with 7 tablespoons of butter, 1 teaspoon rosemary, salt, and pepper.
Once potatoes are tender, drain the water and discard the bay leaves. Press the potatoes through a potato ricer (I use the OXO Good Grips Potato Ricer) and into a large bowl.
Add the half and half mixture and 5 ounces of the gorgonzola. Stir to combine.
Taste for seasonings and add additional rosemary, salt, or pepper, if desired. If you prefer thinner mashed potatoes, you may at this time add the milk.
After mixing all of the seasonings, transfer the potatoes to an oven-safe dish. Sprinkle the top with the remaining 1 ounce of gorgonzola and drizzle with the remaining 1 tablespoon of butter.
Bake covered with foil in a 350 degree F oven until heated through. Serve.
Notes
See post above for notes on how to keep mashed potatoes warm and how to reheat mashed potatoes.
Nutrition Information
Yield

6
Serving Size

1
Amount Per Serving
Calories

596
Total Fat

29g
Saturated Fat

19g
Trans Fat

1g
Unsaturated Fat

9g
Cholesterol

80mg
Sodium

926mg
Carbohydrates

68g
Fiber

7g
Sugar

6g
Protein

16g
GoodLifeEats.com offers recipe nutritional information as a courtesy and is an estimate only. This information comes from online calculators. Although GoodLifeEats.com makes every effort to provide accurate information, these figures are only estimates.