Gremolata is a delicious Italian herb sauce that can be used in a variety of ways to add a boost of flavor to recipes. We love to use this Herb Gremolata Recipe as a topping on grilled steaks.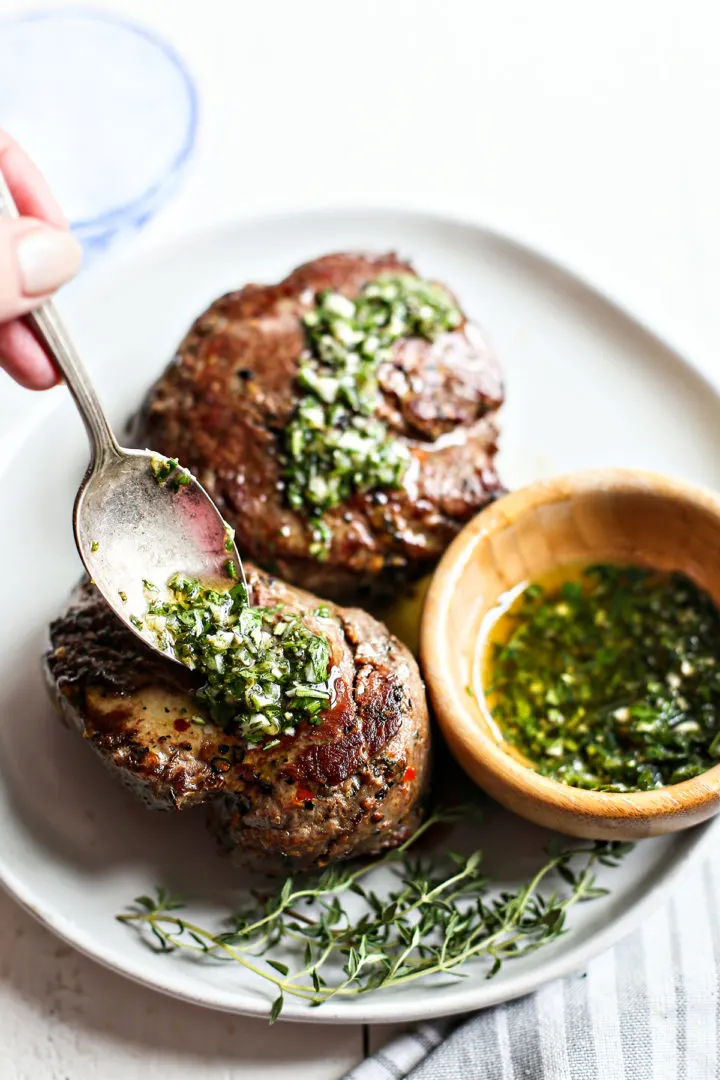 This post may include affiliate links. As an Amazon Associate and member of other affiliate programs, I earn a small commission from qualifying purchases.
Making this Herb Gremolata
I gotta give Cooking Light a hat tip here. I never would have found this recipe if they hadn't redesigned their magazine layout. In fact, I never even knew there was a recipe index until they moved it to the front. I marked tons of new recipes to try in the most recent issue.
I'm definitely glad I splurged on this issue while in Target the other week, but I sure wish I would have snatched up the $5 for a year subscription when Amazon offered that last winter. You can't go wrong with a year subscription for the same price as 1 issue.
I happened to have some Filet Mignon that I received from US Wellness Meats during the Mother's Day event last month. Combine those with a garden full of herbs and it was a beautiful dinner in practically no time at all.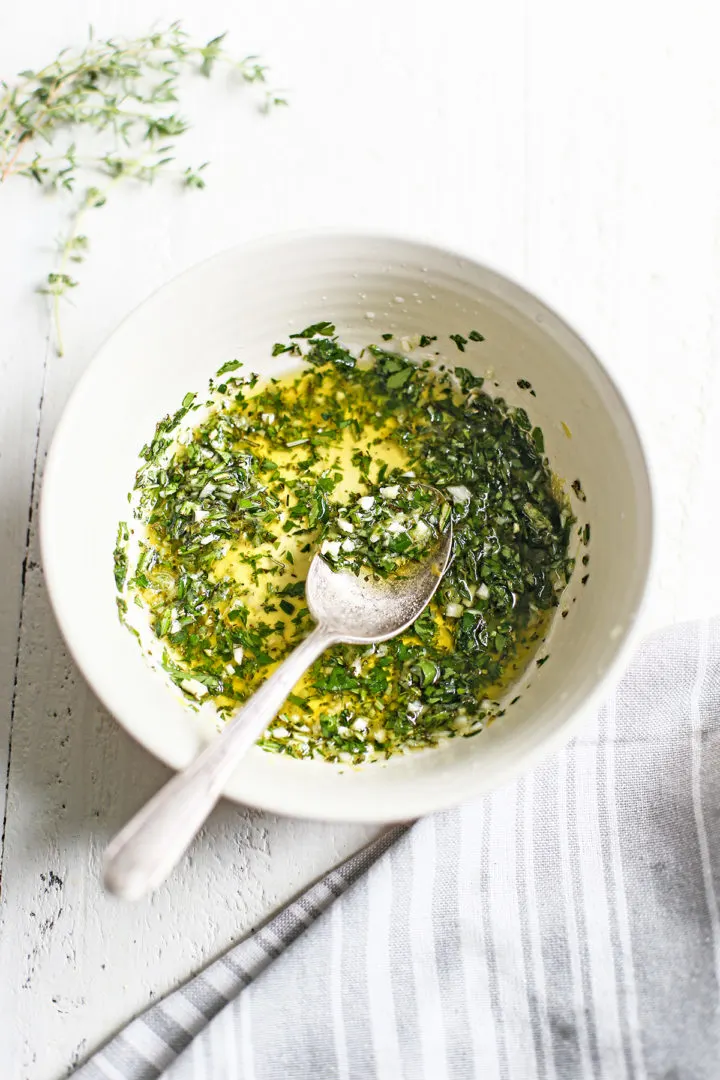 What I Love About this Recipe
I served the filets with Roasted Sweet Potato Fries with Garlic and Parmesan and some Grilled Baby Artichokes. It looked and tasted like I had slaved away. In truth, the fries were the most time consuming part of the meal.
The only problem? I didn't photograph the meal! My husband's parents were in town and we were all so anxious to eat. The combined aromas of the artichoke hearts, sweet potatoes, and fresh herbs were too much to handle.
The second time I made some Honey Roasted Carrots and a salad of greens, apples, Candied Walnuts, blue cheese, and balsamic vinaigrette. While it was still delicious, I much preferred the combination of the first meal.
And regarding the recipe – it was a hit all around. The flavor of the Herb Gremolata really penetrated the meat. I can't wait to try this technique with different meats and herb combos.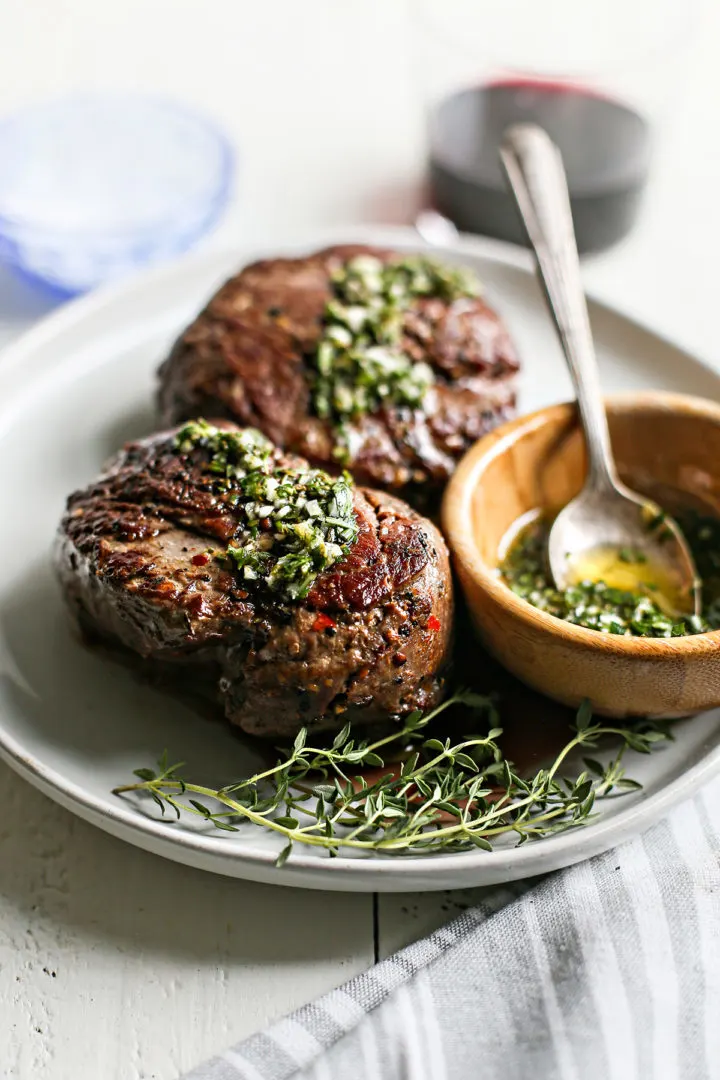 What is Gremolata?
Gremolata is an Italian herb sauce made from basic ingredients like fresh herbs, lemon, and garlic. Think of it like a garnish except instead of just looking pretty, it adds a boost of flavor!
A classic gremolata recipe typically includes lemon zest, chopped parsley, and garlic.
However, for creative variations, you can substitute zest from different citrus fruits, add different herbs instead of or in addition parsley, and even add things like parmesan cheese when making this delicious condiment.
This recipe uses a combination of different herbs for a ton of flavor!
Tools Needed to Make this Recipe
You'll need a few simple kitchen tools to prepare this easy gremolata. Here's what I recommend having on hand before beginning this recipe:
microplane grater – for grating the citrus zest.
citrus juicer – for juicing the lemon.
sharp knife and cutting board – for chopping the herbs and garlic
small bowl – to combine the simple ingredients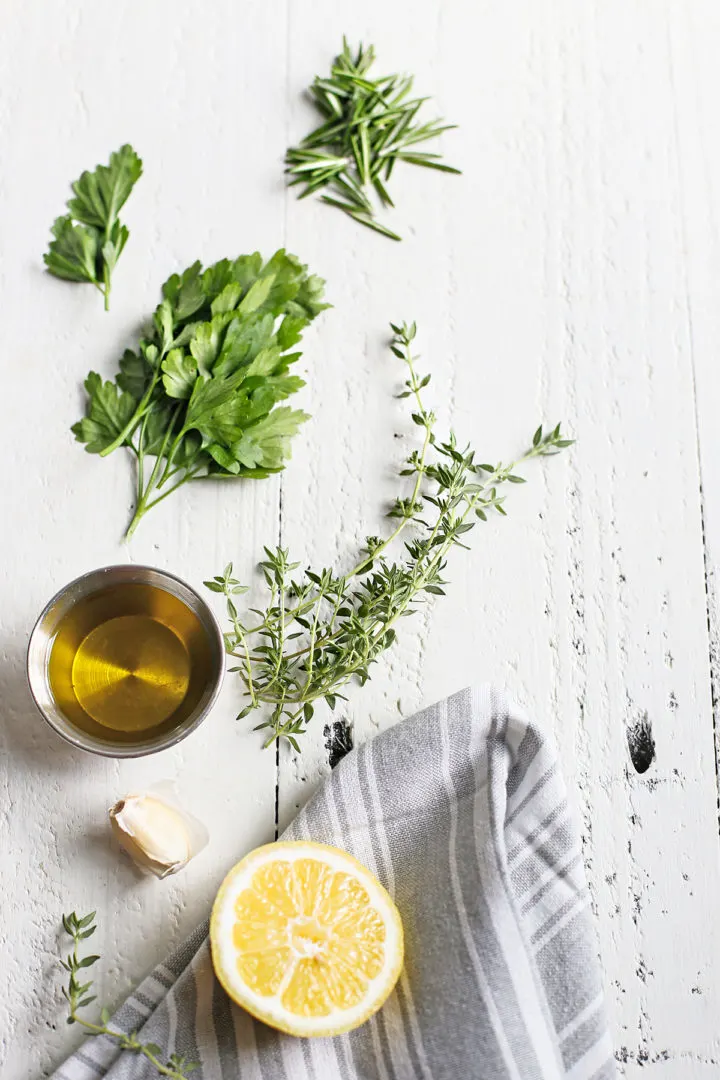 Ingredients in this Herb Gremolata
Once you taste this recipe, you'll be amazed at how a few simple ingredients can create so much flavor! Here's what you'll need to make this easy gremolata recipe:
Black Pepper
Fresh Parsley (flat-leaf parsley)
Fresh Rosemary
Fresh Thyme
Olive Oil
Lemon Zest
Lemon Juice
Fresh Garlic Cloves
For the complete ingredient list and detailed instructions, scroll to the bottom of this post for the FREE printable recipe card.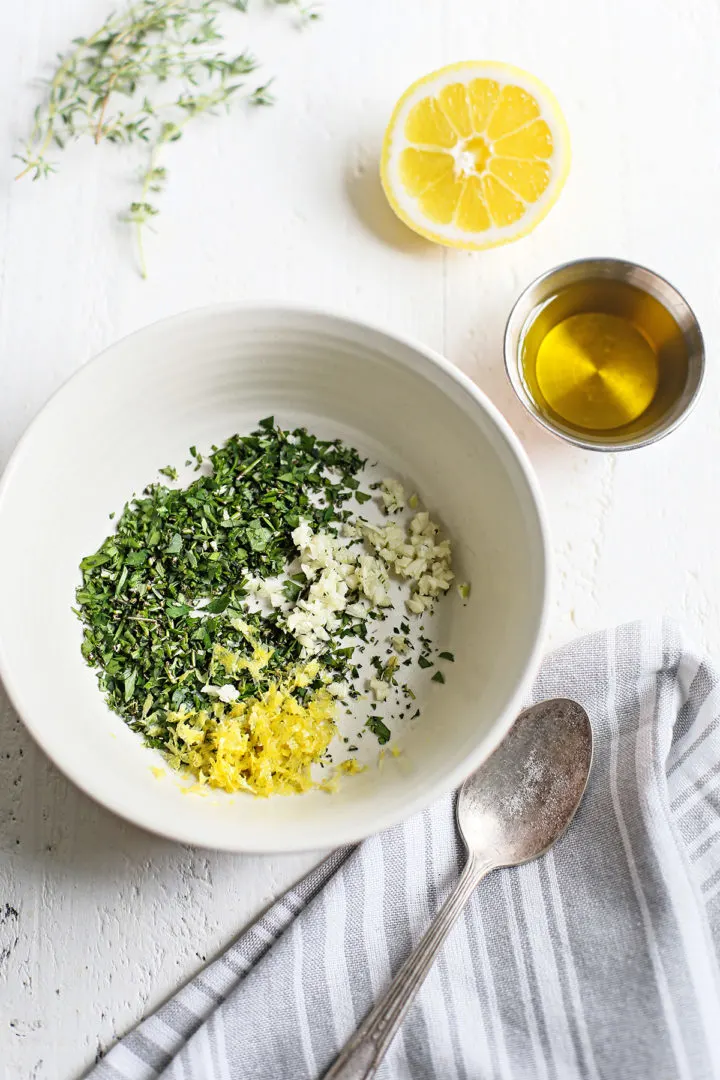 How to Make Gremolata
Making gremolata sauce is so easy! Here's a quick overview of the process. You can find the full recipe and detailed instructions in the free printable recipe card at the bottom of this post:
Chop all of the herbs.
Then, combine the chopped herbs, oil, lemon zest, lemon juice, and garlic in a bowl. Stir to combine.
Refrigerate until use.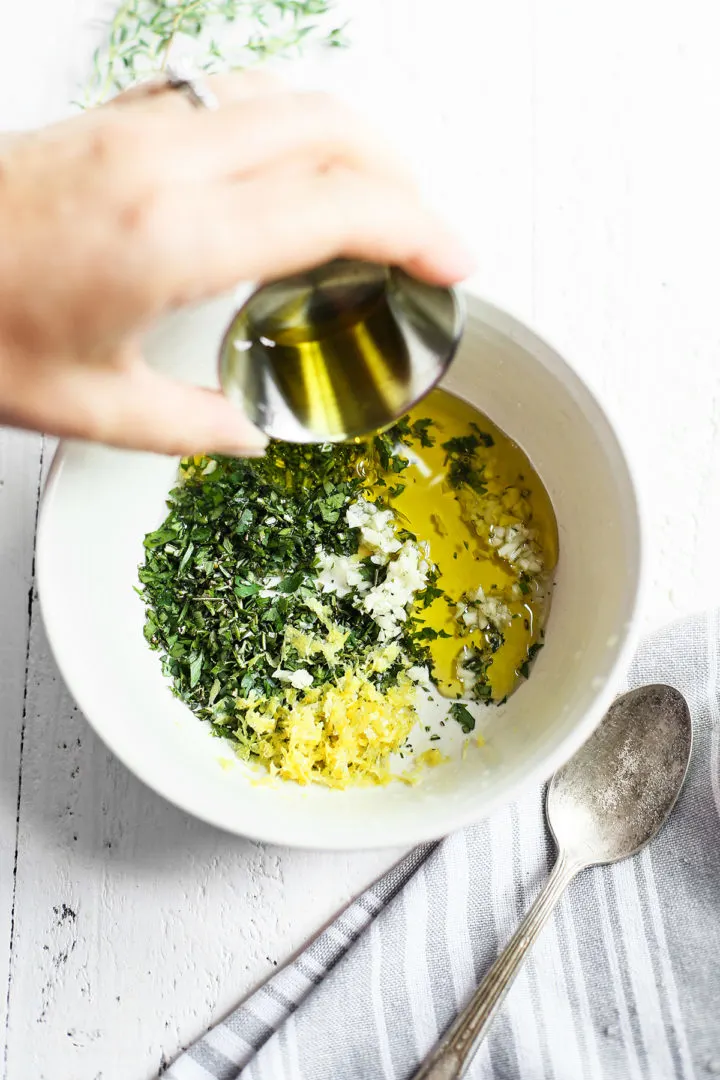 Gremolata Recipe FAQ
Got questions about how to make this recipe for gremolata? Here are the answers to a few commonly asked questions. Feel free to leave any other questions in the comments on this post and I'll respond with answers.
How to Store Gremolata?
If you have any leftovers, transfer it to an airtight container with a lid and store it in the refrigerator.
Can You Freeze Gremolata?
Yes! One of the easiest ways is to transfer the herb mixture into ice cube trays and freeze.
Then, when frozen, pop the cubes out and into a labeled freezer bag and store in the freezer.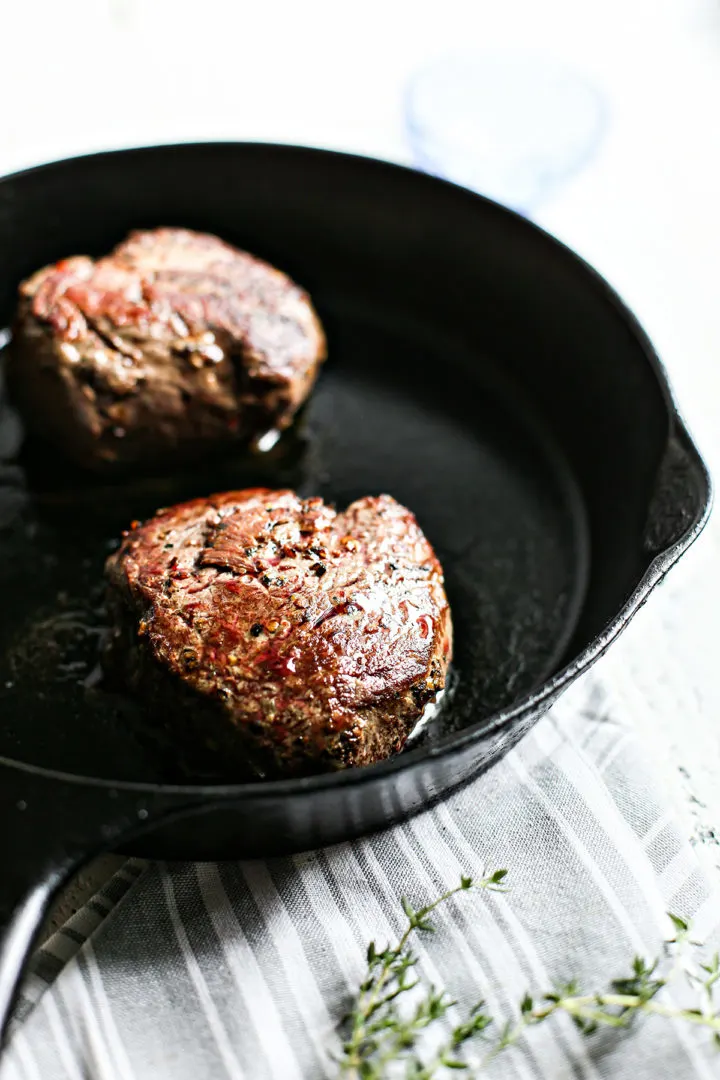 How Do You Use Gremolata?
Our favorite way to use this recipe is as a topping on steaks, such as this sous vide steak recipe. This herb gremolata also tastes great on top of roasted potatoes or roasted veggies.
More Ways to Use this Recipe
Add it to a simple oil and vinegar salad dressing to make a gremolata dressing.
Make gremolata fries by adding sprinkling some on top of oven baked fries or sweet potato fries after they come out of the oven.
Stir some into mayonnaise for a garlic herb aioli spread to use on sandwiches or burgers.
Add some to instant pot rice or instant pot quinoa for a simple side dish.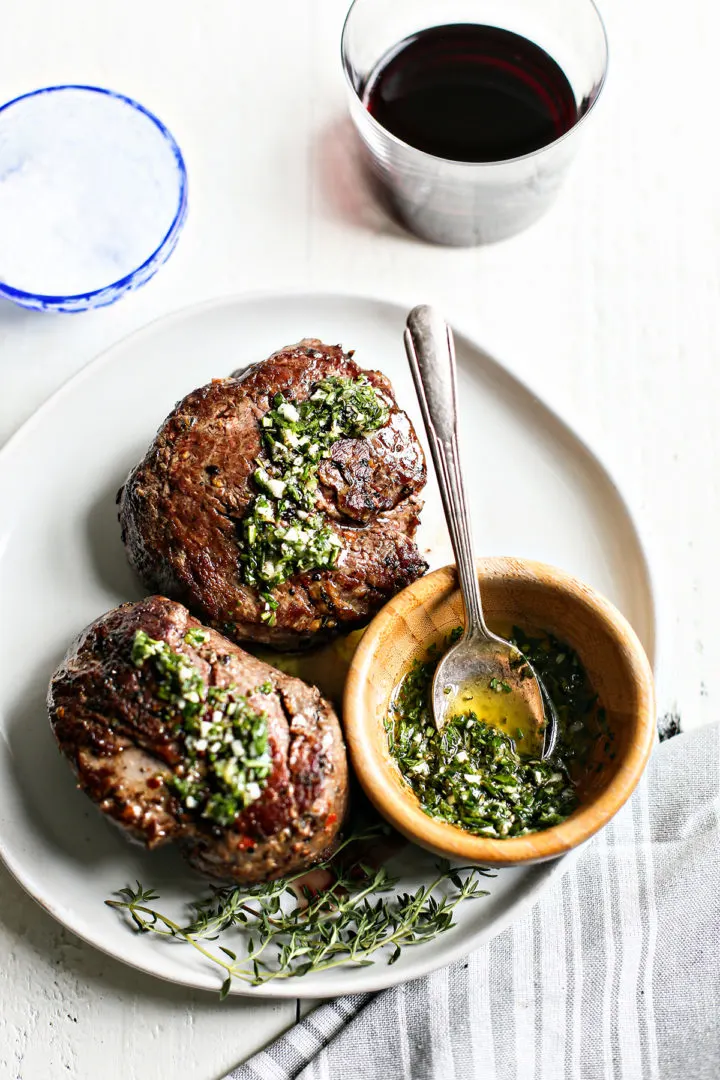 Try this Recipe at Home!
Next time you're looking for an easy way to add a punch of flavor to your meat dishes, give this herb gremolata recipe a try!
Did you think combination of fresh herbs with citrus and garlic added a lot of flavor to your meal? Leave a comment below and give it a review for others to see what you thought of this recipe.
On Instagram? Share your photo and tag me with @goodlifeeats and #goodlifeeatsrecipes. I'd love to see your photo of this easy gremolata recipe!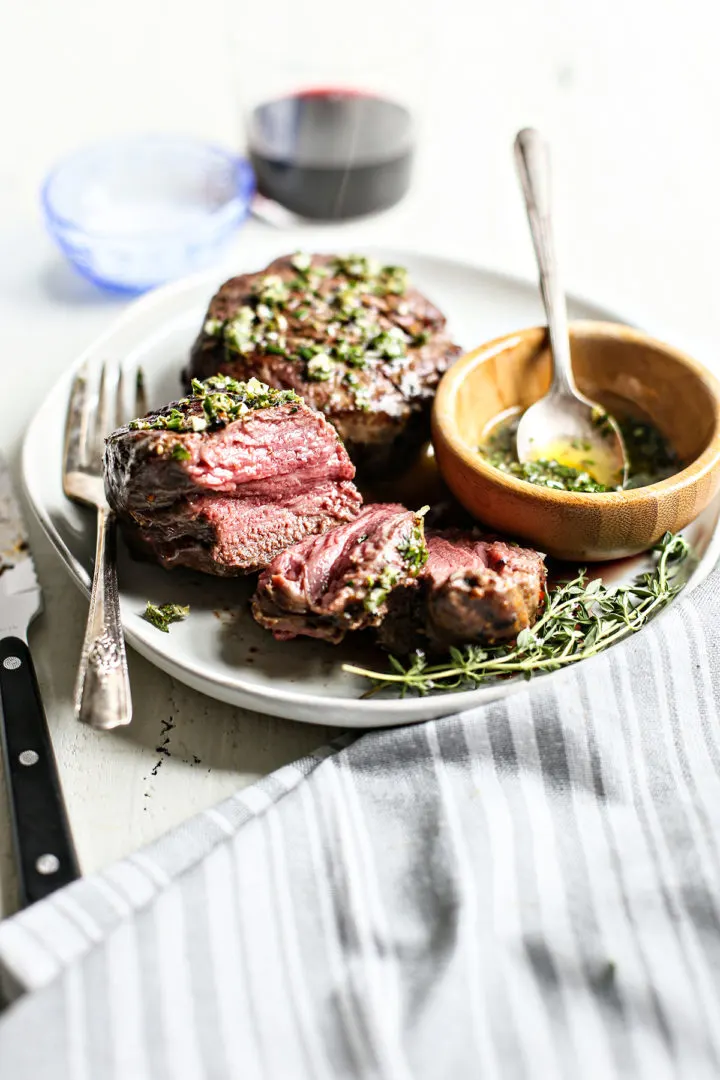 More Recipes Using Fresh Herbs
This easy recipe for Garlic, Thyme, and Rosemary Marinated Olives is perfect for simple entertaining! They make a great easy appetizer idea for any party.
Cucumber Mint Water is a simple recipe for cucumber infused water and the perfect way to cool off on a hot summer day. You'll love how refreshing this cucumber water recipe is!
This Kale Cilantro Pesto is a tasty substitute for your ordinary pesto sauce. It features plenty of fresh, healthy kale, cilantro, pepitas, garlic and olive oil, and has a variety of uses!
This Zucchini Tomato Basil Salad with Lemon Basil Vinaigrette is a light and refreshing summertime salad and perfect when your garden is exploding with tomatoes, basil, and zucchini in the later summer months.
Don't see what you're looking for here? You can always head over to check out the recipe index to look for more recipes.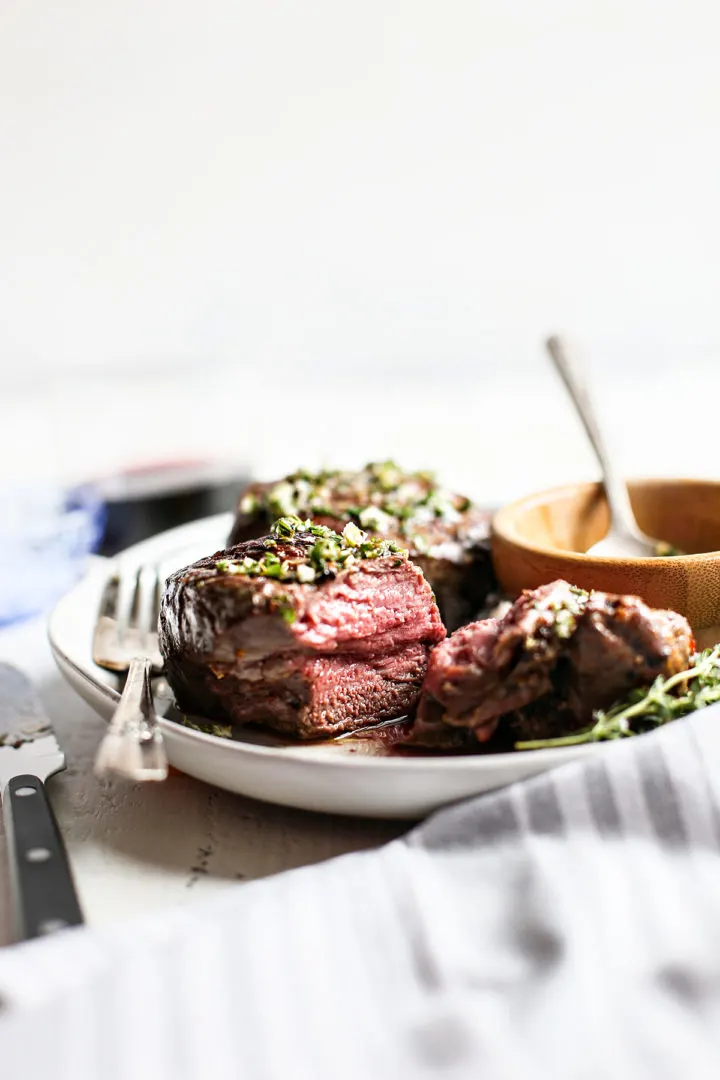 Get More Recipes via Email
Did you love this gremolata recipe? Sign up to receive Good Life Eats Email Updates and never miss another recipe!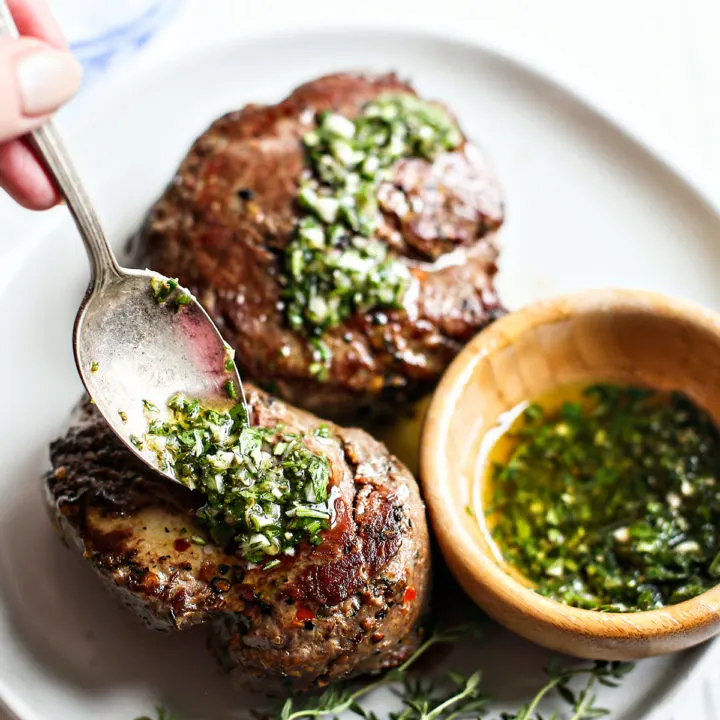 Seared Filet with Mixed-Herb Gremolata
If you have a variety of fresh herbs in your garden, you can easily make this filet with mixed-herb gremolata. It's the perfect way to bring a taste of summer inside.
Ingredients
For the Steaks
4 (6-ounce) beef tenderloin steaks (1 1/2 - 2 inches thick)
1 - 2 teaspoons kosher salt, or according to taste
1 - 2 teaspoons freshly ground black pepper, or according to taste
For the Gremolata
2 tablespoons chopped fresh parsley
1 tablespoon chopped fresh rosemary
1 tablespoon chopped fresh thyme
1 tablespoon olive oil
1 tablespoon grated lemon zest
1 teaspoon fresh lemon juice.
1 garlic clove, minced
Instructions
Preparing the Gremolata
Chop the parsley, rosemary, and thyme.
Add the chopped herbs to a mixing bowl. Then, stir in the olive oil, lemon zest, lemon juice, and minced garlic clove.
Cover the bowl with a lid or plastic wrap and transfer to the refrigerator until the steaks are cooked.
Preparing the Steaks
We prefer to use the sous vide method to cook our steaks and we like them cooked to medium-rare. Read more about how to do that in this post: How to Sous Vide Steaks.
If you do not have a sous vide, then you may grill or pan sear the steaks.
Pat the steaks dry using a paper towel. Then, season the steaks generously with salt and pepper on both sides.
Cook the steaks according to your preference. Then, let them rest for a few minutes before serving.
Serving the Filets with Gremolata
After the steaks have rested for 3 - 5 minutes. Serve each steak topped with a generous spoonful of the herb gremolata sauce.
Notes
Adapted from Cooking Light
Recommended Products
As an Amazon Associate and member of other affiliate programs, I earn from qualifying purchases.
Nutrition Information
Yield

4
Serving Size

1
Amount Per Serving
Calories

585
Total Fat

45g
Saturated Fat

17g
Trans Fat

0g
Unsaturated Fat

22g
Cholesterol

145mg
Sodium

627mg
Carbohydrates

1g
Fiber

0g
Sugar

0g
Protein

41g
GoodLifeEats.com offers recipe nutritional information as a courtesy and is an estimate only. This information comes from online calculators. Although GoodLifeEats.com makes every effort to provide accurate information, these figures are only estimates.