GrowCookEat: Grilled Baby Artichokes with Lemon
I planted two artichoke plants in our garden. I love artichokes but they are always so expensive here. Occasionally they will go on sale, but most often they are a few dollars each and that just seems crazy! I can't wait till my plant starts producing some, which I'm guessing probably won't be until next year.
A couple weeks ago I found a decent deal on baby artichokes. I've never prepared baby artichokes before, but they were so pretty that I decided to toss a 1 lb. package into the basket. I am so glad I did, they were delicious and paired great with this Balsamic Basil Grilled Flank Steak and Grilled Potatoes. I will definitely be making this recipe again, and hopefully with my own fresh artichokes!
Grilled Baby Artichokes with Lemon and Garlic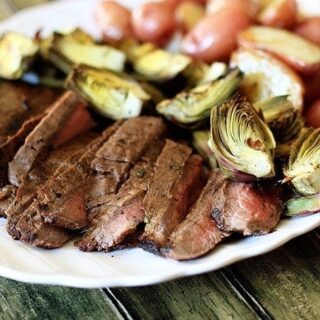 Ingredients:
1 large lemon
2 teaspoons salt
1 bay leaf
1 whole clove garlic
1 lb. baby artichokes
2 teaspoons minced garlic
2 tablespoons olive oil, plus additional for brushing
juice of half a lemon
salt and pepper, to taste
freshly grated parmesan, if desired
Directions:
Using a knife or kitchen shears, trim the stems off the artichokes. Remove the tough outer leaves, discard, and trim the thorny tips from the from the remaining leaves. Bring a 5 quart pot of water to boil. Add 2 teaspoons salt, garlic clove, bay leaf, and juice of one lemon.
Place the artichokes in the boiling water and cook till tender, about 6-12 minutes. Remove the pot from heat, drain the artichokes and cool until they can be handled.
Cut artichokes in half and remove the prickly choke (if present – mine didn't have any), discard the choke. Cut each half in half again. Combine the 2 tablespoons olive oil and juice of half a lemon in a bowl large enough to accomodate the artichokes. Add salt and pepper to taste. Toss the artichokes with the olive oil mixture and let marinade while you preheat the grill to medium-high heat, or up to 3 hours.
Place the artichokes (cut side down) on a grill preheated to medium-high heat. Grill for 4-5 minutes. Remove artichokes from the grill and toss in the bowl with the marinade. Add garlic and stir to combine. Add additional salt and pepper, if needed. Artichokes can be served with a small sprinkling of freshly grated parmesan.
Note: a couple of the leaves that remained were a bit too tough to eat entirely, we at those leaves by scraping with the teeth (as you would eat the "meat" off a large artichoke). When we got down to the really tender leaves and heart we ate the whole thing.