This Shrimp Scampi recipe is the perfect easy, yet romantic, pasta dinner for Valentine's Day. It takes a classic shrimp scampi recipe up a notch with the addition of artichokes and sun-dried tomatoes to the recipe. In my opinion, it's the best recipe for shrimp scampi. You'll love dipping crusty bread in the sauce for this shrimp scampi, too!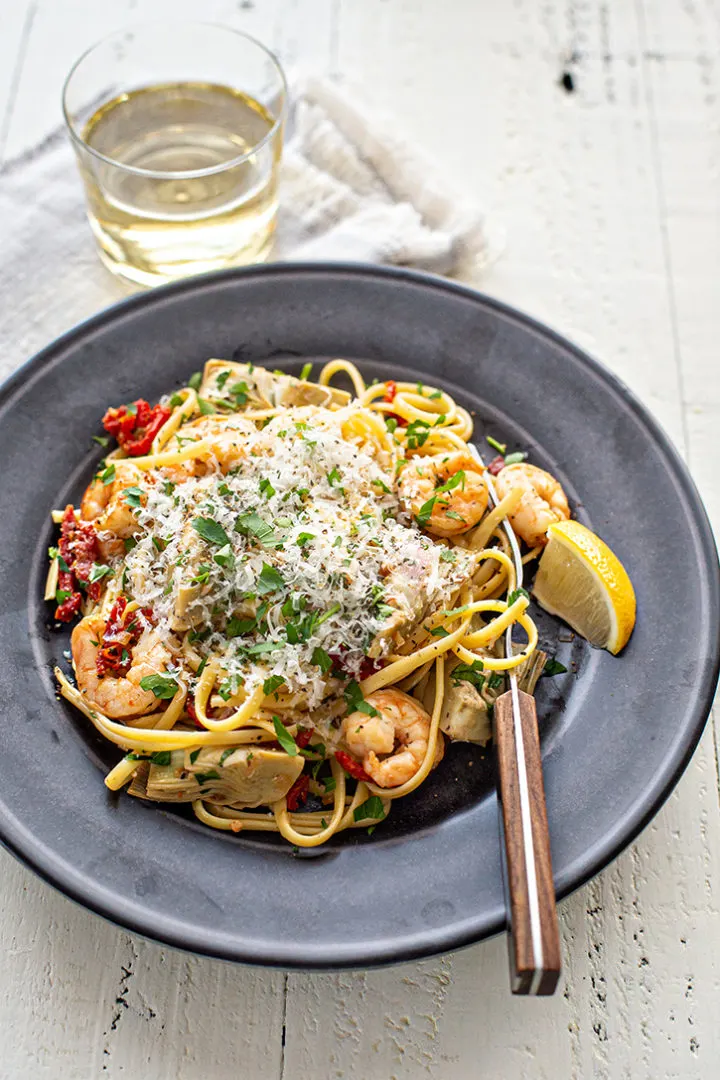 This Shrimp Scampi Recipe with Tomatoes and Artichokes was originally posted on February 11, 2011. It has been edited to include additional information as well as new photos.
Creating this Shrimp Scampi Recipe
Do you usually go out for Valentine's Day or do you cook a romantic dinner at home? For us, we almost always stay in. It's so crowded to go out for a date on Valentine's Day.
Celebrating Valentine's Day at home requires a little bit of organization and careful planning on our part. With two children that need to be tucked in bed (forget going out on a regular basis…), it can be hard to have a romantic evening.
I plan a simple, yet thoughtful dinner and prepare it while my husband works on getting ready for bed and we eat after they are fast asleep.
This easy meal with simple ingredients is one of the best shrimp recipes for Valentine's Day.
Why You'll Love this Recipe for Shrimp Scampi
3 reasons I love this Recipe for Shrimp Scampi:
I think this is the best recipe for shrimp scampi because the addition of sun-dried tomatoes and artichokes to the garlicky shrimp takes classic shrimp scampi up a notch.
The sauce for this shrimp scampi is easy to prepare. This easy shrimp recipe is simple enough for a weeknight dinner but fancy enough for a special occasion or dinner party.
This shrimp dish goes great with crusty bread for soaking up all the buttery garlic sauce! Who doesn't love an excuse to have bread with their pasta?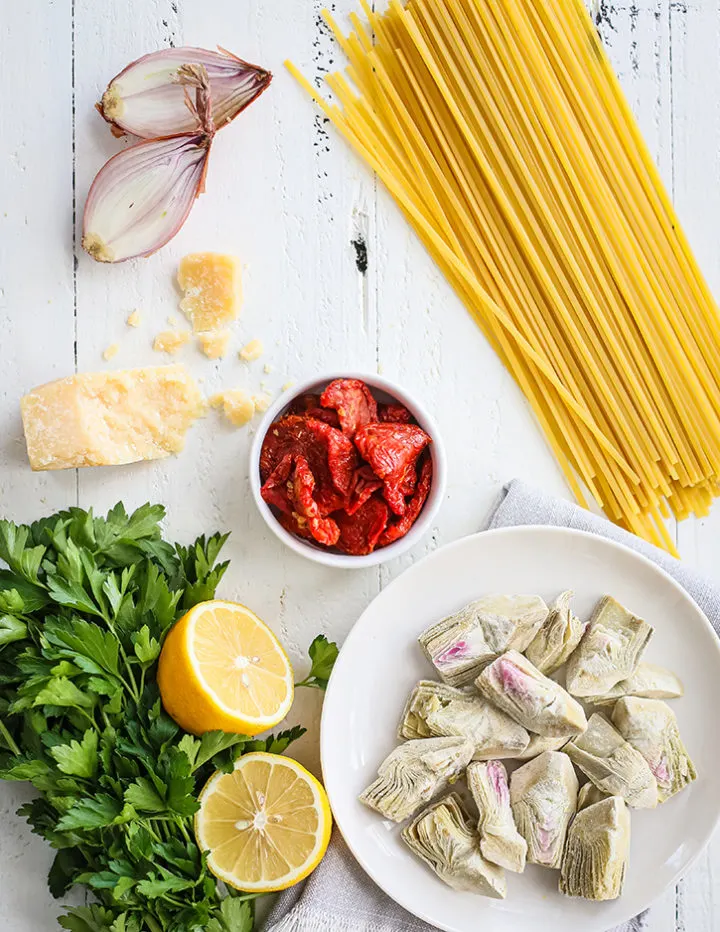 What is in this Shrimp Scampi Pasta?
Wondering what goes in shrimp scampi? You'll need the following ingredients to make my version – Shrimp Scampi with Artichokes and Sun-Dried Tomatoes
Linguini
Butter
Extra Virgin Olive Oil
Shallots
Raw Garlic
Shrimp
Dry White Wine
Artichoke Hearts
Sun-Dried Tomatoes
Black Pepper
Sea Salt
Lemon
Fresh Parsley
Parmesan Cheese
For the complete ingredient list and detailed instructions, scroll to the bottom of this post for the FREE printable recipe card.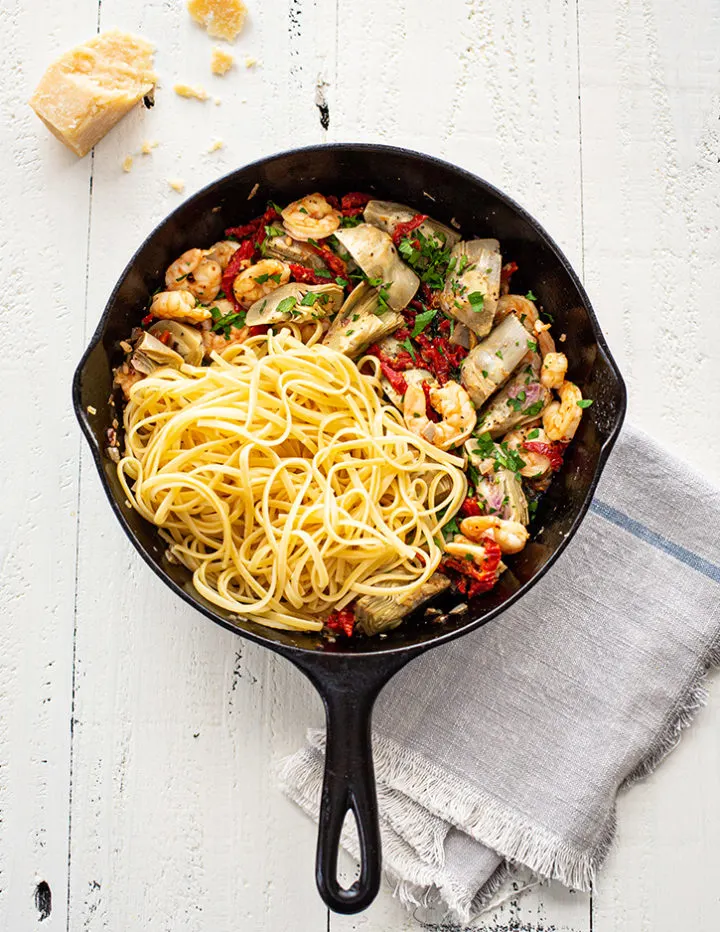 How To Make Shrimp Scampi
If you've ever wondered how to make shrimp scampi, and you're looking for something a little more elevated than the classic scampi recipe you came to the right place. Here's how you prepare this tasty artichoke pasta with shrimp:
Start with fresh shrimp that has been deveined. You can use frozen shrimp, too, but you'll need to make sure it is thawed first.
Juice half of the lemon and reserve the juice for later. Save the other half for garnishing the plates.
Prepare the pasta al dente according to package instructions so it is ready when you need it.
To make the white wine sauce, start by melting the butter and olive oil in a large skillet or cast iron pan.
Saute garlic and shallots over medium heat, then add in the uncooked shrimp, salt, and pepper and cook until the shrimp are no longer translucent.
Add wine, artichoke hearts, and sundried tomatoes to the shrimp mixture. Cook until heated through.
Stir in the lemon juice half of the parsley, and the cooked pasta.
Season to taste with salt and pepper.
Garnish with remaining parsley, parmesan cheese, and lemon wedges.
The above is simply a quick summary of this recipe. Check out the full recipe in the free printable recipe card at the bottom of this post for all the detailed instructions.
Tips for Making Artichoke Shrimp Pasta
Salt the pasta water when cooking pasta.
I like to add 1-2 tablespoons of salt to the water for every pound of pasta that I'm cooking. Seasoning the pasta for makes the whole shrimp scampi dish taste better. I prefer to use kosher salt or coarse sea salt.
Use frozen artichokes in this Recipe for Shrimp Scampi.
I prefer frozen artichokes in this shrimp scampi recipe over the taste of canned artichokes.
Make sure to thaw them ahead of time so you don't have to wait for them to heat through when preparing this quick shrimp scampi.
Use fresh garlic for the Scampi Sauce.
Since the sauce for shrimp scampi is relatively simple, you want to make sure every ingredient packs a punch. Fresh garlic is much more flavorful than the jarred pre-minced varieties.
Fresh lemon juice tastes best in this Easy Shrimp Scampi.
I prefer fresh lemon juice over bottled lemon juice. I think it has the best flavor. If you like your scampi sauce extra lemony, try adding some lemon zest.
For best results, be careful not to overcook the shrimp.
Get all of the ingredients for the shrimp scampi prepped and ready to go ahead of time. Shrimp cooks really fast, so they're not something you want to leave simmering in the pan for more than a couple of minutes.
Top your plate of Shrimp Scampi Pasta with fresh grated parmesan.
The pre-shredded cheeses often have anti-caking agents added. You're better off purchasing a block of parmesan and grating it on top of your shrimp scampi. It's usually cheaper in the long run this way, too.
Take This Shrimp Scampi Recipe Over the Top!
Want to take this artichoke pasta with shrimp to the next level?
If you have some extra time, make this Homemade Chili Garlic Oil a few hours ahead of time. Once the oil has cooled, marinate the shrimp in a tablespoon or two of the oil for a couple of hours before cooking. This oil is made from extra-virgin olive oil, red pepper flakes, and garlic.
The best part is the oil is incredibly easy to make ahead and will only enhance the flavors of the shrimp in this dish. You likely won't need as much oil as the recipe calls for (if any) depending on how much of the oil you leave on the shrimp after marinating.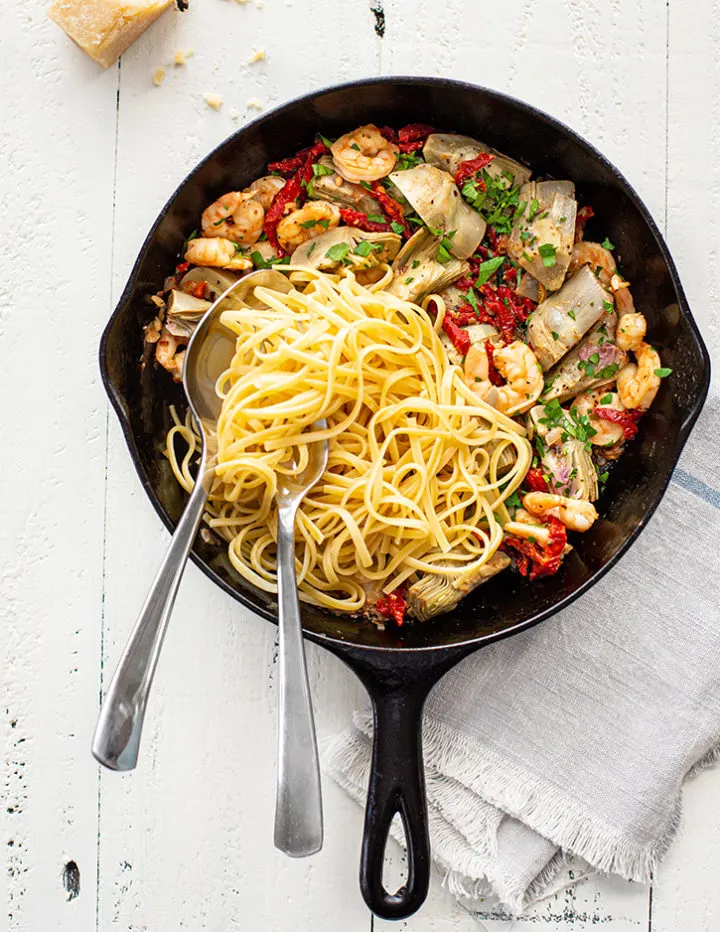 Shrimp Scampi FAQ
Got questions about how to make this delicious shrimp scampi recipe? Here are the answers to a few commonly asked questions. Feel free to leave any other questions in the comments on this post and I'll respond with answers.
What Size of Shrimp Should I Use in Shrimp Scampi?
I prefer to use shrimp on the larger size for this shrimp and artichoke pasta recipe.
You'll want shrimp that fall in the size 16-20 count per pound of shrimp for using in this linguine shrimp scampi recipe. Look for extra large or jumbo shrimp.
If you are having a hard time finding the right size, ask at the seafood counter and they'll be able to help. But, really, you can use whatever size you like.
What is the Best Wine for Cooking Shrimp Scampi?
In this recipe for shrimp scampi wine is key because that's what makes up most of the liquid for the sauce. You're going to want to make sure you use a dry white wine in this shrimp and artichoke pasta.
If you aren't a wine drinker, "dry" is equivalent to a wine not being sweet. Using a sweet wine in this recipe wouldn't work well with the sauce for this shrimp scampi.
You might be wondering what type of white wine you should use when a recipe calls for a "dry white wine."
I recommend Sauvignon Blanc as my first choice for making this pasta with shrimp. You can also use an unoaked Chardonnay, Pinot Grigio or Pinot Gris.
What Can I Substitute for Wine in Shrimp Scampi?
You can omit the white wine in the sauce for this shrimp scampi and choose to substitute it with chicken broth. Just note that omitting the wine will make for a less rich sauce on this seafood dish.
If consuming alcohol is a concern, there are several alcohol-free wines on the market these days. I recommend looking for one of those over omitting the wine.
What is the Best Pasta for Shrimp Scampi?
We prefer to use thin noodles such as linguine or angel hair pasta. However, use whatever pasta you like best!
Can I Make this Recipe Gluten-Free?
Yes, you can definitely prepare a gluten-free version of this easy shrimp scampi recipe!
Try using your favorite gluten-free pasta or zucchini noodles in place of regular pasta. Then, spoon the garlic butter sauce over your gluten-free noodle of choice.
Serving this Shrimp Scampi Recipe
There are tons of great side dish options to serve with this classic recipe. Here are a few of my favorite options:
Italian Mixed Greens Salad is a mix of arugula, radicchio and baby kale is tossed with a simple lemon Dijon vinaigrette and topped with crispy prosciutto and fresh shaved parmesan.
Do you love Olive Garden's famous house salad? Learn how simple it is to make at home with this Olive Garden Salad Recipe so you can enjoy your favorite flavors at home!
Our easy go-to veggie sides are roasted broccoli, roasted green beans, roasted Brussels sprouts, and roasted asparagus. You basically follow the same method in all the options – toss with olive oil, salt, pepper, and roast.
I would definitely also recommend serving this shrimp pasta recipe with a thick slice of crusty bread for soaking up the sauce. You might like one of these bread recipes: Rustic Rosemary Garlic Bread, Light Whole Wheat Baguette, Whole Grain Bread, or Rustic White Bread would all be delicious!
Serve your Shrimp Scampi, salad, and bread with a glass of wine. Just use what's leftover from cooking this recipe. That's why it is important to cook with wine you'd be willing to drink!
Tips for Valentine's Day Dinner At Home
You don't need a 5-course meal to treat your Valentine to a special evening. Not only will planning an evening in for Valentine's Day ensure a romantic evening for two, it'll save you a few bucks as well.
Prepare something that's a little bit more special than your typical evening meal. Or if you know of a favorite dish that your significant other has, consider preparing that to dine on. It's also fun to try to recreate favorite restaurant dishes. This scampi dish is a great recipe option!
Choose a recipe that isn't crazy complicated but has complex flavor because its the ingredients give it a nice flair. Look for recipes ingredients that you don't normally eat day to day. I think this pasta recipe with artichokes fits that!
If you and your significant other both love spending time in the kitchen, consider preparing a special meal together. Now that the kids are older and we often have time alone in the evening, my husband and I love to spend time cooking together.
A little quiet, romantic music is always a nice touch. Turn a few lights off and light up the room with candles. If you are able and it's not too warm an evening, light up your fireplace to cozy up the room.
What To Do With Leftover Shrimp Scampi?
Seafood doesn't last as long as leftovers and it doesn't usually reheat very well at all. If you don't think you'll eat the whole dish in one evening, consider cutting the recipe in half.
Otherwise, if you do have leftover that you want to save, follow these tips:
Transfer the leftover garlic butter shrimp scampi to the refrigerator as quick as possible. Don't let this dish sit out at room temperature after you finish eating.
Store the shrimp and artichoke pasta in an airtight container.
Dispose of any leftovers after 2 days in the fridge.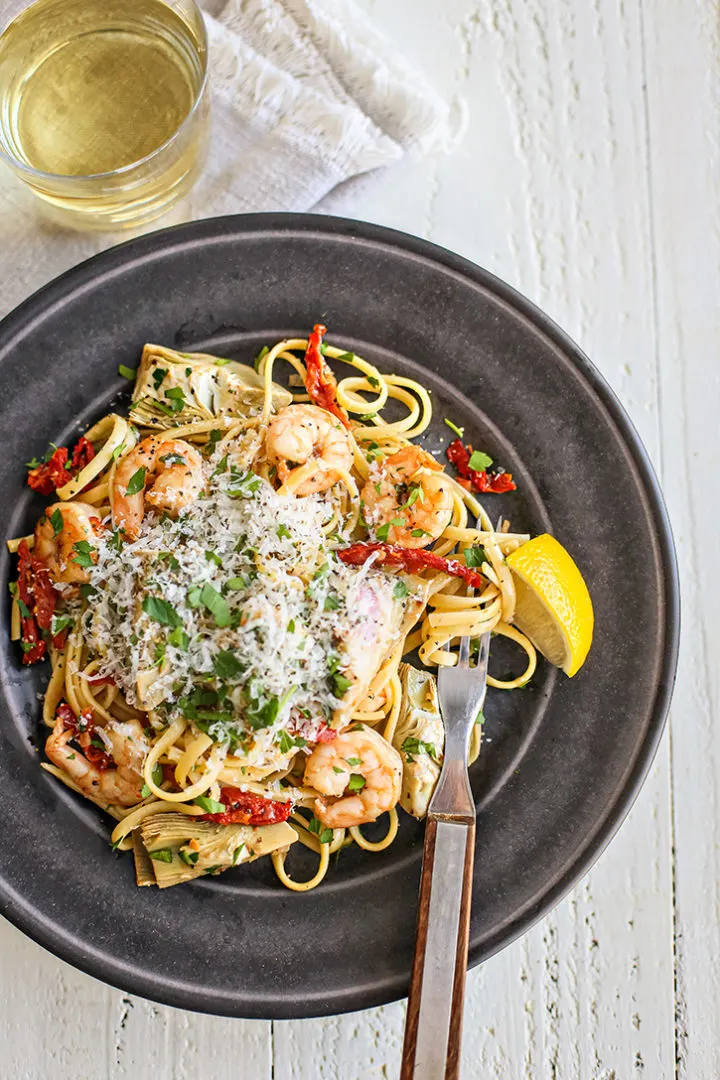 The Best Shrimp Scampi Recipe: 5 Star Reader Review
"This was so delicious! Made this for Valentine's Day and we both loved it! The artichokes and sundried tomatoes totally made the dish – I could eat sundried tomatoes every day! I scaled it up to make a 1 1/2 batch but otherwise followed the directions exactly." -Andrea
Try this Easy Recipe for Shrimp Scampi?
If you tried this succulent shrimp and pasta recipe, I'd love to hear from you!
I hope you agree that it is one of the best shrimp scampi recipes and it is definitely restaurant quality! Leave a comment below and give it a review for others to see.
On Instagram? Share your photo and tag me with @goodlifeeats and #goodlifeeatsrecipes. I'd love to see photos of your shrimp dish.
More Pasta Recipes for a Special Dinner
Looking for more easy pasta recipes? Here are a few of my favorites:
A simple, just-spicy-enough Arrabbiata Sauce you can make from pantry ingredients. Serve it with anything — chicken, sausages, pasta, even your morning eggs!
Creamy Gorgonzola Pasta is tossed with balsamic beef tenderloin for the ultimate pasta dinner! Serve with a salad or roasted vegetables for a complete meal. This recipe can be prepared gluten-free.
Spinach Mushroom Lasagna is an easy but impressive vegetarian dinner recipe that's perfect for both holiday entertaining and weeknight dinners. Serve with a simple green side salad for a complete meal!
Don't see what you're looking for here? You can always head over to check out the recipe index to look for more recipes.
Get More Recipes via Email
Did you love this recipe? Sign up to receive Good Life Eats Email Updates and never miss another recipe!

Do you think this Shrimp Scampi recipe works for Valentine's Day?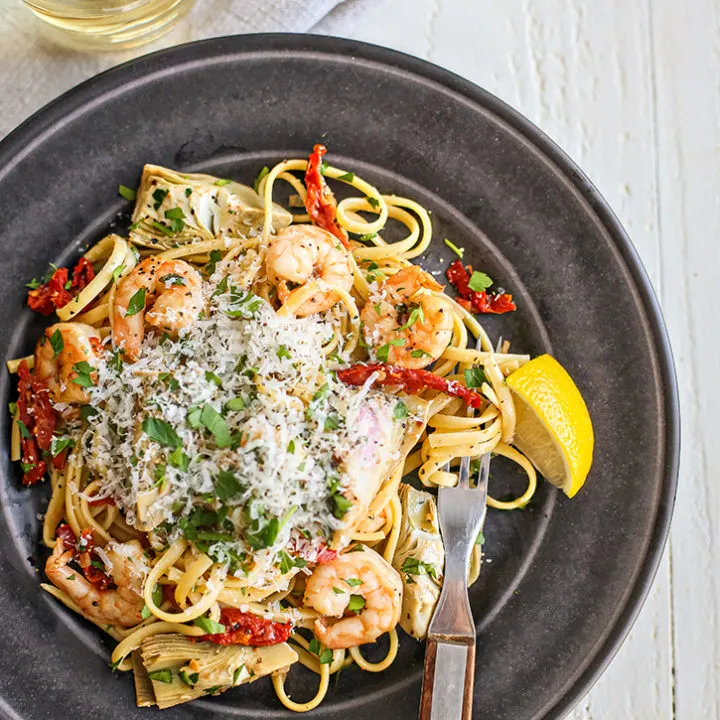 Shrimp Scampi with Sun-Dried Tomatoes and Artichokes
This recipe for Shrimp Scampi with Tomatoes and Artichokes is the perfect easy, yet romantic, pasta dinner for Valentine's Day. It takes a classic shrimp scampi recipe up a notch with the addition of artichokes and sun-dried tomatoes to the recipe. In my opinion, it's the best recipe for shrimp scampi. You'll love dipping crusty bread in the sauce for this shrimp scampi, too!
Ingredients
1/2 pound Linguini, cooked according to package instructions
2 tablespoon Butter
1 tablespoons Extra Virgin Olive Oil, plus more for drizzling
2 Shallots, finely diced
3 cloves Garlic, minced
1/2 pound frozen pre-cooked Shrimp, peeled and deveined
5 tablespoons Dry White Wine
6 ounces frozen Artichoke Hears, thawed (or canned)
1/3 cup thinly sliced Sun-Dried Tomatoes
/4 teaspoon fresh Black Pepper
1/4 teaspoon Sea Salt plus more to taste if desired
One large Lemon
1/4 cup finely chopped Flat Leaf Parsley
1/4 cup Grated Fresh Parmesan
Instructions
Set shrimp aside in a bowl to thaw while you prepare all of the ingredients. To speed thawing you can rinse in warm water.
Juice half of the lemon, reserving the other half to garnish the plate.
Prepare the pasta according to package instructions so it is ready when you need it.
Measure the butter and olive oil into a large saute or cast iron pan over medium heat.
When butter has melted, swirl to combine with the oil.
Add the shallots to the pan and saute over medium heat for 3 minutes.
Then, add the garlic and saute for another 1-2 minutes or until the garlic becomes fragrant and the shallots are tender and translucent.
Next, add the shrimp, salt, and pepper.
Stir to combine and cook for 3-5 minutes over medium-high heat. Add the wine and cook for another 2-3 minutes.
Stir the artichoke hearts sun-dried tomatoes into the shrimp mixture.
Cook until heated through. Stir in the lemon juice and half of the parsley.
Add the hot pasta to the pan, stir until evenly distributed.
Taste for seasonings and adjust salt and pepper if desired. Sprinkle with the remaining parsley.
Serve topped freshly grated Parmesan cheese and a wedge of lemon.
Recommended Products
As an Amazon Associate and member of other affiliate programs, I earn from qualifying purchases.
Nutrition Information
Yield

4
Serving Size

1
Amount Per Serving
Calories

345
Total Fat

13g
Saturated Fat

6g
Trans Fat

0g
Unsaturated Fat

6g
Carbohydrates

35g
Fiber

6g
Sugar

5g
Protein

21g
Photography: photos taken in this post are by Rachael from Set the Table.
Easy Valentine's Day Pasta Menu
Disclosure: This post originally contained a giveaway. Le Creuset provided me with a the giveaway prize. I was not compensated for this post or the creation of this recipe for Shrimp Scampi with Tomatoes and Artichokes. Opinions are my own. This giveaway is now closed.