Valentine Dessert: Dark Chocolate Almond Molten Lava Cake Sundaes
Dark Chocolate Almond Molten Lava Cake Sundaes are the perfect Valentine Dessert.
Cake, with a center that tastes like the most delicious hot fudge, is topped with ice cream and sliced almonds for a pretty presentation and decadent chocolate richness.
This recipe for Dark Chocolate Almond Molten Lava Cake Sundaes was made in partnership with Fisher Nuts.
As a single mom the previous few years, I had absolutely zero motivation to celebrate Valentine's Day.
Unless it involved making some sort of cutesy sweet treat for my kiddos.
We focused on recipes like Easy Vanilla Cut-Out Cookies or Easy Pink Velvet Pancakes, and giving my kids some cute Valentine's Day gifts like a card and stickers.
In fact, previously the holiday had kind of been a pretty sensitive time for me, not just because I was single mom, but because of the timing of when my first marriage imploded.
February hasn't been a month I cared for in what feels like a long, long time.
To say that I'm just a tad bit excited to have all of that behind me is a bit of an understatement.
Kevin and I weren't a couple last year on Valentine's Day.
We kind of had an untraditional courtship (that sounds a little old-fashioned…) and began dating, then got engaged, then married all within the span of about 5 months since we had already known each other for almost 2 years by the time we started dating.
2016 was a bit of a whirlwind year for us, in all good ways.
Wow!
So, this is both our first year together as a couple for Valentine's Day and our first Valentine's Day since getting married.
February is a bit of a crazy month for us with some travel for Kevin and lots of things on the calendar.
I actually have no idea if we'll get to go out for Valentine's Day or not and we haven't even talked about it yet.
But, I'm definitely happy that I have such happiness and love in my life now.
If February is a busy month for you, too, and you can squeeze in some time to make a special treat at home even if you don't have time for a romantic evening out, you will definitely want to give this recipe for Dark Chocolate Almond Molten Lava Cake Sundaes a try.
Or maybe, like my past self, you're single and hurting over being single.
Make these Dark Chocolate Almond Molten Lava Cake Sundaes and give yourself a night to do something you enjoy, like watching a movie while eating this decadent Valentine dessert or having some other single friends over for an evening together.
They're pretty quick to prep.
Quick enough that the photography took me longer than the actual assembly and baking.
Quick enough that you can whip them up after you get the kids in bed or while you're friends are on their way over.
Dark Chocolate Almond Molten Lava Cake Sundaes are my new favorite dessert.
The Lava Cake part features Fisher Nuts preservative-free non-GMO almonds all ground up into a fine powder.
Plus, you have chocolate, amaretto, almond or vanilla extract, butter, flour, egg, and sugar.
Did I mention plenty of chocolate?
A Valentine dessert requirement is chocolate.
The outsides of the cake are like a rich cake with a little bit of a crunchy chewy edge, and the inside is oozing with chocolate lava that tastes like hot fudge sauce.
The cakes are inverted on a plate, broken purposely to let the lava fudge ooze out, and topped with a big scoop of vanilla ice cream and more Fisher Nuts Almonds for an extra crunch (plus, almonds and chocolate pair really well together).
If you want to get really, really decadent, you can top the whole Dark Chocolate Almond Molten Lava Cake Sundaes off with extra hot fudge sauce, some homemade whipped cream, and shaved chocolate.
But I think they're plenty rich on their own…and, like I said, the lava part tastes just like hot fudge.
They're sort of an outside in hot fudge (rather than the hot fudge being outside as a topping).
I much prefer this way of making Molten Lava Cakes.
You purposely break them when inverting them instead of having to fuss with trying to get the cake to come out of the ramekin looking all perfect and in one piece.
Because for me, never ever have I successfully done that to perfection.
It doesn't matter if they look deformed, because you're going to cover the Dark Chocolate Almond Molten Lava Cake Sundaes in ice cream and almonds anyway.
Plus, warm chocolate lava oozing all over the plated mixed with melted vanilla ice cream and crunchy almonds is pretty much the best thing ever to eat.
Whatever you end up doing for Valentine's Day, you definitely deserve a gooey chocolatey almond Valentine dessert in your world!
More Valentine's Day Desserts
For rich layers of white chocolate and dark chocolate pudding paired with raspberries, try these Triple Chocolate Raspberry Pudding Parfaits.
Cherry Vanilla Cupcakes for Valentine's Day are perfect if you're looking for something cute, sweet, and pink for the kids.
You can use chocolate ganache for lots of different things.
Learn How to Make Ganache and 5 Ways to Use It.
Hint: one of the things it is good for is dipping Fisher Nuts and fresh berries.
Chocolate and Raspberry are classic pairings in these Chocolate Cupcakes with Raspberry Buttercream.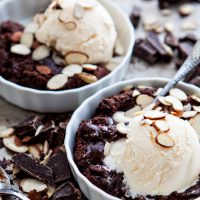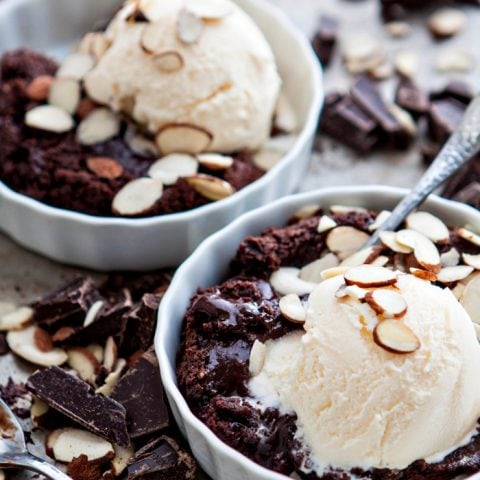 Dark Chocolate Almond Molten Lava Cake Sundaes
Dark Chocolate Almond Molten Lava Cake Sundaes are the perfect dessert for two this Valentine's Day. Cake, with a center that tastes like the most delicious hot fudge, is topped with ice cream and sliced almonds for a pretty presentation and decadent chocolate richness.
Ingredients
1 Large Egg
1 Egg Yolk
2 tablespoon Amaretto, optional
1/8 teaspoon Almond Extract or 1 teaspoon Vanilla Extract
1 tablespoon + 2 teaspoons Finely Ground Fisher Sliced Almonds
1 tablespoon All Purpose Flour
1/2 cup Powdered Sugar
2 2/3 ounces Bittersweet Chocolate
10 teaspoons (3 1/3 tablespoons) Salted Butter
1/2 cup Vanilla Ice Cream
2 tablespoons Sliced Almonds, for garnish
Instructions
Preheat oven to 425 degrees F.
Grease the bottoms and sides of two 6 ounce oven safe ramekins or custard cups. Set aside.
In a small bowl, beat the whole egg, egg yolk, amaretto (if using) and almond extract or vanilla extract with a wire whisk until well mixed. Set aside.
In a another small bowl, combine the finely ground almonds, flour, and powdered sugar.
Whisk to combine. Set aside.
Add the bittersweet chocolate and the salted butter to a small saucepan. Cook over low heat, stirring frequently, until melted. Remove from heat.
Add the sugar mixture to the melted chocolate and butter and stir until it is well mixed.
Then, add the beaten egg mixture and stir until the mixture is fully incorporated and smooth.
Divide the mixture between the two prepared ramekins.
Bake at 425 degrees F for 10-12 minutes. The edges should be firm and the centers still soft.
After baking, making sure to use a towel or oven mitts to protect your hands, remove from the oven.
Then, run a knife around to loosen the cake from the ramekin.
Then, making sure to continue protecting your hands as the ramekins will be hot, invert each cake onto a small plate or a low, flat bowl.
Cut into the lava cake in half (or even quarters) and open slightly to allow the lava to ooze out.
Top each with 1/3 of a cup of vanilla ice cream and sprinkle with almonds.
Serve immediately!
Notes
To grind the almonds, place sliced almonds in a small food processor and chop until a very fine powder is formed. Depending on the size of your food processor, you'll need to process more than you actually need (I recommend starting with 1/4 cup sliced almonds). Then, measure what you need for this recipe and save the rest for another occasion.
Nutrition Information
Yield

2
Serving Size

1
Amount Per Serving
Calories

619
Trans Fat

0g
Fiber

8g
Protein

13g
GoodLifeEats.com offers recipe nutritional information as a courtesy and is an estimate only. This information comes from online calculators. Although GoodLifeEats.com makes every effort to provide accurate information, these figures are only estimates.
Easy Valentine's Day Pasta Menu
This recipe for Dark Chocolate Almond Molten Lava Cake Sundaes is a sponsored conversation written by me on behalf of Fisher nuts.
The opinions and text are all mine.
I choose to partner with Fisher because I love that their produce is preservative-free and non-GMO.