Coconut Chia Pudding Parfaits with Tropical Fruit Turmeric Puree
Coconut Chia Pudding Parfaits with Tropical Fruit Turmeric Puree is a delicious breakfast treat or afternoon snack featuring Coconutmilk soaked Chia layered with blended tropical fruits.
We just had a new King Soopers open up a couple of months ago in our town and I'm seriously thrilled!
It is a really convenient distance from our new house, and definitely the closest shopping option that we have, but the location is also pretty much perfection.
I drive right by it every time I take Kendall, Kayden, or Madeline to and from school.
Having a grocery store with such high quality food, customer service, and shopping experience that close to use is pretty much the best thing ever…especially when you're a food blogger.
When I need to run out to the store really quick for an ingredient that I forgot, or because sudden recipe inspiration struck and I don't have everything I need at home, I can always count on King Soopers to have what I need…and the trip doesn't take too long.
Recently, I headed to King Soopers with a specific goal in mind – to check out their selection of natural foods in partnership with Silk.
I wanted to create a tasty treat that would serve either as a breakfast, snack, or even a dessert, but that didn't derail me from my healthy goals for the New Year.
King Soopers had all of my needs readily available for the recipe that I was brainstorming.
I love that they have so many health-focus products and ingredients to support my healthy lifestyle habits, but they also have all of the regular things that our family needs as well and at reasonable prices.
I have been to other King Soopers that have a specific section of the store that is devoted to natural foods.
Our new store is a Marketplace, so it is larger than a typical grocery store, and it has the Natural Foods Department incorporated throughout the entire store, rather than having a separate area.
I actually really like that because in helps me to incorporate those types of products and habits with the rest of my shopping experience rather than it being isolated from all of the other items I have on my shopping list.
Since it is the middle of the winter, and I'm already missing the summer afternoons we spent in Florida for our beach wedding, I decided to go with something tropical themed – Coconut Chia Pudding Parfaits with Tropical Fruit Turmeric Puree.
Chia Pudding is really simple to make. You're just choosing a liquid of choice, in my case Silk Original Coconutmilk to go with my tropical theme and to give the pudding a nice creamy consistency, and soaking chia in the liquid until it absorbs most of the liquid becomes a pudding-like consistency.
Chia pudding kind of reminds me of tapioca a bit, but is packed with omega-3s, protein, antioxidants and fiber thanks to this tiny superfood.
You can add chia to yogurt or oatmeal and blend it into a smoothie (like this Pineapple Coconut Kale Smoothie).
One option that Madeline loves is to mix 1 – 1/2 tablespoons of chia with 1 cup of juice or juice+water combo and let it sit for an hour or two in the fridge before drinking.
The chia thickens up and absorbs some of the liquid but the mixture is still drinkable.
After soaking the chia and making the pudding part of the recipe, I blended up some frozen fruit – mango, pineapple, and peach – with fresh lime and orange juice.
I added in a bit of turmeric powder, since I keep reading about all of the many benefits of turmeric, to go with my super foods theme.
If you don't like turmeric, or don't have any on hand, you can feel free to leave that out of the recipe.
To top the Chia Pudding Parfait off, and to make it extra bright and pretty during these winter months, I added shaved coconut, fresh bright raspberries, macadamia nuts, and a wedge of lime to the top.
Learn how to toast coconut flakes in 3 different ways (they're all super easy!), how to store toasted coconut, how long toasted coconut lasts, and the many different ways you can use this fun, tasty ingredient! 
It truly looked like something fresh and fruity from some tropical destination, and it was paced with a powerhouse of nutrients to keep my year off to a good start.
If you're wondering how you eat this, the answer is with a spoon.
Scoop it up like you would any other parfait and be sure to get some of the coconut chia, tropical fruit turmeric puree, and the delicious toppings in each bite!
More Recipes Featuring Silk
Iced Coconut Cashew Chai is a refreshing and tasty take on your traditional iced chai.
Brewed chai tea is combined with Coconut + Cashew Nutchello and served over ice cubes.
Not just any iced cubes though, these are made from chai and Coconut + Cashew Nutchello so they don't dilute your tea while they melt.
Chocolate Almond Banana Smoothie is a delicious snack for an afternoon pick me up.
Banana, almond butter, chia, cocoa powder and ice are blended with almond milk for a healthy, creamy treat.
Cranberry Gingerbread Muffins are a festive treat made dairy free thanks to cashew milk.
Creamy Dairy-Free Berry Banana Pops with Vanilla Silk are perfect for warmer weather gatherings in the months ahead!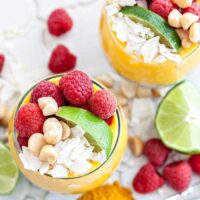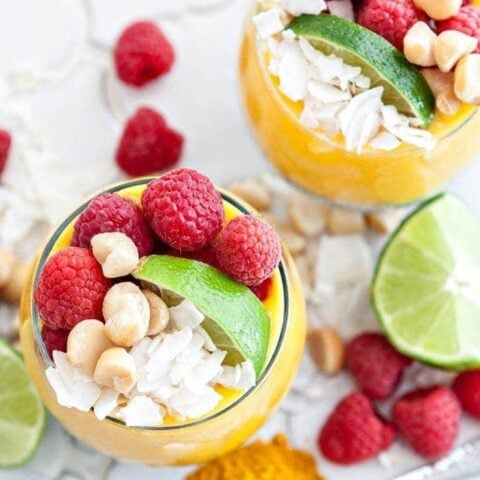 Coconut Chia Pudding Parfaits with Tropical Fruit Turmeric Puree
Prep Time:
1 hour
10 minutes
Total Time:
1 hour
10 minutes
Coconut Chia Pudding Parfaits with Tropical Fruit Turmeric Puree is a delicious breakfast treat or afternoon snack featuring Coconutmilk soaked Chia layered with blended tropical fruits.
Ingredients
2 cups Silk Original Coconutmilk
1/2 cup Chia Seeds
4 ounces frozen Peaches
4 ounces frozen Mango
4 ounces frozen Pineapple
juice of 1/2 a Lime
juice of 1 Orange
1/4 teaspoon Turmeric
Water, if needed, for blending consistency
1 Lime, cut into wedges
1/2 cup Fresh Raspberries
3 tablespoons Shaved Coconut
1/4 cup Macadamia Nuts
Instructions
For the Coconut Chia Pudding
Combine the Silk Original Coconutmilk and the chia in a 4 cup capacity measuring cup.
Whisk to combine.
Place in the refrigerator and soak the chia seeds until they have absorbed the coconut milk and become a pudding-like consistency, approximately an hour, stirring every 15 minutes so that the mixture does not develop clumps.
For the Tropical Fruit Turmeric Puree
Just before the chia is done soaking, add the peach, mango, and pineapple to the blender with the lime juice, orange juice, and turmeric (optional).
Place the lid on the blender and puree the mixture until smooth, adding small amounts of water if needed to get a smooth puree.
For the Parfaits
Divide the coconut chia pudding between 4 - 10 to 12 ounce capacity jars or glasses.
Divide the fruit puree between the 4 glasses, layering it over the chia.
Garnish with desired toppings (raspberries, shaved coconut, lime wedge, and macadamia nuts).
Notes
Best enjoyed immediately.
Follow the basic recipe proportions and use different frozen fruits for a variety of chia pudding parfait ideas!
Recommended Products
As an Amazon Associate and member of other affiliate programs, I earn from qualifying purchases.
Nutrition Information
Yield

4
Serving Size

1
Amount Per Serving
Calories

345
Total Fat

15g
Saturated Fat

3g
Trans Fat

0g
Unsaturated Fat

12g
Cholesterol

0mg
Sodium

92mg
Carbohydrates

51g
Fiber

13g
Sugar

33g
Protein

6g
GoodLifeEats.com offers recipe nutritional information as a courtesy and is an estimate only. This information comes from online calculators. Although GoodLifeEats.com makes every effort to provide accurate information, these figures are only estimates.
This is a sponsored conversation written by me on behalf of WhiteWave Foods. The opinions and text are all mine.