These Southwest Breakfast Bowls are a great way to enjoy a quick, healthy, and high-protein breakfast at home on busy weekday mornings.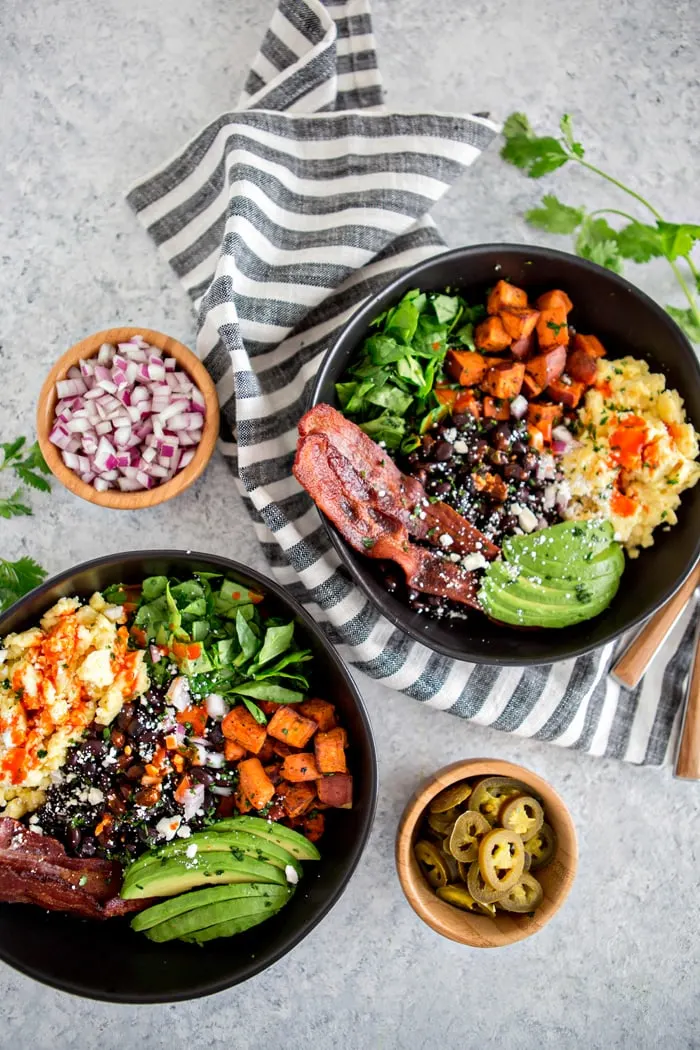 This back to school breakfast post and recipe for Southwest Protein Breakfast Bowl with Sweet Potato and Black Beans was originally published and sponsored by Smithfield on August 27, 2018. for sponsoring.
Click HERE to save this recipe for Southwest Breakfast Bowls!
Southwest Breakfast Bowls Recipe
The last few years we have taken our family vacation at the very end of the summer. It has been the perfect way to have one last hurrah (with a side of some relaxation at the beach) before we transition for the beginning of another school year.
After a full summer, lots of fun with friends, and a great family vacation, I have to admit that I am 100% basking in all things back-to-school.
I love the routine that comes with school mornings, even though they can be busier than lazy summer mornings.
I enjoy having all of the kids wake up and eat together rather than waiting for some of them to eventually stumble out of bed and start eating breakfast so late that it is almost time for lunch.
Because a well-balanced, protein-packed breakfast is so important to students' academic success, Smithfield asked me to create a quick and creative back-to-school breakfast recipe using their bacon to help celebrate their partnership with No Kid Hungry. That is something I can get on board with! (Plus, none of our kids say no to anything involving bacon!)
I decided to create this recipe for Southwest Protein Breakfast Bowls with Sweet Potato and Black Beans. Just like I thought it would be, this recipe was a hit.
When I was testing it out a few weeks ago, the kids were hounding me with questions of "are you done yet?!?!" and "what smells so good?!?!" because they couldn't wait to sample my creation.
You might not think to serve breakfast in a bowl like this, or with ingredients like chopped spinach and roasted sweet potatoes.
I thought it would be a fun way to balance some of their favorite ingredients in a new way, as well as a delicious way to balance carbs, produce, and plenty of protein.
Plus, breakfast bowls are so much faster and way less of a fuss to make for breakfast, especially when you're prepping for 4 kids, than something more traditional like an omelet.
Breakfast Bowls Ingredients
This black bean and sweet potato breakfast bowl requires very few ingredients to whip up — a must when I'm trying to make breakfast for 4 kids!
Here's what you'll need to make these high-protein breakfast bowls:
Smithfield Hometown Original Bacon
Eggs
Black beans
Avocado
Spinach
Garnishes of choice
For the complete ingredient list and detailed instructions, scroll to the bottom of this post for the free printable recipe card.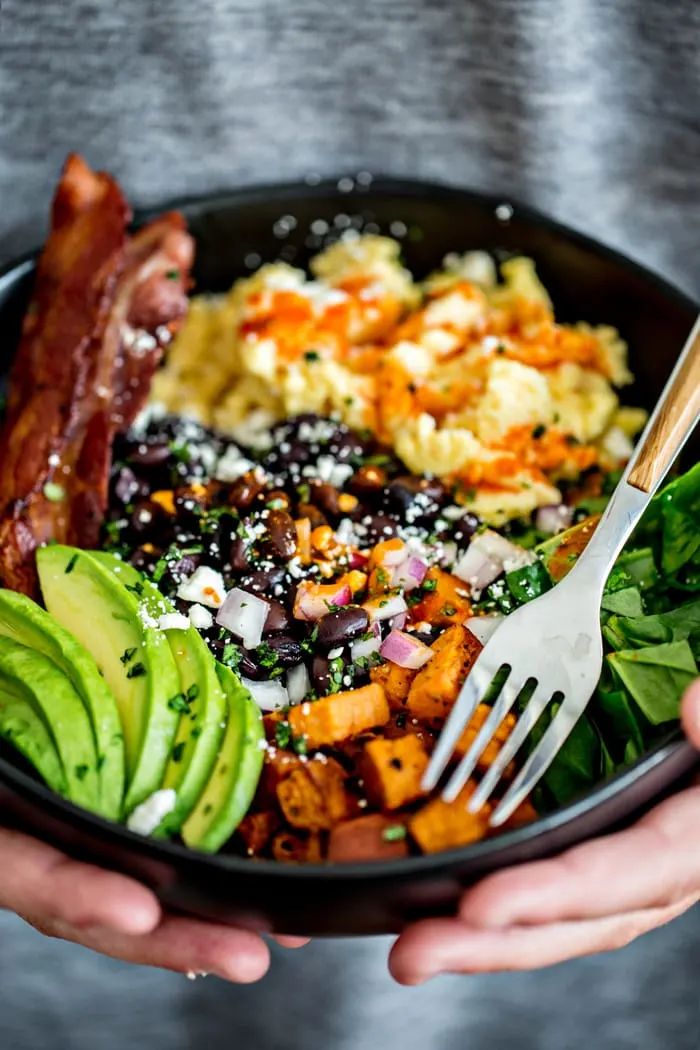 Click HERE to save this recipe for Southwest Breakfast Bowls!
How to Make Breakfast Bowls
This healthy egg breakfast is so easy to make. Here's how I make these breakfast bowls on busy mornings:
Cook the bacon according to your personal preference. For a tutorial on cooking bacon in the oven, see my post on How to Bake Bacon.
While the bacon cooks, prep the remaining ingredients (warm the beans, cook the eggs, etc.)
Divide the ingredients among the bowls.
Finish with two slices of bacon per bowl. The bacon can be left in slices or crumbled.
Garnish with your choice of toppings.
For the complete ingredient list and detailed instructions, scroll to the bottom of this post for the FREE printable recipe card.
Breakfast Bowl Garnishes to Try
These healthy breakfast bowls are delicious as is. But to amp up the flavor even more, try one (or more!) of the following garnishes:
Cilantro Leaves
Cotija Cheese
Hot Sauce
Salsa
Pickled Jalapeños
Red Onion
Can I Meal Prep Breakfast Bowls?
Yes, you can meal prep many parts of these protein bowls. This recipe only takes about 15 minutes to prepare, or even less if you take advantage of some of these plan ahead ideas for your meal prep.
One of my favorite times to make these Southwest Protein Breakfast Bowls with Sweet Potato and Black Beans for breakfast is when we have had roasted sweet potatoes the night before with dinner. It is so easy to make a little bit extra when I'm making our favorite roasted sweet potato recipe that I almost always do.
I like to prep some of my produce for the week on the days that I grocery shop. It has become part of my routine to do this when I'm putting the groceries away.
If we are having salad that week, I'll wash and chop the greens, then run them through the salad spinner to remove excess moisture.
Prepped greens go in a paper towel lined zip top bag and store it in the fridge. I have found that the paper towel helps absorb any extra moisture and keeps the greens fresh longer.
It makes preparing meals on busy days just a little bit simpler — it takes less time to throw a salad together and if I have kids helping me in the kitchen it makes it even easier for them to complete the task quickly if a few of the ingredients have already had prep work done on them.
Even the bacon can be cooked ahead of time and stored in the fridge and reheated the morning you are making breakfast preparations.
I used Smithfield Hometown Original Bacon, but they have a wide variety of flavors and cuts including Cherrywood and Thick Cut, so you can choose whatever style you prefer. Cook it crispy or chewy — however you like.
But do check out my tutorial for How to Bake Bacon because it makes cleanup a breeze! You can find Smithfield at your local grocery store.
When I have everything prepped, I just have to heat up some black beans, scramble some eggs, and slice up the avocado. Then, the kids can fill their bowls with the individual ingredients as they come down to the kitchen and are ready for breakfast. It is a win for everyone on school mornings.
I love that they're fueling their bodies with a meal that will give them the energy they need at school. Studies show that kids are more likely to perform better on school testing when they start the day with a hearty breakfast.
Eating breakfast before school helps me connect with the kids before their days starts and I know that I'm sending them off for their day primed with the ability to concentrate during school. The kids are pretty happy that they get to start the day with something that tastes so good.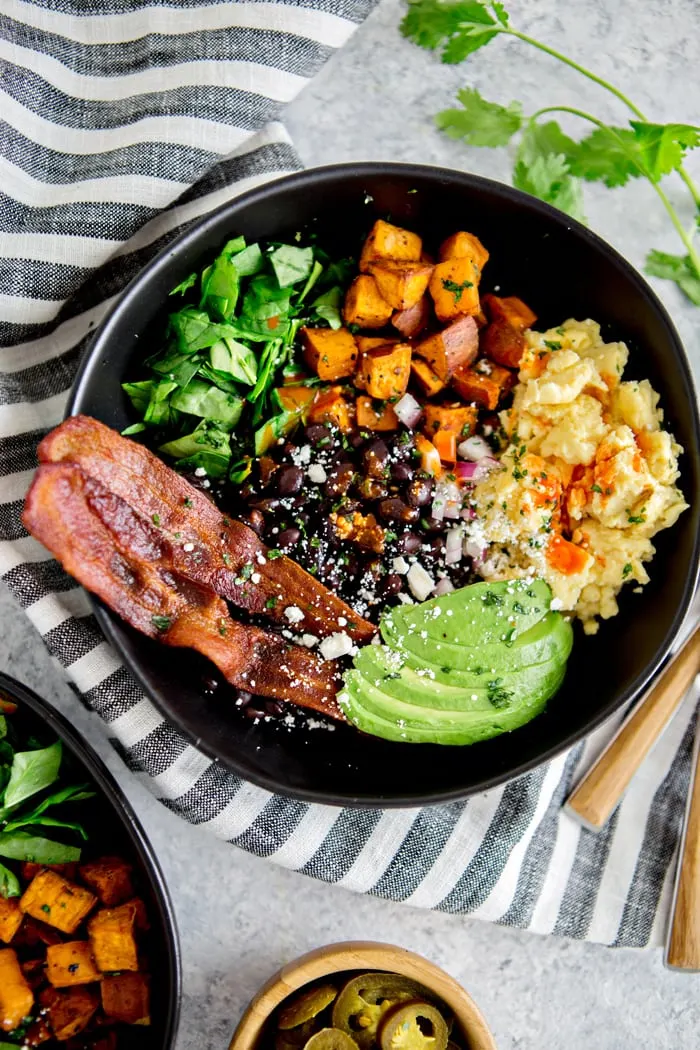 Click HERE to save this recipe for Southwest Breakfast Bowls!
Tips for Making Breakfast Bowls
Feel free to substitute the veggies you like best instead of the ones listed in the recipe card below. This sweet potato breakfast bowl recipe is very flexible!
Likewise, you're welcome to cook your eggs scrambled, over easy, or sunny side up. You could even hard-boil the eggs ahead of time if you know you'll be really short on time.
If you need a grab and go breakfast, pop all the ingredients into a mason jar or Tupperware container in the morning and bring your breakfast bowl with you.
What Readers Are Saying
"I have been looking for new breakfast options! Sign me up for this bowl!" — Taylor
"I never think of doing breakfast bowls! I love this idea- and I bet it gives you energy all day long." — Julia
"My kids would be thrilled to have this for breakfast before school! It's so important for them to fuel up before using up all those brain cells." — Liren
More Easy Healthy Breakfast Ideas:
Looking for more of our favorite back to school breakfast recipes to keep in your morning rotation along with this recipe for Southwest Protein Breakfast Bowls with Sweet Potato and Black Beans?
Check out some of these delicious recipes, or browse the recipe index archives for even more tasty recipe ideas:
If you're a fan of green smoothies and looking for a new recipe to try, you should check out this Pineapple Coconut Kale Smoothie. This Pineapple Coconut Kale Smoothie is loaded with good things like coconut oil, chia seeds, and kale. PLUS, it tastes a little bit like a Pina Colada.
Whole Wheat Blueberry Muffins are quick and easy to make, plus they're a crowd pleasing classic muffin recipe. Fresh or frozen blueberries both work just as well at providing sweet, juicy pops of flavor in every bite.
If you prefer a savory breakfast, you might want to give these simple Black Bean and Egg Breakfast Tacos a try.
Next time you make pancakes or waffles, make some extra and follow this quick and easy tutorial for How to Freeze and Reheat Pancakes and Waffles. You'll get to enjoy them throughout the next few weeks for breakfast with hardly any effort at all. Your morning routine and family will definitely thank you!
For a special treat, try making these Homemade Pop Tarts with Cream Cheese Filling and Molasses Glaze! They taste a lot like Gingersnaps!
These Make Ahead Mini Ham and Spinach Breakfast Pies are great for keeping stashed in your freezer. They're small and portable, making them a great grab-and-go breakfast option for busy school mornings (hit snooze one too many times, anyone??)
This Chocolate Almond Banana Smoothie is super simple to make. Just toss the frozen banana, ice, almond milk, chia seeds, almond butter, and unsweetened cocoa powder in the blender and puree. In less than 5 minutes, you have a tasty smoothie that you can feel good about eating.
What are your favorite back-to-school breakfast ideas?
Love this recipe for Southwest Protein Breakfast Bowls? Sign up for Good Life Eats email updates and never miss another recipe!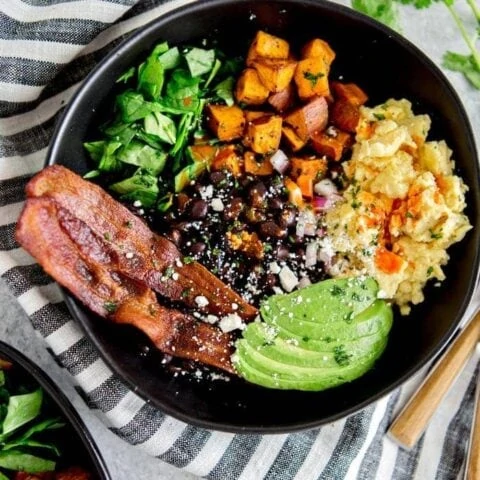 Southwest Protein Breakfast Bowls with Sweet Potato and Black Beans
Breakfast Bowls like these Southwest Protein Breakfast Bowls with Sweet Potato and Black Beans are a great way to enjoy a quick protein-packed, creative meal at home on busy weekday mornings.
Ingredients
8 slices Smithfield Hometown Original Bacon
4 Eggs, scrambled (or prepared according to your preference)
1 - 14.5 oz. can Black Beans, drained and rinsed
2 cups cubed, Roasted Sweet Potatoes
1 large Avocado, divided into quarters and sliced
1 1/3 cup Baby Spinach, chopped
Optional Garnishes: Cilantro Leaves, Cotija Cheese, Hot Sauce or Salsa, Pickled Jalapeños, and/or Red Onion
Instructions
Prepare the bacon according to package instructions, or use your preferred method to cook until desired crispiness is reached. For a tutorial on cooking bacon in the oven, see the post How to Bake Bacon.
While bacon is cooking, prepare the remaining ingredients. The black beans can be warmed in the microwave to heat them or they can be served room temperature.
To assemble the Southwest Protein Breakfast Bowls with Sweet Potato and Black Beans, divide the prepared eggs between 4 bowls, then divide the black beans between the 4 bowls.
Add 1/2 cup roasted sweet potatoes in each bowl, then add one quarter of the sliced avocado to each bowl. Add 1/3 cup chopped spinach to each bowl.
Lastly, place 2 slices of bacon in each bowl. The bacon can be left in whole slices or crumbled, depending on what you prefer.
If desired, serve the bowls with any of the above garnish ideas, depending on what your preferences are. Serve the bowls immediately after preparing.
Notes
Feel free to substitute the veggies you like best or use fried or over easy eggs instead of scrambled if you prefer.
Recommended Products
As an Amazon Associate and member of other affiliate programs, I earn from qualifying purchases.
Nutrition Information
Yield

4
Serving Size

1
Amount Per Serving
Calories

308
Total Fat

15g
Saturated Fat

3g
Trans Fat

0g
Unsaturated Fat

10g
Cholesterol

169mg
Sodium

445mg
Carbohydrates

30g
Fiber

12g
Sugar

2g
Protein

16g
GoodLifeEats.com offers recipe nutritional information as a courtesy and is an estimate only. This information comes from online calculators. Although GoodLifeEats.com makes every effort to provide accurate information, these figures are only estimates.
Tag @goodlifeeats and include the hashtag #goodlifeeatsrecipes so I can see what you're cooking up in YOUR kitchen!
Click HERE to save this recipe for Southwest Breakfast Bowls!
This post was created in partnership with Smithfield. I have been compensated for my time creating this recipe for Southwest Protein Breakfast Bowls, however all of the contained opinions are my own.