Bacon is one of the quintessential Saturday morning foods.
Learn baking bacon will yield perfectly crispy, mess-free bacon with your Saturday morning breakfast.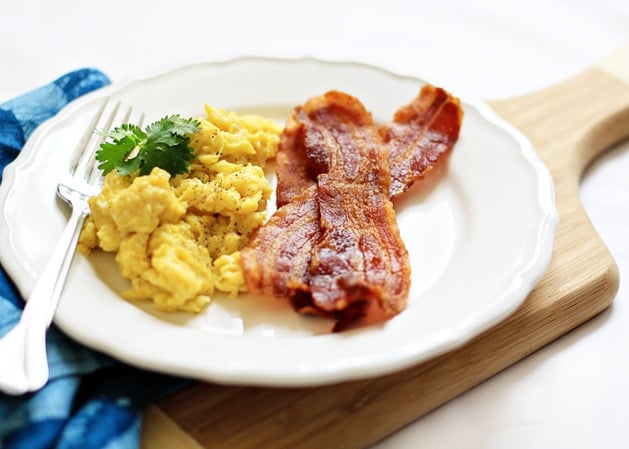 I am all about time-savers in the kitchen.
One of my favorite time-savers in the kitchen is to bake bacon in the oven.
If you've never heard of baking bacon before you might wonder why you would do that rather than cooking it the traditional way on the stove.
My favorite aspect of this method of cooking bacon is that it doesn't make a mess all over my stove top.
Especially now that we are in our new house – the stovetop is stainless and it is a bit more challenging to clean (and keep clean without streak marks everywhere) than my old black range was.
The next favorite plus to this method is that when I bake bacon, I don't have time to babysit it on the stove as I flip each piece to ensure even cooking.
Nor do I have to worry about myself, or anyone else for that matter, getting painfully splattered with hot grease when the bacon is safely cooking away in the oven.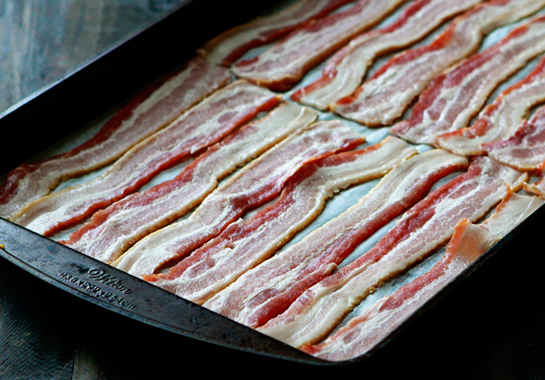 Baking bacon makes it so much easier to prepare and frees up my hands to accomplish other tasks that need my attention – in or out of the kitchen.
Or maybe you're wondering something else all together, like how to bake bacon.
I didn't know how to do this at first either.
Honestly, I never paid attention to the packaging, which I realized years later – actually does tell you that it can be cooked in the oven.
DUH.
Who would have thought that reading the instructions would actually prove useful.
Have you ever baked your bacon before?
Or am I the only one that this was a new technique for until a couple of years ago.
I tell you, whoever originally figured this baking bacon thing out is basically pure genius.
No splatters on the stove.
No babysitting and flipping the bacon.
No mess.
No fuss.
Perfectly cooked bacon every time.
How to Bake Bacon – 5 Steps to Perfect Baked Bacon
1. Preheat the oven to 400 degrees F.
2. Line a large baking sheet with parchment paper if you like.
Cooking bacon in oven on parchment paper ensures the bacon doesn't get stuck to the pan and it also makes clean up a little bit easier.
Foil works, too.
3. Place the bacon on the lined baking sheet.
You can lay them pretty close together, but you'll want to make sure none of the bacon strips are overlapping.
You don't want to bake bacon only to end up with all the stuck together after the baking is complete.
Unless maybe you are doing that on purpose, and then please do tell what you plan on doing with the bacon quilt – I am totally curious!
4. Place the baking sheet in the oven on a rack positioned in the middle position.
5. Plan to bake bacon for approximately 15-20 minutes, though I recommend keeping an eye on it the first time as oven temperatures do vary.
Additionally, bacon thickness (like if you are trying to cook extra thick cut bacon in the oven) or if you like your bacon extra crispy (or less crispy) all play a role in the cooking time.
More Time-Saving Kitchen Tips
This year has been quite the busy year for our family.
Even though we are settled in our new home our life has not seemed to get any simpler or less busy, but perhaps that is just the way life is now with 4 kiddos in the mix.
I'm always on the lookout for extra ways to save some time, especially with the cooking process.
Now that I've told you all about baking bacon, here are a few of my other favorite time saving techniques.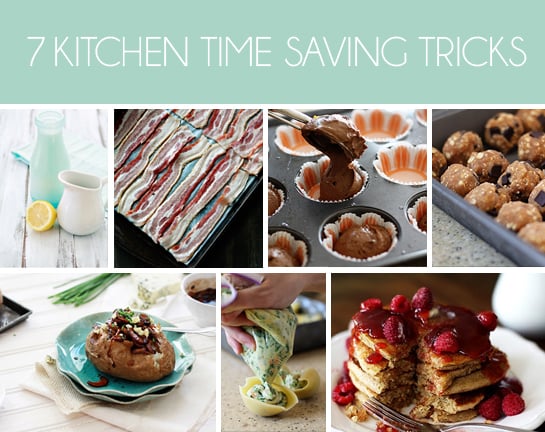 Whenever we make cookies we make extra dough to freeze and use throughout the coming weeks.
Less mess to clean up when the dough is only prepared once. Less time spent mixing up batter.
Homemade Buttermilk Substitute
Zero time spent going to the store to buy an ingredient that I am out of when I can easily whip up a substitution at home.
Love the short-cut method for baking perfect baked potatoes when I'm in a rush to get dinner on the table.
Top them with steamed broccoli and cheddar cheese or leftover chili for a super fast dinner.
This tip for filling muffin tins quickly and evenly (which greatly helps with baking times and ensuring that each muffin is done at the same time) is a favorite for sure.
Stuffed Pasta – The Easy Way! – This trick makes stuffed shells and manicotti a breeze – not just easy, but super quick and totally less messy.
How to Freeze and Reheat Pancakes and Waffles
We can enjoy a delicious hot breakfast on even the busiest of mornings or save the day for a quick "breakfast for dinner" when the most time consuming portion is already done.
Have you ever made bacon in the oven before?