Learning how to separate eggs is important if you want to bake angel food cakes, macarons, macaroons, meringues, and more. It's an important kitchen skill you're about to master.
Click HERE to save this tutorial on How to Separate Eggs!
Separating Egg Yolks From Whites
Sometimes you might come across a recipe that requires eggs plus additional yolks or whites. It also isn't uncommon to find a recipe that requires only yolks or whites, so separating eggs is a good, basic kitchen technique to master.
Egg yolks are often used in rich recipes like custards, ice creams, puddings, and curds, whereas whites are usually used recipes that you want to be made fluffy by the addition of whipped egg whites, or recipes that are deliberately made lighter by omitting the higher fat yolks.
A little egg white left behind, clinging to the outside of the yolk won't impact your recipe. But, when using only the whites, it is essential that you don't mistakenly leave any of the yolk behind.
Yolk mixed in with the white will alter your recipe negatively due to the fat content of the yolk – the egg whites won't whisk up properly if your recipe is calling for soft or stiff peaks, for example.
How to Separate Eggs
There are a few different ways to separate eggs, but I think that the easiest and least messy method for separating eggs is the one that involves transferring the yolk back and forth between the two halves of the shell.
1. First, place two clean bowls in front of your workspace.
2. Next, crack the egg, just like you normally would. Whether you crack it on the counter or on the edge of the bowl is up to you. Do whatever feels most comfortable.
3. When you crack the egg, let the whites fall into one of the bowls you've laid out. You want to slowly, and carefully open the cracked egg so that the yolk stays inside and the whites come out.
4. Pass the egg yolk back and forth from one half of the shell to the other, while allowing any remaining egg white to seep out and into your bowl.
5. After you've gotten all of the white out of the shell, you can place the yolk into the other empty bowl.
6. Repeat this process until you've separated the number of eggs that your recipe calls for.
Click HERE to save this tutorial on How to Separate Eggs!
Is it Okay to Have Some Whites in the Yolks?
I mentioned earlier that having traces of egg yolk in your egg whites would be detrimental for some recipes. However, if you have traces of egg whites mixed into your yolks that shouldn't be a problem. Just make sure there isn't too much!
How to Remove Egg Shell From Raw Egg
If any bits of egg shell land in your perfectly separated egg yolks or whites, simply scoop them out using one of the eggshell halves.
Can I Save Raw Egg Whites or Yolks?
If you're making a recipe that calls for either egg whites or egg yolks, you may be wondering what you should do with the leftover bits of raw egg that don't get used in the recipe. Do NOT throw out the raw egg! You can either cook it up right away and make some form of scrambled eggs, or you can store the raw egg in the fridge.
Egg yolks should be covered with water and kept in an airtight container. They'll stay good for one or two days in the fridge.
As for egg whites, they can be refrigerated or frozen. I haven't frozen egg whites myself, but if The Pioneer Woman says it can be done, then I'm sure it'll work out fine.
Click HERE to save this tutorial on How to Separate Eggs!
Tips for Separating Eggs
Yes, you can buy an egg separator and use that to separate egg yolks from egg whites. But I hate buying kitchen tools that have only one use, especially for something as easy as separating eggs.
Before separating the eggs, you'll want to have two separate bowls on hand — one for the yolks, one for the whites. This way you're not scrambling to pull an extra bowl out of the cupboard while holding a cracked raw egg in one hand!
Recipes That Use Egg Whites: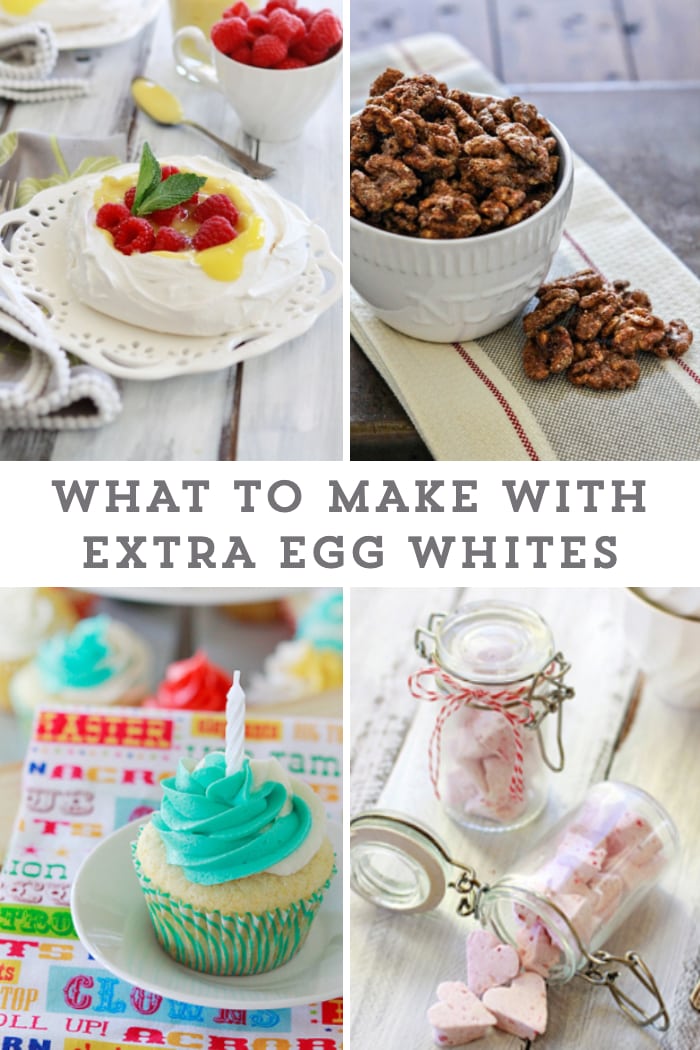 Click HERE to save this tutorial on How to Separate Eggs!
Now that you know how to separate eggs, you might need some recipe inspiration to practice your new skill. Or, in the even that this isn't a new skill for you and you already have some separated egg whites and yolks laying around in the fridge, perhaps leftover from some other culinary deliciousness, here are some recipes ideas for you:
Pavlova with Lemon Curd and Fresh Berries is the perfect light, spring-y dessert. Keep it mind as Easter is just about a month away.
You might not think of egg whites when you hear Cinnamon Vanilla Glazed Walnuts, but these glazed walnuts use a little bit of egg white to help the cinnamon and vanilla adhere to the walnuts. They're a yummy and healthy treat!
Homemade marshmallows, like these Raspberry Vanilla Bean Marshmallows, are a fun way to use egg whites. They're not as hard to make as you might imagine, and they make a great addition to some homemade hot cocoa.
Perfect White Cupcakes are classic and use plenty of egg whites.
Recipes That Use Egg Yolks: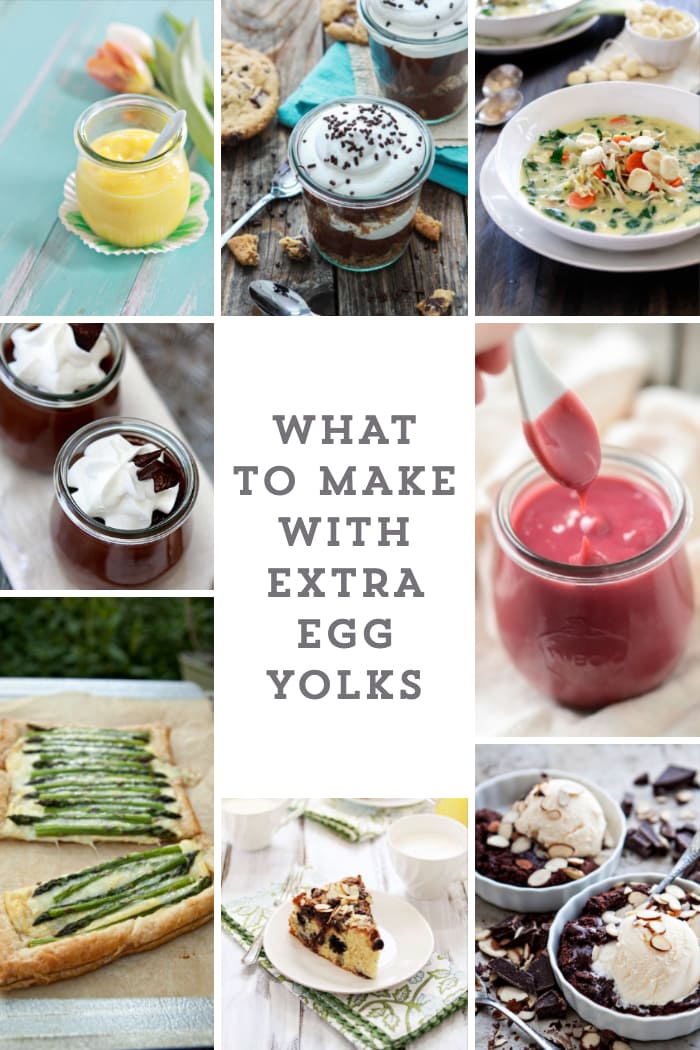 Click HERE to save this tutorial on How to Separate Eggs!
Now that you know how to separate eggs, here are several recipes that use extra egg yolks!
Citrus Curd 3 Ways: Grapefruit, Lemon and Lime is a delicious accompaniment slathered on top of scones or layered in a trifle. You can make all different types: lemon, lime, orange, or grapefruit. It is my number one go-to for using up extra egg yolks.
Besides grapefruit, lemon or lime curd, you've also got Orange Curd, Raspberry Curd, or Coconut Lemon Curd.
This Blueberry Lemon Curd Coffee Cake is perfect for a springtime brunch and uses plenty of egg yolks!
I love homemade pudding and this Dark Chocolate Orange Pudding is delicious. It's the perfect way to use up a couple of egg yolks.
For a savory spring brunch recipe, try Asparagus Tart with Gruyere.
Kids love these Chocolate Chip Cookie Pudding Parfaits with homemade chocolate pudding.
Dark Chocolate Almond Molten Lava Cake Sundaes have a center that tastes like the most delicious hot fudge, is topped with ice cream and sliced almonds for a pretty presentation and decadent chocolate richness. This recipe uses one extra egg yolk.
When the summer temps come our way, I'll be making a batch of this Easy 7-Ingredient Homemade Lemon Basil Ice Cream.
Egg yolks make the broth in this Lemon Chicken and Orzo Soup really rich and tasty.
Love this tutorial on How to Separate Eggs? Sign up for Good Life Eats email updates and never miss another recipe!
What's your favorite recipe to make with egg yolks or egg whites?
Tag @goodlifeeats and include the hashtag #goodlifeeatsrecipes so I can see what you're cooking up in YOUR kitchen!
Click HERE to save this tutorial on How to Separate Eggs!
This post about How to Separate Eggs originally appeared on Food Fanatic.