This Lemon Curd Pavlova is topped with fresh raspberries. You can make lots of mini pavlovas and serve them individually, or make one large pavlova as an elegant dessert centerpiece. Either way, this pavlova dessert is sure to impress!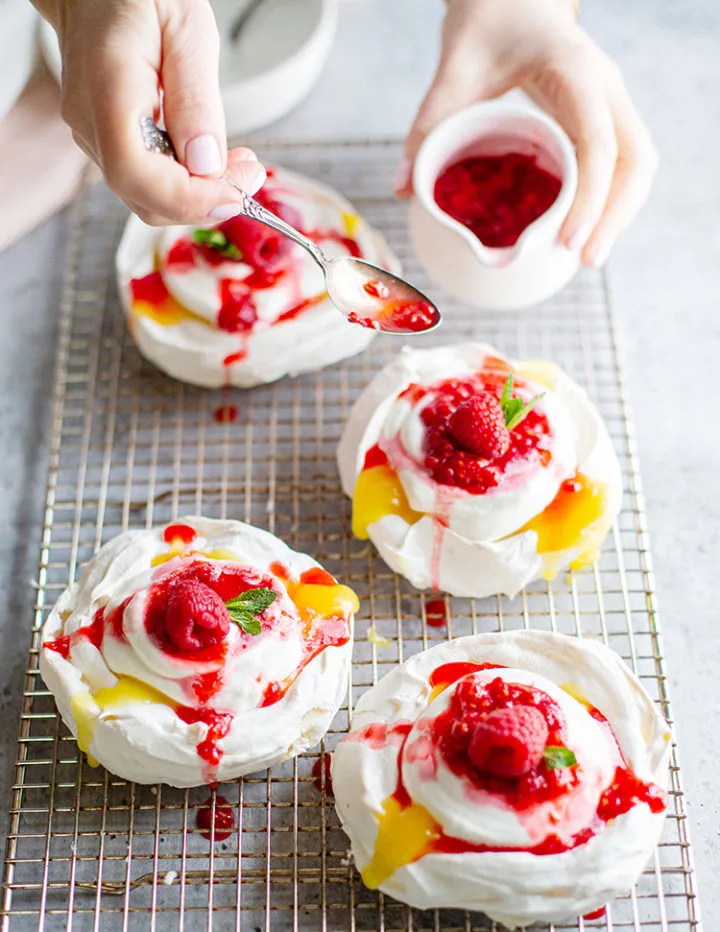 Click HERE to save this recipe for Lemon Curd Pavlova!
Creating This Pavlova Dessert
What do you do when you've made Homemade Lemon Curd and have a whole bunch of egg whites leftover? Make individual pavlovas for dessert! That's what I did, at least.
I topped my pavlova with lemon curd and fresh raspberries, but the nice thing about a pavlova is that you can top it with whatever you want and whatever is in season at the moment.
I have been craving berries lately. Especially raspberries. For breakfast, snacks, desserts…pretty much anytime. They're hands down easily one of my favorite fruits.
But they're so expensive! When I saw a sale on them this week I had to snatch up a couple containers. I enjoyed their bright fruity flavor with the crunchy meringue and creamy lemon curd.
I can't help thinking of the other possibilities for pavlova as spring progresses into summer. One thing that I particularly love about this pavlova dessert is you don't need an incredibly hot oven, so it is still doable on a warm day.
On a side note, for some reason Madeline had the bright idea to call this a "dessert quesadilla." I have no idea what that means.
My husband says it's because they were white and flat (like tortillas) and it had yellowish stuff on top (like cheese). I'm not seeing the resemblance, so maybe she just thought "Pavlova" was too difficult to say.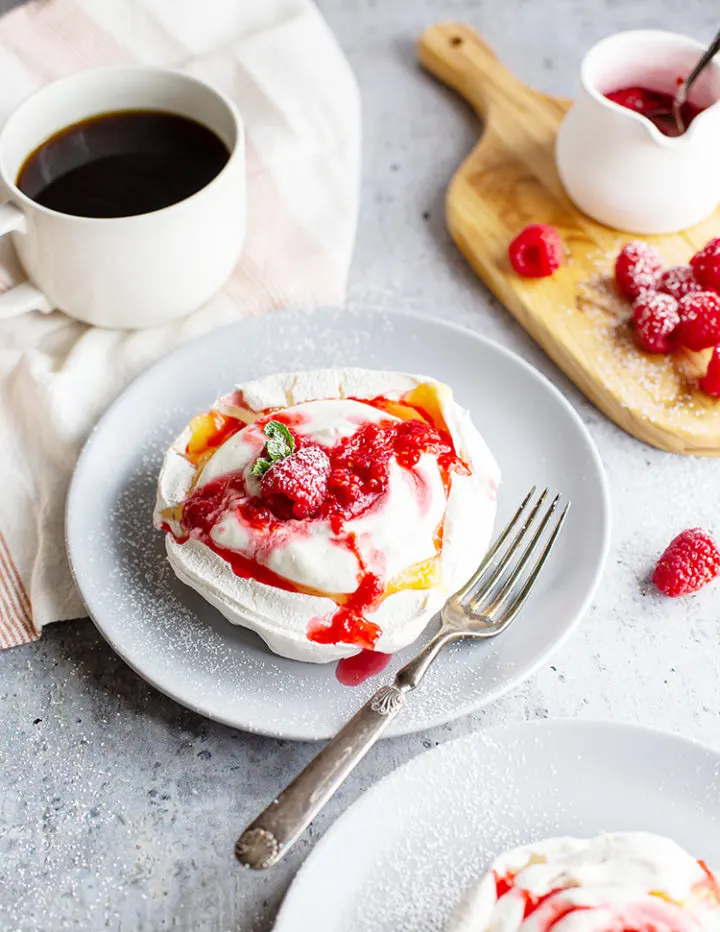 What is Pavlova?
Pavlova is a meringue-based dessert. It has a crispy, crunchy meringue-like shell that is soft and moist on the inside.
Wondering where the heck the name pavlova came from? This dessert's name allegedly originated in honor of the famous Russian ballerina Anna Pavlova. It is said that a chef cited her tutu as inspiration for this billowy dessert and created this dessert in her honor after her New Zealand and Australia tours.
As such, you'll find that pavlova is a popular dessert in Australia and New Zealand Pavlova, but in recent years it is becoming more popular in the United States. Likely, due to its pretty presentation.
Pavlovas can be made as simple or complicated as you'd like. Sometimes you see layered pavlova desserts with fruit curd and fresh fruit between the layers of meringue.
While I think more elaborate pavlovas are beautiful to look at, I prefer keeping mine simple. These individual lemon curd pavlovas with raspberries are easier to make than you'd think!
AND you probably have all the ingredients to make the meringue-like base. There's not really anything too fancy about this fancy looking dessert.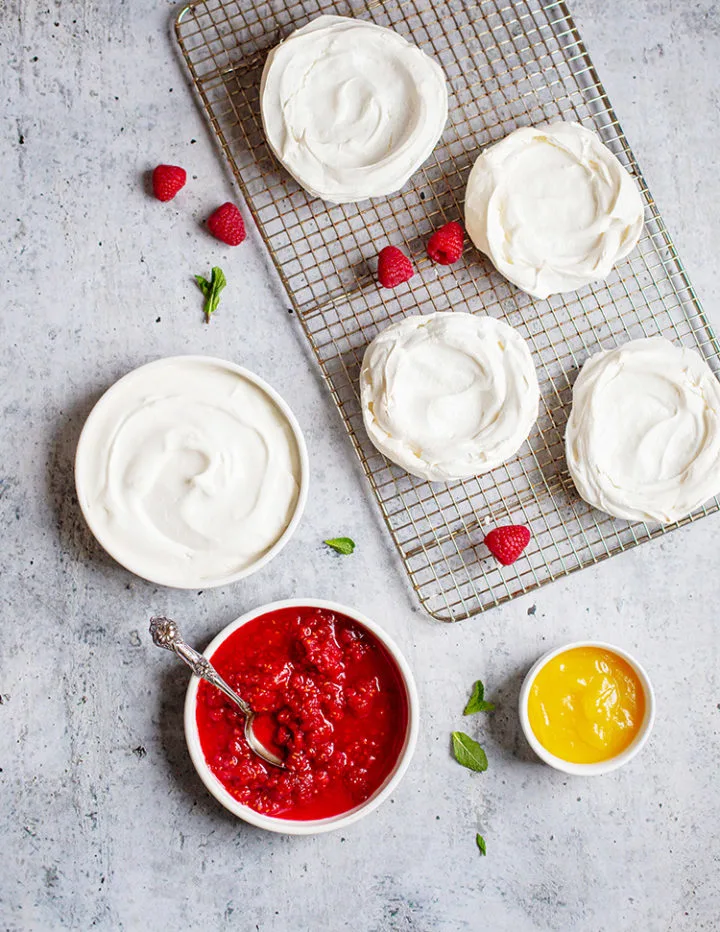 This post may include affiliate links. As an Amazon Associate and member of other affiliate programs, I earn a small commission from qualifying purchases.
Tools and Supplies to Make Dessert Pavlova
Here are some helpful tool and supply suggestions for preparing this recipe for pavlova with lemon curd and raspberries:
Stand Mixer with Whisk Attachment – for preparing the whipped meringue
Rubber Spatula – for scraping the sides down in the mixing bowl
Parchment Paper – for lining the pan
Baking Sheet – for cooking the meringue disks
Pencil – for drawing circle guides for the pavlova meringue
What's in a Pavlova?
This pavlova dessert has simpler ingredients than you probably think! You'll need the following items to prepare this beautiful spring pavlova with lemon curd and raspberries:
Meringue Ingredients for Pavlova Dessert
Vanilla extract
Lemon juice
Cream of tartar
Cornstarch
Superfine Sugar
Egg whites*
Vanilla Bean Paste or Vanilla Extract
*Need help separating the egg whites from the yolks? Check out these tips for how to separate eggs.
Macerated Raspberries
Fresh Raspberries
Chambord Liquer
Granulated Sugar
Whipped Cream
Heavy Cream
Powdered Sugar
Vanilla Bean Paste or Vanilla Extract
Pavlova Dessert Topping Ingredients
Lemon Curd (use the egg yolks not needed in the meringue)
Vanilla Whipped Cream
Macerated Raspberries
Fresh Raspberries
For the complete ingredient list and detailed instructions, scroll to the bottom of this post for the FREE printable recipe card.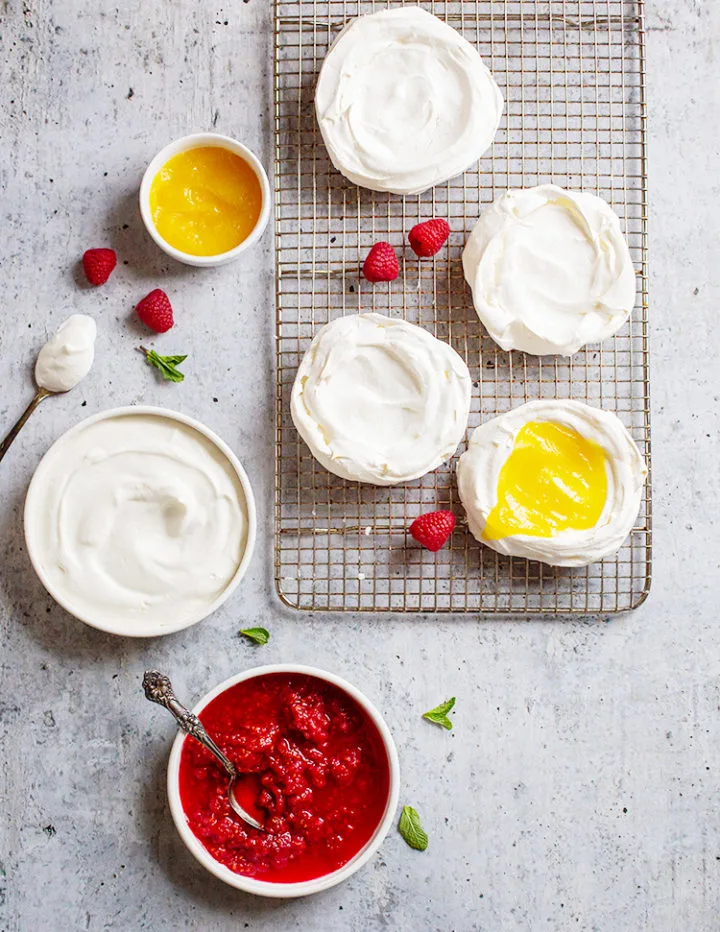 How to Make Lemon Curd Pavlova
Line a baking sheet with parchment paper. Then, trace circles to use as guides on the sheet of parchment paper.
Separate the egg whites from the yolks, then let them come to room temperature for about 30 minutes. Then, whip the room temperature egg whites together with the cream of tartar until soft peaks begin forming.
Slowly add in the sugar and cornstarch to the beaten egg whites, followed by the lemon juice and vanilla. Continue beating the mixture until the meringue is glossy and stiff peaks form.
Portion the meringue mixture (carefully!) onto the drawn circles on the parchment paper-lined baking tray. Then, transfer the prepared baking sheet to the oven and bake until set. Baking times may vary, but your meringue will likely take 45 to 60 minutes to bake.
While baking, prepare the lemon curd recipe, macerated raspberries, and whipped cream. Store both in the refrigerator until the pavlova assembly stage.
Remove the homemade meringue from the oven and let the crispy meringue shell cool completely on a wire rack. Just before serving, layer lemon curd on top of the meringue in the center of the circle, letting it slightly ooze out the sides of the outer shell. Top with the prepared whipped cream and fresh raspberries.
The above is simply a quick summary of this recipe. Check out the full recipe in the free printable recipe card at the bottom of this post for all the detailed instructions.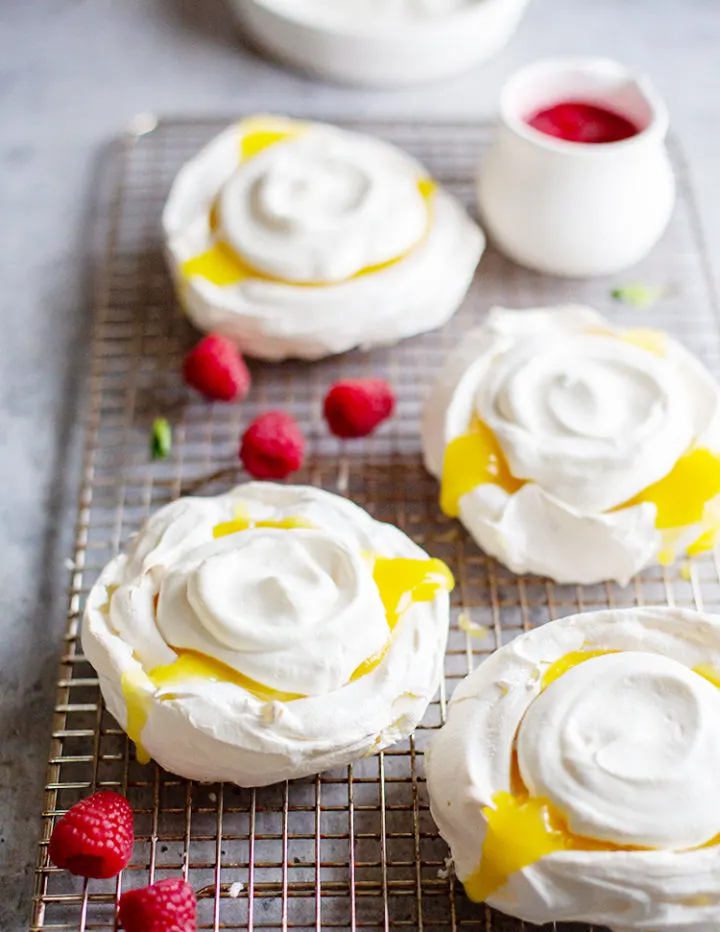 Can this Pavlova Dessert Be Made in Advance?
You don't want to bake the meringue too far in advance, as it tends to deflate and become chewy over time.
The meringue base for this mini pavlova recipe may be prepared 1-2 days in advance. After the meringue has cooled, transfer the meringue disk to an airtight container and store in a cool, dry place.
Meringues can quickly become soft in humid environments. For best results in humid locations, prepare the airy meringue base the day you plan to serve the pavlova if you wish to maintain the crisp texture.
Pavlovas are a delicate dessert and you don't want to assemble the them too soon before serving them, as the lemon curd can start to break down the meringue if left sitting on top of it for too long! I recommend assembling them just before serving.
How to Store Leftover Pavlova
Leftovers of the prepared pavlova may be stored in the refrigerator for up to 24 hours. This meringue dessert will, lose its crispy texture when stored as leftovers, but it is not harmful to eat leftovers within a day.
Tips for Making a Pavlova Dessert
If you're looking for an elegant dessert for an upcoming holiday or family gathering, this pavlova will surely be a hit.
Just dress it up with whatever toppings you like best (citrus curd, mounds of fresh whipped cream, or anything else light and refreshing that comes to mind). Then, pile on your seasonal fruit of choice.
I prefer to prepare these as individual desserts rather than a larger pavlova. There's just something charming and likable to me about mini versions of desserts and individual small replicas of the full sized dessert.
If you prefer a larger pavlova, just make one large circle rather than 6-8 small sized nests. You will need to watch the baking time, however.
Also note that it's useful to form a small well in the center of the meringue with the back of a spoon prior to baking the meringue. This will help the lemon curd and raspberries rest more easily on top of the pavlova.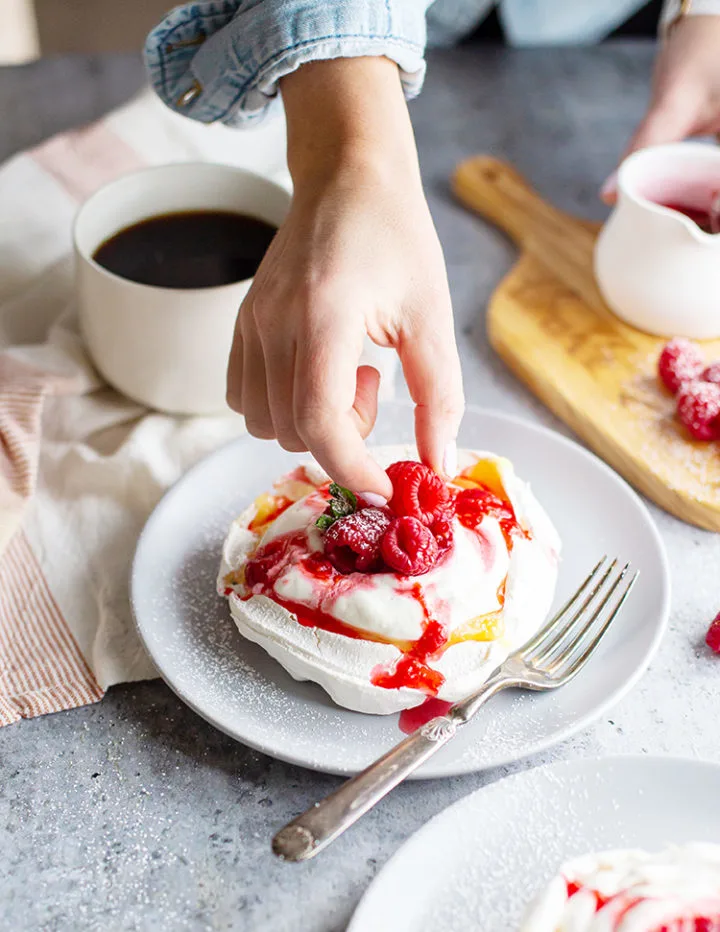 Pavlova Substitutions Ideas
The great thing about Pavlova Recipes is that they provide a good opportunity to get creative! All you really need to worry about is that the toppings you add on the meringue nest pair well together.
It is best to have something for moisture like a curd, custard, pastry cream, or whipped cream, and then top that with whatever fruit you think will pair best.
Don't want to use lemon curd in this Lemon Curd Pavlova? Try Raspberry Curd, Orange Curd, Coconut Lemon Curd, Grapefruit Curd, Almond Custard, or even just whipped cream would be great!

If you don't want to make your own lemon curd, you can also purchase jars of store bought lemon curd.
If you want to mix up the fruit, you can try a variety of different fresh summer berries: fresh strawberries, raspberries, blackberries, blueberries (or this Lemon Blueberry Sauce), or a mix of berries would be great in this pavlova recipe. For non-berry fruits I recommend fresh peaches in the summer paired with the almond custard or whipped cream (or a combo of both!).
Advice When Making Substitutions in this Pavlova Recipe
Typically I don't recommend making a bunch of substitutions when preparing a new recipe. When making substitutes, you won't know if you don't like the recipe or if the recipe didn't turn out due to a preparation mistake, an ill effect from the substitute, or something else.
However, if you do choose to make substitutions in a recipe, I recommend only making one substitute at a time so you don't have a building effect of multiple poor substitutions.
In this Pavlova Recipe, I wouldn't recommend any substitutions in the meringue part of the recipe unless it is swapping out the extract or adding some lemon zest.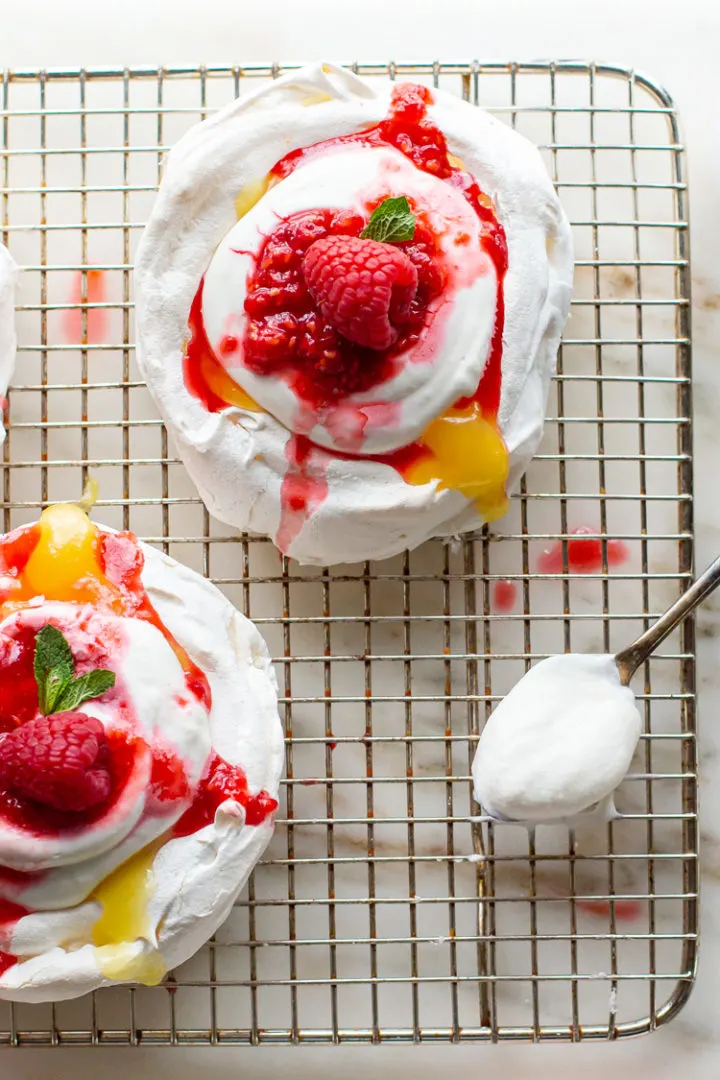 More Special Occasion Desserts:
If you're looking for an easy dessert the whole family will love, I highly suggest making a batch of Strawberry Fool. It's essentially strawberries and cream, and it's perfect during the warmer months!
These Raspberry Almond Angel Food Cake Parfaits look incredibly fancy, but they're secretly so easy to make. This is a great dessert to make with kiddos!
I made this particular batch of Iced Vanilla Sugar Cookies for Valentine's Day, but you can cut them into any shape you want!
Another simple dessert recipe with a major wow factor are these Balsamic Strawberry Shortcake Parfaits. Trust me, balsamic and fresh berries pair beautifully together!
No one can resist these Dark Chocolate Almond Molten Lava Cakes. Serve warm with a scoop of vanilla ice cream and dive right in!
Have you ever eaten pavlova before?
Get More Recipes via Email
Did you love this dessert recipe for Lemon Curd Pavlova? Sign up to receive Good Life Eats email updates and never miss another recipe!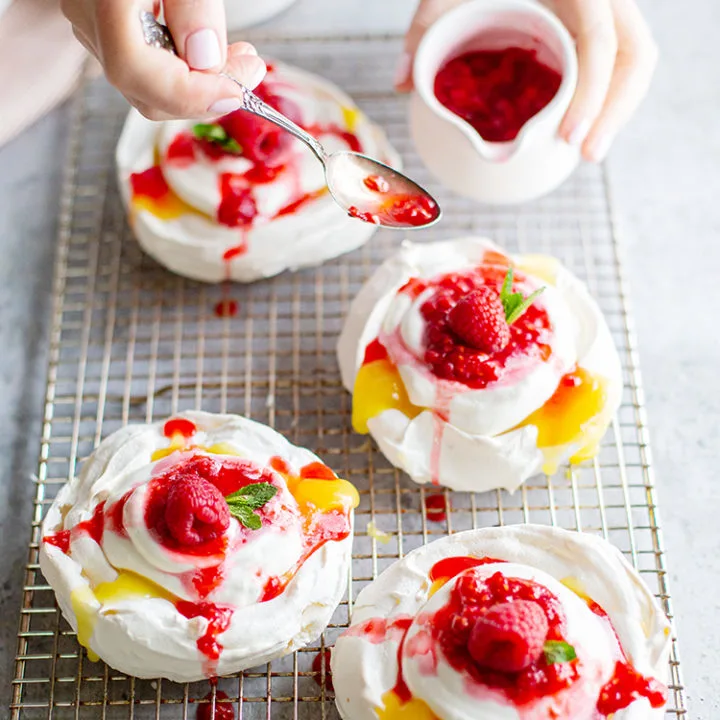 Lemon Curd Pavlova with Raspberries
Total Time:
1 hour
15 minutes
This Lemon Curd Pavlova is topped with fresh raspberries. You can make lots of mini pavlovas and serve them individually, or make one large pavlova as a dessert centerpiece.
Ingredients
Meringue Nests
1 teaspoon Vanilla Bean Paste or Pure Vanilla Extract
juice of half a Lemon
1/2 teaspoon Cream of Tartar
1 1/2 tablespoons Cornstarch
1 1/4 cups Superfine Sugar
6 ounces Egg Whites, about 5-6 large eggs
For the Chambord Raspberries
1 1/2 cups Fresh Raspberries
2-3 tablespoons Granulated Sugar, depending on sweetness preferences
1 tablespoon Chambord Liquer
For the Whipped Cream
1 cup Heavy Cream
1 teaspoon Vanilla Bean Paste or Pure Vanilla Extract
1 teaspoon Powdered Sugar
Toppings
Lemon Curd - Get the Recipe Here or use store bought.
Whipped Cream
Chambord Raspberries
Fresh Raspberries
Mint Leaves, optional garnish
Instructions
Recipe Preparation
Prepare by preheating your oven to 250 degrees F.
Line a baking sheet with parchment paper. Then, trace circles to use as guides on the sheet of parchment paper. Set aside.
Making the Meringue Disks
Divide the egg whites from the yolks. Save the yolks the lemon curd or another favorite recipe that requires egg yolks.
Bring the egg whites to room temperature for 30 minutes before beginning the recipe.
Whisk the cornstarch and sugar together in a small bowl. Set aside.
Add the egg whites and cream of tartar to the bowl of a stand mixer. Using the whisk attachment, decrease to low speed. Mix for 1 minute, then gradually increase the speed to medium-low.
Continue to beat at medium-low for another minute, then increase mixer's speed to medium. Continue until the mixture has small bubbles and soft peaks start to develop, about 2 minutes.
Slowly add the sugar mixture into the bowl as the mixture continues to beat. Increase the speed to medium-high. Beat for 2 minutes.
Add the vanilla and lemon juice. Increase the speed to high and beat for an additional 2-3 minutes. It is ready when the meringue is shiny and has developed stiff peaks.
For individual pavlovas, you can spoon little nests (6-8 total) of meringue onto the prepared baking sheet.* Then, bake at 250 degrees F for 45 – 65 minutes. Rotate the pan(s) halfway through baking.
Finished meringue should be crisp and dry, but not cracked. The insides will have a marshmallow-like consistency. Cool baked meringue on a wire rack.
While baking, prepare the lemon curd and whipped cream. Store both in the refrigerator until the pavlova assembly stage.
Preparing the Macerated Raspberries
In a medium bowl, combine 1 cup of raspberries, the granulated sugar, and the chambord.
Slightly mash the berry mixture and stir well so the raspberries are evenly coated with the chambord, the juices, and the sugar.
Let the raspberry mixture sit for 30 minutes, stirring every 10 minutes or so, until the sugar is completely dissolved.
If you don't like the seeds in the raspberry mixture, you can press it through a strainer to remove the seeds and discard them.
Preparing the Whipped Cream
Combine the cold heavy cream and vanilla or vanilla paste in a chilled non-reactive bowl.
Whisk by hand or using an electric mixture until the cream holds a loose peak. A soft peak will hold a lazy curve when the beater or whisk is held upside down.
Then, sprinkle the sugar on top of the whipped cream and continue beating until soft peaks are formed.
Make sure the the meringues and lemon curd have completely cooled.
Just before serving, layer lemon curd on top of the meringue, letting it slightly ooze out the sides of the outer shell.
Top with the prepared whipped cream, some of the macerated raspberries, and a few fresh raspberries.
Serve immediately.
NOTE: If you assemble the dessert too soon then the lemon curd with begin to dissolve the meringue.
Notes
NOTE: a recent addition on this recipe is the macerated raspberry mixture. Feel free to add this as optional, but I like the way it looks at tastes better than the original version of the recipe.
Meringue Next Preparation Tips:
Recommended Products
As an Amazon Associate and member of other affiliate programs, I earn from qualifying purchases.
Nutrition Information
Yield

5
Serving Size

1
Amount Per Serving
Calories

514
Total Fat

14g
Saturated Fat

7g
Trans Fat

0g
Unsaturated Fat

6g
Cholesterol

293mg
Sodium

272mg
Carbohydrates

84g
Fiber

1g
Sugar

79g
Protein

14g
Photography: photos taken in this post are by Rachael from Set the Table.