Pavlova with Lemon Curd and Raspberries
Pavlova with Lemon Curd and Raspberries is an elegant dessert!
What do you do when you've made Lemon Curd and have a whole bunch of egg whites leftover?
Make individual pavlovas for dessert!
That's what I did. Pavlova is a meringue based dessert.
It has a crispy, crunchy meringue-like shell that is soft and moist on the inside.
And I happen to think that it is perfect for Easter dessert.
I topped my pavlova with lemon curd and fresh raspberries, but the nice thing about a pavlova is that you can top it with whatever you want and whatever is in season at the moment.
AND you probably have all the ingredients to make the meringue-like base.
There's not really anything too fancy about this fancy looking dessert.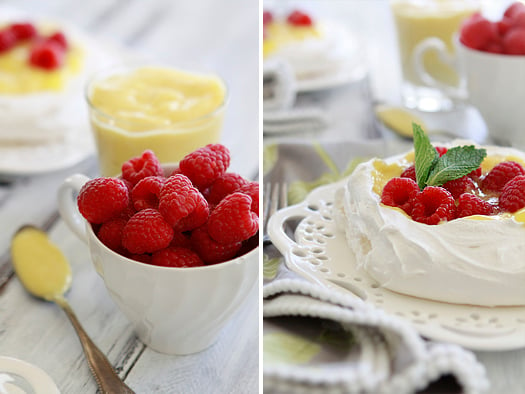 I have been craving berries lately. Especially raspberries.
For breakfast, snacks, desserts…pretty much anytime.
They're hands down easily one of my favorite fruits.
But they're so expensive.
When I saw a sale on them this week I had to snatch up a couple containers.
I enjoyed their bright fruity flavor with the crunchy meringue and creamy lemon curd.
I can't help thinking of the other possibilities for pavlova as spring progresses into summer.
One thing that I particularly love about this dessert is you don't need an incredibly hot oven, so it is still doable on a warm day.
On a side note, for some reason Madeline had the bright idea to call this a "dessert quesadilla."
I have no idea what that means.
Eric says it's because they were white and flat (like tortillas) and it had yellowish stuff on top (like cheese).
I'm not seeing the resemblance, so maybe she just thought "Pavlova" was too difficult to say.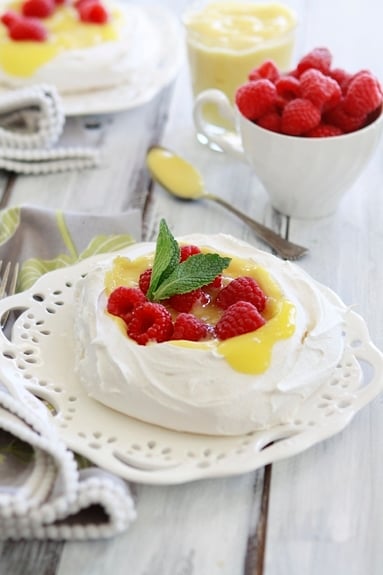 If you're looking for an elegant dessert for the upcoming Easter weekend, or maybe a Mother's Day dessert, which is a little more down the line, pavlova will surely be a hit.
Just dress it up with whatever toppings you like best:
citrus curd, mounds of fresh whipped cream,or anything else light and refreshing that comes to mind.
Then, pile on your seasonal fruit of choice.
I prefer to prepare these as individual desserts rather than a larger pavlova.
There's just something charming and likable to me about mini versions of desserts and individual small replicas of the full sized dessert.
If you prefer a larger pavlova, just make one large circle rather than 6-8 small sized nests.
You will need to watch the baking time, however.
Pavlova with Raspberries and Lemon Curd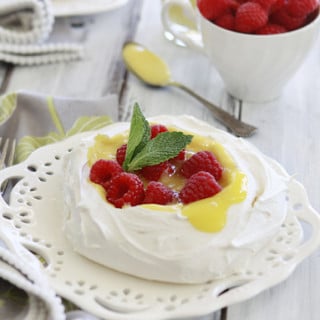 Ingredients:
For the Meringue Nests:
1 teaspoon vanilla extract OR 1 vanilla bean (seeds only)
juice of half a lemon
1/2 teaspoon cream of tartar
1 1/2 tablespoons cornstarch
1 1/4 cups sugar
6 ounces egg white, about 5-6 large eggs
Toppings:
Lemon Curd - Recipe: Citrus Curd 3 Ways
Fresh Raspberries, Strawberries or Blueberries
Whipped Cream
Mint Leaves, for garnish
Directions:
Divide the egg whites from the yolks. Save the yolks for a later use, such as Citrus Curd or another favorite recipe that requires egg yolks. Bring the egg whites to room temperature for 30 minutes before beginning the recipe.
Prepare by preheating your oven to 250 degrees F and lining a large baking sheet with parchment paper. Set aside. Whisk the cornstarch and sugar together in a small bowl. Set aside.
Add the egg whites and cream of tartar to the bowl of a stand mixer. Using the whisk attachment, turn the speed on to low. Mix for 1 minute, then gradually increase the speed to medium-low.
Continue to beat at medium-low for another minute, then increase mixer's speed to medium. Continue until the mixture has small bubbles and soft peaks start to develop, about 2 minutes.
Slowly add the sugar mixture into the bowl as the mixture continues to beat. Increase the speed to medium-high. Beat for 2 minutes.
Add the vanilla and lemon juice. Increase the speed to high and beat for an additional 2-3 minutes. It is ready when the meringue is shiny and has developed stiff peaks.
For individual pavlovas, you can spoon little nests (6-8 total) of meringue onto the prepared baking sheet. Then, bake at 250 degrees F for 45 – 65 minutes. Rotate the pan(s) halfway through baking.
Finished meringue should be crisp and dry, but not cracked. The insides will have a marshmallow-like consistency. Cool baked meringue on a wire rack.
Tip: Form a dip in the center of each pavlova with the back of the spoon before baking to act as a dish to hold the lemon curd and berries.
After pavlova has cooled, top with lemon curd and fresh berries. Best served immediately. If you assemble the dessert too soon then the lemon curd with begin to dissolve the meringue.