Raspberry Curd is a simple recipe with many uses, and the perfect way to use up extra egg yolks and fresh or frozen raspberries.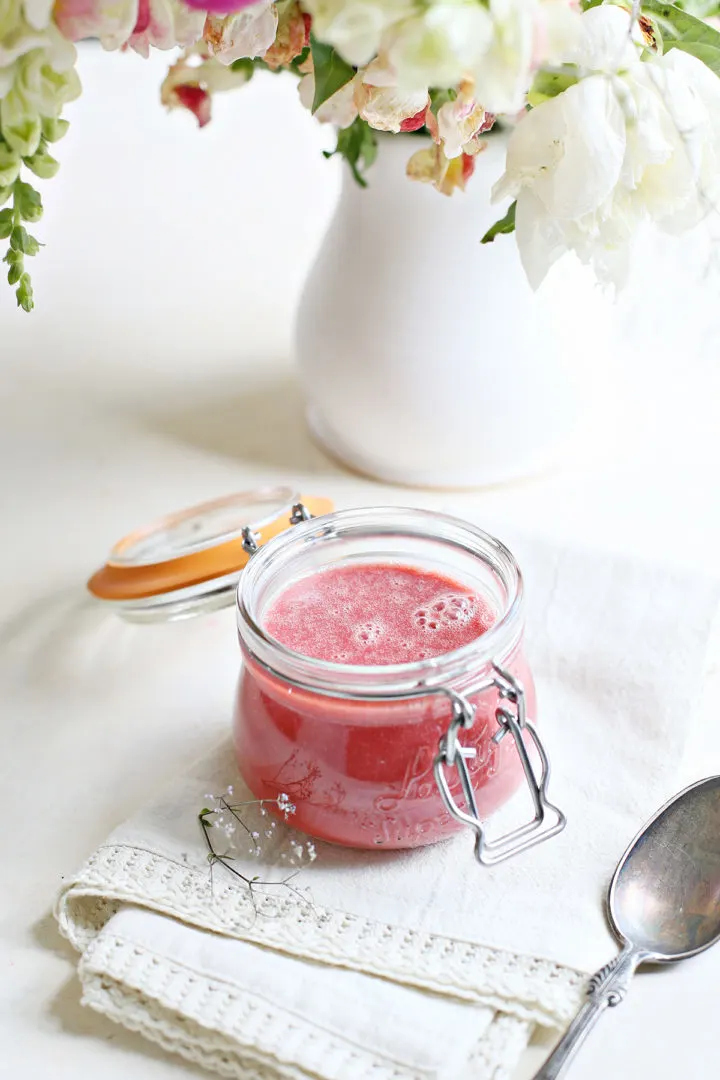 Creating this Raspberry Curd
I must admit that I didn't think that this curd was going to be spectacular. With my first bite of a buttery English muffin spread with this lovely red curd, I was sold.
The fat from the butter and egg yolks mellows out the sourness of the raspberries without adding heaps of sugar. But it doesn't mask it completely – that pleasant tanginess still lingers.
You can eat this stuff with a spoon (which my husband does).
I can imagine many uses for this pretty condiment: spread on toast, scones, or biscuits, or as an ice cream topping. Or, my favorite, with a cup of tea and English muffin.
Now I know what I should make with all of the raspberries we have in the freezer.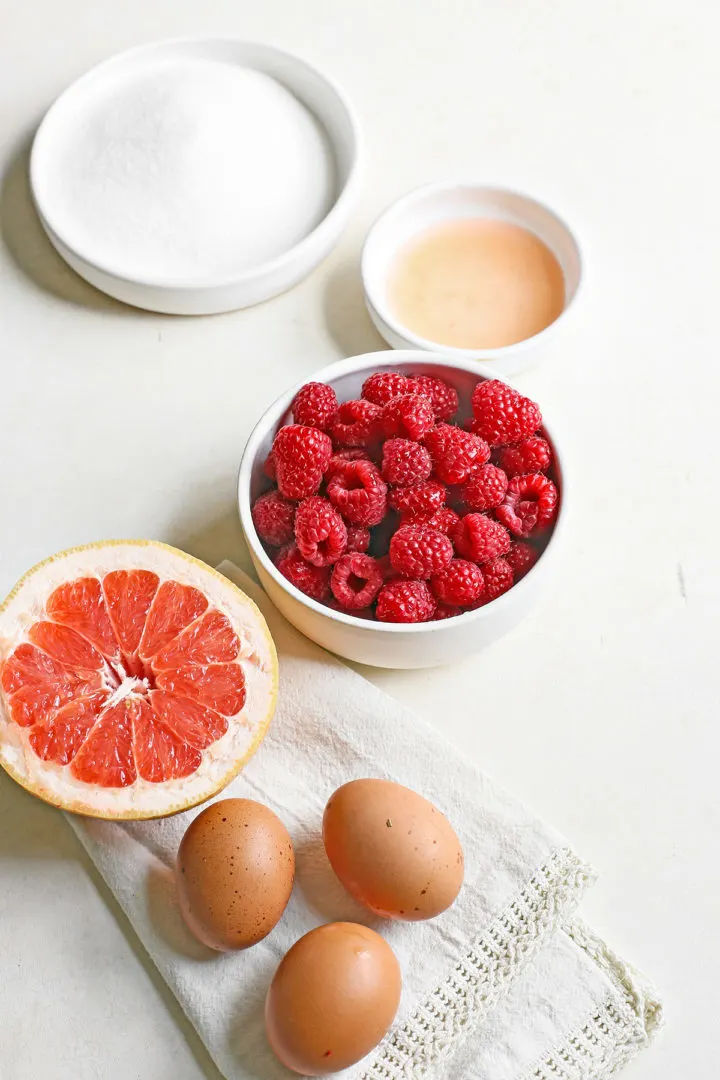 What is in Raspberry Curd
Thankfully, the ingredients in this recipe are few and they're all really simple, making them easy to get at any local grocery store!
fresh raspberries or thawed frozen raspberries
unsalted butter
evaporated cane juice (or granulated sugar)
fresh grapefruit juice (or fresh lemon juice)
egg yolks
salt
For the complete ingredient list and detailed instructions, scroll to the bottom of this post for the FREE printable recipe card.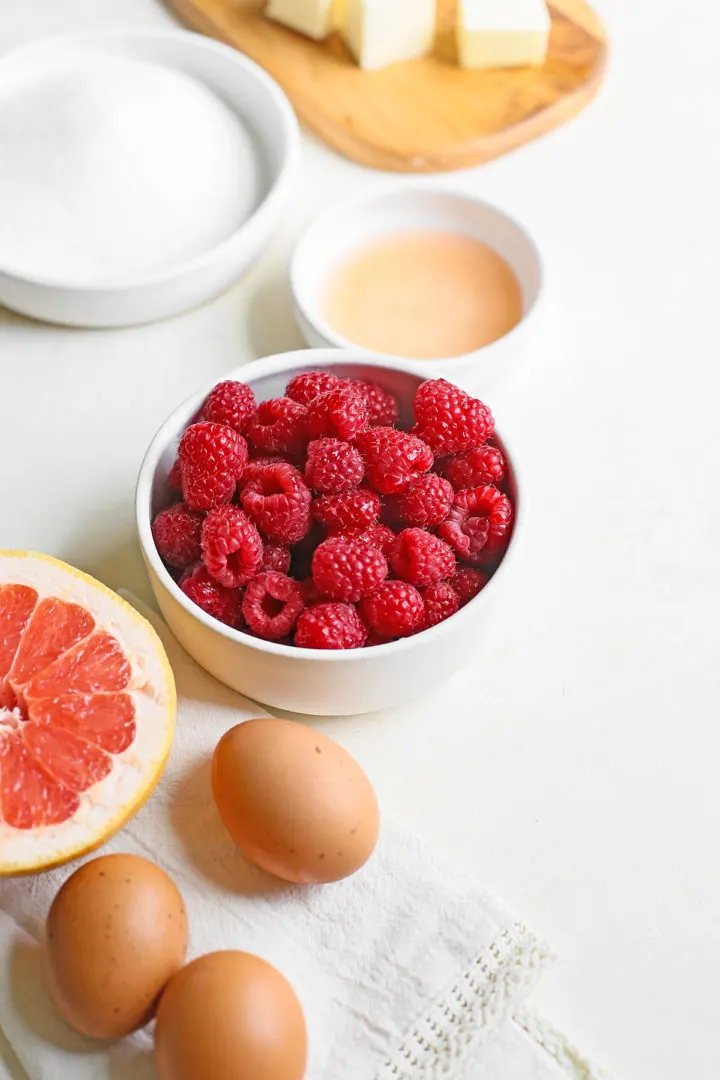 How to Separate Eggs for Raspberry Curd
Since you'll only need egg yolks to make this recipe for raspberry curd, you'll want to check out the quick video attached to this post to learn how to separate egg yolks from the egg whites if you don't already know how to do this.
If you previously made a recipe that uses egg whites only, raspberry curd is a great reason to save those egg yolks.
You can keep them in an airtight container in the fridge for a few days until you're able to make this raspberry curd recipe.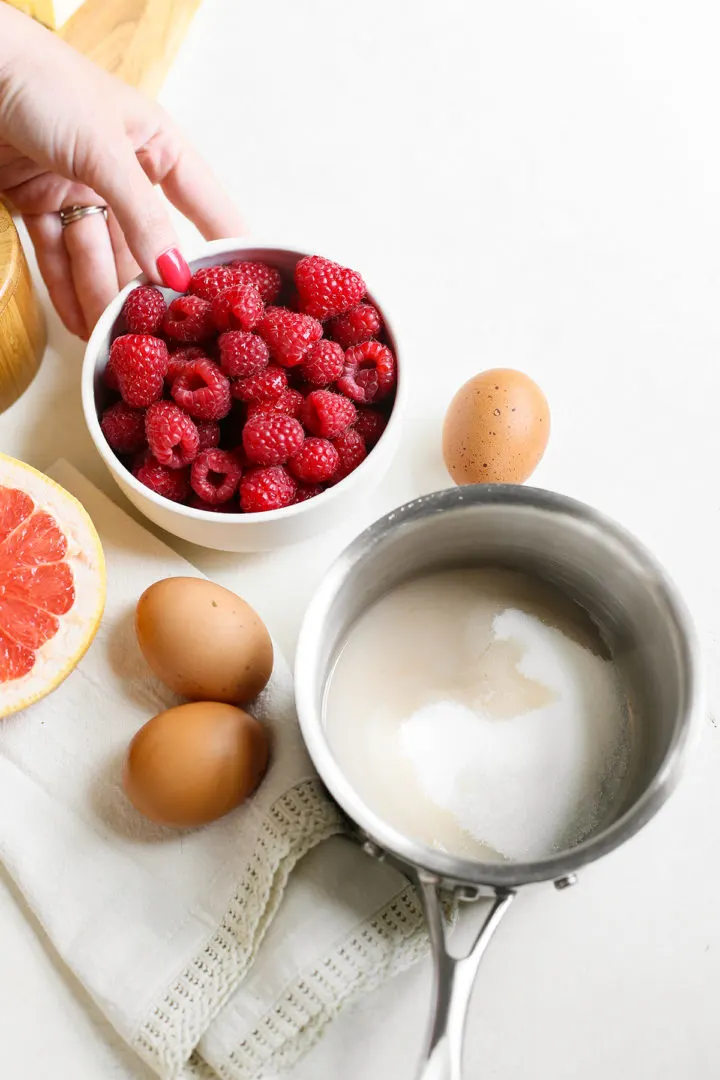 Tools Needed to Make this Raspberry Curd Recipe
You'll want to have a few kitchen tools on hand to make this recipe, though most of them are pretty common and hopefully something you already have in your kitchen.
Heavy-bottomed saucepan — You do NOT want the raspberry curd to burn on the bottom of the pan. A heavy duty medium saucepan is best for even heat distribution. Make sure you use a non-reactive saucepan.
Citrus juicer — Citrus juicers are the best way to easily juice citrus fruits.
Fine-Mesh Strainer — the fine mesh strainer will allow you to strain the seeds out of the raspberry puree.
Whisk — I like to use a wire whisk to stir the raspberry curd while it cooks on the stove.
Mason Jar — Mason jars are great for storing leftover raspberry curd in the fridge, but any airtight container with a lid will do.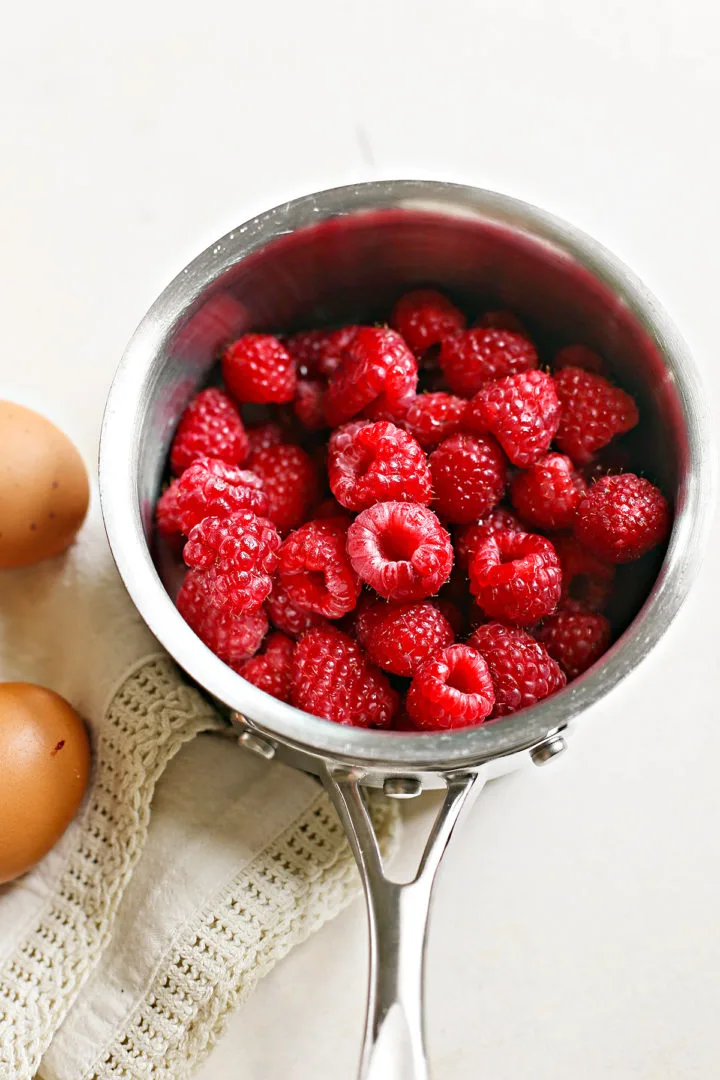 How to Make Raspberry Curd
Raspberry curd might sound fancy, but the really dangerous thing about this recipe is that it's super easy to make.
Mostly, you're just going to be putting all of the ingredients in a pot, and cooking until thickened, then stirring in some room temperature butter. Afterwards, you'll strain to remove the seeds.
The above is simply a quick summary of this recipe. Check out the full recipe in the free printable recipe card at the bottom of this post for all the detailed instructions.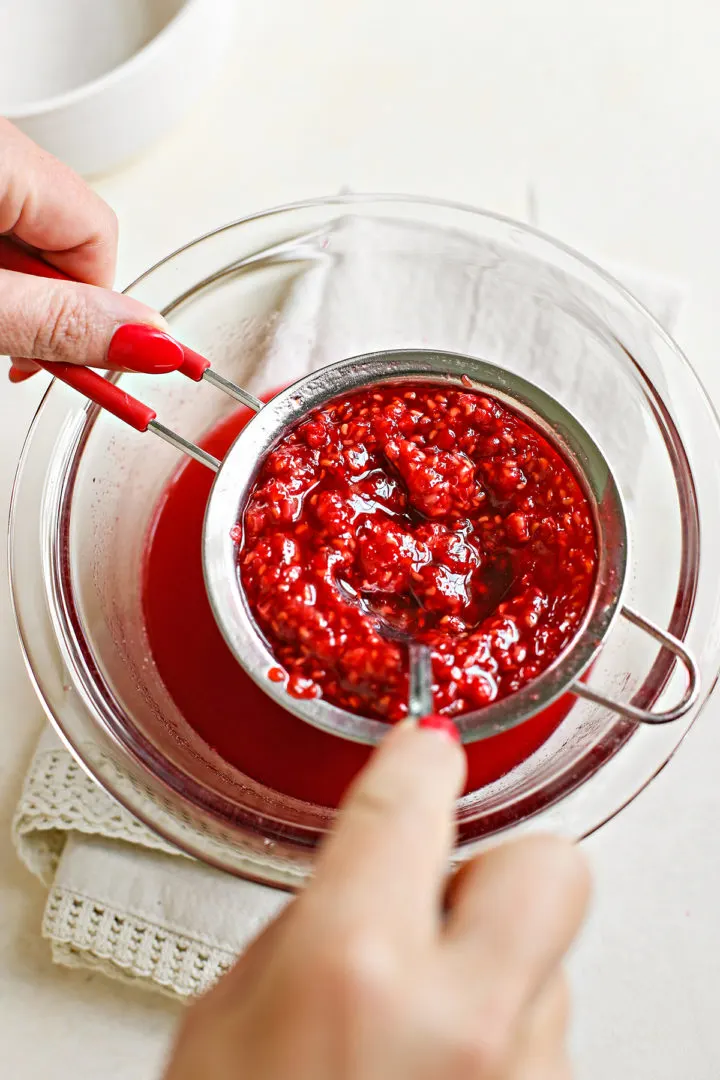 Save this Raspberry Curd Recipe to Pinterest!
How to Know When this Fruit Curd is Done Cooking
This raspberry curd should be thick enough to coat the back of a spoon when it is finished cooking.
A quick way to test that is to dip a spoon in the curd, then run your finger through the curd on the back of the spoon. If the line remains, then your raspberry curd is finished cooking!
Can I Use Frozen Raspberries in this Recipe?
You can use fresh or thawed frozen berries to make this raspberry curd.
The reason for "thawed" when using frozen berries is to make sure there isn't extra liquid added due to any ice crystals that have accumulated on the berries.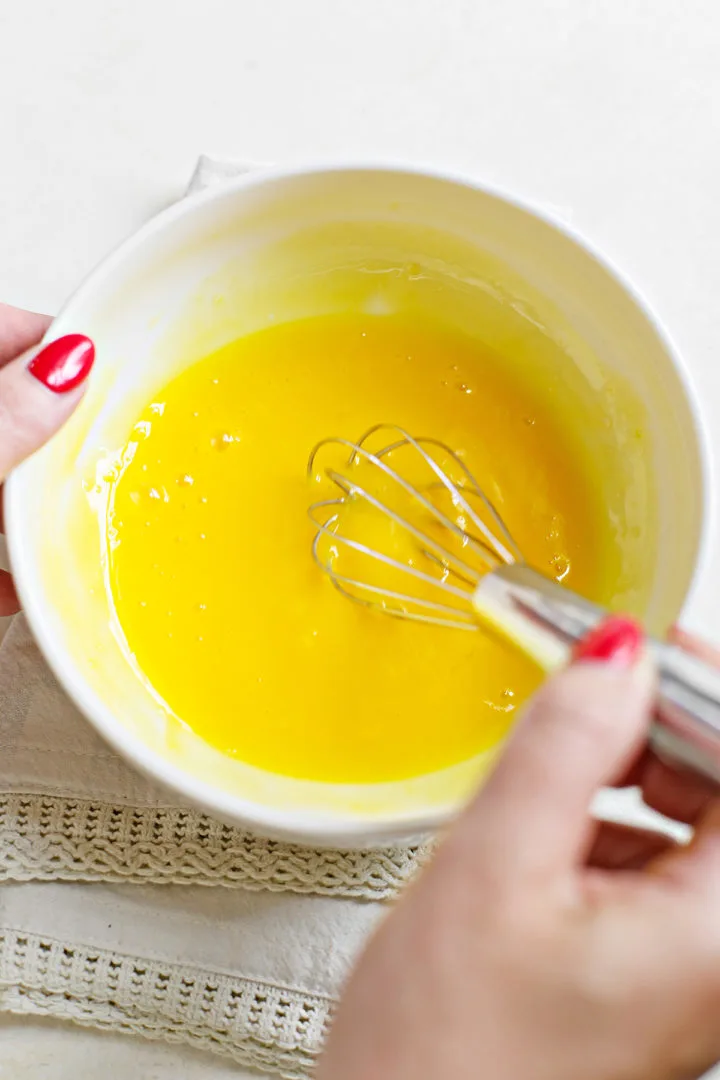 How to Serve Raspberry Curd
Raspberry Curd is a great condiment to have on hand for sweet cravings or the need for a last minute, simple dessert. Or just to add a little brightness to the winter doldrums.
There are so many fun ways to enjoy raspberry curd that I'm sure you'll find yourself making it often, especially since it is so easy.
Here are a few of my favorite ways to enjoy it, plus some links for recipe inspiration. You can allow the bright raspberry flavor (and color!) to take center stage, or hide out in the background for just a hint of flavor.
How to Use Raspberry Curd for Breakfast
There are a number of fun ways to use this recipe for raspberry curd as a condiment with your breakfast. Basically, use it like jam or a sauce. Here are a few of my favorite ideas:
On Steel Cut Oatmeal
Swirled into Yogurt
Spread on Toast
On top of Scones
Inside donuts as a filling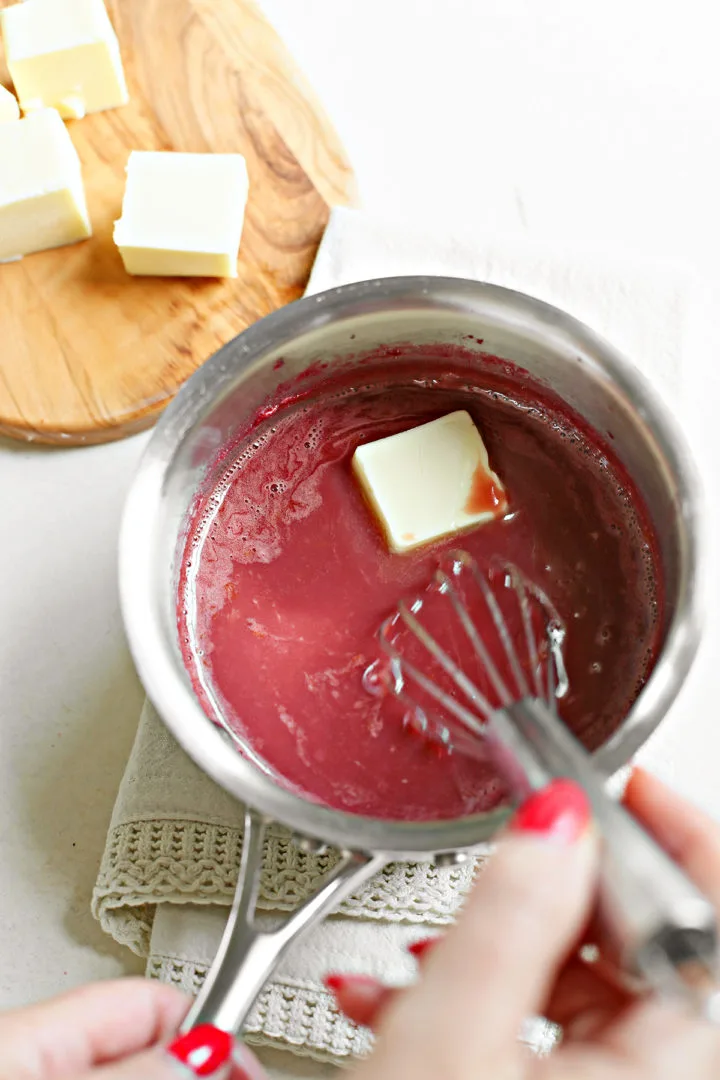 How to Serve Raspberry Curd with Dessert
Looking to use this raspberry curd in a dessert recipe? There are so many fun ways you can experiment from a delicious filling, to a topping, and so much more! Check out these suggestions: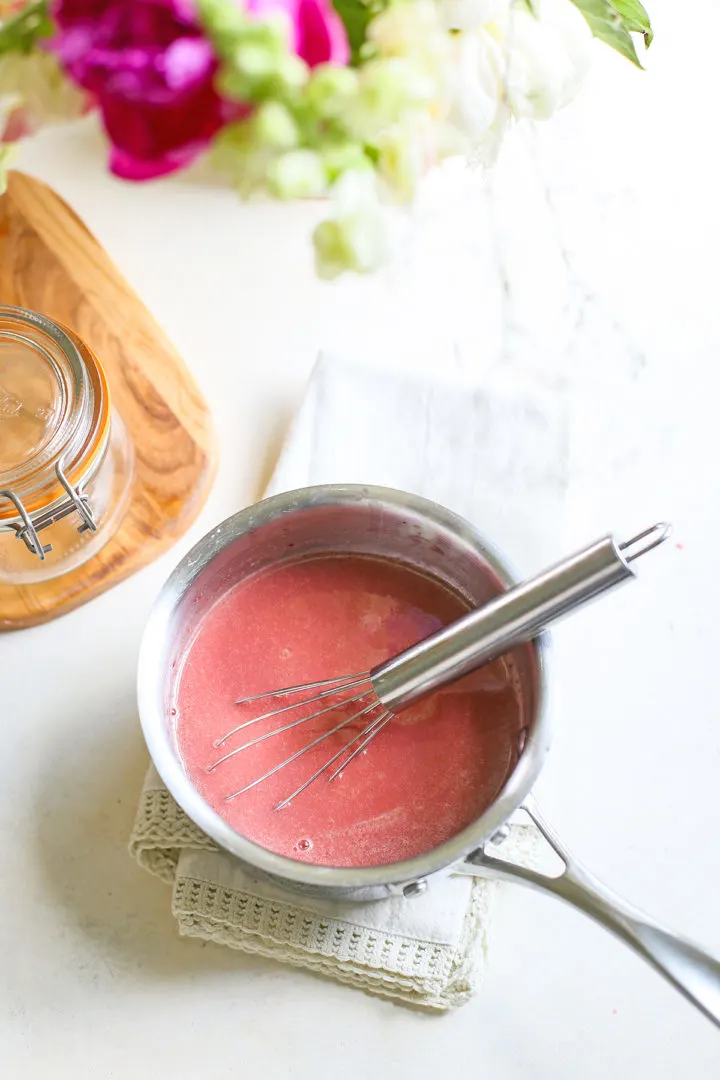 How to Store Leftover Raspberry Curd
This raspberry curd should be stored in an airtight container in the refrigerator. It will last up to one week.
I like to press a piece of plastic wrap on the surface of the curd before putting the lid on the container. This helps prevent a skin from forming on the surface of the raspberry curd.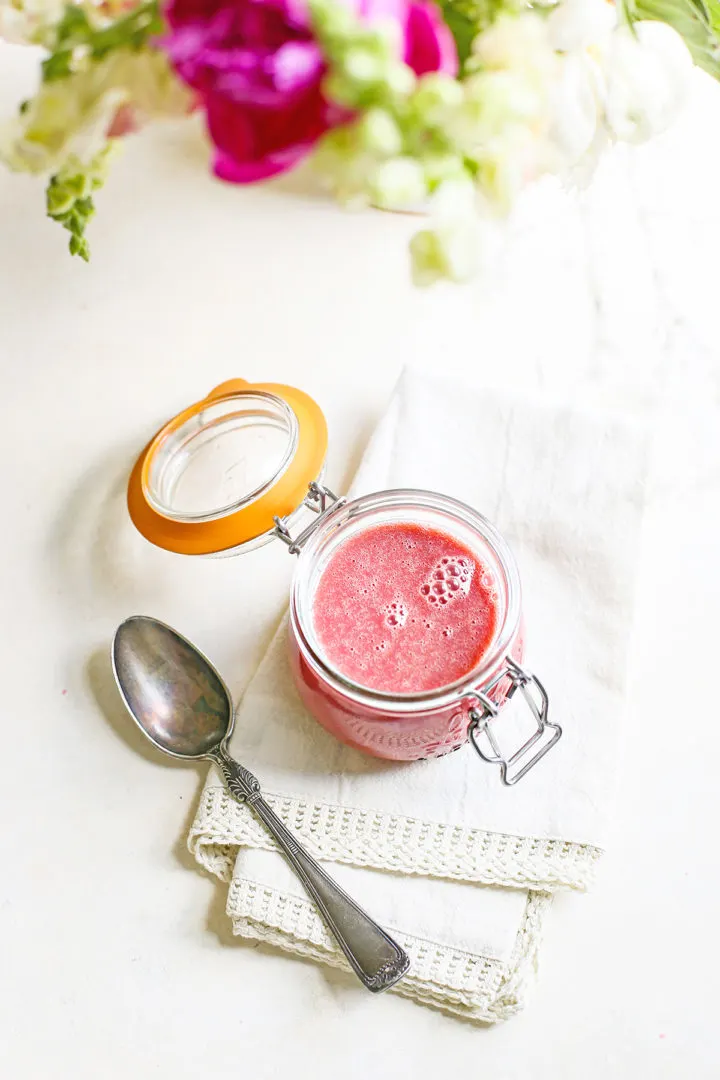 Can You Freeze This Recipe?
I've had a few questions about if this raspberry curd recipe can be frozen. The answer is: Yes!
Raspberry Curd will last for approximately 3 months when frozen. Here's how to freeze it:
First, cool the cooked raspberry curd completely.
Once cooled to room temperature, place the raspberry curd in a freezer-safe container.
Place a piece of plastic wrap on the surface of the curd.
Then, seal the container with the lid.
Make sure you label the container with the contents and date before transferring it to the freezer.
To thaw frozen raspberry curd:
Place the container of frozen raspberry curd in the refrigerator to thaw. I recommend doing this the day before you plan to use it.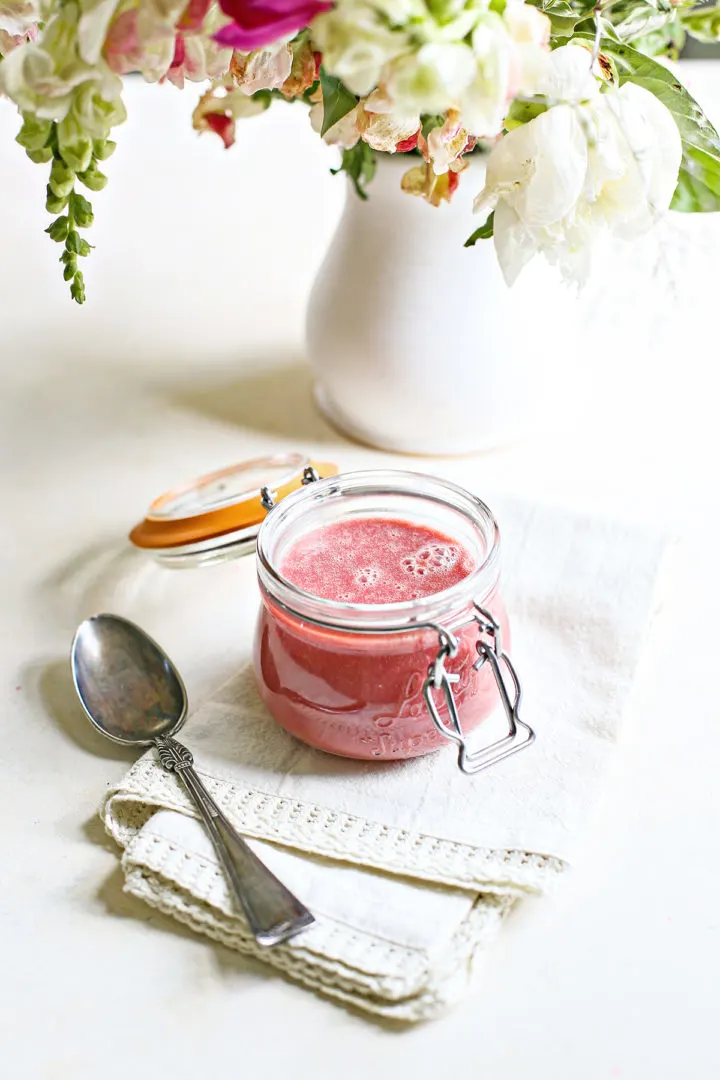 Save this Raspberry Curd Recipe to Pinterest!
What Readers think about this Raspberry Curd
"As soon as I read your recipe I went straight to the kitchen and made it! And it was already almost midnight at that time so it's safe to say I found it very motivating!! It came out delicious and now I'm tucked up in bed looking forward to raspberry curd on toast for breakfast." -Karen
"I made this to swirl with whipped cream on top of chocolate pavlova and it was amazing! Perfect pairing because the pavlova used 6 egg whites. My first time making curd and the recipe worked perfectly. Thanks!" -Liz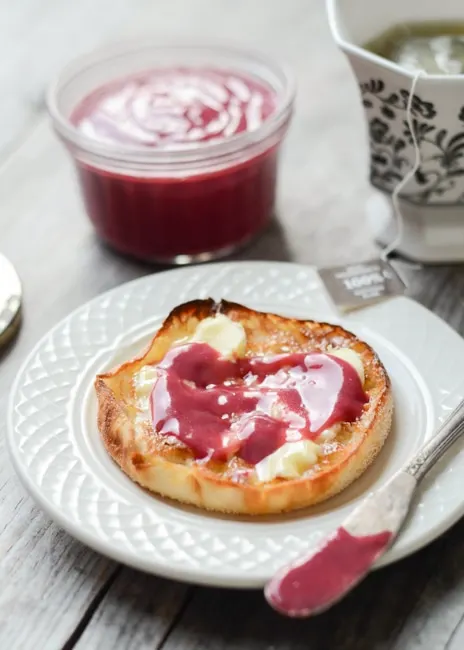 Try this Homemade Raspberry Curd Recipe!
Next time you're looking for a an easy recipe to make using ripe raspberries, give this Raspberry Curd a try!
Did you think it was the perfect way to use fresh raspberries? Leave a comment below and give it a review for others to see what you thought of delicious fruit curd.
On Instagram? Share your photo and tag me @goodlifeeats and #goodlifeeatsrecipes. I'd love to see how you decided to use this raspberry curd!
More Fruit Curd Recipes
Looking for more delicious curds to make? Here are my recipes for lemon curd, coconut lemon curd, orange curd, and grapefruit curd!
Don't see what you're looking for here? You can always head over to check out the recipe index to look for more recipes.
Get More Recipes via Email
Did you love this raspberry curd recipe? Sign up to receive Good Life Eats Email Updates and never miss another recipe!

Have you ever fruit curd before? What is your favorite type?
Raspberry Curd
Additional Time:
5 minutes
Raspberry curd is a lovely red curd that's slightly tangy - perfect for spreading on scones or toast!
Ingredients
2 tablespoons freshly squeezed grapefruit juice (or lemon juice)
3/4 cup granulated sugar (or evaporated cane juice)
10 ounces fresh ripe raspberries
pinch of salt
6 large egg yolks
1/2 cup (1 stick) butter
Instructions
Making the Raspberry Curd
In a medium saucepan, combine the grapefruit juice, sugar, raspberries, and salt.
Cook over medium, stirring frequently and mashing the berries, about 5-10 minutes.
Strain through the prepared sieve, mashing the berries with a spoon.
Discard the seeds and other solids.
Then, whisk the egg yolks in a medium-sized bowl until smooth.
Slowly pour half of the raspberry mixture into the yolks while vigorously whisking.
Return the amount in the bowl to the saucepan.
Continue to cook over low heat while whisking until the mixture thickens and coats the back of a spoon. This will take about 5 to 10 minutes.
Remove the pan from heat and stir in the butter 1 tablespoon at a time.
Storing the Raspberry Curd
Cool the raspberry curd to room temperature.
Once cooled, transfer to and airtight container and store in the refrigerator for about a week.
Notes
for extra citrus flavor, add the zest of one lemon or half of a grapefruit.
Recommended Products
As an Amazon Associate and member of other affiliate programs, I earn from qualifying purchases.
Nutrition Information
Yield

8
Serving Size

1
Amount Per Serving
Calories

86
Total Fat

4g
Saturated Fat

1g
Trans Fat

0g
Unsaturated Fat

2g
Cholesterol

163mg
Sodium

71mg
Carbohydrates

6g
Fiber

3g
Sugar

2g
Protein

6g
GoodLifeEats.com offers recipe nutritional information as a courtesy and is an estimate only. This information comes from online calculators. Although GoodLifeEats.com makes every effort to provide accurate information, these figures are only estimates.
This recipe for Raspberry Curd and accompanying photos were originally published and written by former Good Life Eats contributing writer Erica Kastner of Buttered Side Up on March 12, 2014.