In these Chicken, Black Bean, and Spinach Enchiladas, corn tortillas are filled with tender, shredded chicken, black beans, and fresh spinach. Then they're smothered in both roasted tomatillo salsa and a tangy sour cream sauce. These are the best spinach enchiladas out there in my opinion!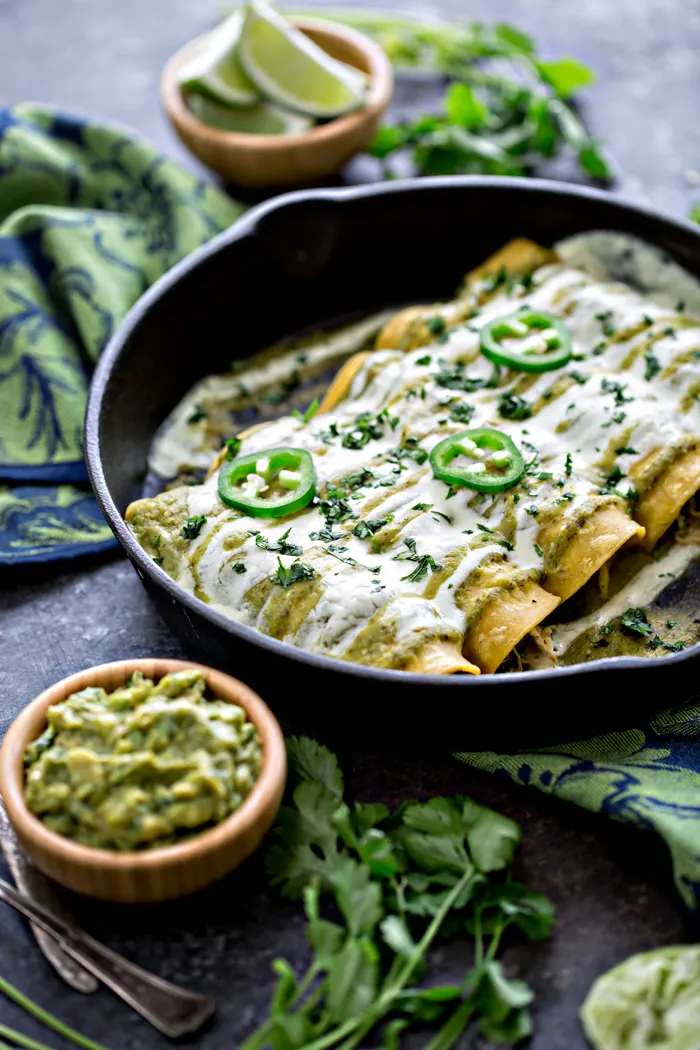 Click HERE to save this recipe for Chicken, Black Bean, and Spinach Enchiladas to Pinterest!
This post was republished with new photos on April 2018.
Making this Recipe for Spinach Enchiladas
My sister-in-law, Erin, texted me a while back: "We made your enchiladas!"
I could tell by the photo she sent that she meant this recipe for Chicken, Black Bean, and Spinach Enchiladas with Tomatillo Sauce. I realized that I haven't made these for dinner in a few years. Crazy!
I decided to add it to our menu for the week. When I went to the recipe, I realized that the photos on the post were over 8 years old, and in my opinion, a little cringe-worthy.
Madeline just asked me "why do you not like the old pictures." So, I showed her them and her reply was "wow…" I guess they were pretty bad!
I thought that since I was going to make them again, I might as well take some new photos. That way I could update this very, very old green enchiladas recipe and share it again.
I've never made this sour cream chicken enchiladas recipe for Kevin, Kendall, or Kayden, and I can't even remember when the last time Logan and Madeline ate it, or if they ever did.
My Favorite Enchiladas
I was pretty excited to resurrect the recipe for one of my Mexican favorites, a classic Tex-Mex recipe from my childhood. My other favorite enchilada recipe is this one for Chicken Enchiladas with Homemade Chili Gravy (definitely check those out if you prefer red sauce enchiladas).
I just hoped that everyone else would like it as much as I did. Both the girls, Kendall and Madeline, LOVED the spinach and black bean enchiladas.
They both decided that these Chicken, Black Bean, and Spinach Enchiladas with Tomatillo Sauce was their favorite enchilada recipe, even ahead of the recipe for Chicken Enchiladas with Homemade Chili Gravy.
The boys were another story. They didn't hate or love this recipe. They prefer the other enchilada recipe, even though they ate a decent sized serving.
For sides, I like to serve tortilla chips and guacamole (5 Minute Basic Guacamole) and shredded or chopped lettuce topped with Pico de Gallo. They're both easy things to make and the kids all love them, so no one ever complains.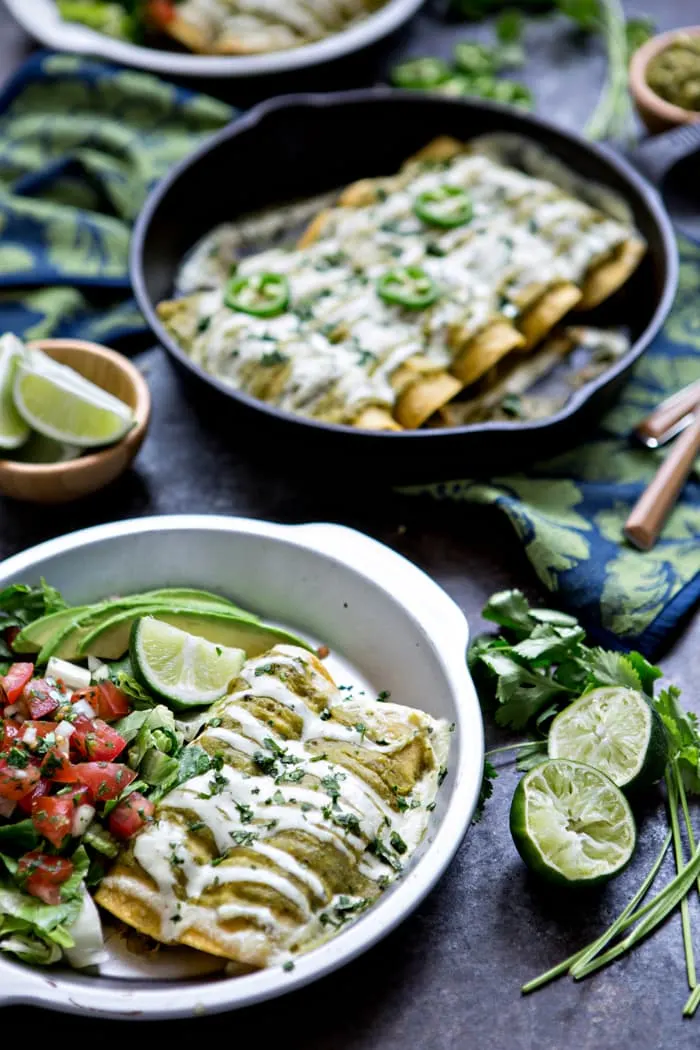 Click HERE to save this recipe for Chicken, Black Bean, and Spinach Enchiladas to Pinterest!
Spinach Enchiladas Ingredients
This is a spinach enchilada recipe is great to use frozen spinach in if you've used my tutorial for How to Freeze Spinach! Just make sure you thaw the spinach completely and squeeze out any excess moisture before adding to the chicken mixture for the Spinach Enchiladas.
For these green enchiladas, you'll need:
Cooked and Shredded Chicken breasts
Black Beans
Baby Spinach
Grated Monterey Jack Cheese
Corn Tortillas
Sour Cream sauce
Green Enchilada Sauce or Tomatillo Salsa
For the Sauce Cream Sauce
Butter
Garlic
All-Purpose Flour
Chicken Broth
Sour Cream
Salt
Black Pepper
For the Green Enchilada Sauce
I prefer making my own roasted tomatillo salsa to use as a homemade enchilada sauce in this spinach enchilada recipe.
But, if you're in a rush and you don't want to make your own enchilada sauce you can use store-bought salsa verde instead. Look for one that says Roasted Salsa Verde as opposed to just salsa verde.
Fresh Tomatillos
Jalapeños
Yellow Onion
Fresh Cilantro
Garlic
Salt
Pepper
For the complete ingredient list and detailed instructions, scroll to the bottom of this post for the FREE printable recipe card.
How to Make Enchiladas
Before starting in on the chicken and spinach enchiladas, you'll first need to prep the tomatillo salsa and sour cream sauce. I've listed a few different methods for making tomatillo sauce in the recipe card below, so choose whichever method is easiest for you.
Then, combine the chicken and black bean enchilada filling ingredients in a large bowl. Distribute the enchilada filling among the corn tortillas, placing the spinach mixture in the center of each tortilla. Then, roll them up, placing them seam side down in the baking dish.
Next, pour enchilada sauce on top of enchiladas. I like to drizzle the two sauces overlapping each other. Then bake the spinach enchiladas! After baking, garnish with a little bit fresh cilantro on top of the enchiladas.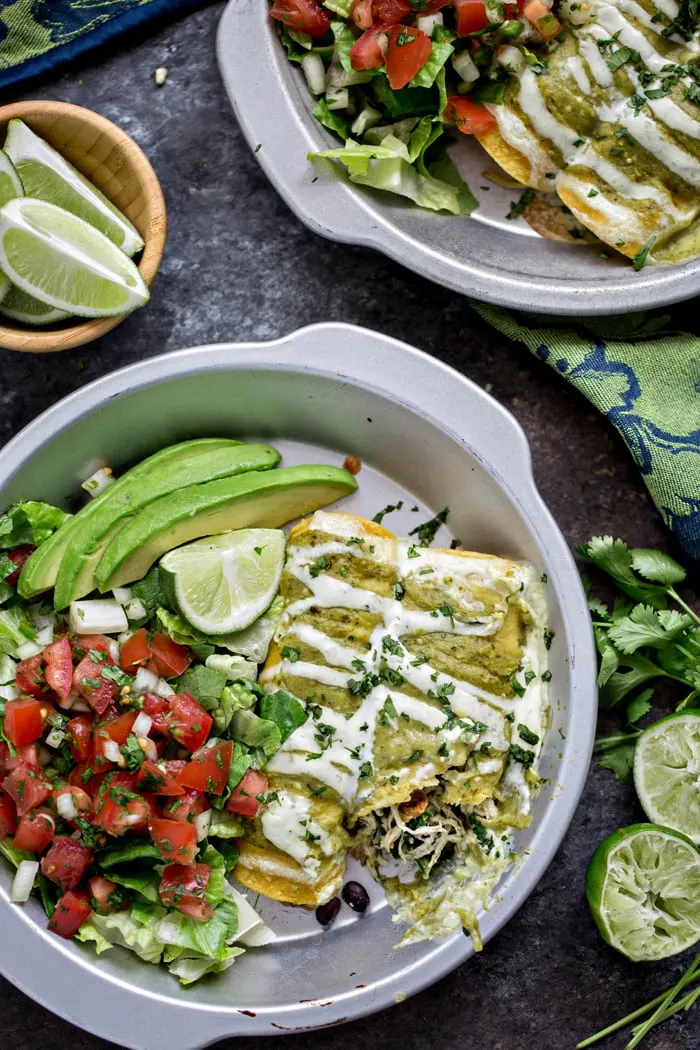 Click HERE to save this recipe for Chicken, Black Bean, and Spinach Enchiladas to Pinterest!
How to Freeze Enchiladas
These Spinach Enchiladas are such a good recipe to freeze! I'm glad that I was confident enough that no one would outright hate the recipe, because I made a double batch and froze some for later — that will be so great on a busy day.
If you want to freeze these green enchiladas, it is best to assemble the rolled tortillas (unbaked) in parchment paper lined square baking pans (8×8 or 9×9) without any sauce on them.
First, place the pan in the freezer until the enchiladas are frozen solid, an hour or two.
Then, lift the enchiladas out of the pan and place them in a zip top freezer bag. Next, zip the bag up, removing as much air as possible. Label, and store in the freezer.
The roasted tomatillo sauce freezes well in a container or in a zip top freezer bag as well. The sour cream sauce is best made right before baking.
Then, when ready to bake, remove the enchiladas from the bag and place them in a baking pan. Thaw, covered with foil, for 12-24 hours in the refrigerator (thaw the tomatillo sauce as well).
Prepare the sour cream sauce. When thawed, remove the foil and drizzle the sauces on top. After that, proceed with the rest of the baking instructions.
For even more details about how to freeze enchiladas check this post with more specific instructions. This post will walk you through how to freeze enchiladas and the best methods for reheating them.
Can I Make Enchiladas in Advance?
Though these Chicken, Black Bean, and Spinach Enchiladas with Tomatillo Sauce not look like the most simple enchiladas to prepare, the great thing about them is that the individual elements can all be made ahead.
A lot of the elements are easily stored in the refrigerator or freezer until enchilada assembly time. The chicken can be made ahead and combined with the beans and spinach and refrigerated for up to 2 days until use.
For the chicken, my favorite recipe to use is this Crock Pot Mexican Chicken because it has a ton of flavor — it freezes well, too.
The tomatillo salsa can be made ahead as well and stored for up to 2 days, or even frozen for up to a month. And the sour cream sauce stores well in the fridge — not the freezer. It easily reheats in the microwave and returns to proper consistency with a few whisks with a fork.
There is absolutely no excuse why you wouldn't have time to make these Chicken, Black Bean, and Spinach Enchiladas!
Thank you, Erin, for reminding me about one of my favorite green enchilada recipes, because we'll all be glad that these are back in rotation!
What to Serve with these Spinach Enchiladas
This healthy chicken enchilada recipe pairs well with pretty much all of your typical Mexican side dishes Here are some of my go-to Spinach Enchilada side dishes:
What Readers are Saying About these Spinach Enchiladas
This is seriously one of the most delicious recipes I've ever made. I have this page bookmarked because I make these enchiladas so much! -Amanda
THE best enchilada's…have served this dish several times and always get raves and requests for the recipe. -Tone
We had these for dinner last night and they where ridiculously good! I will definitely be putting them into our regular dinner rotation. It was the first time I cooked with tomatillos. I am a fan now. Thanks for the recipe! -Betsy
These were fabulous! I worked at Pappasito's here in Houston, and these easily could have been on the menu -Alli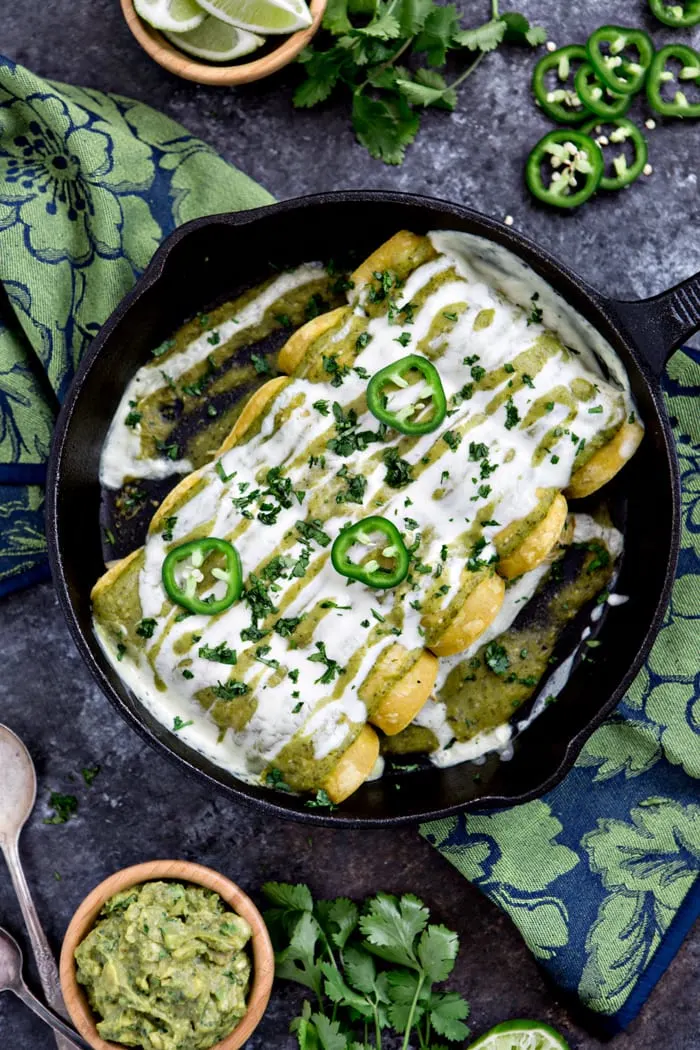 Try these Spinach Enchiladas at Home!
Next time you're looking for a new enchilada recipe, give this Spinach Enchiladas a try! Did you love the unique twist to enchiladas? Leave a comment below and give it a review for others to see what you thought of this great drink recipe.
On Instagram? Share your photo and tag me with @goodlifeeats and #goodlifeeatsrecipes. I'd love to see your photo of this delicious spinach enchilada recipe!
More Mexican Recipes:
Looking some more of my favorite favorite Mexican recipes?
Check out some of these recipes, or browse the recipe index archives for even more great recipe ideas:
Shredded Beef, Black Bean and Quinoa Stuffed Poblanos are a healthier take on Chile Rellenos.
Chicken Enchiladas with Homemade Chile Gravy Enchilada Sauce is a classic Tex-Mex dish from my childhood. Corn tortillas are stuffed with shredded chicken and smothered in a rich, chili gravy sauce before baked up to perfection with a gooey cheese topping.
Try a fun summer take on tacos with this recipe for Chicken Tacos with Grilled Corn Tomato Salsa. Chicken is flavored with a tasty Chipotle Lime Marinade and then grilled. Instead of traditional salsa, fresh, sweet summer corn is grilled until charred and combined with tomatoes, jalapeño, onion, and cilantro.
Kale, purple cabbage, carrot, and red bell pepper are tossed with a jalapeño lime vinaigrette for a healthy Mexican inspired Cilantro Lime Kale Slaw.
In this Mango Salsa with Grilled Corn and Blistered Red Pepper, juicy mango pairs well with grilled corn and blistered red bell peppers for a sweet and savory summertime salsa.
What's your favorite enchilada filling?
Get More Recipes via Email
Love this recipe for Chicken, Black Bean, and Spinach Enchiladas with Tomatillo Enchilada Sauce? Sign up for Good Life Eats email updates and never miss another recipe!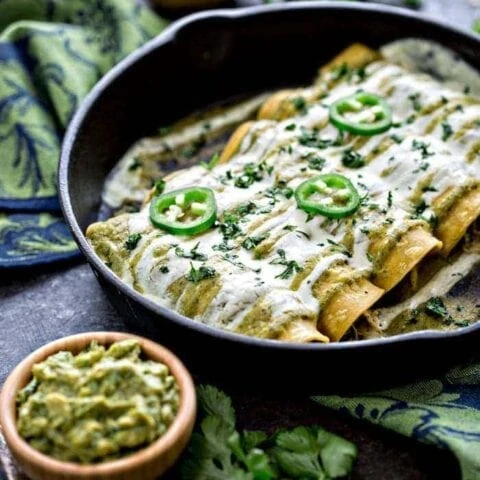 Chicken, Black Bean, and Spinach Enchiladas with Tomatillo Enchilada Sauce
Corn tortillas are filled with tender, shredded chicken, black beans, and fresh spinach. Then, smothered in two contrasting sauces for one amazing Chicken Enchilada recipe.
Ingredients
Enchiladas
4 large Boneless, Skinless Chicken Breasts, cooked and shredded (I like to use Crock Pot Mexican Chicken)
1 can Black Beans, drained and rinsed
5 ounces Baby Spinach, chopped
Salt and Pepper, to taste
8 ounces Monterrey Jack Cheese, grated
24 Corn Tortillas
Canola or Vegetable Oil for frying (if you fry instead of steam the tortillas)
Tomatillo Salsa
6 large Tomatillos (about 1 1/4 pounds), husks removed and cut in half
1 - 2 Jalapenos, cut in half with stems and seeds discarded
1 Yellow Onion, quartered
1/4 cup Cilantro Leaves, packed
2 cloves Garlic
3/4 teaspoon Salt
1/4 teaspoon Pepper
Sour Cream Sauce
2 tablespoons Butter
1 clove Garlic
1/4 cup All-Purpose Flour
1 1/2 cup Chicken Broth
3/4 cup Sour Cream
1/4 - 1/2 teaspoon Salt, or to taste
1/4 teaspoon Black Pepper
Instructions
Tomatillo Salsa*
Place tomatillos in a medium sized sauce pan.
Cover with hot water and bring to a boil. Simmer for 5 minutes.
Remove tomatillos from water and place in a food processor with remaining ingredients, starting with only one of the jalapenos.
Process until smooth.
Test for heat and add the remaining half of the jalapeno if desired. Set aside.
Sour Cream Sauce
Melt the butter in a skillet over medium high heat.
Add 1 clove of minced garlic. Add the flour, whisking until golden and bubbly, about 2-3 minutes.
Slowly whisk the broth into the flour mixture.
Stir in the sour cream, whisking if necessary to remove any lumps.
Simmer until sauce is thickened.
Season with salt and pepper. Set aside.
Prep the Tortillas**
Steam the tortillas using a tortilla warmer. If you don't have a tortilla warmer, see the bottom of this article at Food & Wine for alternative methods. Set tortillas aside and keep warm.
Enchilada Assembly
Preheat oven to 375 degrees F.
Spread 1/4 cup of the Tomatillo Sauce on the bottom of an oven safe pan or two, depending on the size of the pan. Set aside.
Combine the chicken, spinach, salt, pepper and shredded cheese in a medium to large bowl. Stir until ingredients are evenly distributed.
Add the beans and carefully stir in so as not to mash up the beans.
One by one, fill a tortilla with a small handful of filling, about 1/4 - 1/3 cup.
Roll the tortilla, placing the seam side down in the previously prepared pan(s). Repeat until all tortillas have been filled.
Drizzle sour cream sauce on top, followed by the tomatillo salsa. Top with additional shredded cheese, if desired.
Cover with foil and bake at 375 degrees F for 20 minutes, or until tortillas are heated through. Makes 2 dozen enchiladas.
Notes
*Tomatillo salsa update: Now I prefer to toss the tomatillos, jalapenos, and yellow onion with a small amount of olive oil and spread out on a cookie sheet. Roast at 425 degrees F for 10 - 15 minutes (until everything is soft). Combine the roasted ingredients with the cilantro, garlic, salt and pepper in a food processor and puree. Set aside.
**Tortillas update: Now I like to fry the tortillas as I think they stay together better. Add approximately 3/4 - 1 inch deep of canola oil in a well-seasoned cast iron pan.
Turn the heat to medium-high. Heat the oil until it is ready to fry the tortillas (around 375 degrees F if you are able to check with a thermometer). When the oil is ready, the edge of a tortilla will sizzle when dipped into the oil.
Add the tortillas one at a time and fry for about 5-7 seconds on each side, turning using kitchen tongs. They should be soft enough that they are easy to roll without breaking. Drain the tortillas on a paper towel lined cooling rack.
Recommended Products
As an Amazon Associate and member of other affiliate programs, I earn from qualifying purchases.
Nutrition Information
Yield

12
Serving Size

1
Amount Per Serving
Calories

359
Total Fat

15g
Saturated Fat

7g
Trans Fat

0g
Unsaturated Fat

6g
Cholesterol

67mg
Sodium

646mg
Carbohydrates

33g
Fiber

6g
Sugar

2g
Protein

23g
GoodLifeEats.com offers recipe nutritional information as a courtesy and is an estimate only. This information comes from online calculators. Although GoodLifeEats.com makes every effort to provide accurate information, these figures are only estimates.
This recipe for Chicken, Black Bean, and Spinach Enchiladas with Tomatillo Enchilada Sauce was originally published January 13, 2010. It has been updated with new photos and the instructions have been improved for clarity with a few notes on some of the methods that I like to use now.
Favorite Taco Tuesday Recipes