Easy Dessert Crepes with Ricotta and Raspberries
No one ever said that Crepes are just for dessert, yet that is often what comes to mind first when thinking about these delectable thin, French pancakes. Crepes are an essential kitchen know-how because they lay the foundation to so many different meals. In fact, I think it's fairly easy to say that one could enjoy crepes at every meal of the day.
I actually wrecked the first batch of crepes I made, but don't my failure (it was bound to happen one of these days!) discourage you. I turned to a well known French cookbook and started out with that recipe figuring it would be fool-proof. I thought I followed it just right. Maybe I did, maybe I didn't, but every single crepe I flipped tore.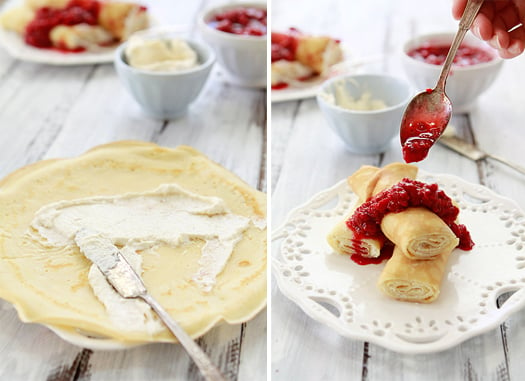 After some practice and a batch that was destined for the trash can I was dead set on conquering what I thought shouldn't be that hard! Several adaptations to the original and almost a half dozen eggs later, Madeline and I were scarfing down a delicious plate of crepes.
I followed the same method as the original, just different ingredient proportions for almost everything on the list and not single crepe tore from the recipe I'm sharing here.
Crepes might come across as time consuming, but they're actually fairly quick to make since each one takes hardly any time at all to cook. They are also simple enough that you can make up a batch at the beginning of the week and store them covered in the fridge for a few days to use as you need.
Want to save a little extra time? Make the batter at least a few hours before you need it so it can rest, even overnight if you'd like. Many of the filling ideas that I've thought of require practically no time or can be made in advance. Make ahead meals are the best!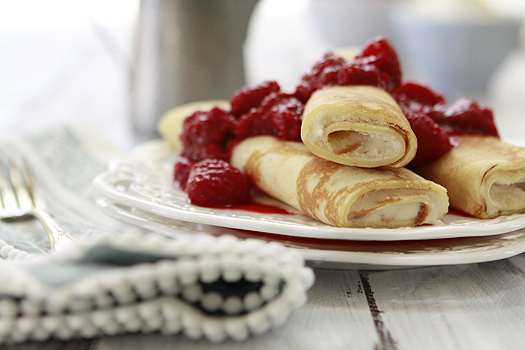 To reheat, just place the crepe on a hot pan, top with the fillings (if they require warming) and heat until warm. With some ideas, such as yogurt and berries, only the crepe will need to be warmed. Because they're so thin it won't take long at all to reheat them.
Crepes All Day Long
Crepes can be a medium to many different meals and flavors. Once you have the technique down, there's nothing stopping you from filling up those crepes with different ingredients for completely different meals that you can enjoy any time of the day.
Although special equipment isn't a requirement for preparing crepes, I did purchase this 10-Inch Crepe Pan recently, but that's mostly because my old small non-stick pan recently took a one-way trip to the city dump.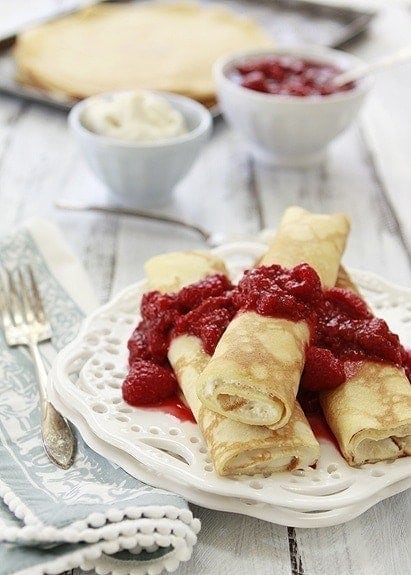 Breakfast
Everyone knows that breakfast is the most important meal of the day, so why not make it a little more exciting with some of these fun ideas. I don't know about you, but I am constantly underwhelmed with cold cereal.
Lunch
Lunch is my worst meal of the day. Many of my days are spent cooking and preparing recipes for the blog that end up snacking on a little of this and a little of that as I cook. Which is not really the best strategy for healthy eating. I am definitely going to experiment more with lunch ideas for crepes.
Dinner
Crepes are great as a rescue dinner on a busy night. Use any breakfast or lunch idea for a quick fix dinner, or get creative with other fillings.
Dessert
I could think of endless dessert ideas for crepes. I think we all need something a little sweet once in a while, which is why I've created this Ricotta Cream and Orange Scented Raspberries dessert crepe recipe to share today.
The ricotta cream is somewhat inspired by cannoli filling, but instead of mascarpone uses the more common cream cheese. My grocer can often be unpredictable when it comes to mascarpone, but I almost always have cream cheese on hand.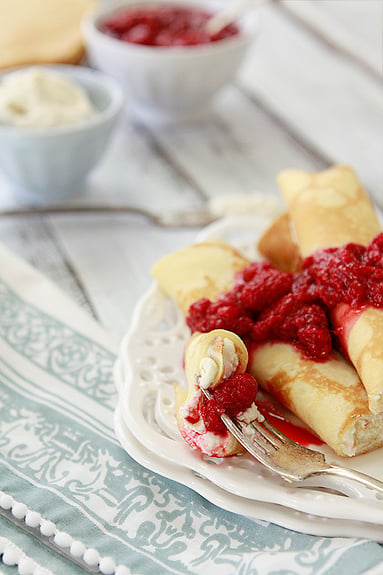 I love the creamy ricotta in combination with the sweet, juicy berries. In the summer, use fresh raspberries but you can still enjoy this delight during the winter when your days need a little brightening. Frozen berries work just as well!
Tomorrow, March 1st, is National Pancake Day. What a perfect day to celebrate with crepes.
What are some of your favorite crepe creations?
Dessert Crepes with Ricotta Cream and Raspberries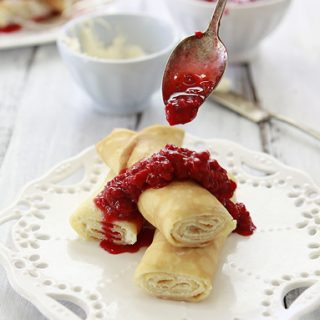 Ingredients:
Basic Crepes
2 cups flour
1/2 teaspoon salt
1/3 cup sugar (1 teaspoon for savory)
5 eggs
2 cups milk
1/2 cup (4 ounces) butter, melted
Ricotta Cream Filling
3/4 cup part skim milk ricotta
6 ounces cream cheese
1/3 cup powdered sugar
zest of 1/4 of an orange
3/4 teaspoon vanilla extract
Orange Scented Raspberries
1/4 cup sugar
3/4 teaspoon cornstarch
12 ounces frozen raspberries
zest of half an orange
juice from one small orange
Directions:
Basic Crepes
Add all ingredients to a blender and process on high for 45-60 seconds, or until well blended. Scrape sides down, if necessary, with a spatula. Let rest in the refrigerator for an hour or up to overnight.
Heat a 10-inch crepe pan over medium heat. Lightly grease with butter or spray oil. When hot, add 1/3 cup of batter to the pan.
Swirl the pan to spread the batter all around evenly. Then, place on the heat and cook for about 1 minute. When the top is no longer shiny, then you will know it is ready to turn. Flip with a spatula and cook for another 15-45 seconds, until golden. Remove and place on a plate while you cook the remaining crepes.
For the Ricotta
Add all ingredients to a bowl and beat with an electric mixer (I used hand-held) until combined. Set aside in a bowl.
For the Orange Scented Raspberries
Add the sugar and cornstarch to a medium saucepan. Stir until combined. Add the raspberries, zest, and orange juice. Cook over medium-high heat until boiling, then reduce to low and cook for 5 minutes, or until sauce has thickened.
Assembly of the Crepes
Spread one side of each crepe with the ricotta mixture. Roll up and top with raspberries.