Ricotta Cheesecake and Fruit Lollipops
Stacks of ricotta cheesecake and fresh fruit make up these tasty and adorable Ricotta Cheesecake and Fruit Lollipops. They're the perfect simple finger food dessert for spring and summer get togethers.
I was craving cheesecake last week, but knew I didn't have time to make a full cheesecake recipe. I had some leftover ricotta in the refrigerator from making Spinach, Ricotta and Tomato Calzones for dinner recently. Rather than a traditional cheesecake, I opted for these Ricotta Cheesecake and Fruit Lollipops.
This is a really easy, no-fuss recipe. I know we all need recipes like that in our life once in a while so I thought that I'd share it with you today.
The kids thought the Ricotta Cheesecake and Fruit Lollipops were too cute and it was a fun way to get them to try something new! I loved that it was a fun way to serve dessert and encourage them to eat some extra fruit with just a little bit of cake. Yum!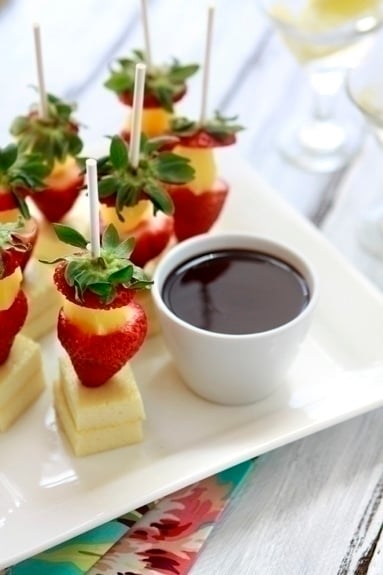 The ricotta cheesecake recipe was super simple to make and baked up quickly in a 9×13 inch pan. If I had more time, next time I'd probably bake the cake in a 9×9 inch for thicker cubes of cheesecake, but stacking two thinner cake squares also worked just fine.
You can use whatever seasonal fruit you like to pair with the cheesecake or if you'd like them to be more kebab-like, you can repeat layer the fruit and cheesecake on the lollipop sticks.
I chose to use fresh strawberries and chunks of fresh pineapple – I loved this combo with the cheesecake. Other fun fruits to use for these simple pops would be kiwi, mango, blueberries, black berries, and raspberries.
For dipping, I love to serve this with chocolate ganache. If you don't know How to Make Ganache, it is really not too hard. Just click on over to my simple tutorial for directions as well as some suggestions for a variety of creative ways to use the ganache.
Do you have a favorite easy dessert that is a hit with your family?
Ricotta Cheesecake and Fruit Lollipops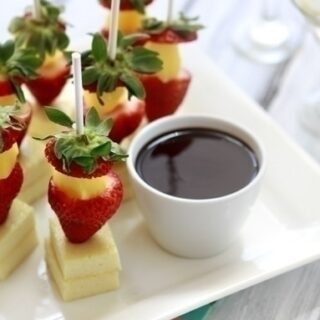 Ingredients:
For the ricotta cheesecake:
1 1/2 cups Whole Milk Ricotta Cheese
1/2 cup cream cheese
2/3 cup sugar
1/2 cup whipping cream
1/3 cup all-purpose flour
1/4 tsp. salt
1/4 cup milk
1 teaspoon vanilla extract
4 eggs
To prepare the lollipops:
Strawberries
Fresh Pineapple Chunks
Hot Fudge or Chocolate Ganache for dipping
Directions:
Preheat oven to 350 degrees F.
To prepare the ricotta cheesecake squares:
In the bowl of a stand mixer, combine the ricotta cheese, cream cheese, sugar, whipping cream, flour, salt. Beat until well combined. Add the milk and vanilla. Beat until incorporated.
Add the eggs one at a time, beating in between each addition until smooth. Scrape the sides of the pan with a spatula as needed.
Pour mixture into a parchment paper lined 9x13 inch baking pan. (Related: Kitchen Tip: Lining Pans with Parchment)Bake at 350 degrees F for 25 - 35 minutes, or until set. Cool in oven with door propped open 30 minutes. Refrigerate until chilled before preparing the cheesecake pops.
To prepare the cheesecake pops:
Cut the cheesecake into 1 - 1 1/2 inch squares. Set aside. Wash and dry the strawberries. Cut the pineapple into cubes. Remove the tops from each. Thread strawberry top, pineapple cube, strawberry, and two squares of cheesecake onto sticks (such as Wilton 4 Inch Lollipop Sticks). Serve with hot fudge sauce or chocolate ganache for dipping, if desired.