I recently made these Spinach Calzones with Ricotta, Mozzarella, and Sun-Dried Tomatoes and was surprised with how simple they actually were to make. I made the full batch which makes 8 individual sized calzones (meaning you only need 1 per person) and froze most of them for use another time, either lunches or dinner.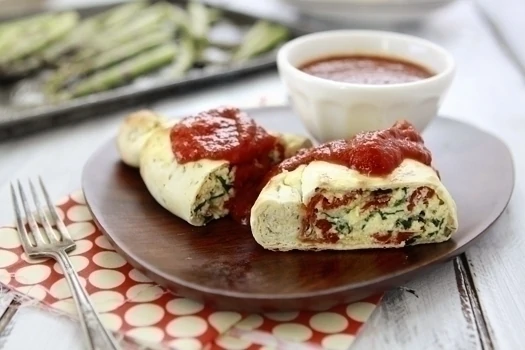 Now, I'm not really into the "freezer cooking" thing. I've tried, but it's never been my style to make a month's worth of meals in a day or two and stash them in the freezer, but I do like to have a few things on hand for busier days. I'm thinking that a calzone or two might make an appearance.
Besides the usual suspects of meat, frozen fruits and vegetables, we have breakfast items like whole wheat waffles and muffins stored in our freezer, plus our pancake mix (it stores better that way) and sometimes frozen cookie dough.
This spinach calzone recipe is perfect for to add to the freezer list – whether you make enough for the whole month or just want a few things stashed away for busier days. It was nice to have a few that purposed as lunches during the month. On one particularly busy night I looked in the freezer to find 2 calzones left – a perfect, simple dinner from the freezer!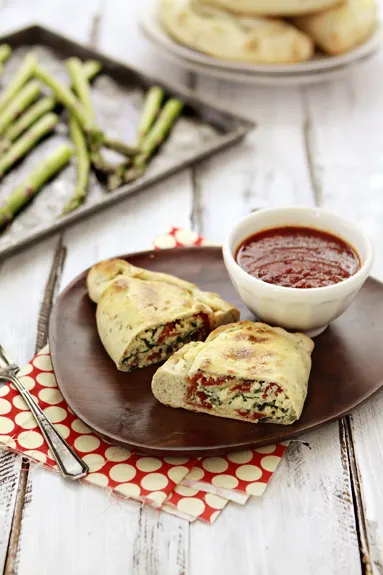 5 Tips for Freezing Food
Organizing your Freezer and Reducing Freezer Burn
Cool the food completely before freezing. If you freeze something that is still warm, even just slightly, you'll add condensation to the bag which can mess with your food's texture.
Label the container with the recipe name, reheating instructions, and date. Use a permanent marker. Hint: It's easier if you label the bag before you fill it with food.
Use freezer safe packaging for freezing. I like gallon sized freezer ziplock bags. They're inexpensive at Costco and you can freeze the items in flat, uniform shaped and sized containers. It makes stacking easier.
Remove as much air as possible. Air = freezer burn. That's why I like to use the ziplock bags. You can insert a straw and suck out the air. Check out Jessica's video here: Packing Items in Freezer Bags
Keep the items organized. Don't ruin your hard work by letting the frozen items get lost in the abyss of the freezer. Store like items on the same shelves.
One thing I love about a good calzone now that I've made them is how easily customizable they are. I'm all about those kind of recipes. It's great to be able to use whatever I have on hand to stuff inside the crust.
Oh, and I almost forgot to mention – This calzone crust is made with Fleischmann's new Pizza Crust Yeast and didn't have to rise at all! Check to see if your grocery store carries it.
It's great to have on hand when you need to make something like this for dinner and don't really want to wait for the dough to rise. I've used it for this calzone recipe and when I made a flatbread pizza recently.
What are some of your favorite recipes to stash in the freezer?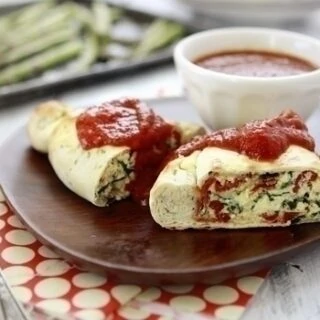 Spinach Calzones with Ricotta and Sun-Dried Tomatoes
I recently made these Spinach Calzones with Ricotta, Mozzarella, and Sun-Dried Tomatoes and was surprised with how simple they actually were to make. I made the full batch which makes 8 individual-sized calzones and froze most of them for use another time.
Ingredients
No Rise Calzone or Pizza Crust
1 1/3 cup warm water
2 packets Fleischmann's Pizza Crust Yeast
2 tablespoons olive oil
2 teaspoons sugar
2 teaspoons Italian Seasoning
1 1/2 teaspoon salt
1 cup whole wheat flour (I grind mind fresh)
2 - 3 cups all-purpose flour
Spinach Calzones
1 recipe no-rise calzone or crust
1 1/4 cup ricotta cheese
1 cup mozzarella cheese, grated
1/3 cup parmesan cheese, grated
1/2 teaspoon black pepper
1/2 teaspoon salt
1/4 teaspoon garlic powder
1 egg, beaten
2 - 2 1/2 cups fresh spinach, chopped
2 tablespoons fresh basil, optional
3/4 - 1 cup sun-dried tomatoes
48 slices pepperoni (6 per calzone), cut into quarters
Instructions
For the Calzone Crust:
In the bowl of a stand mixer, add the warm water and yeast. Let stand for 5 minutes. After 5 minutes, whisk in the olive oil.
Meanwhile, combine sugar, Italian seasoning, salt, whole wheat, and 2 cups of all-purpose flour in a bowl. Reserve the remaining 1 cup all-purpose in a separate bowl. Add the flour mixture to the water 1 cup at a time while mixing with the stand mixer's dough hook until a soft dough is formed.
If dough is still sticky, add the reserved flour 1/4 cup at a time (while still mixing) until desired consistency is reached. Dough should be soft and moist, but not sticky.
Dough does not need to rise, but keep it covered while you mix up the filling.
For the Calzones:
Preheat oven to 450 degrees F.
Combine the ricotta, mozzarella, parmesan, pepper, salt, garlic powder, and beaten egg. Stir well. Fold in the spinach, basil (optional), and sun-dried tomatoes.
Divide dough into 8 equal portions and roll them into balls. It helps if you have a kitchen scale.
Roll each ball into an 8-inch circle on a lightly floured surface. Top each circle with approximately 1/2 cup of ricotta mixture. Then add 6 slices pepperoni (cut into quarters) to each calzone. Pull edge of lower crust over top to form a half-circle. Press the layers together to seal.
Transfer calzones to a greased baking sheet or a parchment-lined pizza stone. If desired, brush with olive oil or an egg wash (1 egg + 1 tablespoon water, beaten).
Bake at 450 degrees F for 10-20 minutes, until browned and puffy. Transfer to cooling rack to keep bottom crust crisp to sit until cool enough to handle.
Serve with marinara sauce or other sauce for dipping.
Notes
Note: To freeze - cool completely, then store in a freezer safe ziploc bag in the freezer for up to a month. Defrost in the refrigerator and reheat in the oven or toaster oven at 300 degrees F.
Recommended Products
As an Amazon Associate and member of other affiliate programs, I earn from qualifying purchases.
Nutrition Information
Yield

8
Serving Size

1
Amount Per Serving
Calories

1145
Total Fat

37g
Saturated Fat

13g
Trans Fat

0g
Unsaturated Fat

21g
Cholesterol

92mg
Sodium

1914mg
Carbohydrates

159g
Fiber

8g
Sugar

5g
Protein

42g
GoodLifeEats.com offers recipe nutritional information as a courtesy and is an estimate only. This information comes from online calculators. Although GoodLifeEats.com makes every effort to provide accurate information, these figures are only estimates.