Sun-Dried Tomato Spinach Rice Pilaf makes a nice side dish.
Rice might seem like an uncreative and plain side dish, but it doesn't have to be.
With a little extra effort you can go from boring rice to delicious Sun-Dried Tomato Spinach Rice Pilaf.
This recipe gets flavor from sauteed onion and garlic along with oregano, fresh chopped spinach, sun-dried tomatoes and kalamata olives.
But, with these simple tips below for perfect rice pilaf, you can switch your rice pilaf recipe up anyway you like.
Turn this Sun-Dried Tomato Spinach Rice Pilaf side dish into a quick meal by adding your favorite protein to the recipe.
Chicken would pair great, like sliced grilled chicken, sauteed chicken breast or leftover roasted chicken.
Save this recipe for Sun-Dried Tomato Spinach Rice Pilaf to Pinterest!
Tips for Perfect Flavorful Rice Pilaf
Build Flavor
Add sauted aromatic ingredients like onion, leeks, carrot, celery, and garlic.
This will give deeper flavor to the dish. It is important to saute these ingredients before adding the rice and liquid, otherwise there will be a raw taste.
Add more flavor by using broth for the liquid in place of all or part of the water.
Toasting
Adding the rice to the pan with the aromatics to lightly "toast" the grains will firm the starches on the outside of the grain.
This allows the rice to slowly absorb the liquid, which helps it keep its shape.
Liquid to Rice Ratio
I use slightly less than the traditional 2:1 ratio of liquid to rice.
This is often referred to as a "scant" cup – just a little bit less than 1 cup but not quite a full 1/4 less.
For 1 cup of rice I use about 2 tablespoons less than 2 cups of liquid.
This keeps the rice from getting sticky and the individual grains remain separate when I make this Sun-Dried Tomato Spinach Rice Pilaf.
Save this recipe for Sun-Dried Tomato Spinach Rice Pilaf to Pinterest!
Resting
Let the Sun-Dried Tomato Spinach Rice Pilaf rest with the heat off, but still covered, after cooking.
Any remaining liquid will be absorbed and the grains will firm up so you don't end up with sticky rice.
Color and Texture
I like to add extra color and texture to my rice pilaf by adding extra ingredients like the spinach, sun-dried tomatoes and kalamata olives in this recipe.
Other great add-ins are sauteed mushrooms, bell peppers, cubed cooked butternut squash, kale or other greens, nuts, or dried fruits.
Fluffing
Rice is best fluffed with a fork rather than stirred with a spoon.
Fluffing the Sun-Dried Tomato Spinach Rice Pilaf with a fork will remove any lumps and separates the grains.
Stirring with a spoon can create mushy rice.
What are your favorite easy rice dishes?
More Rice Dishes
Looking for more ways to serve rice? Here are a few favorite recipes:
Dirty Rice with Beans and Andouille Sausage is super simple to prepare and easily something that can be tackled in between assisting with homework during weeknights.
It is filling and pairs well with a side salad or roasted broccoli for extra vegetables.
In this Creamy Orange Almond Chicken and Rice, golden brown chicken breasts are smothered in a creamy orange almond sauce.
Then, served alongside an almond rice pilaf for a simple and comforting recipe during the colder days just prior to gorgeous, warm spring days.
Fall Mexican Rice Bowls are a great way to make a seasonal and healthy rice bowl for dinner or lunch.
Love this post for Sun-Dried Tomato Spinach Rice Pilaf ?
Sign up for Good Life Eats email updates and never miss another recipe!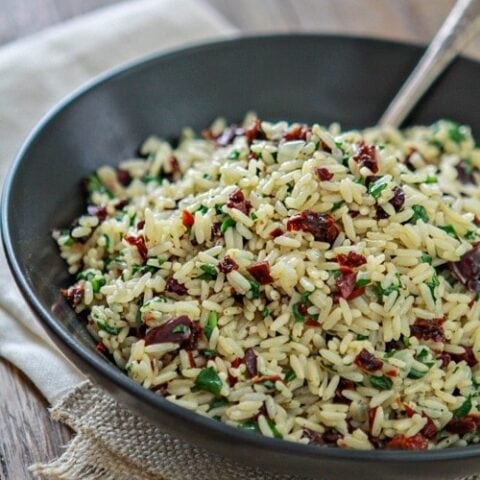 Sun-Dried Tomato Spinach Rice Pilaf
Yield: serves 4 - 6

Prep Time: 8 minutes

Cook Time: 18 minutes

Additional Time: 10 minutes

Total Time: 36 minutes

Sun-Dried Tomato Spinach Rice Pilaf makes a nice side dish.
Ingredients
1 cup White Rice
1 tablespoon Olive Oil
1 small Yellow Onion, diced
1 teaspoon minced garlic
zest of half a Lemon
1 teaspoon lemon juice
2 cups minus 2 tablespoons chicken stock
1 teaspoon dried oregano
1/2 cup diced Sun-Dried Tomatoes
1 1/2 - 2 ounces cup chopped fresh Spinach
1/4 cup chopped Kalamata Olives
Salt and Pepper, to taste
Crumbled Feta, for garnish
Instructions
Heat 1 tablespoon of olive oil in a stainless steel skillet (choose one that has a lid) over medium heat.
Add the onion and saute for 3-5 minutes.
Add the garlic and the rice and saute for another 2-3 minutes.
Add the lemon zest, lemon juice, broth, oregano, and salt and pepper to taste.
Stir once, then turn heat to low, cover and cook for 18 minutes.
Remove from heat and let sit for 10 minutes.
Remove the lid.
Add the spinach, sun-dried tomatoes, and kalamata olives and fluff the rice with a fork to combine.
Serve topped with crumbled feta, if desired.
Recommended Products
As an Amazon Associate and member of other affiliate programs, I earn from qualifying purchases.
Nutrition Information
Yield 6 Serving Size 1
Amount Per Serving Calories 103Total Fat 5gSaturated Fat 1gTrans Fat 0gUnsaturated Fat 3gCholesterol 4mgSodium 151mgCarbohydrates 13gFiber 2gSugar 3gProtein 3g

GoodLifeEats.com offers recipe nutritional information as a courtesy and is an estimate only. This information comes from online calculators. Although GoodLifeEats.com makes every effort to provide accurate information, these figures are only estimates.

Be sure to follow Good Life Eats on Instagram. Tag @goodlifeeats and include the hashtag #goodlifeeatsrecipes so I can see what you're cooking up in YOUR kitchen!
Let me know if you try this recipe and what you think of it by leaving a comment below.
Save this recipe for Sun-Dried Tomato Spinach Rice Pilaf to Pinterest!