Gluten Free Brownie Trifle
My sister-in-law has a gluten allergy, so usually when we eat with her she has to eat a completely separate meal than the rest of us. It is hard to watch her not be able to enjoy what the rest of us are enjoying, so I wanted to give her a dessert this time that she would be able to enjoy. And no one would ever know these Brownie Trifles are gluten free! They are that delicious!
Written by: Carla of Carla's Confections Blog
I am slightly obsessed with mason jars, so anytime I get the excuse to use them in a recipe I jump at the chance.
Trifles are just that excuse. You get to make individual serving sizes, and you don't have to fuss with serving them in bowls when it comes time to pass them out. Not to mention everyone gets the perfect portions of each layer of the trifle.
Less work for the hostess too, which is what it is all about anyway right?
For these Brownie Trifles, I went the easy route on the gluten-free front and used a box GF brownie mix. Brownies tend to be my demise, and since I don't have much experience with gluten-free flour, I didn't want to ruin the entire trifle with one mistake.
If you have the confidence to make the brownies from scratch, I highly suggest that route. But these box-mix brownies were superb, and I didn't feel like we were missing out by not making them from scratch.
Along with the brownies, these trifle beautes have an utterly delicious homemade Peanut Butter Mousse layer as well as dark chocolate sauce and homemade whipped cream.
You can feel free to use store-bought whipped cream instead of the homemade, but I enjoy the slightly less sweet taste of the homemade to offset the richness of the brownies and mousse.
I ended up using a hodgepodge of different sizes mason jars, so I only ended up with four servings, but some were huge (as you can see in the photos), so if you use smaller jars, you will end up with a lot more. These would also look adorable in stemless wine glasses too. They are just too fun not to make!
What are some Gluten-Free baking tips?
Gluten Free Brownie Trifle
Yield: serves 6-8
Prep Time:30 min
Cook Time:20-30 min (per brownie instructions)
Total Time:50 min - 1 hour
An amazingly delicious and super simple brownie trifle with boxed gluten-free brownies, homemade peanut butter mousse and homemade whipped cream.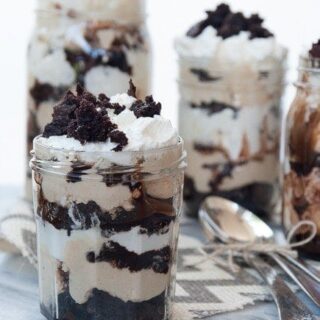 Ingredients:
Mousse:
1 (8 oz) pkg softened cream cheese
2/3 cup creamy peanut butter
2 cups powdered sugar
1 1/2 cups heavy whipping cream, divided
Whipped Cream
1 1/2 cups heavy whipping cream
1/3 cup powdered sugar
Trifles
peanut butter mousse recipe
whipped cream recipe
Gluten-free brownies (boxed or homemade)
chocolate sauce drizzle - the kind you put on ice cream (make sure it is gluten-free)
Directions:
1. Cook brownies to box's directions, or cook up your favorite gluten-free brownie recipe and allow to cool completely. I made mine a day in advance.
2. To make the mousse, combine the softened cream cheese and peanut butter in the bowl of a stand mixer with the paddle attachment and beat until well combined. Slowly add in the powdered sugar and mix until combined. Slowly pour in 1/2 cup of the heavy whipping cream and mix until well combined.
3. In a separate bowl using an electric whisk, beat the remaining 1 cup of heavy whipping cream until it holds soft peaks. Turn both mixers off and gently fold in the 1 cup whipped heavy cream into the peanut butter mousse recipe until well combined. Set mousse aside.
4. To make the homemade whipped cream, pour in the 1 1/2 cups heavy whipping cream into the bowl of a stand mixer with the whisk attachment and beat on high until the cream holds stiff peaks (roughly five minutes). Once it holds stiff peaks, add in the 1/3 cup powdered sugar and beat on medium speed until well combined. Set aside.
5. Get mason jars ready and cut the brownies into tiny bite-sized pieces and get ready to assemble.
6. Assemble by placing a layer of brownies on the bottom of the mason jar. Place a couple small scoops (roughly 1-2 Tbsp - depending on size of mason jar) of Peanut Butter Mousse on top of the brownies. Drizzle a good amount of chocolate sauce over the mousse. Finally layer on some whipped cream (store-bought or the homemade version). Repeat with another layer of the brownies, peanut butter mousse, chocolate sauce drizzle, whipped cream and finally, garnish with extra brownies.
7. Repeat until you have used up all the ingredients. You will most likely have left-overs.
Notes:
Feel free to make these non-Gluten Free as well.
You will end up with more of certain ingredients. Use them as you please!
If you have a peanut allergy in your home, substitute your favorite brand of Almond Butter.