Dirty Rice with Beans and Andouille Sausage
I always thought that when my kids got older and they were both in school that I would have so much more time. All of you veteran moms out there are probably laughing right now, and you are totally right.
In reality, the time from after school pick up at 3:30 until dinner at 5:30 or 6 just zooms by. And most of the time I feel like I am flying by the seat of my pants when it comes to getting something tasty and healthy on the table.
We have things like homework and reading to make sure happen. Piano practicing. Laundry putting away to supervise. Sibling disputes to break up. Tears to dry over hurt feelings. Time outs to enforce. I am slowly learning that, in a place called reality, the older my kids get the busier I am getting.
And of course there is fun too. Lately I am having so much fun playing Wii Frisbee Golf with Logan. I am terrible, by the way! – Logan has beaten me every time, and some holes the game tells me that I have to "give up" because I have gone so beyond what is considered par.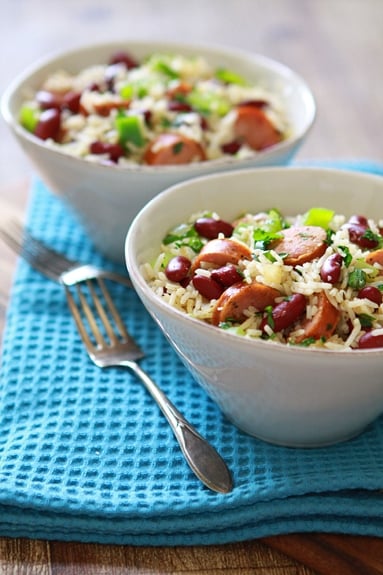 Most of these things were not even on my agenda when the kids were babies and I thought I was so busy. But the truth is, I had a lot more time on my hands back when afternoon naps, or even twice daily naps, were a party of our regular routine.
Dinner preparation was typically uninterrupted and rarely rushed. These days I am eager to get my hands on as many easy and fast, yet still tasty and wholesome main dish recipes that I can prepare for dinner.
We recently really enjoyed this recipe for Dirty Rice with Beans and Andouille Sausage. Super simple to prepare and easily something that can be tackled in between assisting with homework during weeknights. It is filling and pairs well with a side salad or roasted broccoli for extra vegetables. And – bonus – it reheats well for lunch the next day.
Dirty Rice with Beans and Andouille Sausage
Yield: serves 6
Total Time:30 - 45 minutes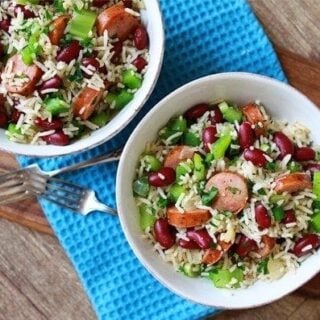 Ingredients:
16 ounces All-Natural Andouille Sausage
1 1/2 cups rice - white or brown
1 1/2 cups water
1 1/2 cups vegetable or chicken broth
1 tablespoon olive oil
1 medium yellow onion, diced
2 medium green bell peppers, chopped
4 ribs celery, diced
2 clove garlic, minced
1 - 2 teaspoons Cajun seasoning
1 teaspoon dried thyme
1 (16 ounce) can BUSH'S® Dark Red Kidney Beans, drained and rinsed
4 green onions, thinly sliced
salt and pepper, to taste
Directions:
Prepare the sausage by browning it on all sides. When it is browned and cooked through, set aside on a cutting board until cool enough to handle. Then, slice into rounds about 1/4 to 1/2 an inch thick, according to your preference. Set aside.
Prepare the rice as instructed according to the package, using 1 1/2 cups water and substituting the remaining amount of water what you would use with the 1 1/2 cups vegetable or chicken broth.
In a cast iron skillet or sauté pan, heat the oil over medium heat. Add the onion and sauté for 5 - 7 minutes, or until tender. Add the garlic, celery, green bell peppers, Cajun seasoning and thyme and sauté for 2 more minutes. Set aside.
In a large bowl, combine the cooked rice, cooked and sliced sausage, kidney beans, the sautéed vegetable mixture, and the green onions. Taste for seasoning and add salt and pepper, if desired. Serve immediately.
Notes:
If you'd like to make this ahead of time and reheat it, place the assembled recipe in an oven safe casserole dish (grease the bottom and sides with butter or oil first) and store in the refrigerator for up to a day. To reheat, cover with foil and heat in a 375 degree oven until heated through.
I have an ongoing relationship with Bush's Beans where I am compensated for my time, however this is a brand that I have always used in my own kitchen and any opinions expressed regarding the product are my own.