Okay, it is officially December and all the Thanksgiving excitement is over. Time to talk Christmas.
It takes quite a while to build up a good collection of Christmas decor. Wouldn't it be nice if we could all go out and buy everything all at once? Instead, we add little by little each year.
I recently introduced you to the ladies at JennyM's Quilt Company. I loved the table runner they made me so much that I worked with them to create a custom Christmas quilt for our family.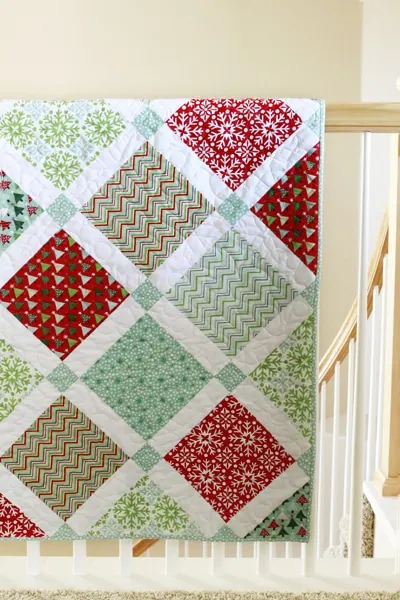 I have been wanting a Christmas quilt or blanket to our collection, but hadn't really seen too many that I liked the style of in stores. I'm not a fan of traditional red, green, and gold Christmas colors. I like light and bright and if it has some turquoise or aqua in it, even better.
I did a search for Christmas fabrics and found some adorable bright, modern Christmas fabrics by Kate Spain that we worked with for our quilt. I love it so much that I just had to share some pictures of the Christmas Quilt with you.
Here is a closer look at the fabrics. Aren't they so cute?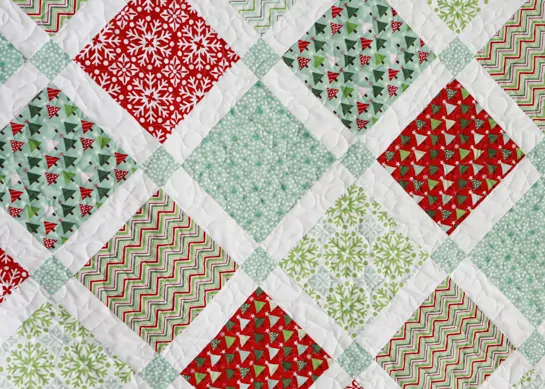 How about a little closer? Can you see the quilting pattern that the quilt was put together with? It is hard to show it in the photo, but it is a snowflake design. Perfect for this time of year! The back is a solid piece of the aqua fabric with the green and red Christmas trees.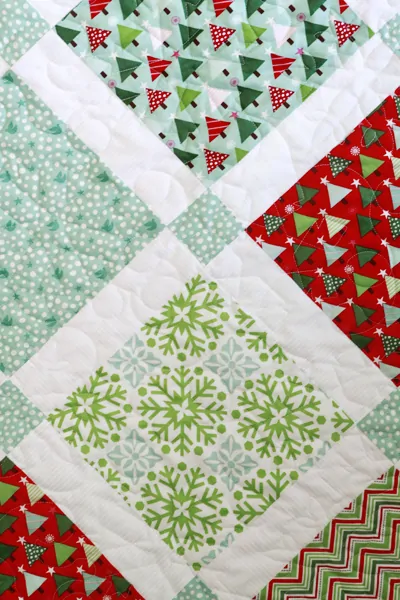 When the blanket isn't in use, I have it folded and draped over a brown leather chair that sits in a cozy spot next to the fireplace and Christmas tree. But, it is often in use. The kids love to cuddle with it on the couch when they are watching a movie and it is big enough for a few people to use at a time.
This will definitely quickly become a well-loved Christmas piece to pull out this time of year and will last for years to come.
Stay tuned for a glimpse of the rest of our Christmas decor!
Do you have a special Christmas blanket that you cuddle up with on the couch?
Get More Recipes via Email
Did you love this recipe? Sign up to receive Good Life Eats Email Updates and never miss another recipe!