We did some major updating with our Christmas decor this year. Our old, hand-me-down tree was on it's last leg last year (after 6 years of use from us and who knows how many from the previous owner).
The ornaments were the same age and have been through 2 toddlers and were desperately in need of replacement as half of them had been broken or lost.
And, well, I just decided that the whole traditional red and green colors really just don't do it for me and they totally clash with our family room decor.
Here's a look at the new tree.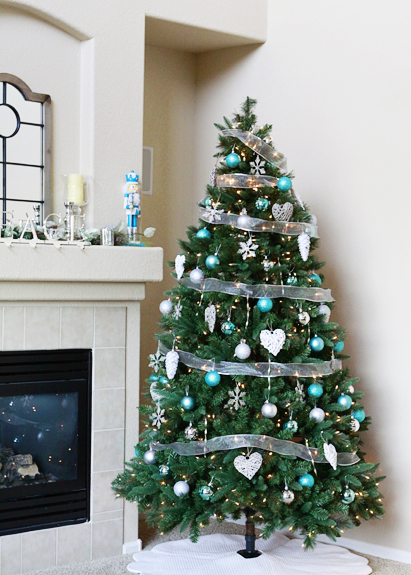 At first I had plans to make some ornaments this year. I thought aqua painted pine cones would look really pretty. I planned to add in some silver ball ornaments and white snowflakes. After Thanksgiving business, I quickly decided that I didn't really have time for making ornaments.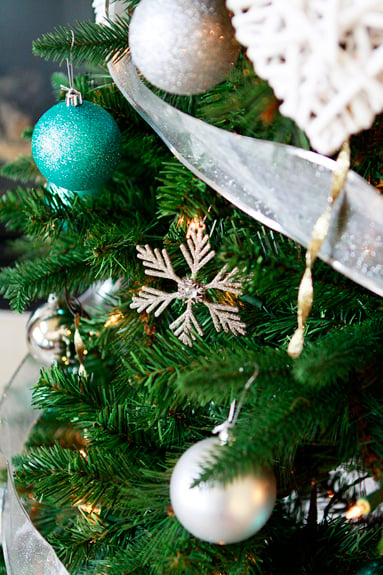 I found a set of shiny, glitter, and matte ornaments at Target that were Aqua and Silver colored. And two boxes of those sets cost less than the supplies would to make my own ornaments. Sold!
I found some silver glitter snowflakes at Target too, for only $1 each. Also sold!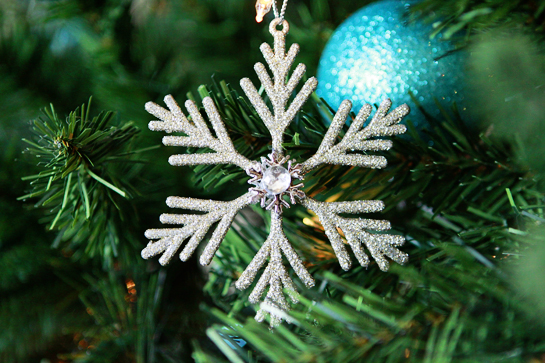 Look how pretty? I added in some gold dangle icicles and wicker hearts because what is Christmas without a little love? And since we're in Colorado this year, I thought the icicles were fitting.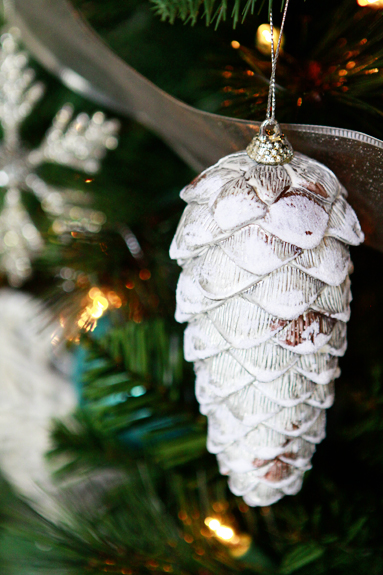 I would have loved to get 8 more of these frosted pine cones, but they were popular with other shoppers too and by the time I made my rounds there were only 2 left. I picked them up anyway, along with a few spools of silver ribbon, because I thought they were pretty.
Here's a little Christmas tree bokeh for you. Thanks to Kevin and Amanda for a tutorial on how to get these pretty glowing lights.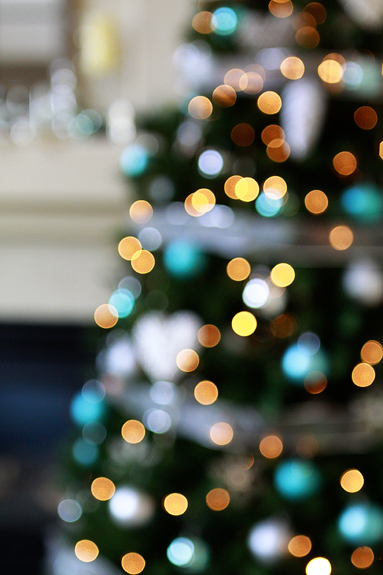 The tree is situated in a corner next to the fireplace. We redecorated the mantel a bit of Christmas, but kept the mirror that we already had up. More with the silver and aqua theme…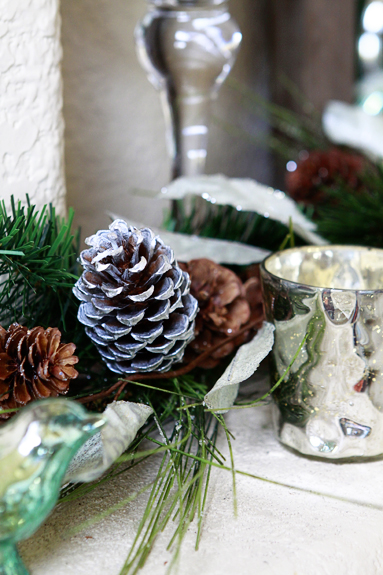 Silver glittered pine cones and aqua glass birds make it feel like a winter wonderland when paired with these frosted pine needles (a World Market find for these items).
Eric and I were married in December (10 years ago) and I was adament about not wanting a "Christmas" wedding with reds and greens. We went for a Winter Wonderland look with lots of Christmas trees and white lights, silver painted tree branches, and such. I loved it.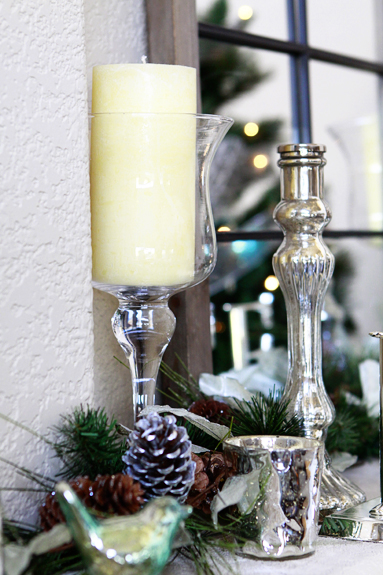 Lots of silver candle holders and silver glass votive are placed throughout along with a few tall glass hurricanes filled with candles.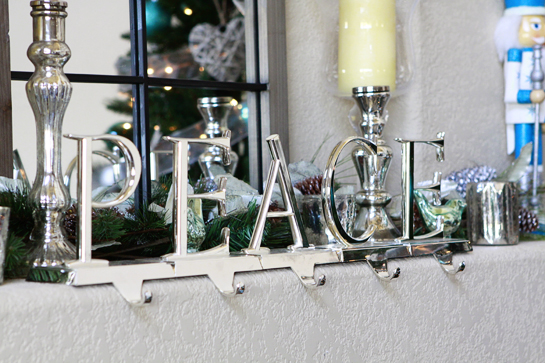 And our silver PEACE stocking hangers – an after Christmas sale find at Pottery Barn 6 years ago. We never actually hang our stockings until Christmas even because they aren't high enough to keep busy fingers away from them.
We'd rather avoid a trip to the ER over Christmas because someone pulled one of these sturdy metal letters onto their head.
One of my favorite additions to our home this year is the gorgeous staircase in our house. Our old staircase was hidden behind a wall and not really meant for decorating. I knew I had to do something with this one.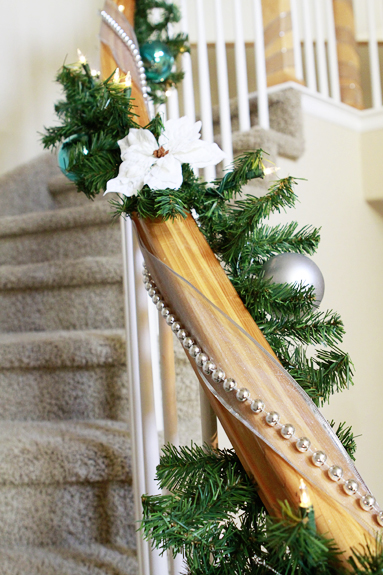 Silver ribbon, silver beads, a few ornaments from the tree and some lighted garland dressed things up so nicely. Then I found these cute clip on white poinsettias. Hello, beautiful!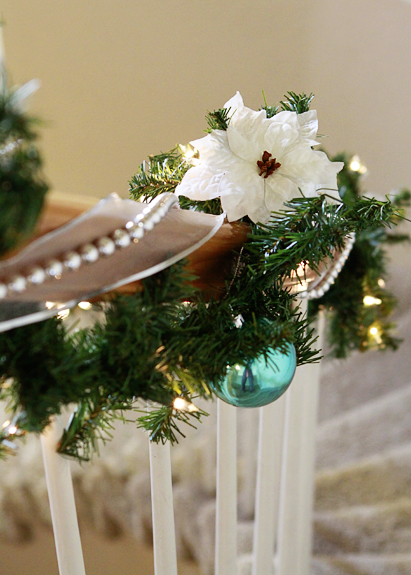 I wrapped the silver ribbon and garland alternating from one another and then layered the silver beads on top of the ribbon. The ornaments were easy to tie onto the garland strand using the string loops that the set came with.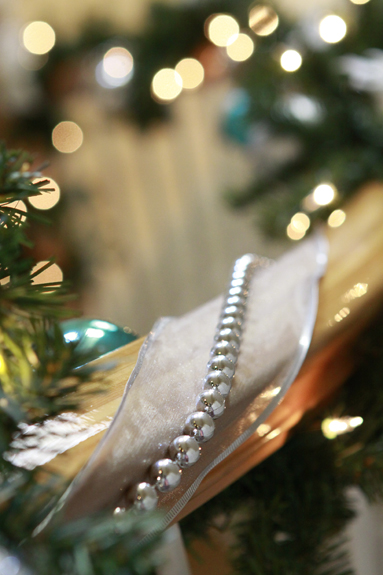 Doesn't the bokeh of the lights look gorgeous? I love how the staircase looks all lit up in the evening. It is the perfect amount of light when we're trying to settle down in the evening but still need enough light to move around up and down the stairs.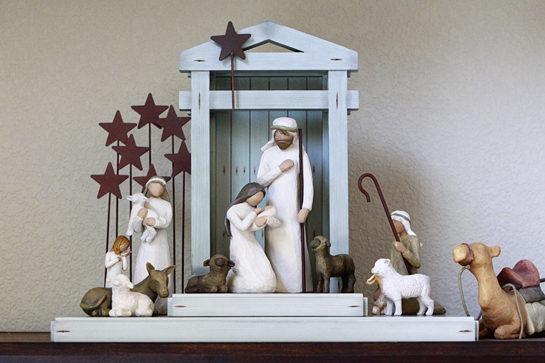 And here is our Nativity. I love the simplicity of this collection by Willow Tree. It isn't the cheapest set, so I add a little bit each year. This year I added the creche.
I hope you all have a very Merry Christmas!
Tell me about your Christmas decor! I love seeing how different people decorate their homes this time of year!
Did you love this post?
Sign up for Good Life Eats email updates and never miss another update!