The day the calender flipped to December I was on our library's website ready to reserve some new Christmas picture books for us to enjoy this season. We have a few tried and true favorites of our own, like Madeline's Christmas, How the Grinch Stole Christmas, and The Polar Express, but it's always great to add new books to the rotation.
You never know, sometimes those new books will become old favorites. Here are a few new to us books that we checked out from the library.
CHRISTMAS PICTURE BOOKS FOR 2011
Bear Stays Up for Christmas
by Karma Wilson, illustrated by Jane Chapman
Published October 2008
Find Bear Stays Up for Christmas on Amazon.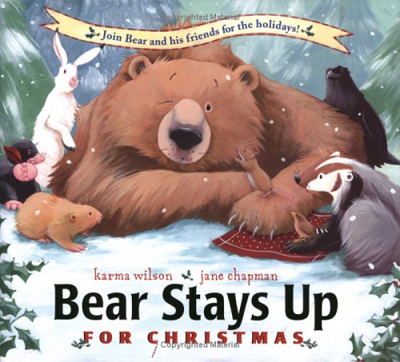 I mentioned recently about a book we found at the library called Bear Snores On. A kind reader left the comment: "We love the the "Bear" books… the combination of the cadence of the text and the great illustrations, really captures my kids' attention."
What? My ears perked up. There are other books in this series? Right away I looked up the author to see what else she had written in the "Bear" series.
Bear stays up for Christmas is a tale of Bear's friends doing all they can do to keep Bear from falling asleep and missing the love and joy of Christmas. They find a tree, hang stockings, and sing songs all to keep Bear up. In the end, it's not Bear who falls asleep. He's far too busy preparing surprise gifts for his friends.
Merry Christmas, Strega Nona
story and pictures by Tomie dePaola
Published September 1991
Find Merry Christmas, Strega Nona on Amazon.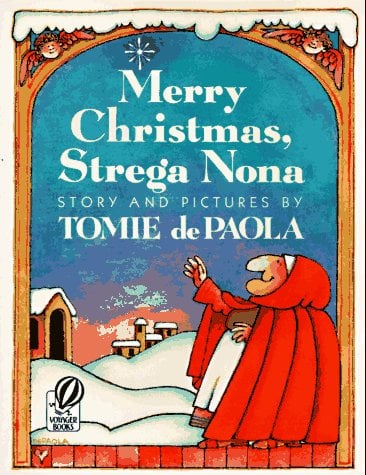 Strega Nona abandons her potions and spells once a year – just in time for Christmas preparations. The day before Christmas, Strega Nona sends her bumbling assistant, Big Anthony, off to do errands to help her prepare for the Christmas feast. Big Anthony forgets everything and it seems Strega Nona will be alone this Christmas, with no friends and no feast.
Luckily, Big Anthony has a thing or two up his sleeves. Together with the townspeople, he plans his own Christmas feast. And Strega Nona won't be alone after all. Strega Nona, who knows more about magic than anyone else, learns that Christmas has a magic of it's own.
The Twelve Days of Christmas
pictures by Laurel Long
Published October 2011
Find The Twelve Days of Christmas on Amazon.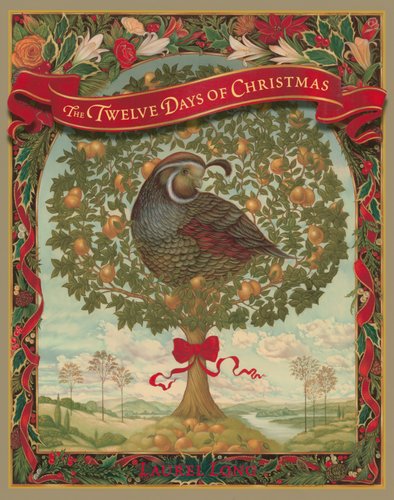 Most of us are familiar with The Twelve Days of Christmas. Growing up we had a pewter ornament series featuring verses from the song that hung on our tree every year. Reflecting on those childhood memories while we decorated our own tree, I realized that my own children have yet to experience this holiday classic.
This classic tale is fun, but the highlight of this version are really the gorgeous illustrations. You'll get lost in the detail of the pictures and enjoy searching for each of the previous gifts hidden in the brilliantly colored illustrations. Even better than Where's Waldo?.
The Christmas Hat
by A.J. Wood, illustrated by Maggie Kneen
Published September 2005
Find The Christmas Hat on Amazon.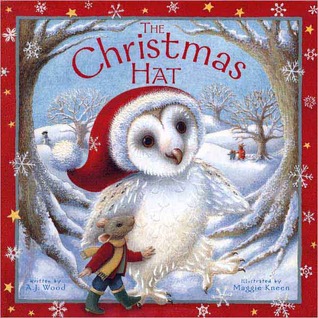 Little Owl is just a tiny baby when Rabbit and Badger find him lost in the woods. They take him home and care for him, but looking after a mischievous owl is tricky. When the snow comes, his downy white feathers blend in perfectly!
Little Owl's Christmas present is a festive red hat that all can see . . . but the bright Christmas hat soon leads to trouble in the big woods.
Red Sled
story and pictures by Lita Judge
Published November 2011
Find Red Sled on Amazon.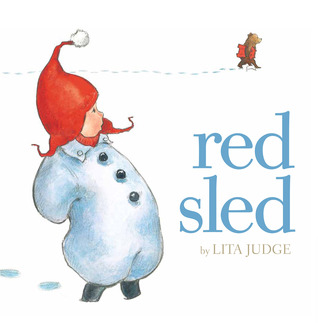 Despite being an almost wordless picture book Red Sled is destined to become a favorite Christmas book for us. In this book you'll find adorable woodland creatures experiencing a nighttime joy ride on a child's sled.
Bold watercolors, hilarious expressions, and spot-on sound effects depict the woodland creature's fun ride.
The Christmas Magic
by Lauren Thompson, illustrated by Jon J. Muth
Published September 2009
Find The Christmas Magic on Amazon.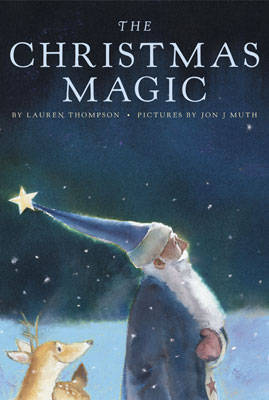 Far, far North, when the nights are longest and the stars shine brightest, Santa begins to prepare for Christmas. He gathers his reindeer, and tends to his sled. Each chose is lovingly chosen for all the children of the world. For Santa loves them all, and he knows what each child at heart wants most.
Then, with the thrum of magic that makes reindeers fly, he spreads the Christmas joy and warmth throughout the world.
Shall I Knit You a Hat?

by Kate Klise, illustrated by M. Sarah Klise
Published October 2007
Find Shall I Knit You a Hat?: A Christmas Yarn on Amazon.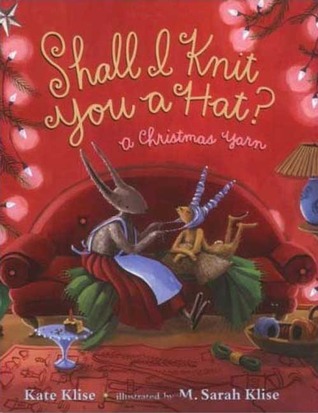 In this cute tale, Mother Rabbit knits Little Rabbit a special, warm hat. Little Rabbit likes his hat so much that he wants to give knit hats for all of his friends for Christmas.
Another great story to remind us all about the joy of giving.
Christmas Day in the Morning
by Pearl S. Buck, illustrated by Makr Buehner
Published November 2011
Find Christmas Day in the Morning on Amazon.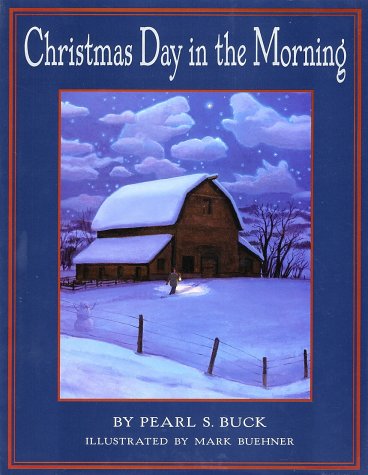 Christmas Day in the Morning is the story of a man remembering a Christmas from his youth. As a boy, Rob wanted to give his father a special gift for Christmas, something that meant more than the 10 cent tie he usually gave him. But what does a boy with little money give?
This is a great story to illustrate that Christmas is more than gifts and the most thoughtful gifts often don't cost any money at all.
What are your favorite books to read this time of year?