The library is one of my favorite free entertainment places to go with the kids. To simplify the task of checking out books, I usually look books up in advance and put them on hold using the library's online catalog to make it easier for me to check out the books I need.
More than once I've been looking for a book that the library catalog says is checked in only to find that someone has taken it off the shelf and put it somewhere other than where it is supposed to be. This is a pretty typical experience in the children's section for me.
And that doesn't leave me feeling too positive about my library experience. What can I say? I'm impatient and when I see a book I want, I want it now. So, usually reserving books works best for me. That's not to say that I never look at the shelves, but rather we put on hold the items we know we want and then browse the shelves for anything else that looks appealing.
But sometimes it is fun to aimlessly wander the library shelves and grab books at random. In fact, within the children's section of the library we have found many fun picture books that I otherwise would not have known the titles of to even reserve them for pick up. Here are a couple memorable favorites from the past few months.
by Karma Wilson, illustrated by Jane Chapman
Published January 2002
Find Bear Snores On on Amazon.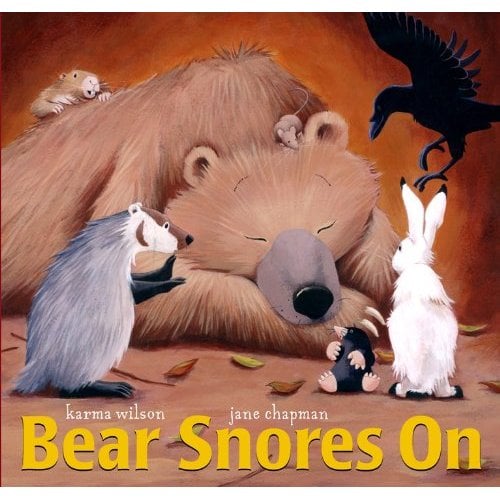 Madeline loves almost any book that has anything to do with animals, so natural she was a fan of this fun book about a group of animals who one by one take shelter from the cold in Bear's warm cave.
No matter how loud they get, even after popping corn and warming up with freshly brewed tea, Bear just keeps snoring. But what happens when Bear finally wakes up to find a cave of uninvited guest having a party without him?
by Barbara S. Garriel
Published March 2004
Find I Know a Shy Fellow Who Swallowed a Cello on Amazon.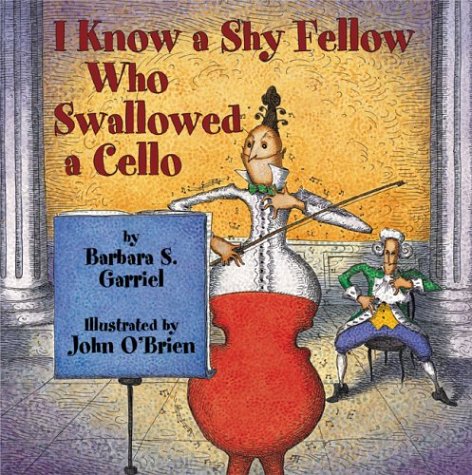 As soon as I saw this book, I knew it would be perfect for Logan! He is participating in the strings program at his school and just started learning the Cello this year.
This book is based on "I Know an Old Lady Who Swallowed a Fly," but instead begins, "I know a shy fellow who swallowed a cello. I don't know why he swallowed a cello. Perhaps he'll bellow."
One by one the shy fellow swallows instrument after instrument from kazoos, to bells, flutes, and more. With each newly swallowed instrument the fellow changes shape to reflect that of the instrument. This was an amusing story with fun rhyming rhythms that the kids didn't tire of.
What fun books have you found at the library recently?