Goodreads is a great place to rate your books and find new books. I've talked about it before in my Intro to Goodreads post. If you're an avid reader, you might be interested in finding book recommendations based on book titles that you've already read.
How to Find Related Titles on Goodreads
The following is a quick pictorial tutorial to show you how to find book suggestions based on what you've already read using Goodreads. I've discovered so many new titles this way that otherwise I'd never have heard of.
4 Quick Steps to Find Suggestions for Your Next Read
Step 1:
First, go the the page of a book you've recently read and rated. For this example, I'm using The Help, by Kathryn Stockett as my example page. You can view a live view of that page here if you'd like to follow along with the tutorial: The Help on Goodreads.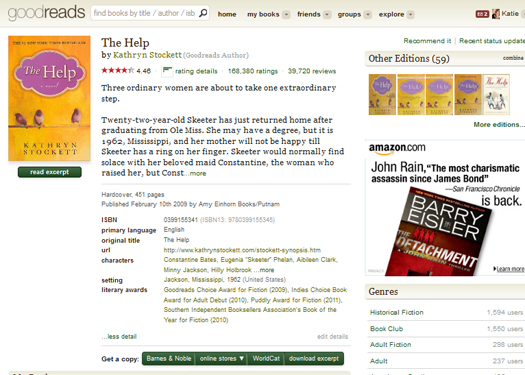 Step 2
After viewing the page of a book you liked – a book that you liked enough that you'd want to find other related titles that were favorably rated by Goodreads users – scroll down until you see a column titled "Readers Also Enjoyed" along the right sidebar of the page.
This column will list a selection of books that were rated favorably by users who also enjoyed the book page you are viewing.
In this instance, you'll see that readers who rated The Help favorable also enjoyed: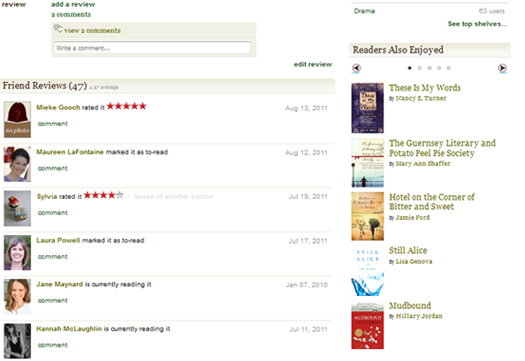 Step 3
If you hover your mouse over one of the titles Goodreads will give you a quick summary of the book that includes the following information:
Book Title
Book Author
Average Book Rating
Total Ratings
Book Summary
You will be able to see all of that information without having to click away from the current page. I find that helpful because I don't like having to click back and forth between pages. Eventually it ends up confusing me and I forget what I'm supposed to be looking at.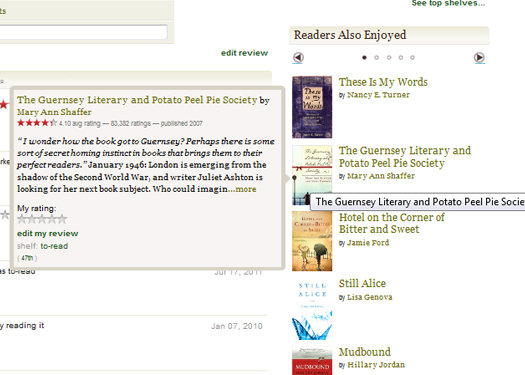 Step 4
If you look under the heading "Readers Also Enjoyed," You will see a left arrow, 5 circles (one darkened and the others unfilled) and a right arrow.
You can use the arrows to toggle to additional pages of related titles until you find something that you are interested in. The darkened circle will indicate which page of the 5 pages of related titles you are currently viewing.
When I see a book that looks promising I'll right click and open in a new tab so I can go back to looking at all of the new interesting books that I've found once I look through the full list.
I hope this tutorial helped you learn how to find related book titles so you can discover read, new reads.
Have you found any great, new books that you hadn't previously heard about?

Get More Recipes via Email
Did you love this recipe? Sign up to receive Good Life Eats Email Updates and never miss another recipe!