I really love food and I really love books, so it's probably not an enormous surprise that I adore books about food too.
Over the last few years, I've read many non-fiction food books that have inspired me, convinced me to change some of our eating habits, and plain entertained me (and just about all of them made me hungry).

Here are six of my very favorites, ranging from memoirs to call-to-action non-fiction: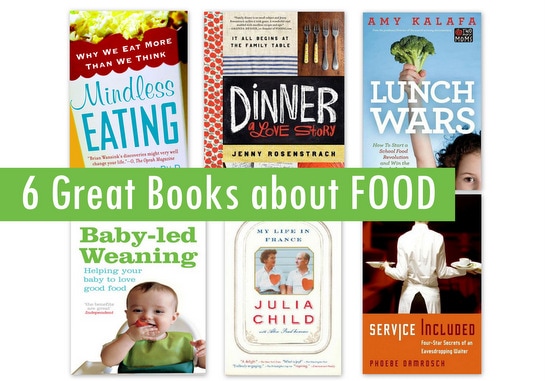 Written by: Janssen Bradshaw of Everyday Reading
1. Mindless Eating: Why We Eat More Than We Think by Brian Wansink
My husband was out of town while I was reading this book and when he'd call each night, I'd spend twenty minutes recounting stories from this book or reading him huge passages of it. This is just such an interesting book, I couldn't stop talk about it.
Wansink does hundreds of fascinating studies about how much external things contribute to how much we eat, no matter how in-control of our diet we think we are.
Participants in a study who had soup bowls that secretly refilled themselves ate 73% more than those at the table who had regular bowls – but when they were surveyed about how much soup they ate, they were convinced they'd eaten no more than anyone else at the table. They didn't even feel like they'd eaten a particularly large bowl of soup.
I laughed my way through the whole book, and then I resolved to make changes that would keep me from eating mindlessly.
2. Dinner, A Love Story: It All Begins at the Family Table by Jenny Rosenstrach
I picked this book up on a whim, and then spent an entire precious naptime last fall reading every last page.
Jenny Rosenstrach, who oversaw the food section of Real Simple for years, writes a fabulous book about why family dinners are important, how to make them happen even when your family is very busy, and how to deal with picky eaters.
Her writing is charming, her recipes are mouth-watering, and her ideas for making family dinner happen are useful and realistic. Don't skip this one!
3. Lunch Wars: How to Start a School Food Revolution and Win the Battle for Our Children's Health by Amy Kalafa
The average American child eats around 4,000 school lunches during their public school experience, so the meals they are fed there matter a lot for their growing bodies. And, as you probably know, most of the time it's pretty lousy food that's being served.
This book describes the problems with the food system in schools and then gives lots of ideas of how to improve things, whether you want to just make small changes or are willing to go all out.
It's so inspiring to see how other parents have made enormous changes in their schools and benefited hundreds and thousands of children.
4. Baby-led Weaning: Helping Your Baby Love Good Food by Tracey Murkett and Gill Rapley
When my older daughter was just getting to the age where we might introduce solid foods, someone recommended this book to me and I read the whole thing in one evening.
This method advises skipping the rice cereal and letting your baby eat real foods from the beginning to help them develop their palate, be comfortable feeding themselves, and be part of family meals from the very beginning.
I felt like our experiment with it was wildly successful, and we'll certainly be doing it with our second daughter.
5. My Life in France by Julia Child with Alex Prud'Homme
I think we can all agree that Julia Child is one of the original food writers. My book club read this a few years ago, and you can only imagine the spread the women in charge of refreshments that month brought. This is a perfect combination of history, travel, and food.
6. Service Included: Four-Star Secrets of an Eavesdropping Waiter by Phoebe Damrosch
Most of the other food books focus on the food we eat at home, but this one is a behind-the-scenes look at the restaurant industry. I expected it to be a tell-all sort of book, making you never want to eat outside your own home again.
It's really more about all the training high-class restaurants do, the interactions between guests and servers, how a restaurant runs smoothly from the back of the kitchen to the front door, and the restaurant reviewers who are trying to stay undercover and the servers who are trying to figure out who is there to review.
Funny and interesting, and the descriptions of some of the dishes will make you want to go out for dinner somewhere fancy tonight.
Any food books you'd recommend – fiction or non-fiction? My library is pretty amazing at stocking them, so I'm always certain I'm missing great ones because the selection is just so huge!