Last week, while on a family vacation in Chicago, I devoured Shauna Niequist's newest book, Bread and Wine.
I loved every page of it, making a mental list of all the new recipes I couldn't wait to try out when I got home.
When I read the last page and closed the book, I thought of similar books that I've loved over the years, that combine fantastic writing with a love of food (and some good recipes, to boot!).
Not only do food books make great reads, they also are great gifts for Mother's Day. I gave my mom A Homemade Life a couple of years ago for Mother's Day and she still talks about it. This year, I'm planning on sending her Bread and Wine. If you're looking for a gift for your mom who loves books or food or both, any of these five is sure to be a hit.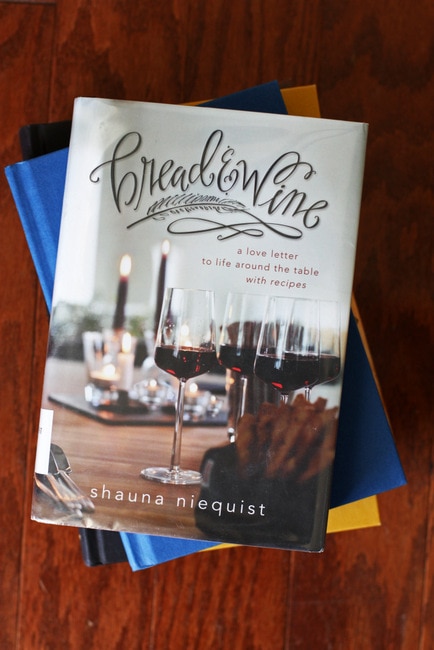 Written by: Janssen Bradshaw of Everyday Reading
Bread and Wine by Shauna Niequest. I don't have enough words to say how much I loved this book. I'm a firm believer in inviting friends and family over for parties and dinners, and Shauna's low-key approach to doing just that really resonated with me. Plus, I can't resist a recipe for a blueberry breakfast crisp.
Dinner: A Love Story by Jenny Rosenstrach. Soon after she married, Jenny and her husband Andy committed to making family dinner a priority, despite their busy careers. As they added two daughters to the family, they continued, despite childhood pickiness and increasingly busy evenings. Not only is this book fun to read, it's also packed with great ideas for making dinner time as a family actually work. (She also has a fabulous blog that is definitely worth checking out).
A Homemade Life: Stories and Recipes from My Kitchen Table by Molly Wizenberg. This was the first of this memoir/cookbook genre I read, and I was instantly hooked. This book really covers her whole life, especially her relationship with her dad who passed away when she was a young adult. (she has a new book coming out next month about the restaurant she and her husband opened together shortly after their marriage, which I'm dying to read!)
French Kids Eat Everything by Karen Le Billon. I've read several books about food in France (especially for kids), but this one is particularly useful because at the end of a year, the family moves back to North America and has to figure out how to translate their new and improved eating habits into American culture. How do you deal when you're the only parent on the playground without a bag of snacks? What about when lunch time is too short at school? This book is full of real-life solutions, which made me love it. (See Katie's review here: French Kids Eat Everything Review)
Garlic and Sapphires: The Secret Life of a Critic in Disguise by Ruth Reichl. This book is just FUN. Ruth Reichl was the restaurant critic for the New York Times and she wanted to be sure she experienced what an average diner experienced when they went out to eat, rather than the red carpet treatment a restaurant critic often gets, so she dressed up as all manner of different characters, from mousy old women to picky rich socialites. The results are hilarious and eye-opening, plus the recipes she shares as she discovers that cooking is one of her truest loves are fantastic (I've tried several without a flop yet!)
What are your favorite food memoirs?