Written by: Janssen Bradshaw of Everyday Reading

I get asked frequently how I find time to read, especially as a mother to small children.
One of my biggest secrets is audiobooks.
I check out books on CD from my local library or download titles from my library's digital book collection directly to my computer, phone, or iPod (most libraries have online collections that include audiobooks).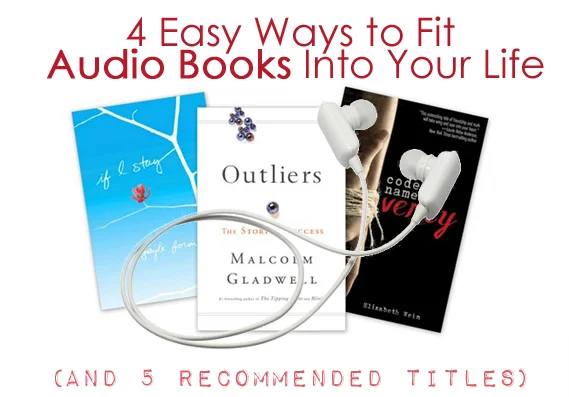 Of course, once you have your books ready to go, you need to find some time to listen. Here are a few of my tricks for fitting in some listening:
Always have an audiobook in the car. When I was commuting thirty miles each way to work a couple of years ago, I was blazing through books, but even now that my driving mostly consists of going to the grocery store and to Target, I'm amazed by how much ten minutes here and there adds up. And when I do have a bit of a longer drive, I'm thrilled that I can fit in more of my latest listen.
Use audiobooks to make chores more interesting. My husband can always tell when I'm listening to something great because our house is suddenly MUCH cleaner than normal. I find myself looking for mindless chores to do (like scrubbing the toilets or folding laundry or organizing the fridge) just so I can listen some more. I also like to listen while I cook.
Listen while you exercise. No commercials (unlike the televisions at the gym) and even if you're exercising outdoors, you can still get in some entertainment.
Try listening on double speed. My iPhone and my iPod both have the option of listening to audio at double speed. It took me about ten minutes to get used to it with the first book I listened to at a faster pace, but now when I listen to something at regular speed, it sounds like the person is talking in slow-motion. I can get through twice as much in the same amount of time and I don't even notice the difference anymore.
And if you're anxious to get started listening to something right away, here are a couple of titles I've really loved the audio versions of:

Any audiobooks you've really enjoyed? I'd love more recommendations!