I read a lot of Young Adult books and I read a lot of food books, but I don't read very many (if any!) Young Adult books about food.
And I really don't read a lot of YA graphic novels about food.
Lucy Knisely's graphic novel, Relish, about her life growing up with two foodie parents, working as a server with a catering company through high school, eating her way through her international travels, and taking a job as a cheesemonger after college, is an utterly delightful book.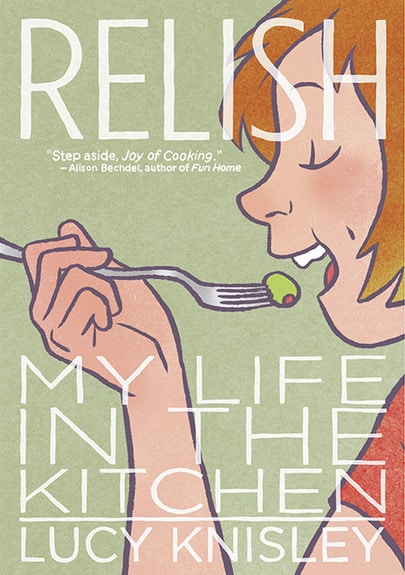 Written by: JANSSEN BRADSHAW of Everyday Reading
If you've never read a graphic novel, you'll notice it takes a couple of pages to get in the swing of reading something that looks like a comic book, but after five minutes, you'll read it effortlessly. And with this book, you won't want to stop reading.
Lucy's life begins in New York City with two parents who absolutely love food, and Lucy immediately loves it too. But her city foodie existence takes a sharp turn when she's seven or eight and her parents divorce.
She and her mother move out of the city to a much smaller town where her mother starts cultivating an enormous garden and quickly gets caught up in the slowly-burgeoning food scene. Lucy learns to appreciate food in a whole new way as she sees how animals are raised and butchered, the intense amount of work growing a garden takes, and being part of her mother's catering business.
As she grows up, food continues to be an enormous part of her life, whether she's traveling, moving to a new city for college, or spending time with either of her parents.
One thing I really loved about Relish is that each chapter ends with a recipe. But it's not a recipe like you'd see in a traditional cookbook. Instead, it's all illustrated, with hand-drawn pictures of each ingredient and a little illustrated chart showing how it all comes together. I wish she'd done a whole cookbook this way! It's just delightful to look at, and a very inventive way to think about a recipe.
By the time I got to the end of the book, I wanted to start working my way through the restaurants in my own city. And possibly get a job as a cheesemonger.
What have you read lately that has inspired you?