This Rosemary Mint Sugar Scrub is perfect for homemade gifting. It exfoliates and moisturizes dry winter skin while offering a pleasant and invigorating aroma to a tired body in the morning.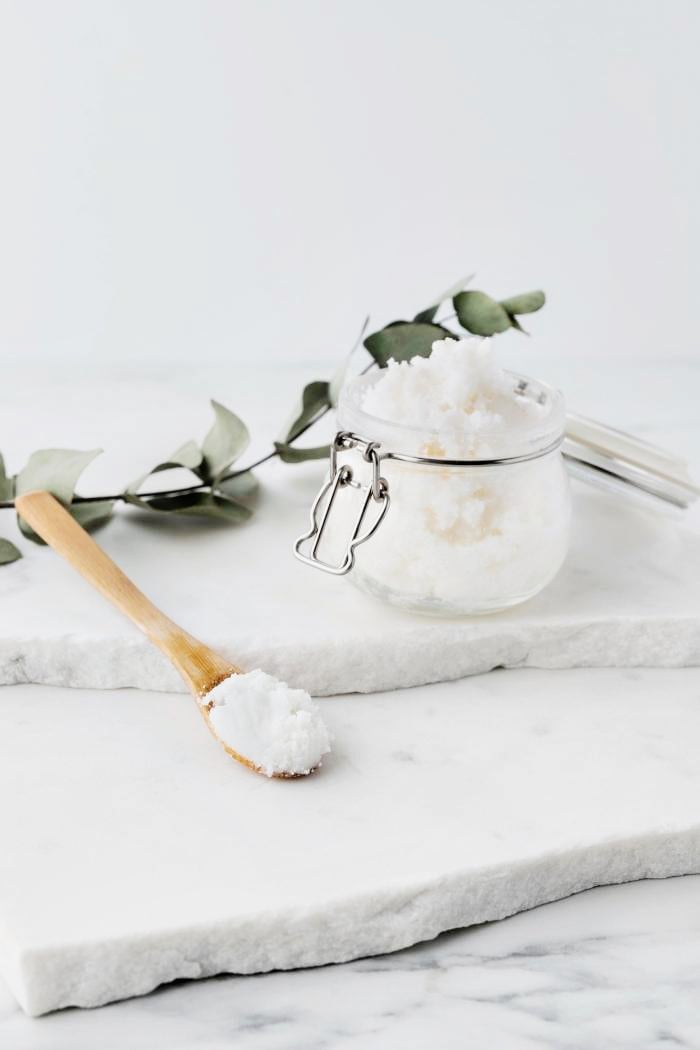 Homemade Sugar Scrub Recipe
Not only is it incredibly easy and fast whip up a batch of homemade sugar scrub for yourself, but jars of homemade sugar scrubs also make great, inexpensive gifts for any occasion.
This coconut oil sugar scrub recipe is something you'll want to take note of for the upcoming holiday season, but don't forget to pamper yourself once in a while too!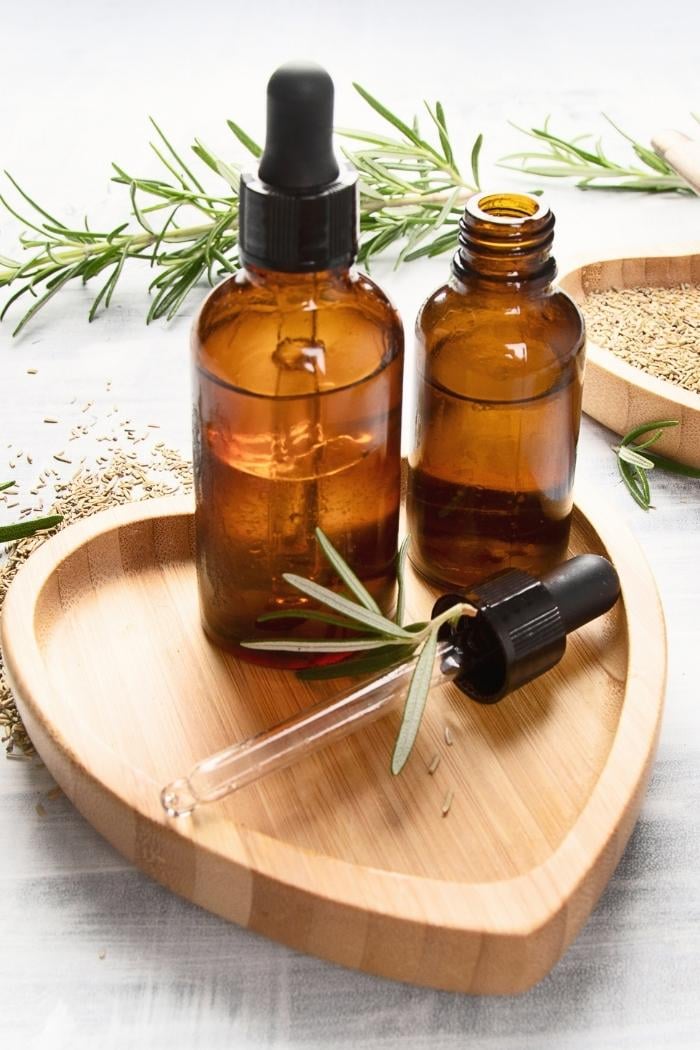 Sugar Scrub Ingredients
To make a batch of this homemade rosemary mint sugar scrub for gifting purposes, you'll need just a few things.
Sugar
Kosher or epsom salt
Carrier oil (I used coconut oil)
Pretty jars (I love Weck Jars!)
Ribbon and/or tags
For the complete ingredient list and detailed instructions, scroll to the bottom of this post for the FREE printable recipe card.
What is a Carrier Oil?
A carrier oil is a base oil that is added to this rosemary mint homemade sugar scrub recipe.
Carrier Oils You Can Use in Sugar Scrubs
Carrier oil options include oils such as:
Fractionated coconut oil (liquid, not solid)
Vegetable oil
Light olive oil
I like fractionated coconut oil that I purchase through doTerra, but you can use whatever carrier oil you prefer or a combination of a few. For more about the benefits and uses of coconut oil, check out these 7 Easy Ways to Use Coconut Oil in your Beauty Routine.
Essential Oils for Homemade Sugar Scrub
Pure Essential Oils need to be diluted with a carrier oil because they are too strong to use full strength to moisten the sugar/salt scrub portion of the mixture alone.
If you are using this homemade sugar recipe for gifting purposes, please be aware of your your receiver's personal and/or family allergies when choosing carrier and pure essential oils.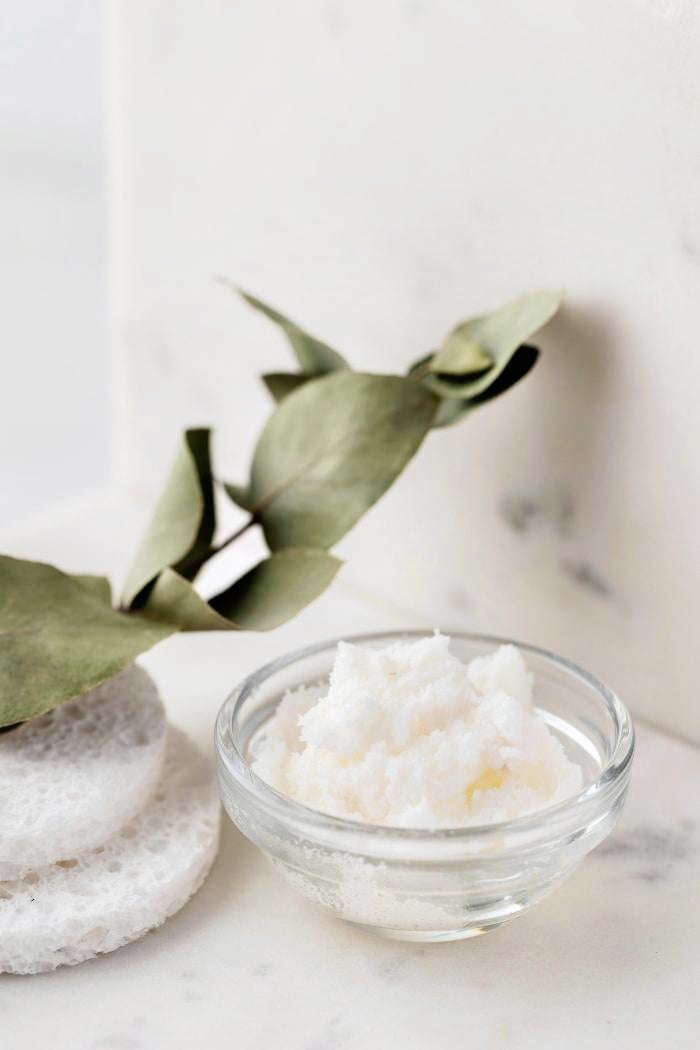 Save this How-To for Rosemary Mint Sugar Scrub to Pinterest!
How to Make Sugar Scrub
It's simple to make homemade sugar scrubs! In a bowl, combine the sugar/salt with the oil in a 2:1 ratio. Meaning, for every 2 cups of salt or sugar (or a combo) you'll add 1 cup of your choice of carrier oil.
Stir those well, then add a few drops of your desired pure essential oil or oils until you achieve the scent strength you want.
Package the scrub in a pretty jar, tie it with a bow and attach a tag or label (if desired) and you're ready! It takes just a few minutes. It is fun to come up with different scent blends by combining small amounts of different coordinating essential oils.
For this particular batch I chose Rosemary Mint as my scent combo. Mint and Rosemary combine for a pleasant aroma and are invigorating to a tired body in the morning.
The above is simply a quick summary of this recipe. Check out the full recipe in the free printable recipe card at the bottom of this post for all the detailed instructions.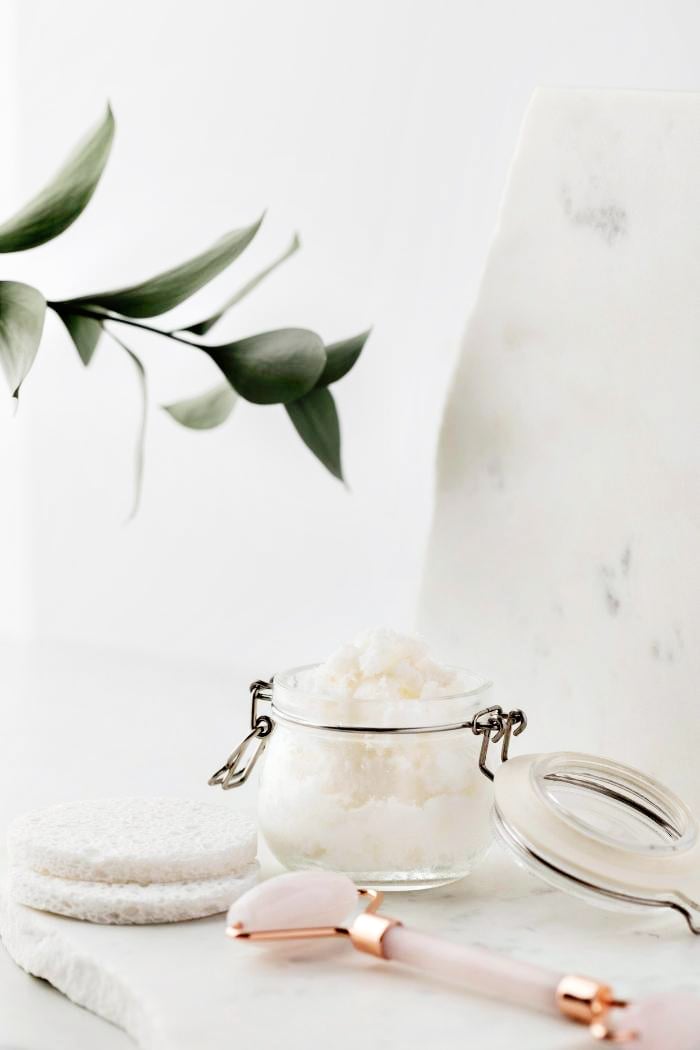 Tips for Making Sugar Scrub
I like a combination of sugar and salt in my scrubs. You can use all salt or all sugar if you desire. The choice is up to you.
I like the cute little Weck Jars for gifting, but you can use any canning jar as a cute container when gifting homemade sugar scrub. If the finished product is for yourself, you might like Ball Plastic 8-Ounce Freezer Jars for practical shower storage.
When using this recipe for rosemary mint sugar scrub as a gift, make sure you are aware of any allergies when choosing the carrier oil. For example, you wouldn't want to use sweet almond oil for someone who has a tree nut allergy.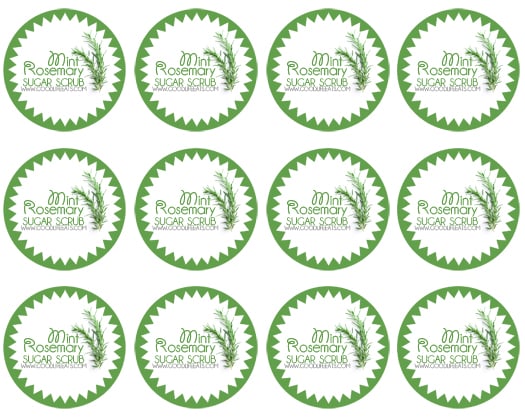 Disclaimer: Copyright GoodLife Eats. For personal use only.
Printable Labels for Sugar Scrub
Click the image above to download your own printable rosemary mint sugar scrub gift tags.
These homemade sugar scrub labels are shareable, however I ask that you please credit appropriately and link directly to this post, not the printable file.
To Use: Print the rosemary mint sugar scrub labels on card stock, cut out, and attach the label to the jar with a pretty ribbon through a punched hole.
You can also print on Avery® White Full-Sheet Labels, cut out, and stick to the jar if you prefer that way of labeling.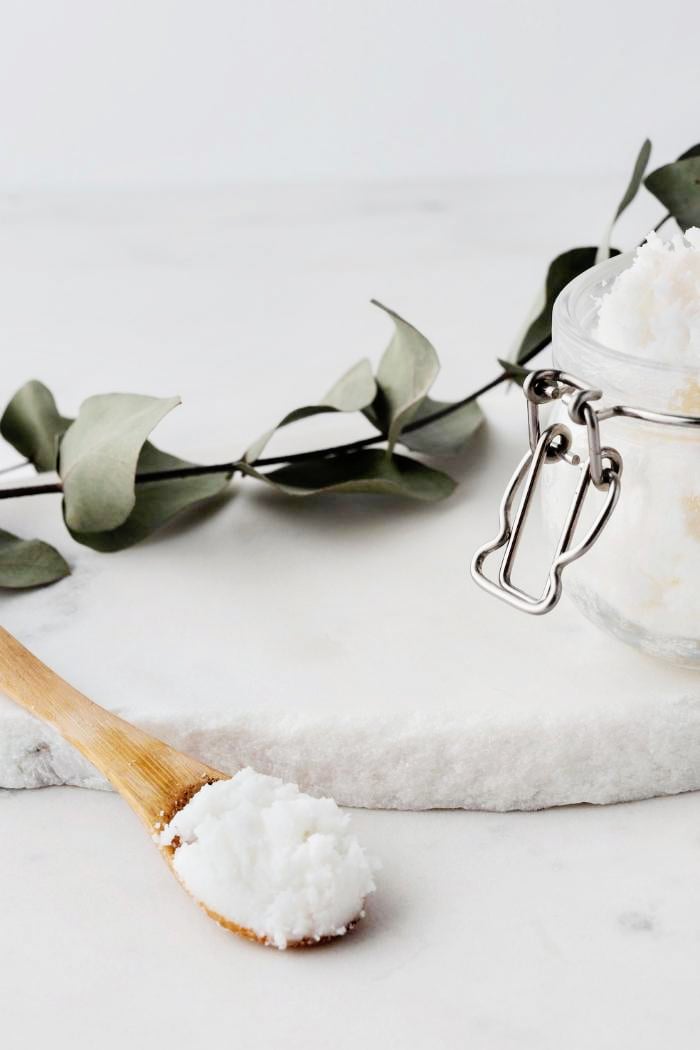 More Homemade Gift Ideas:
Are you looking for more homemade gift ideas to use during the holiday season or for teacher gifts? In addition to this Rosemary Mint Sugar Scrub, I like the following recipes and ideas:
A Lavender Eucalyptus Green Tea Detox Bath is a great way to rejuvenate the mind, body, and skin. Read all about why detox baths work and tips for the best, most beneficial detox bath. Package it up pretty for a nice homemade gift.
This All-Natural Lemon Kitchen Hand Scrub is great to remove dry skin and odors from the hands while leaving the skin moisturized.
Vanilla Lavender Sugar Scrub features vanilla scented sugar and dried lavender buds.
Homemade Pancake Mix Jars are a fun way to gift a delicious and healthy homemade multi-grain pancake recipe.
Vanilla Scented Sugar is a great way to get another use out of leftover vanilla bean pods. Recipients will love using this to enhance recipes with a delicious vanilla aroma.
1-Ingredient Whipped Coconut Oil is a fantastic, all-natural, chemical-free addition to your regular beauty routine. It stays light and smooth unlike solid coconut oil. You can fancy it up by adding some essential oils to scent it and packaging it nicely.
These DIY Moisturizing Bath Bombs only contain 4 ingredients, are incredibly simple to make and are perfect for soothing dry, scaly, itchy winter skin. Homemade Bath Bombs will look like a special luxury spa item.
Don't see what you're looking for here? You can always head over to check out the recipe index to look for more recipes.
Love this how-to for Rosemary Mint Sugar Scrub? Sign up for Good Life Eats email updates and never miss another post!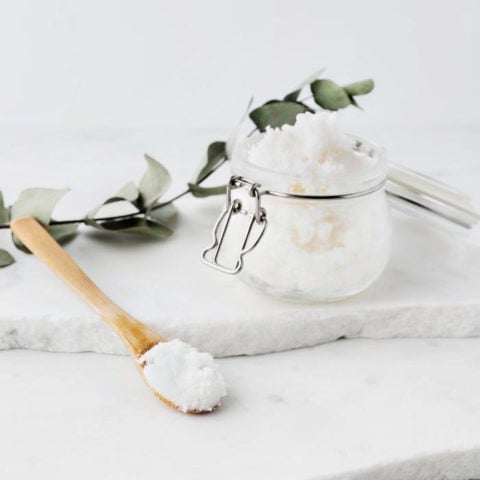 Rosemary Mint Sugar Scrub
This Rosemary Mint Sugar Scrub is perfect for homemade gifting.
It exfoliates and moisturizes dry winter skin while offering a pleasant and invigorating aroma to a tired body in the morning.
Materials
For the Scrub
1 1/2 cups Sugar
1/2 cup Kosher or Epsom Salt
1 cup Carrier Oil, such as Fractionated Coconut Oil
Instructions
In a medium bowl, combine the sugar, salt, and fractionated coconut oil.
Stir until well mixed.
Add 2 drops each of rosemary and peppermint pure essential oil.
Stir until the scent is evenly distributed throughout the sugar and salt mixture. Add the scrub to a jar and tighten the lid to seal.
Recommended Products
As an Amazon Associate and member of other affiliate programs, I earn from qualifying purchases.
Be sure to follow Good Life Eats on Instagram. Tag @goodlifeeats and include the hashtag #goodlifeeatsrecipes so I can see what you're cooking up in YOUR kitchen!
Save this How-To for Rosemary Mint Sugar Scrub to Pinterest!