Do you have a favorite vanilla recipe?
I hope so, because that is what today's Holiday Recipe Exchange theme is.
While one might typically associate vanilla beans with baking, you can also use vanilla beans for homemade gifting ideas, which is what Jamie and I decided to share today.
My Rosemary Mint Sugar Scrub and All-Natural Moisturizing Kitchen Hand Scrub recipes are pretty popular.
I receive lots of questions wanting to know about variations or other ideas.
One such question asked about the feasibility of making a vanilla scented scrub, so I decided to try it out.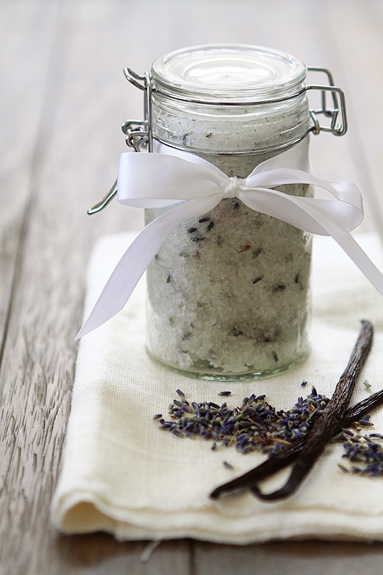 In this recipe for Vanilla Bean Sugar Scrub I first tested out the recipe using actual seeds from inside the beans, but I found that there were beans left all over my hands after washing them.
I much preferred the method of using Vanilla Scented Sugar made from leftover vanilla bean pods to make this scrub.
I love to make vanilla scented sugar because it is so tasty and good smelling, plus it's rather frugal to reuse empty vanilla bean pods for another use.
Vanilla Scented Sugar is another great, simple homemade holiday gift to use this holiday season.
I also decided to add a few dried lavender buds because the two scents pair so well together, plus it gives the scrub some extra texture and visual interest.
Lavender is so relaxing, and many of us are often stressed out this time of year that I thought it would make for a pleasant gift.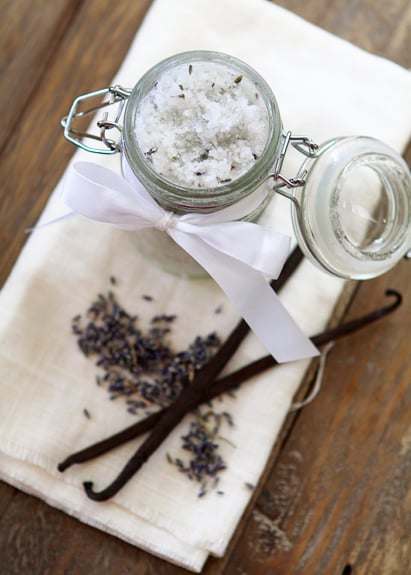 Join Jamie and me this week in sharing your recipes for your Favorite Vanilla Recipes for a chance to win a great gift basket from Beanilla.
Beanilla has a great selection of beans and other vanilla products.
I love to use their beans in many of my recipes, such as: Vanilla Bean Sour Cream Cupcakes, Chocolate Raspberry Vanilla Bean Marshmallows, and Fleur de Sel Salted Caramel Hot Chocolate.
Now, we want to know what your favorite way to use vanilla is, so join in on the fun and link up your recipe for a chance to win!
Go check out Jamie's delicious Vanilla Sea Salt Recipe.
It would be great as a holiday gift, or used to make caramels or hot chocolate. YUM!
Do you have a favorite recipe or homemade gift featuring vanilla?
Vanilla Bean Sugar Scrub
adapted from Rosemary Mint Sugar Scrub.
Make the vanilla sugar ahead of time as instructed in the recipe (see the link for instructions).
Combine the sugar and salt in a medium bowl.
Add the oil and stir until moistened.
If desired, add the lavender buds and stir to combine.
Alternatively, you may add a few drops of an essential oil that pairs well with vanilla for different scent combinations (i.e. vanilla mint, lemon vanilla, etc.).
Adjust the number of vanilla bean pods you use to make the vanilla sugar to vary the strength of the vanilla scent in the scrub.
This post was sponsored by Beanilla.