Though I love using coconut oil for cooking, it definitely isn't only useful in the kitchen.
In addition to cooking with it, I actually use coconut oil for several other purposes that have nothing to do with food.
In fact, coconut oil is a really useful ingredient in my daily beauty routine.
I love that it is chemical-free, all-natural, and totally body safe.
Plus, it smells and tastes great!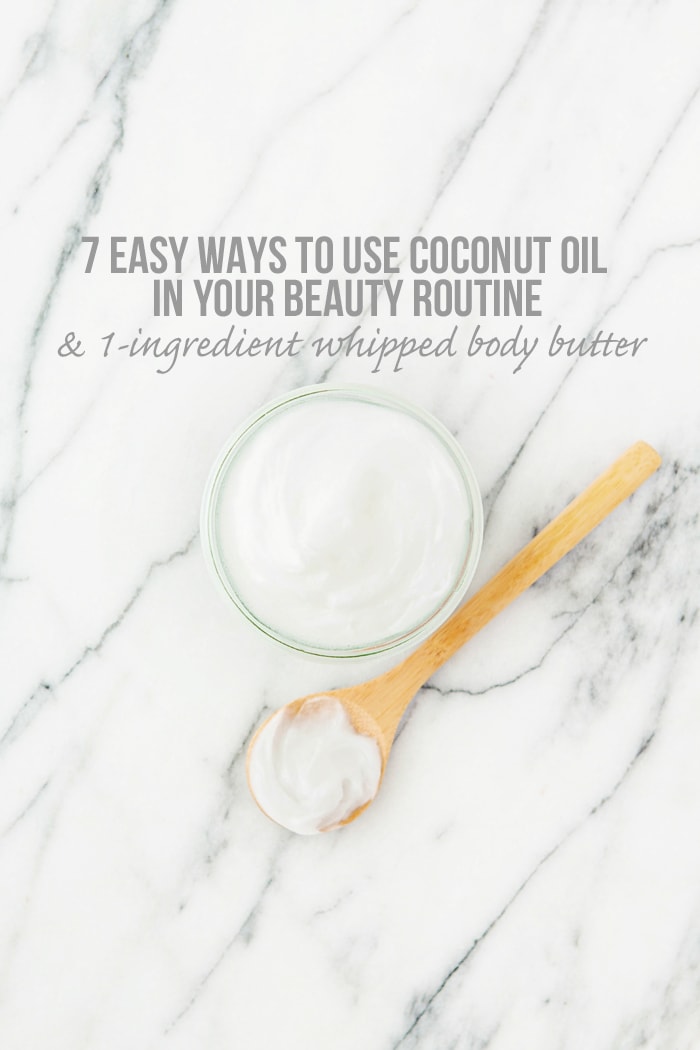 There are a lot of super cool recipes out there for homemade beauty products that use coconut oil – things like homemade lip balm, homemade conditioner, homemade shaving cream, and I'm sure many more.
However, this 1-Ingredient Whipped Coconut Oil is perfect it its simplicity.
I love to keep a jar of this in my bathroom for several different uses.
I love that it takes 5 minutes max to make, and I have everything I need at home.
There aren't any special or difficult to find ingredients or supplies required.
If you've ever purchased coconut oil, then you know that it is naturally solid at room temperature, unlike olive oil.
It easily melts once you have it on your hands due to your body temperature.
However, this 1-Ingredient Whipped Coconut Oil is great because it stays smooth and creamy even at room temperature.
Whipped Coconut Oil
Whipped Coconut Oil is great to have on hand for use in your beauty routine.
The whipped nature of the oil keeps it creamy and smooth since coconut oil is naturally solid at room temperature.
2 cups Coconut Oil
Hand Mixer or Stand Mixer
Mixing Bowl
Storage Jar with lid
Add the coconut oil to a mixing bowl or the bowl fitted to a stand mixer.
Beat on high speed for 3 – 5 minutes, or until the coconut oil is light and fluffy.
Transfer to the jar, tighten the lid, and store in your bathroom cabinet.
If your house is on the warmer side, especially during summer months, you may need to store the oil in your refrigerator so it does not melt.
You can add additional ingredients if you like, such as your favorite essential oils.
7 Easy Ways to Use Coconut Oil in Your Beauty Routine
1-Ingredient Whipped Coconut Oil is a fantastic, all-natural, chemical-free addition to your regular beauty routine. Here are some of my favorite uses:
1. Coconut Oil Makes a Great, Natural Lip Balm
You can try fun recipes for making homemade lip balm.
Many of them include coconut oil. But without anything fancy, you can just smear a little bit on your lips to moisten them and make them shiny.
Coconut oil is a great moisturizer, plus it tastes yummy – like a coconut flavored lip balm without any additives or other chemicals.
It is perfect for this time of year when your lips are feeling a little more chapped than normal.
2. Moisturizing Dry Legs with a Coconut Oil Body Scrub
Body scrubs are a great way to remove dead, dry skin during the winter months.
I love mixing coconut oil – either liquid or solid – with some sugar to scrub my legs with in the shower.
It is energizing and my skin feels really revitalized once all that dry skin is gone.
The coconut oil seals in moisture and keeps my skin feeling really smooth.
Try this recipe for Rosemary Mint Sugar Scrub, or combine sugar and oil in a 2:1 ratio (meaning, for every 2 cups of sugar you'll add 1 cup of coconut oil).
You can use liquid coconut oil as the recipe states or substitute this 1-Ingredient Whipped Coconut Oil for a thick, creamy sugar scrub.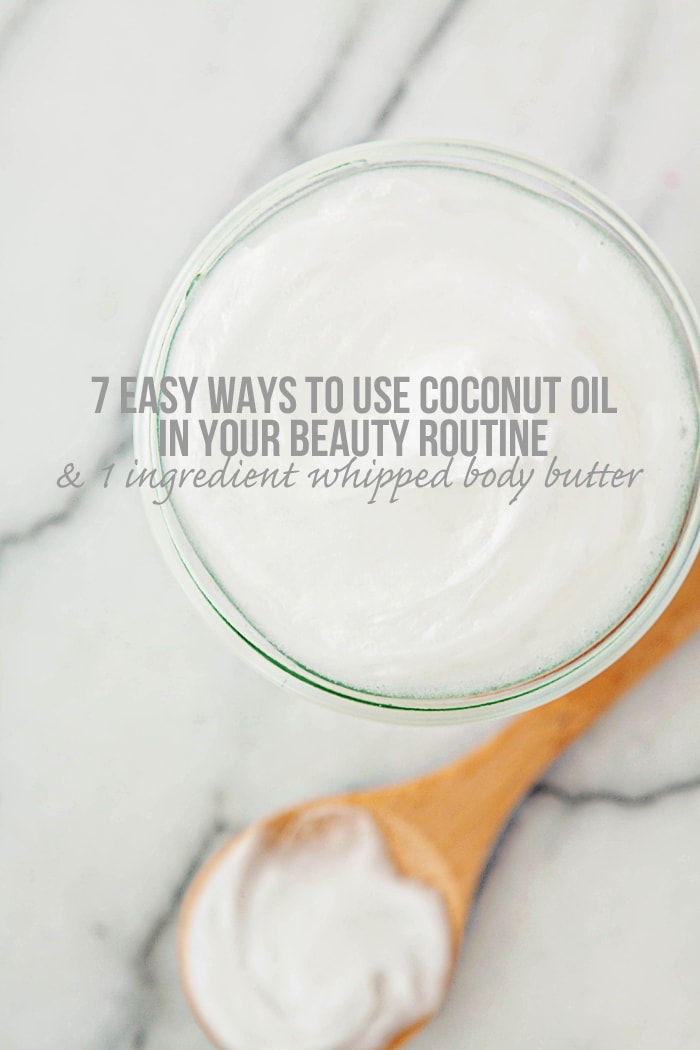 3. Tame Frizz, Fight Static, and Add Shine to Hair with Coconut Oil
I normally don't wash my hair every day – its actually better for your hair and scalp – because my hair can get have problems with static and dryness.
During the winter months the static can be worse and overall my hair can periodically go through phases where it looks dull and a little frizzy (especially if I've curled it).
Coconut oil is awesome for solving all three of these common winter hair problems.
The oil smooths the hair, taming the frizz, adds moisture which fights the static, and makes my hair super shiny and pretty looking.
Its great for smoothing over curled hair because it adds a little definition to the curls, rather than them looking big and bushy.
You don't need a lot of coconut oil though, otherwise your hair will look greasy.
I probably use less than 1/8 of a teaspoon. I
rub it all over my hands to moisten them, and then work my fingers through my hair.
4. Take a Detox Bath with Coconut Oil
I love to relax and take a nice, long detox bath once a week – usually when my kids are gone so I'm not disrupted.
I fill the tub up with really warm water, not too hot so I don't get overheated, and add a tablespoon of coconut oil, a cup of Epsom Salts, 1/4 cup of baking soda, and some essential oils.
For the essential oils I like lavender and eucalyptus – they're relaxing and soothing for stiff, sore muscles.
For an extra moisture boost, rub a little of this 1-ingredient whipped coconut butter on your skin after a bath.
5. Treat Your Scalp to a Coconut Oil Massage
Besides common winter hair problems, many people (me included) suffer from dry, itchy scalp during the winter.
While you're soaking in a detox bath, go ahead and massage some coconut oil into your scalp and let that sit for a while.
If you want, add some essential oils to your coconut scalp massage.
Rosemary Oil is supposed to help stimulate hair growth and lavender oil helps calm a dry, itchy scalp.
Massage is great to stimulate the scalp, encourage hair growth (which is slower during the colder months), and the coconut oil will add moisture to your dry, flaky scalp.
Afterwards, wash hair like normal.
Read more about my favorite tips to solve common winter hair problems.
6. Soften Calloused Heels with Coconut Oil
No matter what time of year it is, my heels are always dry.
I love to give myself a quick foot massage with coconut oil and then put socks on before bed.
When I wake up in the morning my heels are much smoother.
7. Get a Smooth, Close Shave with Coconut Oil
I ditched using shaving cream over the last year.
I felt like I always used so much, and it was just an added, unnecessary expense.
I've been using this 1-ingredient whipped coconut oil instead with great results (and no razor burn).
It only takes a tiny bit, so it lasts a lot longer than a container of shaving cream ever did.
I think I get a closer, smoother shaving and the oil keeps my legs feeling really moisturized.
How do you like to use coconut oil in your beauty routines?
Did you love this post?
Sign up for Good Life Eats email updates and never miss another update!