A couple weeks ago when the temperatures started dropping, I noticed that I was shedding a lot of hair.
Just running my finger through my hair in the shower would result in a handful of lost hair.
That was a bit of a freak-out moment for me.
I have relatively fine hair as it is and have to keep it short so it has nice volume, so loosing more hair than I should naturally be shedding was just not okay.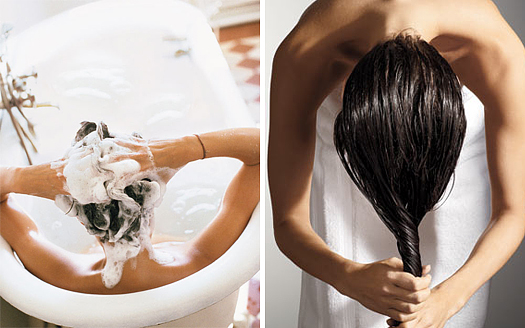 image credits: photo 1, photo 2
In addition to the hair loss, thanks to the new frigid temperature and a few afternoons out at the park on windy days my hair was starting to feel pretty dry.
After a bit of reading and google-ing I took matters into my own hands to remedy the situation.
5 Tips to Solve Common Winter Hair Problems

1. Decrease Your Stress and Improve Your Hair
Winter can be an especially stressful time of year with all the holidays, meal prep and family get togethers.
Unfortunately, Stress can cause hair loss.
Take a look at your life and see if there are ways you can simplify your days.
What are you spending time on that isn't important?
Spend that time on something that you find relaxing instead.
For me that is taking time to read in the evenings before bed.
I'm also trying to be more organized and not over extend myself by taking on more than I can handle.
Ways to help manage stress:
Drink the recommended amount of water: half your weight in ounces per day. (i.e. a person weight 120 lbs would drink 60 ounces water per day). See: Tips to Drink More Water
Take your daily vitamins
Get plenty of sleep
Exercise to release pent up stress
2. Don't Wash Your Hair Every Day
Washing your hair strips your hair of natural oils and dries out the scalp.
You don't really need to wash your hair every day.
About 6 years ago I began washing my hair every other day.
After another couple of years I began washing every two days.
It can take time for your scalp to adjust to your new routine.
It's used to overcompensating and producing extra oil because it is washed every day.
In time, it will stop producing so much oil and your hair will not feel too greasy to skip a washing or two.
When you do wash your hair, rinse with cold water to seal in moisture.
Winter is an especially great time to try this experiment, because if your hair rebels and is extra greasy for a few weeks, you can throw a cute knit hat or ear warmer head wrap over your greasy scalp.
If I wake up with particularly crazy bed head, I will just wet my hair in the shower and restyle, but most days I get lucky and a little round brush, water spray bottle and hair dryer action can fix things right up.
3. Lavender and Rosemary Essential Oil Scalp Treatment
I combine about 4 drops each of rosemary and lavender with a few drops of either liquid coconut oil (such as Fractionated Coconut Oil) or olive oil and massage it into my scalp before bed.
Do this 2 – 3 times a week depending on the severity.
Wash like normal in the morning.
For more about the benefits and uses of coconut oil, check out these 7 Easy Ways to Use Coconut Oil in your Beauty Routine.
Rosemary Oil is supposed to help stimulate hair growth.
Lavender Oil helps calm a dry, itchy scalp.
The two combined with coconut oil or olive oil will also help tame dry ends and static.
I like doTERRA's Certified Pure Therapeutic Grade Essential Oils (click the link if you'd like a free sample.)

Tip: Sleep with a towel over your pillow to avoid dirtying the pillow case.
4. Getting a Regular Haircut Improves Hair Health
It doesn't have to be extreme, but just getting my hair trimmed last week and adding a few more layers since it is kind of thin right now really thickened things up.
My locks looks full and healthy.
In addition to taking a little length off that weighed my style down, it removed most of the dry ends.
Since I have short hair, I like to get a trim every 5-6 weeks.
5. Use a Leave In Conditioner
I like to use a leave in conditioner on the ends of my hair and the strands directly next to my face.
Those are the areas that see the most heat damage from my hair dryer and flat iron.
Leave in conditioners help protect against heat damage and also add additional moisture to help combat that winter's static prone hair.
How do you combat winter hair problems?
Did you love this post?
Sign up for Good Life Eats email updates and never miss another update!