Christmas Wassail
There's nothing better than snuggling under a blanket with a book and a hot cup of something delicious to drink with the glitter of Christmas ornaments and lights all around. That is what I'm hoping to do during Madeline's nap time today. It's fun to fall into the world of fictional characters once in a while and just let your own life's imperfections disappear for a bit. I just finished Shutter Island which was, in a word, thrilling. Now I'm on to The Christmas Box for book club and a brand new food novel you might catch a glimpse of in the photo below.
Don't have anything to read? Well then, you'll have to keep your eyes open. I just might be giving away a copy (or two) of of The Recipe Club sometime this week. But I won't tell you when. Not yet. In the meantime, here's a recipe for Christmas Wassail, a favorite drink of mine this time of year. It makes the house smell delicious and it is sure to warm you up when it's cold outside.
Wassail is a hot, spiced punch often associated with Christmas. The term itself is a contraction of the Middle English phrase wæs hæil, meaning "be healthy". The origins of the practice of wassailing are closely connected with the history of the wassail –from Wikipedia
Christmas Wassail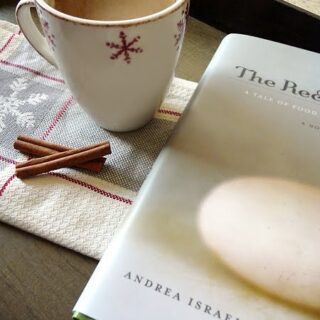 Ingredients:
2 quarts apple juice
2 cups orange juice
1 1/2 cup 100% cranberry juice
1/2 teaspoon vanilla extract
1/3 cup brown sugar
4 cinnamon sticks
1/4 tsp nutmeg
2 tsp whole cloves
Directions:
Combine all ingredients and bring to a boil. Lower heat to medium-low and simmer for 15 minutes. Turn to low to keep warm or put in a crock-pot on warm to keep all day so it's ready whenever you are.