These Almond Crescent Cookies are a unique Christmas cookie recipe that your family will love! These Swedish cookies feature buttery crescent cookies studded with chopped almonds, a sweet almond flavor, and a delicate dusting of sweet powdered sugar.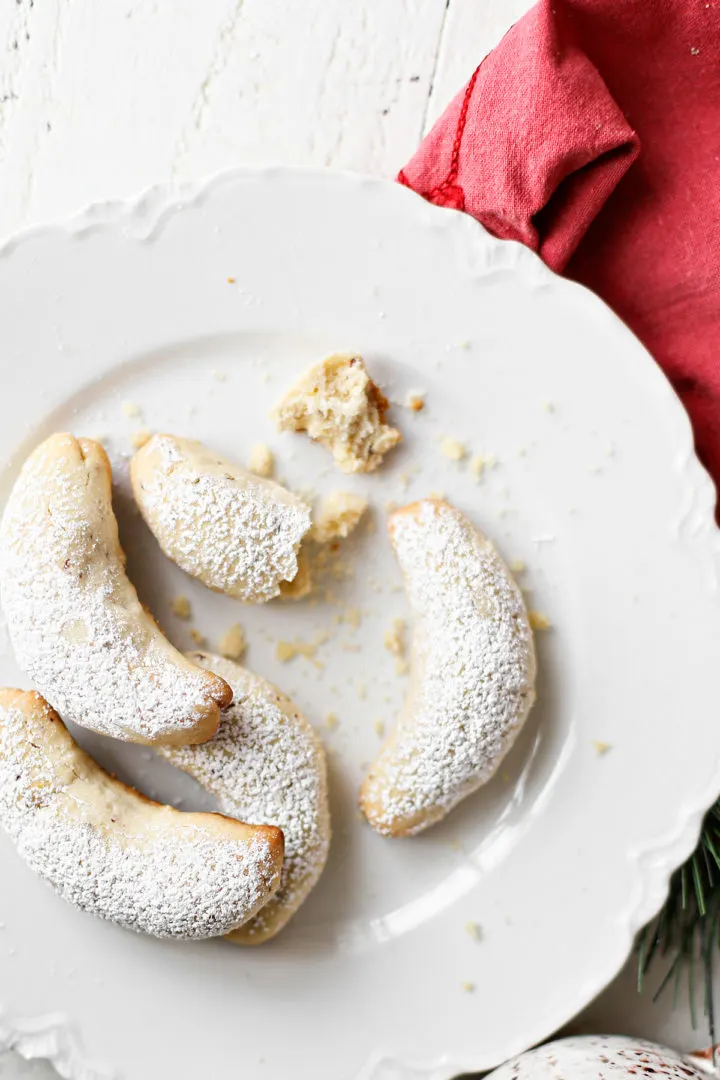 Save this recipe for Almond Crescent Cookies to Pinterest!
This recipe for almond crescent cookies may include affiliate links. As an Amazon Associate and member of other affiliate programs, I earn a small commission from qualifying purchases.
Making Swedish Christmas Cookies
I love sharing new books with friends and helping the authors spread the word about their fabulous work. The Recipe Club: A Tale of Food and Friendship by Andrea Israel and Nancy Garfinkel is such a book.
The authors of The Recipe Club effortlessly weave recipes throughout the story of two girls, Lilly and Valerie. Despite being two very different personalities, Lilly and Valerie are sworn childhood friends.
The story begins with the main characters attempting to reunite after years of silence. At first all is well, but soon past misunderstandings and betrayals begin to falter Lilly and Valerie's attempt at renewed friendship.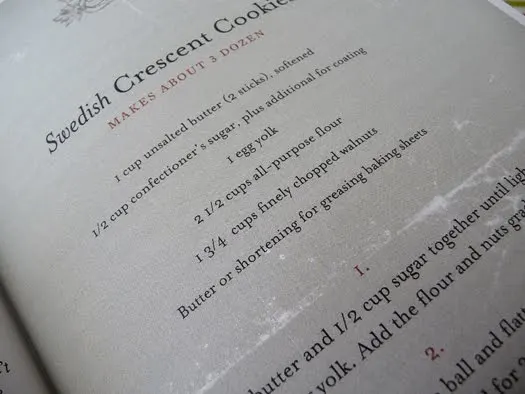 The novel then takes a turn to the past where the bulk of the story is told through letters exchanged between the two main characters from their childhood through young adult years.
Lilly and Valerie have formed their own exclusive "Recipe Club." With each letter one friend sends the other an accompanying recipe.
The book had this crescent cookies, which I thought would be a perfect Christmas cookie to add to our holiday baking.
About these Almond Crescent Cookies
The recipes themselves, like this one for Swedish Crescent Cookies, are beautifully formatted on their own pages and indexed in the back.
As the girls grow into women, they continue exchanging letters and recipes with one another. Ultimately, Lilly and Valerie feel betrayed by one another and decide to move on with life, friendship aside, but neither has truly forgotten what they once shared.
Years later, Lilly and Valerie are engrossed in a last ditch effort to recover their once beloved relationship when a terrible secret is revealed that threatens to destroy their happy memories of each other for good.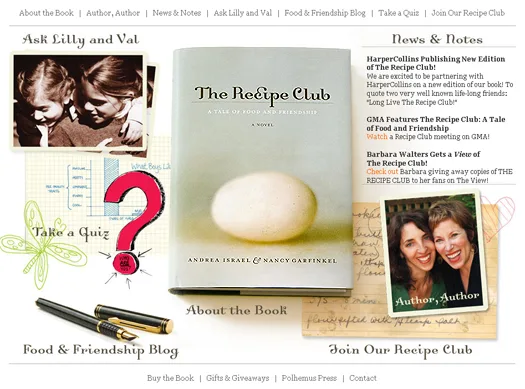 The Recipe Club will surely evoke memories of the often complex woman to woman relationships in your own life. Silliness. Fall outs. Reunions. Brutal honesty. Beauty. Joy. Jealousy. Unconditional love. Apologies. Unspoken feelings.
At times, I found myself forgetting that this was a novel and not a memoir of two real life friends.
It was amazing to see how this friendship grew and changed through the seasons of life, how the characters ultimately find out who they truly are as individuals, and in the end find their way back to one another.
You'll have to read the book to find out if they've found their way back for good, or only temporarily.
Tools Needed to Make this Crescent Cookie Recipe
I recommend having the following kitchen tools on hand for use when making this recipe for Swedish Crescent Cookies.
Measuring Cups and Spoons – to measure the ingredients.
Medium Bowl – to combine the dry ingredients.
Microplane – to zest the lemons.
Stand Mixer with Bowl – to beat the butter, sugar, and eggs before adding the dry ingredients. Alternatively, use a hand mixer with a large mixing bowl when making the almond crescent cookie dough.
Parchment Paper – to line the cookie sheet before baking these almond Christmas cookies. Alternatively, use silicone mats if that's what you have.
Cookie Sheet – to bake the cookies on.
Wire Rack – to cool the baked, warm cookies on.
Fine Mesh Sifter – to sprinkle the powder sugar on the tops of the crescent cookies with.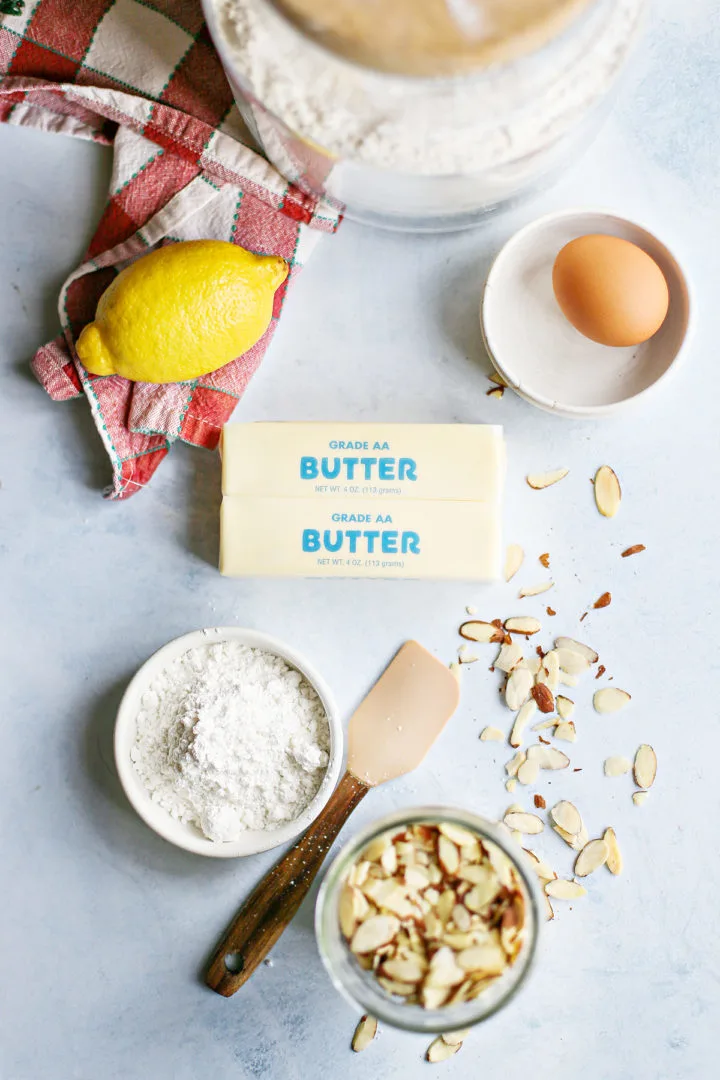 Save this recipe for Crescent Cookies to Pinterest!
What's in theseAlmond Crescent Cookies?
These Swedish crescent cookies are essentially Christmas butter cookies with some added pizazz. Here's and overview of the simple ingredients you'll need to make these Swedish cookies:
Unsalted butter
Confectioner's sugar
Almond extract
Egg yolk
All-purpose flour
Chopped almonds
Lemon zest
For the complete ingredient list and detailed instructions to make this almond crescents recipe, scroll to the bottom of this post for the FREE printable recipe card.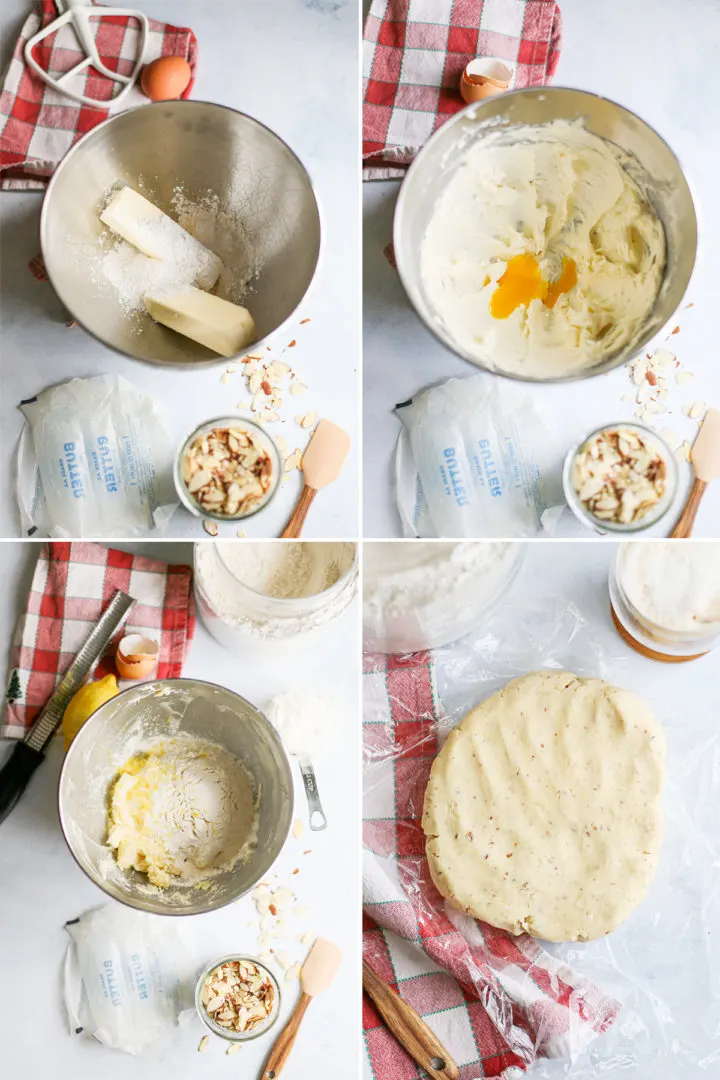 Save this recipe for Almond Crescent Cookies to Pinterest!
How to Make Almond Crescent Cookies
These unique Christmas cookies are so easy to make. First, preheat the oven and line a baking sheet with parchment.
Then, you simply combine the dry ingredients, then cream together the butter and sugar. After creaming the butter and sugar, stir in the flour mixture and remaining ingredients.
Form the dough into a ball and chill for 2 hours in the fridge. Then, remove pieces of cookie dough one at a time and shape them into crescents.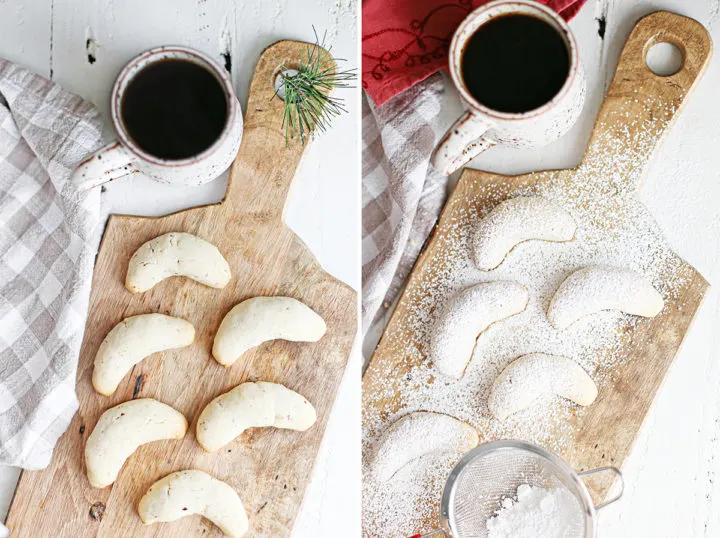 Add the Powdered Sugar Coating
Bake cookies on the prepared baking sheet until the Swedish crescent cookies are golden. While the baked cookies are still warm, dust them with powdered sugar.
The best way to do this is to use a fine mesh strainer and fill it with the powdered sugar. Then, lightly tap it over the cookies.
The above is simply a quick summary of this almond crescent cookie recipe. Check out the full recipe in the free printable recipe card at the bottom of this post for all the detailed instructions.
Tips for Making the Best Crescent Cookies
For best results soften butter before starting this recipe. If you forgot to set your butter out to soften before making these crescent cookies, don't panic! There are 8 different ways to soften butter quickly.
Feel free to add your favorite citrus zest for a little extra flavor. This recipe uses lemon zest, but orange zest or lime zest would taste yummy, too. A little goes a long way, so be careful!
I wrote a useful post on How to Separate Eggs, which comes in handy when making these Swedish Christmas cookies!
Also note that you should not add more almond extract than the recipe calls for. It's incredibly powerful and can quickly overwhelm these unique Christmas cookies.
Lastly, using a food processor to finely chop the nuts makes these almond cookies a breeze!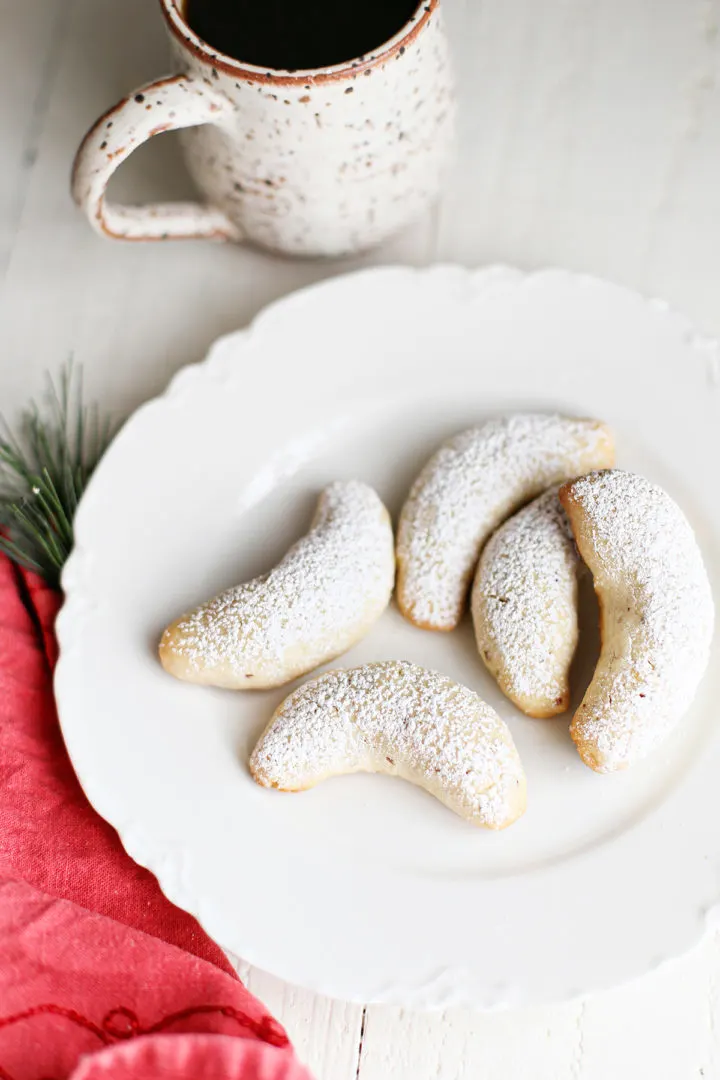 Crescent Cookie Recipe FAQs
Got questions about how to make these almond meal cookies? Here are the answers to a few commonly asked questions. Feel free to leave any other questions in the comments on this post and I'll respond with answers.
What kind of almonds should I use?
You should use unsalted, unseasoned almonds. Whole almonds or sliced almonds both work since the almonds will be ground into almond meal.
Can I Use Different Nuts in this Crescent Cookie Recipe?
Yes, I made my Swedish cookies with almonds, but you're welcome to use another chopped nut if desired. Ground hazelnuts, pecans, or walnuts would all work well in this Christmas butter cookie recipe, I think.
I have made a similar version with pistachio nuts. Check out the recipe: Pistachio Orange Crescent Cookies.
Can I Make Gluten-Free Almond Crescent Cookies?
I've only made this Swedish cookie recipe as written with regular flour, so I'm not sure if you can use a gluten-free flour blend here. You'll also want to make sure your almonds aren't cross contaminated with gluten.
If you try this recipe using an All-Purpose Gluten-Free Flour Blend, please leave a comment and let me know how your gluten free cookie recipe turns out!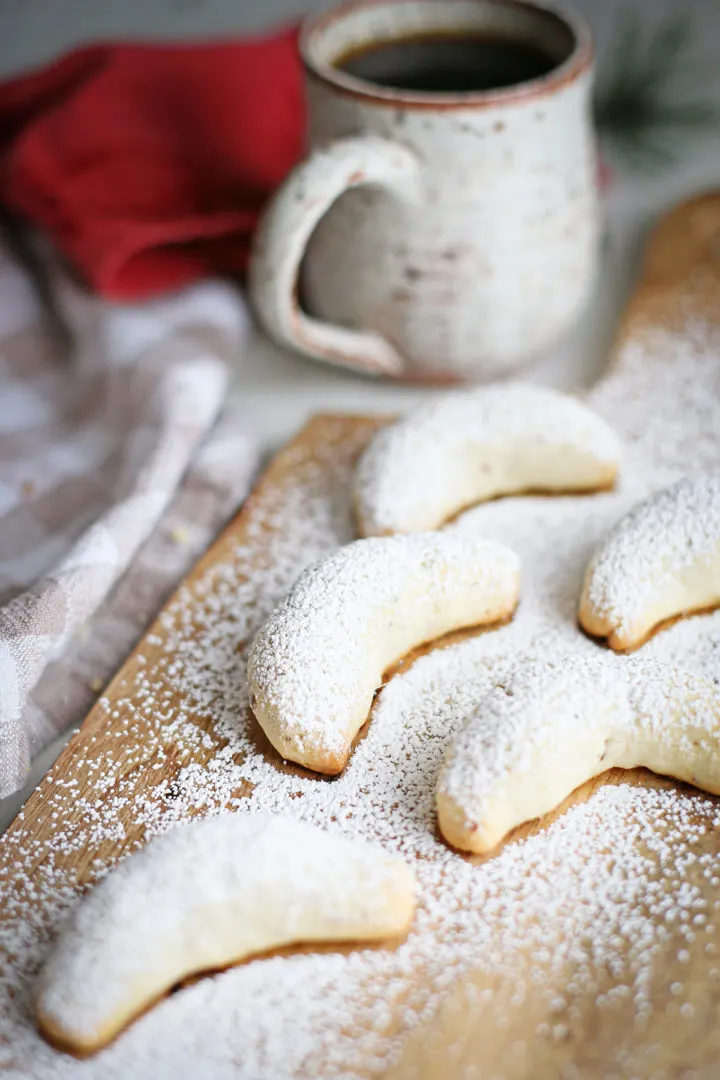 Save this recipe for Swedish Cookies to Pinterest!
Can You Freeze the Dough for Almond Crescent Cookies?
Yes! I love to get a jump start on the holiday baking season by making cookie doughs and freezing them ahead of time.
This Swedish Cookie dough freezes incredibly well in a freezer bag if you're planning ahead for holiday cookie exchanges. Check out the full tutorial for all of the details on How to Freeze Cookie Dough.
How to Store these Swedish Christmas Cookies
Let the crescent almond cookies cool to room temperature. Then, transfer them to an airtight container. Eat within about 3-5 days.
Give this Recipe for Almond Crescent Cookies a Try!
Next time you're looking for simple recipes to bake during the holiday season, give these Swedish Cookies a try! Their crescent shape and delicious almond flavor will stand out on your Christmas cookie tray.
Did you think they were one of the best Christmas cookies? Leave a comment below and give it a review for others to see what you thought of this holiday classic.
On Instagram? Share your photo and tag me @goodlifeeats and #goodlifeeatsrecipes. I'd love to see your photo of this Swedish Cookie Recipe!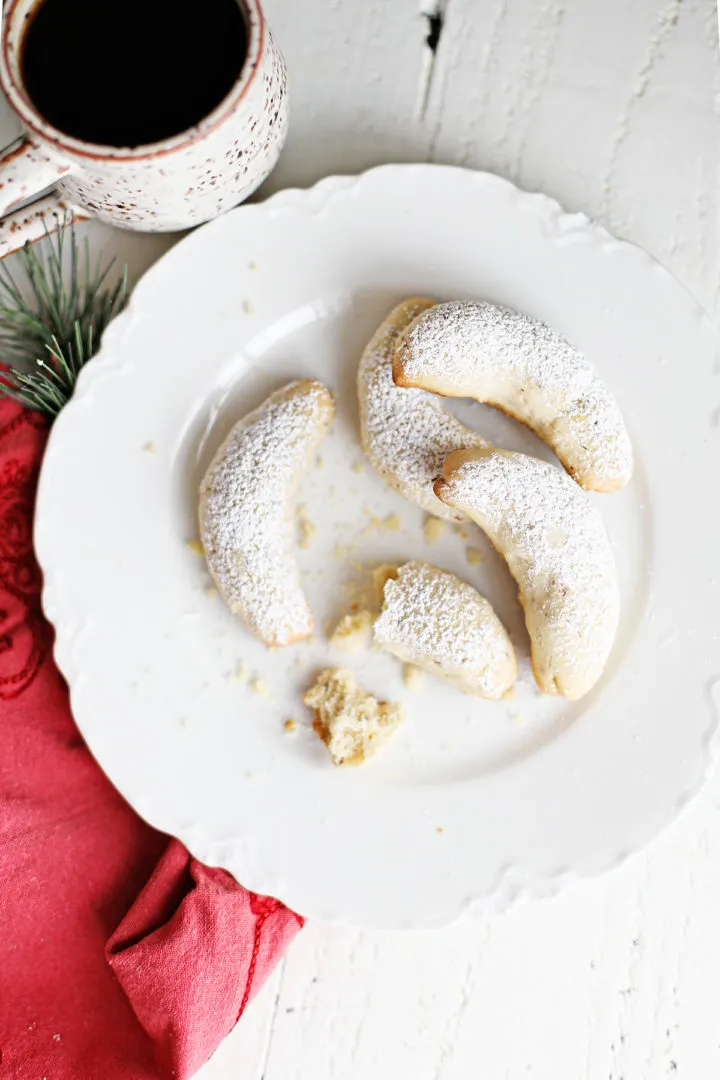 More Christmas Desserts:
If you're looking for additional inspiration for your Christmas treats this year, here are a few other favorite Christmas recipes to go along with this recipe for Swedish Crescent Cookies. Be sure to check out the Christmas Recipes Archive and the Dessert Recipe Archives if you need help building the rest of your holiday treat plans.
Bittersweet Chocolate Swirl Fruit and Nut Bark pairs bittersweet chocolate, white chocolate, almonds, raspberries, strawberries, pumpkin and chia seeds for a delectable holiday treat.
Cranberry Pomegranate Walnut Bars are the perfect wintery recipe to add to your Christmas Baking list. A crumb crust is layered with sweet and tart cranberries and topped with a crunchy and crumbly walnut topping.
Cinnamon Vanilla Glazed Walnuts or Sweet and Spicy Rosemary Bar Nuts make great gifts or an addition to any exchange party for something sweet and savory as well as a great snack to have out for all your holiday parties.
This recipe for Chocolate Gingerbread Cake takes the classic flavors of Gingerbread and pairs them with dark cocoa.
Candy Cane Crunch Funfetti Sugar Cookie Bars are super festive with red and green funfetti and crunch up candy cane sprinkled on top.
If you like cherry and chocolate, you should try these Chocolate Cherry Cordial Thumbprint Cookies. Such a pleasant surprise when you bit into them!
For a fun, unique twist on gingerbread cut out cookies, try these Chocolate Gingerbread Cookies!
Get More Cookie Recipes Via Email
Did you love this recipe for Almond Crescent Cookies? Sign up for Good Life Eats email updates and never miss another update!
What's your favorite holiday cookies to bake?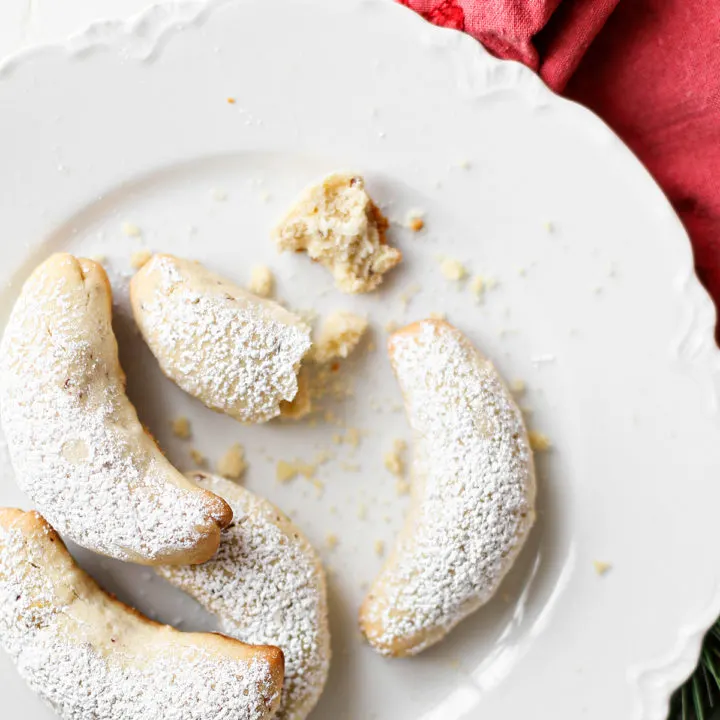 Almond Crescent Cookies
These Almond Crescent Cookies are a unique Christmas cookie recipe that your family will love! These Swedish cookies feature buttery crescent cookies studded with chopped almonds.
Ingredients
1 cup unsalted butter, softened
1/2 cup confectioner's sugar, plus additional for coating
1/4 tsp almond extract
1 egg yolk
2 1/2 cups all-purpose flour
1 3/4 cup finely chopped almonds
zest of one lemon
Instructions
In a bowl, beat the butter and 1/2 cup sugar together until light and fluffy.
Add the almond extract, yolk.
Beat till combined.
Slowly stir in the in the flour, nuts, and zest.
For the dough into a ball and flatten into a disc shape.
Cover and chill for 2 hours.
When you are ready to bake, preheat the oven to 375 degrees F.
Line baking sheets with parchment paper.
Remove a heaping tablespoon of dough at a time, shaping into crescent shapes.
Arrange about 1 1/2 inches apart on prepared baking sheets.
Bake until cookies are lightly golden around the edges, about 15-20 minutes.
While still warm, coat the cookies with confectioners sugar.
Transfer to a wire rack to cool.
Makes 3 dozen.
Recommended Products
As an Amazon Associate and member of other affiliate programs, I earn from qualifying purchases.
Nutrition Information
Yield

18
Serving Size

2 cookies
Amount Per Serving
Calories

240
Total Fat

17g
Saturated Fat

7g
Trans Fat

0g
Unsaturated Fat

9g
Cholesterol

37mg
Sodium

60mg
Carbohydrates

19g
Fiber

2g
Sugar

4g
Protein

5g
GoodLifeEats.com offers recipe nutritional information as a courtesy and is an estimate only. This information comes from online calculators. Although GoodLifeEats.com makes every effort to provide accurate information, these figures are only estimates.