Cinnamon Vanilla Glazed Walnuts
Cinnamon Vanilla Glazed Walnuts are a great easy recipe to add to your holiday treat making list!
It is hard to believe that there are only a few more days left of school before Christmas break!
Wednesday night my brother Jon and his girlfriend Erin will get into town.
Thursday is the last day my kids will be going to school.
This first half of the school year has really flown by.
I can hardly believe Christmas is next week.
We haven't had very much snow so far where I live in Colorado.
We have had a lot of pretty nice weather mixed in with the cold.
It doesn't really feel like winter to me yet.
I'm glad that the kiddos, Jon, Erin and I will be spending part of our holiday break up in Keystone skiing.
And with actual snow.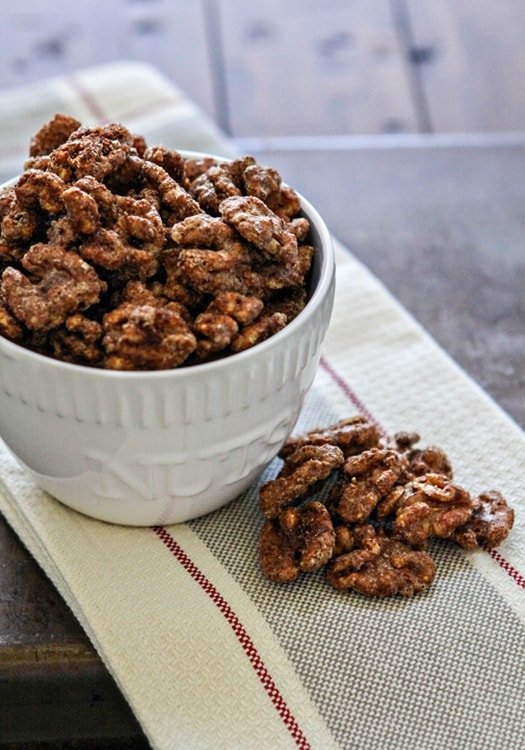 I have a lot to do this week as I prepare for the upcoming holiday – getting presents wrapped, teacher gifts made.
I'll be making these Cinnamon Vanilla Glazed Walnuts as gifts.
I've been cleaning the house, and packing for our ski trip.
If you feeling super busy this last week before Christmas hits and are still in need of some gifts for friends or teachers, give these Cinnamon Vanilla Glazed Walnuts a try.
These Cinnamon Vanilla Glazed Walnuts are sweet with a hint of spice from ground red pepper.
They are really easy and quick to prepare and don't include any complicated ingredients.
You can use the instructions for these Cinnamon Vanilla Glazed Walnuts for pecans or almonds if you prefer different nuts.
Or, maybe if you'd like to do a mixed nut gift.
That would work too!
Cinnamon Vanilla Glazed Walnuts
Yield: 2 cups of nuts
Prep Time:10 minutes
Cook Time:1 hour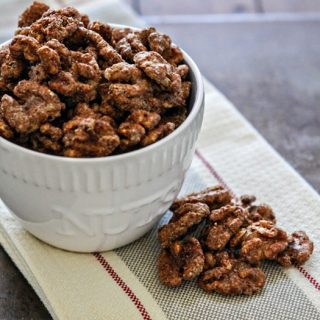 Ingredients:
1/4 cup sugar
1 1/2 teaspoons cinnamon
1/8 teaspoon nutmeg
1/8 teaspoon ground red pepper
1/4 teaspoon salt
1 egg white
1 tablespoon vanilla
2 cups Fisher walnut halves
Directions:
Preheat oven to 250°F. Grease a baking sheet and set aside.
In a small bowl combine the sugar, cinnamon, nutmeg, red pepper and salt. Mix well and set aside.
In a medium sized bowl, beat the egg white and vanilla until it is foamy. Gently stir in the walnuts until coated. Stir in the spice mixture and gently mix until the nuts are evenly coated.
Beat egg white and vanilla in medium bowl until foamy. Add walnuts; toss to coat. Add spice mixture; toss to coat nuts evenly. Spread the coated nuts on the prepared baking sheet in a single layer.
Bake at 250 degrees F for 1 hour. After the first 30 minutes, stir the nuts.
Cool the baked nuts for 5 minutes and break them apart. Cool completely. Nuts can be stored in an airtight container for up to 2 weeks.
This recipe for Cinnamon Vanilla Glazed Walnuts is sponsored in partnership with Fisher Nuts.
All opinions are my own.
Fisher Nuts is partnering with Chef Alex Guarnaschelli for the third consecutive year to share fresh twists on traditional recipes.