Made with just 8 simple ingredients, these Cinnamon Vanilla Glazed Walnuts are a great easy recipe to add to your holiday treat making list!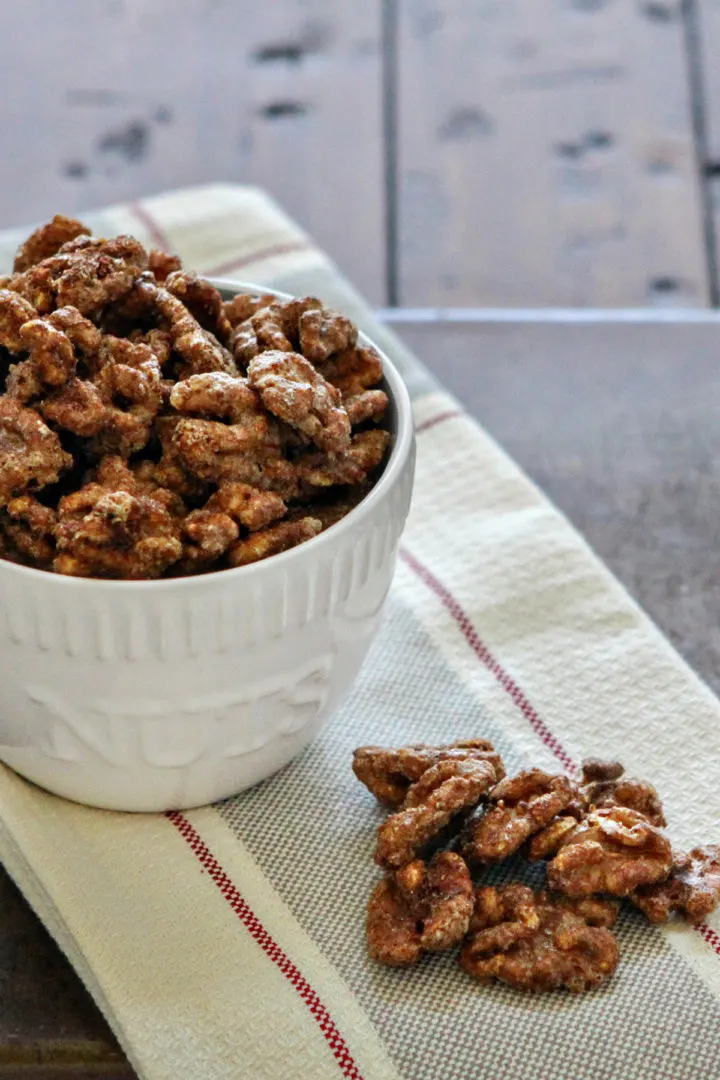 Click HERE to save this recipe for Cinnamon Vanilla Glazed Walnuts!
This post is sponsored by Fisher Nuts.
Simple Glazed Walnuts Recipe
It's hard to believe that there are only a few more days left of school before Christmas break! Wednesday night my brother Jon and his girlfriend Erin will get into town. Thursday is the last day my kids will be going to school.
This first half of the school year has really flown by. I can hardly believe Christmas is next week.
We haven't had very much snow so far where I live in Colorado. We have had a lot of pretty nice weather mixed in with the cold. It doesn't really feel like winter to me yet.
I'm glad that the kiddos, Jon, Erin and I will be spending part of our holiday break up in Keystone skiing. And with actual snow.
Glazed Walnuts are an Easy Homemade Christmas Gift!
I have a lot to do this week as I prepare for the upcoming holiday — getting presents wrapped, teacher gifts made, and so on. I'll be making these cinnamon vanilla glazed walnuts as gifts.
If you feeling super busy this last week before Christmas hits and are still in need of some gifts for friends or teachers, give these cinnamon vanilla glazed walnuts a try. Gift them in a cute little jars.
These homemade candied walnuts are sweet with a hint of spice from ground red pepper. They are really easy and quick to prepare and don't include any complicated ingredients.
Tools Needed to Make these Glazed Walnuts
You'll need a few different tools to prepare this satisfying treat. Here's what I recommend having on hand before beginning recipe for candy walnuts:
Measuring Cups and Spoons – to measure the ingredients.
Small Bowl – to combine the sugar, cinnamon, nutmeg, cayenne pepper and salt.
Large Bowl – to beat the egg white mixture, to stir the walnuts with the egg whites, and to stir in the sugar mixture
Baking Sheet – a rimmed baking tray large enough for the walnuts to spread in an single layer is best for baking this easy candied walnuts recipe.
Parchment Paper – I like to line my pans with a sheet of parchment paper.
Cooling Rack – to cool the baking pan with the candied walnuts after cooking.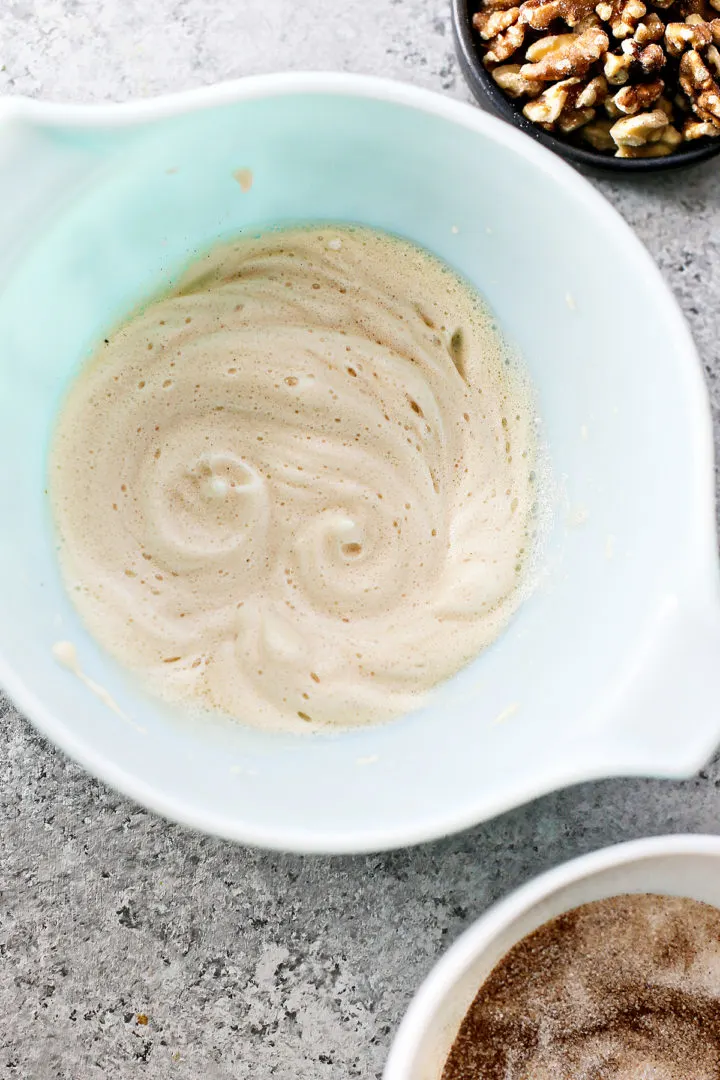 Glazed Walnuts Ingredients
For this glazed walnuts recipe, you'll need:
Walnut halves
Granulated sugar
Cinnamon
Nutmeg
Ground red pepper
Salt
Egg white
Vanilla extract
For the complete ingredient list and detailed instructions to make this easy glazed walnut recipe, scroll to the bottom of this post for the FREE printable recipe card.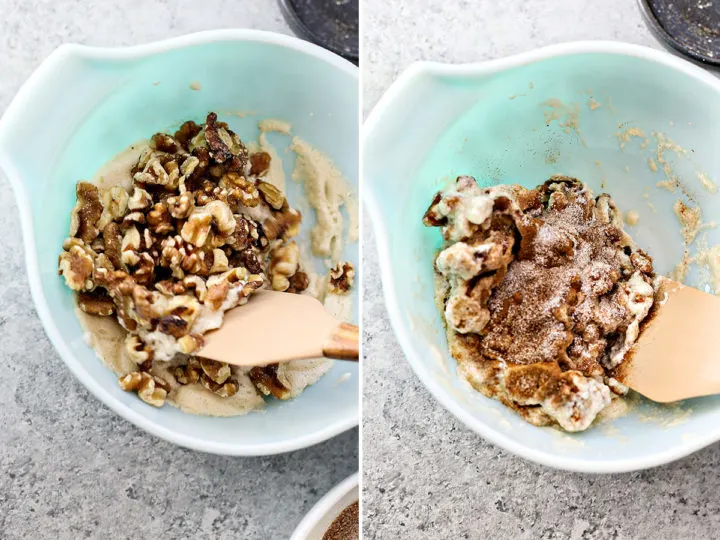 How to Make Candied Walnuts
Stir the sugar and seasonings together in a bowl. In a separate bowl, whip the vanilla and egg white until foamy. Fold the walnut halves into the egg white mixture, then stir in the seasoning blend.
Bake the glazed walnuts for about an hour at a low heat, then let them rest on your counter to cool to room temperature before enjoying.
The above is simply a quick summary of this great-tasting snack. Check out the full recipe in the free printable recipe card at the bottom of this post for all the detailed instructions.
Tips for Making Glazed Walnuts
You only need the egg whites for this recipe. Learn how to separate eggs using this tutorial if you don't know how already.
Also, it's so important that you let these candied walnuts cool completely before eating them. They're dangerously hot when they first come out of the oven. Plus, they crisp up as they cool and are much tastier then.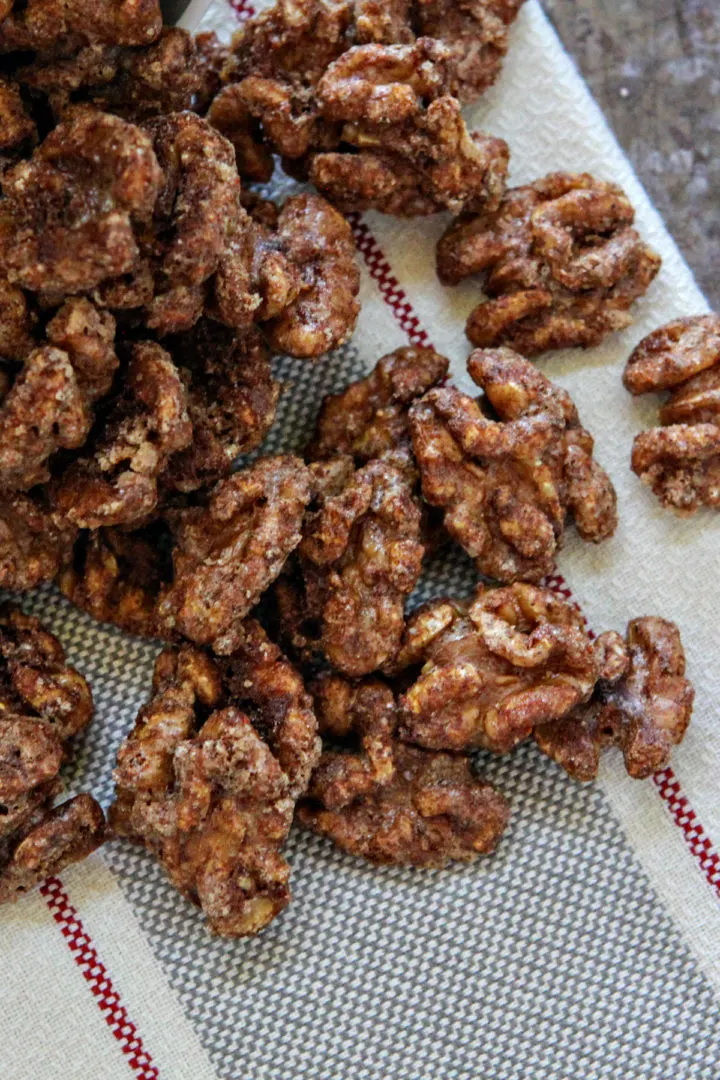 Glazed Walnuts FAQ
Can I Use Another Type of Nut?
Yes, you can use the instructions for these cinnamon vanilla glazed walnuts for pecans or almonds if you prefer different nuts. Or, maybe if you'd like to do a mixed nut gift. That would work too!
Is it Possible to Make Glazed Walnuts Without Egg Whites?
Unfortunately, I don't know if there's a way to make this specific recipe for glazed walnuts egg-free. The egg white is crucial in this recipe, but if you know of any substitutes please leave a comment below!
Can I Use Different Spices?
Yes! Feel free to use whatever combination of spices you prefer, just substitute the same total amount when making these glazed walnuts.
This gingerbread spice mix would be a good flavor adaptation to try!
Ways to Use this Glazed Walnuts Recipe
These glazed walnuts are delicious as is, but you can also use them in several different ways! Here are a few of our favorite serving ideas:
these hearty walnuts make a great addition to a charcuterie board
chop them up and add them on top of a sweet potato casserole.
add them to a bowl of vanilla ice cream for a crunchy topping
candied, sweet walnuts are delicious added to yogurt parfaits
as a salad topping for a crunchy addition to salads, like this Butternut Squash Salad.
add to a bowl of oatmeal for a touch of sweetness
How Long Do Glazed Walnuts Last?
Yet another reason why I love prepping this delicious recipe before the holidays!
If kept in an airtight container or resealable bag in a cool, dry place, these candied walnuts should keep for 2 to 3 weeks. Just make sure you cool them completely before storing them.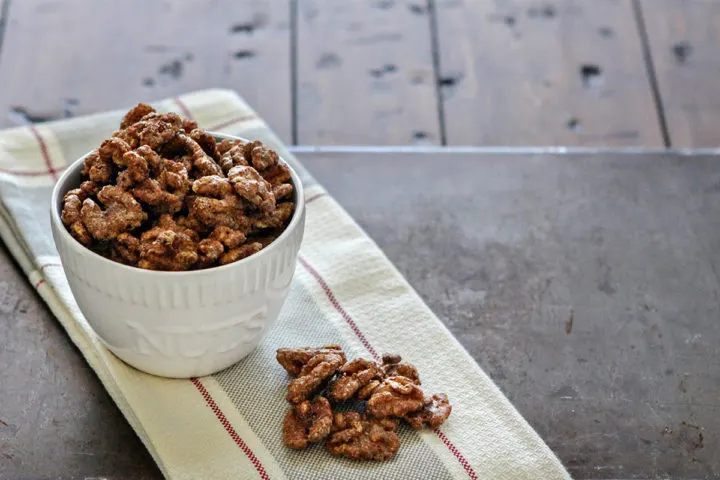 Try this Candy Walnuts Recipe!
Next time you're looking for a simple, homemade holiday gift to make, give this Cinnamon Vanilla Glazed Walnuts recipe a try!
Did you think this recipe made great gifts during the holiday season? Leave a comment below and give it a review for others to see what you thought of this easy recipe.
On Instagram? Share your photo and tag me with @goodlifeeats and #goodlifeeatsrecipes. I'd love to see your photo of this healthy snack!
More Christmas Food Gifts:
This Homemade Citrus Sugar can be used to rim cocktail glasses, as a garnish for baked goods, and more! It's a unique edible Christmas gift not many people think to make.
Love nuts? These Mocha Roasted Almonds are a fun take on the usual candied nuts people make around the holidays.
My friends and family go crazy for my Homemade Bourbon Caramel Sauce. You can use it as a topping for pies, brownies, cakes, and cheesecakes.
This Triple Chocolate Candy Cane Hot Cocoa Bark is the ultimate edible Christmas gift! Plus, it's easy enough to make with kids.
Think homemade caramels are difficult to make? Think again! These Bourbon Maple Salted Caramels are easy to make at home and are a wonderful Christmas gift.
Get More Easy Recipes via Email!
Did you love this recipe for Cinnamon Vanilla Glazed Walnuts? Sign up for Good Life Eats Email Updates and get more of our favorite recipes delivered straight to your inbox!
Have you ever made glazed walnuts?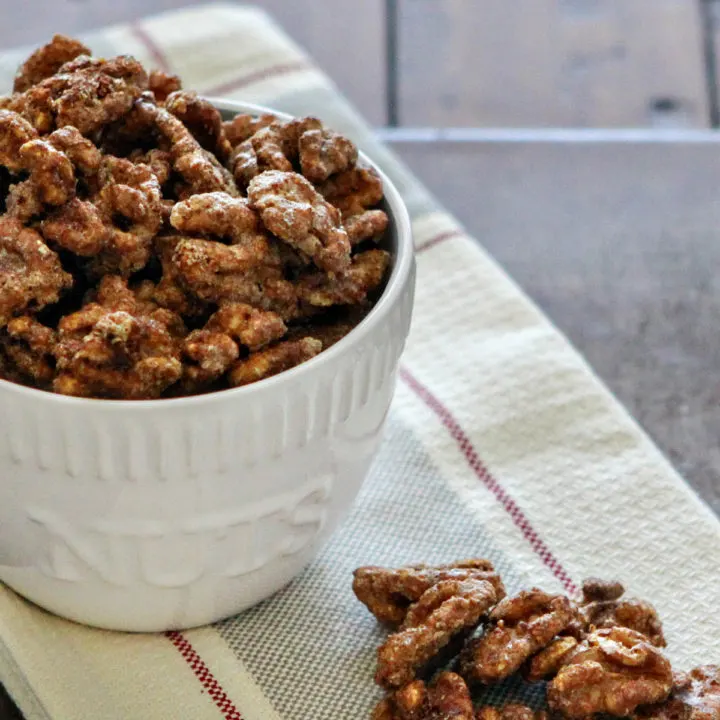 Cinnamon Vanilla Glazed Walnuts
Total Time:
1 hour
10 minutes
Made with just 8 simple ingredients, these Cinnamon Vanilla Glazed Walnuts are a great easy recipe to add to your holiday treat making list!
Ingredients
1/4 cup sugar
1 1/2 teaspoons cinnamon
1/8 teaspoon nutmeg
1/8 teaspoon ground red pepper
1/4 teaspoon salt
1 egg white
1 tablespoon vanilla
2 cups Fisher walnut halves
Instructions
Preheat oven to 250 degrees F. Grease a baking sheet and set aside.
In a small bowl combine the sugar, cinnamon, nutmeg, red pepper and salt. Mix well and set aside.
In a medium sized bowl, beat the egg white and vanilla until it is foamy. Gently stir in the walnuts until coated. Stir in the spice mixture and gently mix until the nuts are evenly coated.
Beat egg white and vanilla in medium bowl until foamy. Add walnuts; toss to coat. Add spice mixture; toss to coat nuts evenly. Spread the coated nuts on the prepared baking sheet in a single layer.
Bake at 250 degrees F for 1 hour. After the first 30 minutes, stir the nuts.
Cool the baked nuts for 5 minutes and break them apart. Cool completely.
Notes
Nuts can be stored in an airtight container for up to 2 weeks.
Nutrition Information
Yield

8
Serving Size

1
Amount Per Serving
Calories

203
Total Fat

17g
Saturated Fat

2g
Trans Fat

0g
Unsaturated Fat

15g
Cholesterol

0mg
Sodium

74mg
Carbohydrates

10g
Fiber

2g
Sugar

7g
Protein

4g
GoodLifeEats.com offers recipe nutritional information as a courtesy and is an estimate only. This information comes from online calculators. Although GoodLifeEats.com makes every effort to provide accurate information, these figures are only estimates.
This recipe for Cinnamon Vanilla Glazed Walnuts is sponsored in partnership with Fisher Nuts. All opinions are my own.