This butternut squash sauce is a little unexpected and is so flavorful that it can win over almost any squash hater. Pair it with a salad and you've got a quick weeknight meal.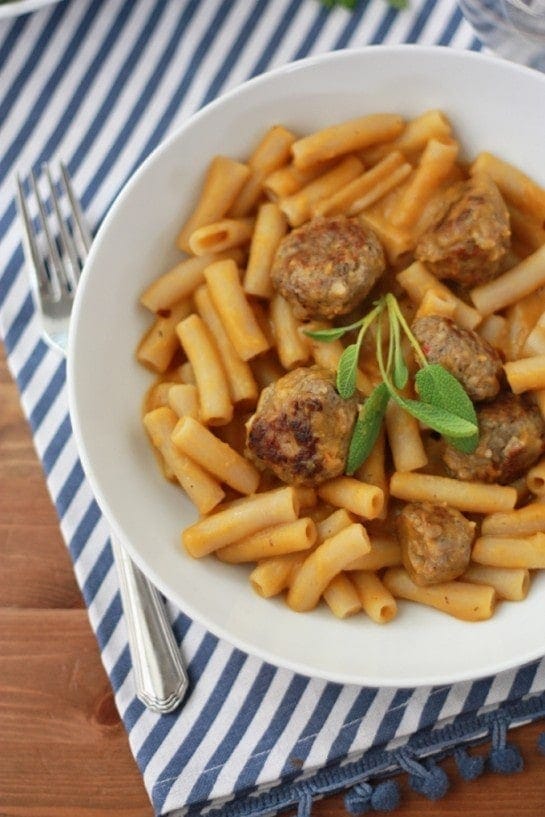 Written by Emily of One Lovely Life
I'm on a mission to help my family try new vegetables. It's a challenge with two toddlers at home, one of whom is a problem feeder who struggles with sensory issues, to the point that we've been consulting with several feeding therapists through the last few years.
Every family has to find what works for them when it comes to family dinner, but I really love the ideas set out in French Kids Eat Everything (which Katie has already reviewed here):
Keep mealtimes as low-pressure as you can.
Present a variety of foods at the table with at least 1-2 things you know your child likes, so you know they'll eat SOMETHING.
Encourage them to try bites of the vegetables or new foods you're experimenting with. If possible, encourage the "one bite" rule, but don't create a battle scene. If no one wants to even try it, you can say "That's okay, maybe next time" or "All right. There's plenty of (insert foods they do like) on the table for you to eat."
I've found that mealtimes are so much less stressful when I know that no one will starve (there's always at least something that everyone likes on the table, even if it means having the same fruit or a piece of toast at more meals than I'd choose), that I'm exposing us to new flavors, and that we don't have to fight about it. Rather than a battle of wills over the food, we can spend that energy enjoying a meal together (and, let's be honest, having a battle of wills over all the other things you do when you've got an opinionated toddler at home).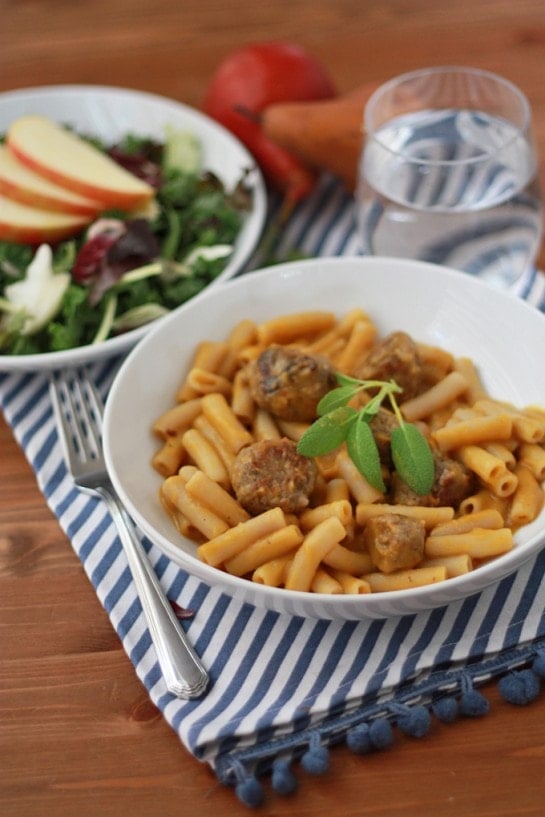 Pasta is a big win for lots of children, and I've found that it's a great vehicle for trying new flavors. This velvety butternut squash sauce is a delicious example of that. The flavor of the sausage melts together with the creaminess of the squash, the sweet richness of the caramelized onions, and a bit of brightness from a splash of balsamic vinegar.
I roll the sausage into tiny 1-inch meatballs here before browning. That way, I can serve the little meatballs on the side for my little ones, or pile them on top of the pasta for the grown-ups. Thanks to a spin in the blender, there aren't any texture issues to deal with here. The sauce is silky smooth and divine. For my little ones, I serve the pasta on the plate with a little dish of sauce to dip into. It's a bit messy, but visually it keeps everything separated and allows them to explore things at their own pace without feeling like the sauce has "contaminated" their other food. My son (who hates pasta–what!?) eats this sauce with a spoon. So do I!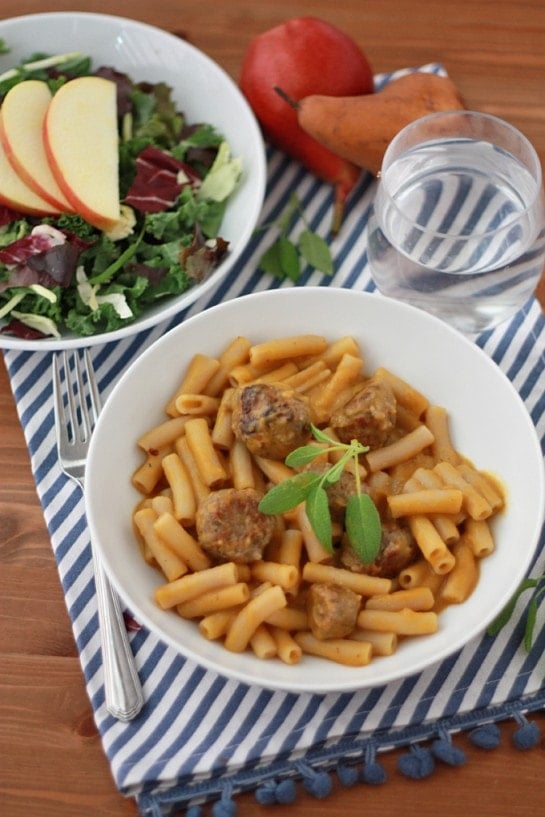 While it's great for kids, this is also a great meal for a dinner party. Pasta keeps things simple, and the sauce can be made ahead of time to help streamline the process at crunch time. It's a great change of pace for pasta night and might just surprise you.
What's your favorite trick for helping little ones try new foods?
p.s. You can prepare this with pre-cut squash from the market, but if you prefer to cut your own (as I do), I've found this great tutorial by Simply Recipes to be really helpful. I use my knife in place of the vegetable peeler, but it's a great visual for anyone who needs a little help!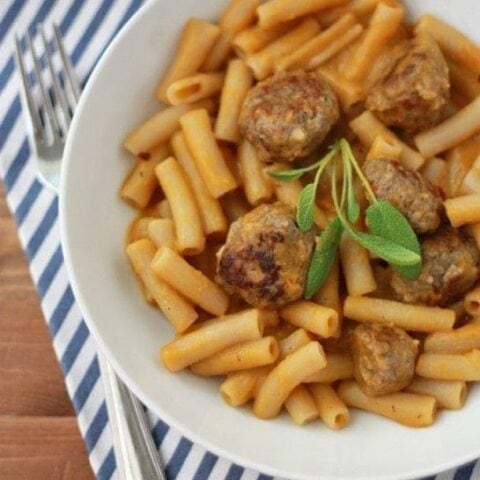 Butternut Squash and Sausage Sauce
This butternut squash sauce is a little unexpected and is so flavorful that it can win over almost any squash hater. Velvety smooth, it's loaded with lots of flavor from the sausage, the creaminess of the squash, sweetness of the caramelized onions, and a little brightness from the vinegar.
Ingredients
1 butternut squash (1-1 1/2 lbs), peeled and diced
12-16 oz bulk sausage (I use breakfast or sage sausage)
1 medium onion, diced
2-4 teaspoons balsamic vinegar
1-2 Tablespoons olive oil
1-2 cups vegetable broth or water
salt and pepper, to taste
Instructions
Preheat oven to 400 degrees.
In a large bowl, toss butternut squash with about 1 tablespoon of olive oil. Stir to coat well. Spread squash out onto a baking sheet. Sprinkle with salt and pepper. Roast at 400 degrees for 20-30 minutes, or until quite tender. Stir once or twice during the roasting process for more even browning.
While the squash is roasting, brown the sausage in a medium saute pan. Cook sausage through and remove to a plate. Drain extra fat from the pan, leaving any drippings or browned bits. Add onion to the same pan and cook, stirring regularly, over medium-low heat until onion is caramelized and tender. This process will take anywhere from 15-30 minutes. Add additional olive oil to the pan as needed if the onion starts to stick. Pour 1 cup of vegetable stock into the pan and stir to lift up any remaining browned bits from the bottom of the pan. Transfer onion and broth mixture to a blender.
When the squash is finished roasting, add it to the blender with the onion and vegetable stock mixture. Add 2 teaspoons balsamic vinegar. Puree until sauce is very, very smooth. Taste and add additional salt, pepper, or balsamic vinegar as desired. If the sauce seems too thick, or is having difficulty blending, add additional vegetable stock to the blender until you've reached your desired thickness.
For little eaters, I serve pasta on a plate with a little cup of this sauce to tip, and the sausage on the side. For the grown-ups or more flexible eaters, I return the sausage to the pureed sauce and serve with pasta.
Sauce makes enough to coat 12-16 oz of pasta.
Recommended Products
As an Amazon Associate and member of other affiliate programs, I earn from qualifying purchases.
Nutrition Information
Yield

6
Serving Size

1
Amount Per Serving
Calories

243
Total Fat

21g
Saturated Fat

6g
Trans Fat

0g
Unsaturated Fat

12g
Cholesterol

35mg
Sodium

745mg
Carbohydrates

7g
Fiber

1g
Sugar

3g
Protein

8g
GoodLifeEats.com offers recipe nutritional information as a courtesy and is an estimate only. This information comes from online calculators. Although GoodLifeEats.com makes every effort to provide accurate information, these figures are only estimates.