Here are some of my very favorite products for running and exercise!
If you follow me on Instagram, you may have noticed that I've been running lately. A lot. I started out the year really well with my 2012 fitness goals, but with the move, a few cases of strep throat and a really hot summer I got a bit off track.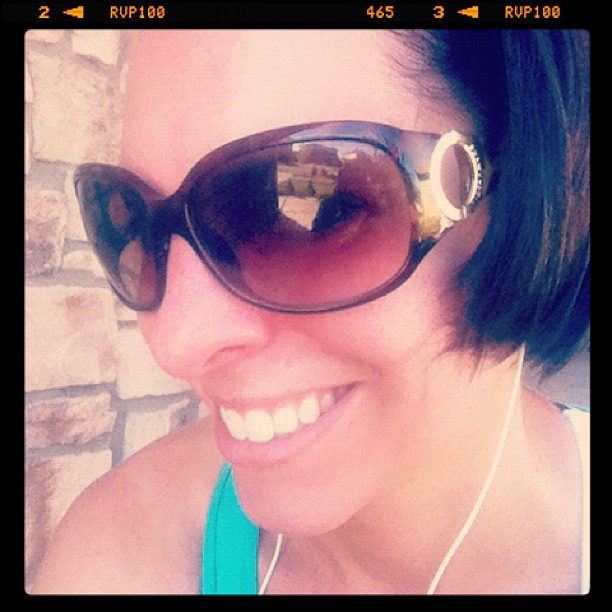 This sweaty, red faced runner just ran 3.5 miles beating her time by 2 minutes.
Excuse me while I mop up a puddle of sweat now.
I reassessed my goals and started running again at the beginning of September with plans for a Thanksgiving Day 5K with my sister (who is moving to COLORADO!) this November. I didn't want to just run a 5K, I wanted to be ready and do a good job.
With those goals in mind, I began running 3-5 time a week. At first I was just working on building up enough endurance to run a 2 mile route near my house without walking.
After a few weeks of this routine after dropping the kids off at school, I was pleasantly surprised to find that I was able to achieve that first goal. Now I am running a new route that totals 3.5 miles.
It feels great to accomplish something like that but more than anything, I have realized that exercise is incredibly important to my personal happiness.
It's not that I crave the run. It is still hard work for me. But I crave the way the run makes me feel more positive about my day and the happiness those accomplishments bring. I'm not in this to lose weight, but rather to feel happier, healthier and stronger – both mentally and physically.
With all of that in mind, I thought I would share with you some of my favorite products that I personally use and enjoy for exercise.
My Favorite Running Gear
Looking to take up running or just want some recommendations for some of the best tried and true gear out there? Here are my very favorite products!
What are your favorite exercise products? And of course feel free to share your favorite motivational music as well!

Did you love this post?
Sign up for Good Life Eats email updates and never miss another update!
I have personally purchased all of these items and love them!