Foil Grilled Southwestern Sweet Potatoes
A few weeks ago I was having one of those "Oh, crap! It is almost time for dinner" moments. What was I going to make? Looking through the pantry and fridge I wasn't seeing a whole lot of inspiration. What I was seeing was randomness.
I spotted some sweet potatoes in the pantry, spinach and tortillas in the fridge. I remembered that I love foil grilled potatoes in the summertime.
Somehow this randomness processed into something in my head. We had a quick spinach salad, these delicious Foil Grilled Southwestern Sweet Potatoes, and quesadillas. I put some black beans in mine and the kids had theirs plain.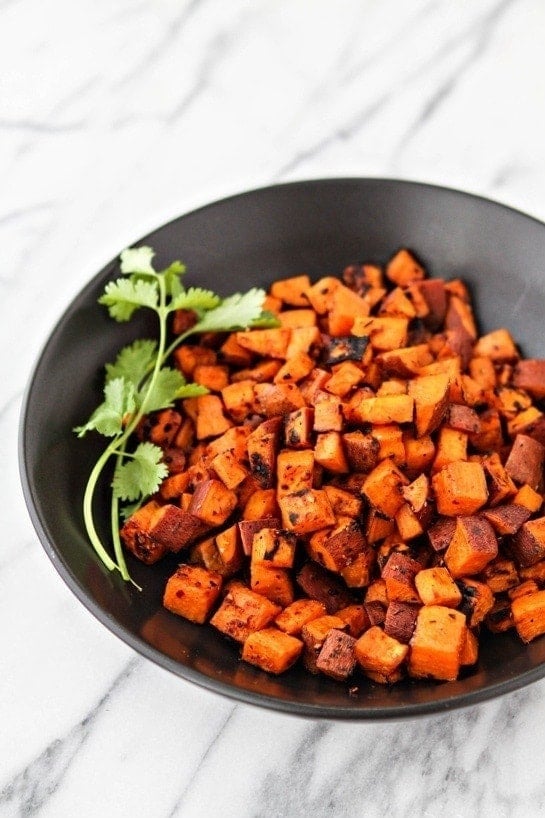 When you hear the words 'sweet potatoes', a few people probably instantly associate that with Sweet Potato Fries. Most minds probably go straight to Thanksgiving and marshmallows.
I admit, I like those type of recipes (like these Mini Sweet Potato Tarts with Gingersnap Pecan Crust) just as much as the next person. But there are a lot of other ways to serve this vegetable and something really awesome about Sweet Potatoes paired with southwestern flavors.
I wasn't planning to share this recipe at all, but Madeline and I loved it so much and it looked really pretty in the black bowl that I served them in. So, we decided to make them again, this time on purpose, so we could share the recipe.
Foil Grilled Southwestern Sweet Potatoes are a great side dish to any Mexican themed meal, but they also work really well as an addition to other recipes.
Ways to Use Foil Grilled Southwestern Sweet Potatoes
Foil Grilled Southwestern Sweet Potatoes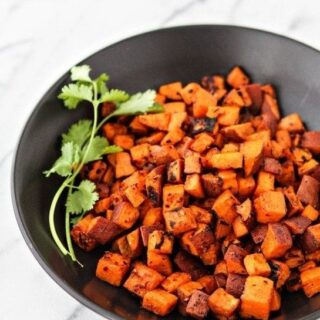 Ingredients:
1 pound Sweet Potatoes, unpeeled and cut into 3/4 inch cubes
1 tablespoon Olive Oil
1/4 - 1/2 teaspoon Salt
1/4 teaspoon Pepper
3/4 teaspoon Chili Powder
1/2 teaspoon Cumin
1/4 teaspoon Smoke Paprika or Chipotle Powder
1/8 teaspoon Garlic Powder
Directions:
Preheat your grill to high.
In a large bowl, combine the potatoes and olive oil. Toss to coat. Place potatoes on top of a large sheet of heavy-duty foil. Sprinkle the potatoes with all of the seasonings.
Pull the two shorter ends of the rectangle together in the center. Hold them together and roll down. Fold in the remaining openings. Grill the potatoes on the upper rack of your grill for 20-30 minutes, flipping part way through, or until potatoes are tender and browned.
Notes:
Alternatively, you can season with your favorite Southwestern flavored seasoning blend.