Chicken drumsticks are basted with Mango Habenero BBQ Sauce for a delicious addition to any summer potluck.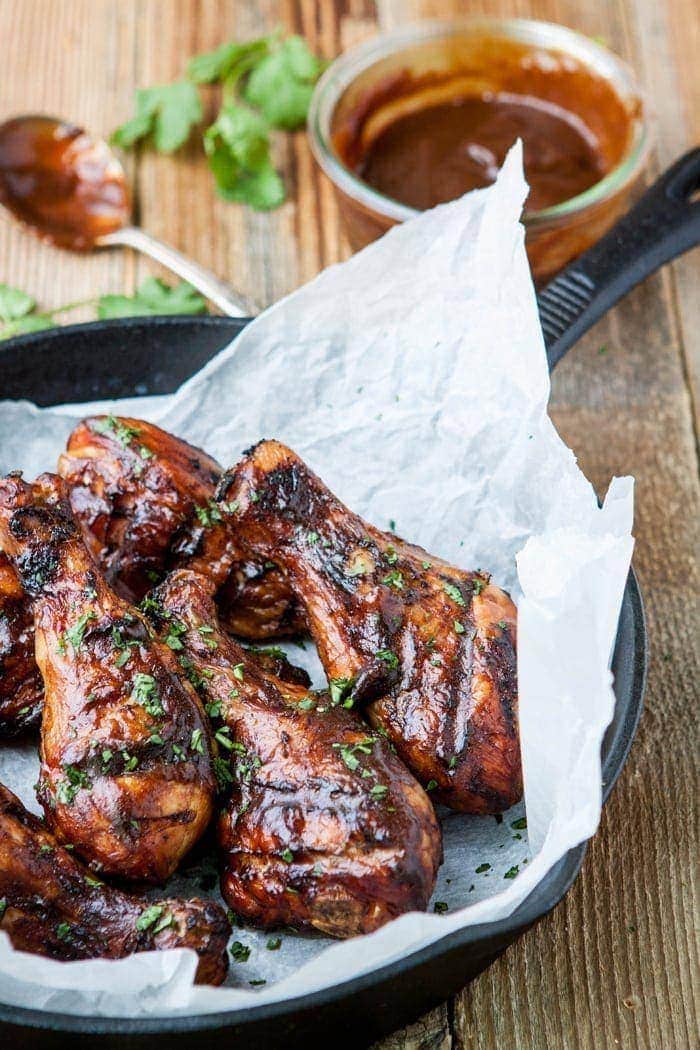 This summer is unlike any other that I've had. Busy and crazy but all in really great ways. Right before the July 4th holiday I was getting my house ready to list because my boyfriend and I had been planning on making our relationship more permanent.
Kevin and I signed a contract to build a new home nearby. My house sold, with 3 offers, in a whopping 2 1/2 days on the market (for over asking price). We got engaged (click if you want to read about that on my Instagram)
Then we decided that we wanted to get married in Florida, on the beach, during our vacation…THIS MONTH. Two weeks from today. A few days before I close on the sale of my home. Because, obviously, we must be absolutely insane.
But as busy as summer has been, leaving less time for all the things I love so much about summer (Summer BBQs and s'mores nights with neighbors, afternoons on the boat), we have manage a few fun things.
We were able to squeeze in a BBQ picnic at the lake for Father's Day before Kevin had to go out of town for a 2 week trip. I learned how to water ski, had a fun time on July 4th.
The kids have been busy with lemonade stands and swimming at the pool, even though I've had so much going on I don't get to join them as often as I'd like.
All of that said, I'd so much rather this crazy and busy that is all made up of great things than the crazy and busy of my life a few short years ago as I began the challenging transition of becoming a single mom.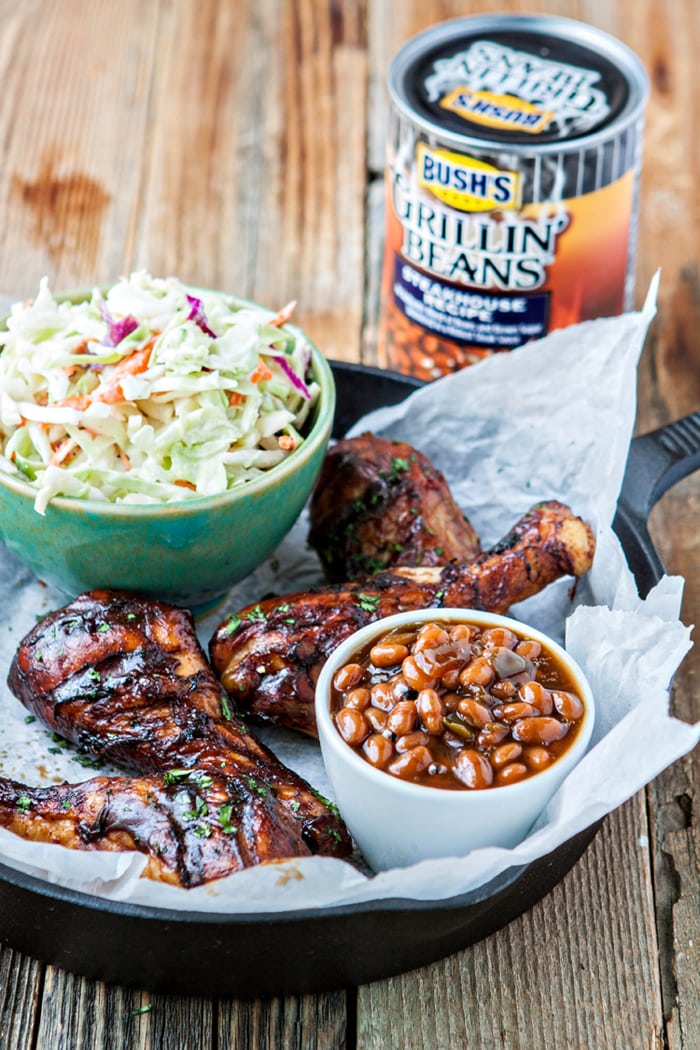 Because food, spending time with my family (even on crazy days), and enjoying a good meal are important to me, we've been simplifying some of that a little to adjust to the way our life has been this summer.
I've been grilling simple recipes, like these Mango Habanero Chicken Drumsticks, and relying on easy sides like our summertime favorite – Bush's Steakhouse Recipe Grillin' Beans – to round out our meals without a lot of work or mess.
As you probably know by now, I love Bush's Beans. The quality, taste, and affordability are all winners in my book so I keep my pantry stocked with a variety of them at all times to help me out when I need a quick pantry meal.
These chicken drumsticks are super simple to make, and the method can be used with any of your favorite BBQ sauces. All you do is salt and pepper the chicken, grill it for a few minutes on each side.
Then, baste with some BBQ sauce and grill a few more minutes on each side – that helps the sauce get that delicious, thick, caramelized coating while you continue cooking the chicken.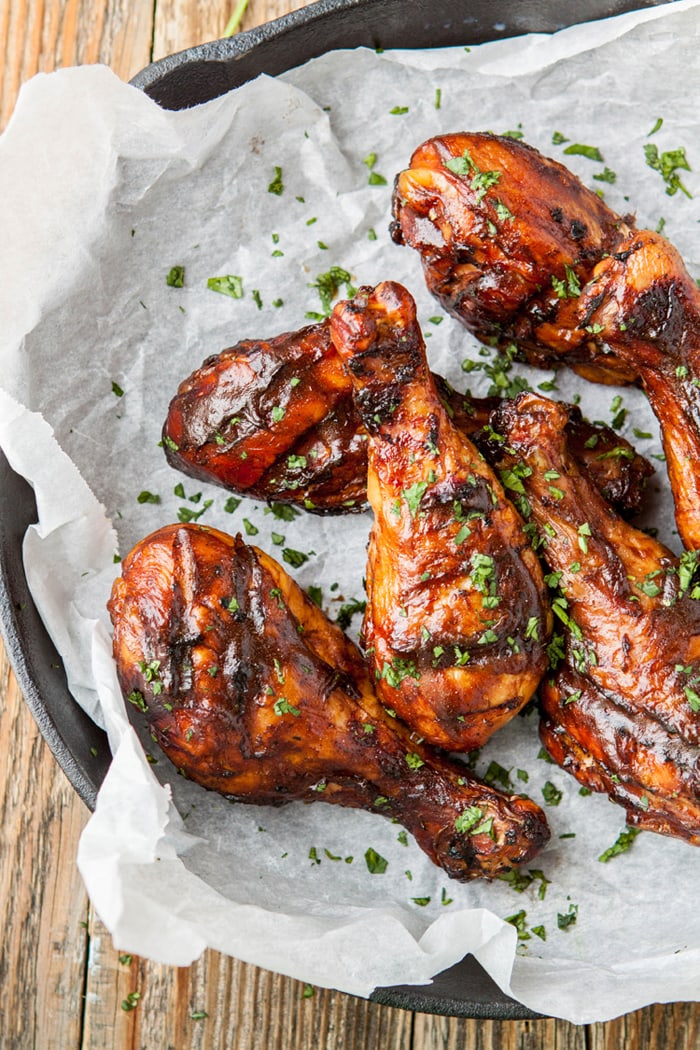 Toss the finished product with some chopped cilantro for garnish (oregano, green onions, or sesame seeds work too depending on the flavor profile you're going for.) And you're done!
I happen to really like the Mango Habanero BBQ sauce, but you can use a store-bought, more traditional flavor, or you can try a Honey Teriyaki BBQ Sauce if you're craving something a little asian inspired.
To round out the meal, lately we've really been into coleslaw, so we like to make this Creamy Jalapeño BBQ Coleslaw to go with any of our BBQ meals.
Happy summer! (even if it is proving to be a crazy one)
What are your favorite summer BBQ recipes?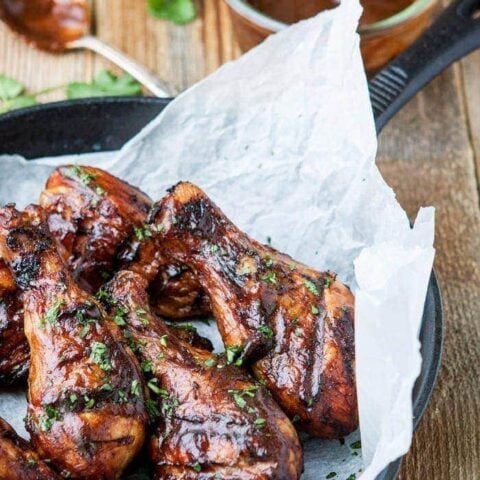 Mango Habanero BBQ Drumsticks
Chicken drumsticks are basted with Mango Habanero BBQ sauce for a delicious addition to any summer potluck.
Ingredients
2 lbs. Chicken Drumsticks
Salt and pepper, To taste
1 recipe Mango Habanero BBQ Sauce, divided into 2
Chopped Cilantro for garnish
Instructions
Place the drumsticks on a foil lined baking sheet. Sprinkle on all sides with salt and pepper according to your personal tastes. Allow to sit at room temperature while the grill preheats.
Prepare the Mango Habanero BBQ Sauce according to the directions. Divide between 2 bowls so that you may reserve one uncontaminated from raw chicken for serving purposes.
Preheat the grill to 450 degrees F.
Place the chicken on the grill, cooking about 5 minutes per side. Discard the foil from the baking sheet so that you may reuse the baking sheet later without contamination from raw chicken.
After cooking all sides, baste the chicken with half of the prepared BBQ sauce and continue to cook, turning as needed, until the internal temperature of the chicken registers at 185 degrees F. Total cook time will be approximately 25 - 35 minutes, depending on the size of your drumsticks.
Remove chicken from the grill and transfer to the baking sheet (dirty foil removed and discarded).
Sprinkle the chicken with chopped cilantro, if desired, for garnish.
Loosely tent the baking sheet with a clean piece of foil and allow to rest for 5 minutes.
Provide reserved BBQ sauce in the second bowl for serving.
Recommended Products
As an Amazon Associate and member of other affiliate programs, I earn from qualifying purchases.
Nutrition Information
Yield

6
Serving Size

1
Amount Per Serving
Calories

348
Total Fat

15g
Trans Fat

0g
Carbohydrates

8g
Fiber

1g
Sugar

6g
Protein

42g
I've been compensated for my time through a partnership with a brand I love that I've enjoyed. All opinions are my own.