Today I'm continuing the Eat Well, Spend Less series that Aimee, Alyssa, Carrie, Katie K, Mandi, Shaina, Tammy and I are participating in.

Over the next few weeks we'll be discussing topics such purchasing (and storing) food in bulk, budget recipes, meal planning, and, making the most of where you live, and more.
Week 1 – Pantry Staples
If you missed last week, you can catch up on my post here: Recipes for Homemade Pantry Staples.
I've summarized the other blogger's posts with their links here for your easy reference: Eat Well Spend Less Round Up – Week 1 I'll do another round-up for week 2 later this week once the rest of the group has published their posts. Be sure to check back for those links!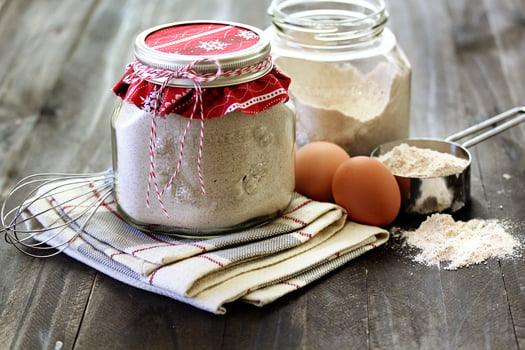 Week 2 – Budget Recipes and Meals
I've found that I can be pretty resourceful when it seems that there is "nothing" in the house to eat. In reality, there's quite a lot when you take a look through the pantry items. Very few of us actually have "nothing" in the house.
Really, what I think we mean by that is that there is "nothing" that we want to eat. Or "nothing" that is obvious to make. We just need to get a little creative with our meals.
Note: When I use the word "Pantry" assume that I am referring to the basic ingredients that we all keep on hand from week to week. This ingredients may reside in the actual pantry or cabinets, the refrigerator, or freezer.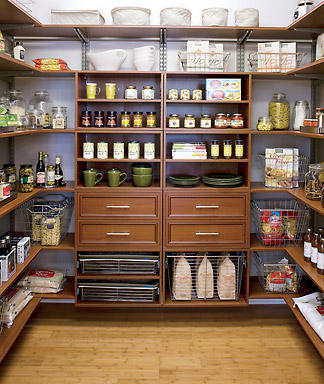 Here I'm sharing some of my favorite budget recipes for Breakfast, Dinner, and Dessert that I consider "Pantry Recipes," meaning: they require little or no time spent at the grocery store.
I don't mean going all out with everything you think you might need, but storing the basics you use often so you don't have to run to the store every time you cook dinner. To stay within your budget, add a little at a time each month if you don't already have a well stocked pantry.
5 Breakfast Recipes from the Pantry
Breakfast is the most important meal of the day. It's easy to get tired of cold cereal and it's not always the most economical choice, especially when you are purchasing all-natural, healthier and/or organic versions.
Here are a few non-cereal budget breakfast recipes that are easy to make from your pantry.
Pancakes or Waffles
The classic pancake recipe doesn't really require many ingredients so they're often simple to whip up. These 5 Grain Pancakes with Flax are well worth the effort when you can make a large batch of homemade pancake mix to keep on hand when the craving strikes.
I have two waffles recipes on GoodLife Eats. Waffles are delicious and…not so good for you. Later on this recipe received a makeover and became this Healthier Whole Wheat Waffle Recipe.
We like both. When we make them, we always prepare extra so we can fill 2 gallon-sized zip-top bags to store in our freezer. Learn how easy it is to Freeze and Reheat Pancakes and Waffles.
Oatmeal
Oatmeal is probably as cheap as it comes for breakfast, but it doesn't have to taste cheap. Take this Pumpkin Pie Oatmeal, for example. Or top your favorite rolled oats recipe with fresh fruit and nuts.
I prefer Steel Cut Oats which are a little more expensive, but you can purchase them in bulk for a better price in some stores (Natural Food Stores or places like Costco). Overnight Apple Steel Cut Oats are a favorite of mine.
Crepes
Crepes are made from very basic ingredients that most everyone keeps on hand. The exciting part is what you put in them. For breakfast try fresh or cooked fruits, like these Maple and Cardamom Pears alone or with a bit of yogurt.
Granola Parfaits
Granola Recipes are really easy to make at home from pantry basics. Layered with yogurt (or cottage cheese) and some fruit it becomes a really simple breakfast. You can even make your own homemade yogurt.
Toast Creations
With Homemade Breads you can whip up a delicious toast. One of my favorites right now is a smear of almond butter on piping hot, toasted bread or English Muffins.
But you can also make a scrambled egg and cheese sandwich in between to pieces of toast, whether they be Bagels, Sandwich Bread, leftover Baguette or English Muffins.
5 Dinner Recipes from the Pantry
The only thing that can get you out of making dinner is ordering take-out, and doing that regularly isn't easy on your body or wallet. Dinner is just something we have to do.
Here are a few of my favorite budget or easily adaptable dinner recipes.



Pasta Dishes
Pasta for dinner frequents our table. These dishes are usually easy to make with what is on hand, and the fridge is always full of random vegetables. Just use whatever you have in the fridge and pantry that fits the formula. You can use meat, or not and use extra vegetables.
Check out my 3-2-1 Pasta Formula for dinner using what you have on hand.
Frittatas
Eggs are another basic we always have in the fridge. Frittatas are so flexible that you can use whatever you want in them. Vegetables, Pasta, Meats, Cheese, or any combination. Plus, they're super quick to make.
Check out my Frittata Formula so you can create your own ingredient and flavor combos.
Soup Night
Soups are great with many of the ingredients being items we regularly have on hand in the pantry, fridge, or freezer and are often inexpensive to make because they feed a crowd.
One of my favorites right now is Tomato Florentine Soup. If you keep frozen spinach in the freezer or Freeze Dried Spinach in your pantry you'll most likely be able to make this soup any night of the week.
Homemade Pizza
Pizza Dough is as simple as a little yeast, flour, and water. Toppings and cheese for your pizza can be whatever you please. Be sure to check out my Tips for Totally Awesome Pizza at Home.
Pizza Sauce options vary as well: Summertime Pesto, Tangy Barbeque Sauce, Restaurant-Style Salsa, or Simple Homemade Pizza Sauce . Or, skip it.
Fried Rice
Fried Rice is an easy option that I often forget, but I shouldn't! I'm rarely without at least 1 type of rice in the pantry. Even right now I have Jasmine, Basmati, Brown, an Basic White.
Shaina shares a great post here where she shows how easy it is to use whatever is available (either in your fridge, or in her case from the Farmer's Market) to make a delicious dish of Spring Vegetable Fried Rice Recipe with her kids.
3 Dessert Recipes from the Pantry
Sometimes a day isn't complete without a little dessert at the end, and often those are the days where dessert was not planned. With a well-stocked pantry, you can still make many of these recipes.

Brownies
When the kids ask me to make dessert and we're either 1.) pressed for time or 2.) badly in need of a trip to the grocery store, I know I can count on my Easy Homemade Fudgey Brownie Recipe with their 5 simple ingredients.
Cookies
Cookies are so simple to make from what's in the pantry. I bet we all have the ingredients for a Basic Oatmeal Cookie Recipe in the pantry. Just swap up the mix-ins depending on what you have on hand: raisins, dried cranberries, dried apricots, or chocolate chips to name a few.
Another favorite here is this recipe for Almond Butter Cookie Recipe, like Peanut Butter Cookies but with almond butter instead.
Crepes
I mentioned Crepes in the breakfast category, but they also work well for desserts. Fill them with delicious spreads such as Nutella, Lemon or other Citrus Curd or simply melted butter and powdered sugar if you have nothing else around.
What are your favorite "Pantry Meals" that help keep your budget on track?