Mini Sweet Potato Tarts with Gingersnap Pecan Crust and Toasted Marshmallows
I have never made Sweet Potato Pie before. Obviously I was completely missing out. Thanksgiving at my house usually features Pumpkin Pie with Caramel Pecan Topping and Deep Dish Apple Cranberry Pie with Oatmeal Pecan Crumb Topping. And during the last 2 years Chocolate Pumpkin Cheesecake has also made an appearance.
I figured it was time for me to add some new Thanksgiving dessert recipes to my repertoire. I didn't want something complicated, the cheesecake fills that slot. Or with a traditional Butter Pie Crust since I already had two of those between the Pumpkin Pie and the Apple Cranberry Pie. And something small or individual would be nice because you can just make a few if you want. Plus, smaller bakes faster.
The solution was a Mini Sweet Potato Tart with a Gingersnap Pecan Crust. This recipe is small. It makes only 3 tarts, but you can easily double it to make 6. And if you have multiple recipes on your dessert table, two people can easily split one of these mini tarts.
I've never really been much of a fan of the Sweet Potato Casserole recipes with the marshmallows on top, but I thought something with those flavors in dessert form would be pretty good. So for a little something extra I added Mini Campfire® Marshmallows to the tops of the tarts at the very end and broiled for just a couple of minutes until they were toasted and golden brown.
If you are looking for something a little different this Thanksgiving, give these Mini Sweet Potato Tarts with Gingersnap Pecan Crust and Toasted Marshmallows a try. 
Find more Marshmallow recipes on the Marshmallow Madness Pin Board. To learn more about Campfire® Marshmallows, follow them on Facebook and Twitter.
Mini Sweet Potato Tarts with Gingersnap Pecan Crust and Toasted Marshmallows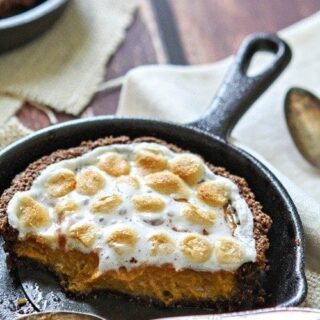 Ingredients:
For the Gingersnap Pecan Crust:
4 tablespoons salted butter, melted
5 ounces store bought gingersnap cookies
1/2 cup pecans
2 tablespoons brown sugar
1/8 teaspoon salt
For the Sweet Potato Filling:
1 lb. sweet potatoes, peeled and cut into chunks
1/3 cup brown sugar
1/4 teaspoon cinnamon
1/8 teaspoon nutmeg
1/8 teaspoon ginger
1/3 cup whole milk
1 tablespoon vanilla extract
2 large eggs
Topping:
Mini Campfire® Marshmallows
Directions:
Preheat the oven to 350 degrees F.
In a food processor, combine the cookies, pecans, brown sugar, and salt. Process until the cookies and pecans are finely ground. Transfer to a small mixing bowl and stir in the melted butter.
Divide the crust mixture between three 4.75 inch individual sized tart pans, pressing firmly into the bottom and up the sides of the pan. Bake at 350 degrees F for 5 minutes. Remove from the oven after baking and set aside. Increase the oven heat to 400 degrees F.
Boil the sweet potatoes in a medium sized saucepan until they are tender. Drain and transfer the sweet potatoes to a blender. Add the brown sugar, cinnamon, nutmeg, ginger, milk and vanilla to the blender. Puree until completely smooth. Add the eggs and puree on low until mixed.
Divide the filling between the three tart pans. Place the pans on a baking sheet and bake at 400 degrees F for 20-25 minutes. The edges should be puffed and the center will wiggle just slightly.
Remove the baking tray from the oven. Turn on the broiler. While the broiler heats, top each tart with mini marshmallows in a circular pattern around the tart all the way from the edge of the filling to the center.
Return baking pan to the oven and broil just until the marshmallows are puffed and golden brown. Keep and eye on the tarts so nothing burns. This will only take about 2-4 minutes. Serve immediately.
Notes:
If you'd like to prepare these ahead of time (either a few hours in advance or the day before) finish up the recipe before you reach the marshmallow step. Then just before serving, add the marshmallows and toast under the broiler. Serve immediately.
Disclosure: This post is sponsored by Campfire® marshmallows. All opinions about Campfire® marshmallows are 100% my own.