Sweet Potato Dinner Rolls [Holiday Recipe Exchange]
I love to bake with yeast! There is nothing more comforting than a warming oven and the smell of freshly baked bread on a cold, fall day. Now that we're finally though with the heat of summer, that is something I expect that we'll be doing quite regularly around here.
I've been wanting to test out a sweet potato dinner roll version of the dough for our favorite Pumpkin Cinnamon Rolls for a while and this week's yeast themed recipe exchange sponsored by Red Star Yeast was the perfect opportunity!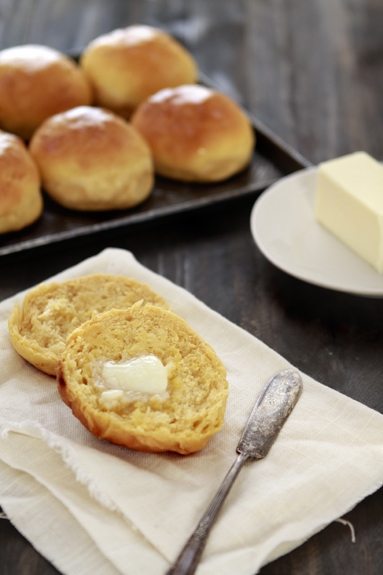 Instead of pumpkin puree, this recipe features pureed sweet potatoes. The sweet potatoes give the rolls a beautiful golden, orange color that brightens up the dinner table. While these tender rolls will make an excellent addition to any Thanksgiving menu, they're also a great way to use up leftover baked sweet potatoes for a post-Thanksgiving treat.
Just puree any baked sweet potatoes leftover from your big feast in the food processor. If necessary, add water to get a smooth puree; you'll want this to be about the same consistency as canned pumpkin puree.
Sweet Potato Dinner rolls are versatile too. Not only are they great for dinner, but my kids loved these rolls in place of regular bread for cinnamon sugar toast for breakfast.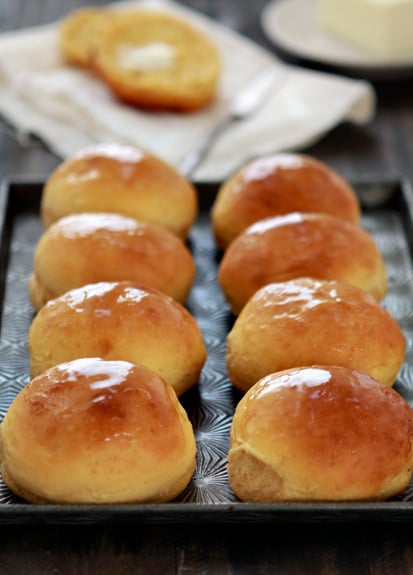 Tips for Making Rolls with Kids
Last week my kids were on fall break from school. We got together with friends for an afternoon play date and made these Sweet Potato Dinner Rolls together. Here are a few tips for making rolls with kids:
Start Early and Plan Ahead

Unfortunately we got started with our impromptu activity a little late after a morning dentist appointment. In the future, I'll get started with the dough early on so the rolls come out right at lunch time.
Kids are impatient. Plan ahead by preparing the dough in advance so they aren't waiting hours for it to rise before they get to the fun part of rolling. Or have another activity ready to keep them entertained until the dough is ready to be shaped.
Have Fresh Yeast
Using fresh yeast is incredibly important to successful yeast baking. Old yeast will take much longer to rise, or might not even fully rise at all. And in this case I think everyone, adults included, will be sorely disappointed.
Pre-Portion the Dough
Making rolls is a perfect afternoon activity for little hands. They love to roll the balls for the rolls and are pretty good at it most of the time. For uniform shaped rolls, first portion out the rolls into equal sized chunks.
Then, allow kids to do the rolling themselves. Otherwise you may find yourself with lots of interestingly shaped and sized dinner rolls.
Experiment with Different Shapes
Check out this Cook's Illustrated guide to shaping dinner rolls in fun and interesting ways. Older kids will love trying their hand at different shaped rolls. For the younger, less coordinated crowd I recommend basic round rolls or dinner rolls baked in jars. Fine Cooking has a great tutorial on shaping basic round rolls.
Do you like to bake homemade rolls? What is your favorite recipe?
Sweet Potato Dinner Rolls
Yield: 1 1/2 - 2 dozen rolls, depending on the size
Prep Time:2 - 3 hours, including rise time
Cook Time:15 - 25 minutes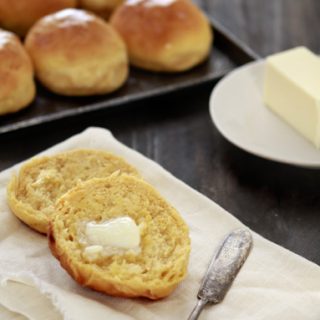 Ingredients:
2 packages (4 1/2 teaspoons) active dry yeast
1 cup warm buttermilk (about 110 degrees)
2 large room temperature eggs, beaten
1 1/2 cup sweet potato puree
6 tablespoons melted butter
6 - 7 cups (approximately) All-Purpose Flour
3 tablespoons sugar
2 teaspoons salt
Directions:
Stir yeast into buttermilk to soften in a large bowl. Allow to rest for 5 minutes before stirring to combine. In the bowl of a stand mixer, whisk the eggs, sweet potato puree, butter, sugar and salt together. Add the yeast mixture and whisk until combined.
Using the paddle attachment for your stand mixer, add 3 cups of flour - 1 cup at a time - until a thick dough begins to form. When the dough begins to thicken you will need to switch to the dough hook attachment.
Slowly add the rest of the flour, a bit at a time, until the dough is stiff enough to knead. Because each cup of flour measures differently, it is important to focus on the feel of the dough. Begin with 3 cups of flour and increase if necessary.
Turn dough out onto a floured surface. Continue to knead, adding flour as necessary, until you have a smooth, elastic dough. The dough should not feel tough or dry, but rather soft and pliable (but not sticky).
Place the dough into a greased bowl. Turn the dough in the bowl to coat the entire ball of dough with oil.
Cover with plastic wrap and rise until doubled in bulk, for 1 - 2 hours. See tips for understanding when your dough has doubled in bulk.
Preheat oven to 400 degrees F. Line 2-3 baking sheets with parchment paper. Divide the dough in thirds . Then divide each third into 6-8, depending on how small you would like your rolls. (Note: Alternatively, you can bake the rolls in greased round cake pans instead of on baking sheets).
Roll each piece of dough to form smooth balls. Divide the rolls between the baking sheets and cover with plastic wrap. Allow rolls to rise for 20-30 minutes, then discard the plastic wrap.
Cook the rolls in the 400 degree F preheated oven for 15-25 minutes, or until they are baked through and golden on top. Rotate the baking sheets halfway through baking if you cannot bake them all on the same rack.
If serving immediately, brush roll tops with melted butter.
How To Participate
Join Jamie and me this week in sharing your Yeast Recipes for a chance to win a great yeast baking gift set from Red Star yeast. Jamie is sharing Pumpkin Cinnamon Rolls with Maple Cream Cheese Frosting over on My Baking Addiction.
For a chance to win a Yeast Baking Gift Set (details of prize specifics below):

Write and post a recipe on your blog featuring YEAST.
Include "Come join the fun at the My Baking Addiction and GoodLife Eats Holiday Recipe Swap sponsored by Red Star Yeast." in your blog post.
No blog? Just leave your recipe in the comments section.
Add your link to the widget on either GoodLife Eats or My Baking Addiction (we have the same widget code, so only add it on one site).
Submit your post before Nov. 7, 11:59 PM.
Anyone can participate in the link up, but the prizes will ship to US addresses only.
More detailed info are available here.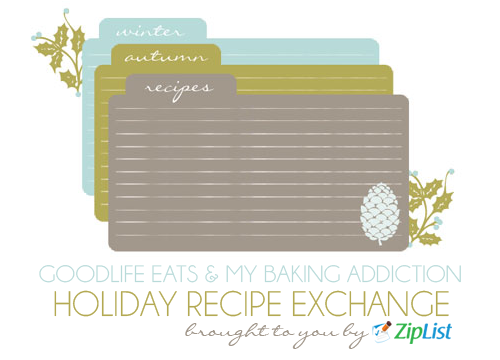 Link Up Your Recipes:
Love any of the recipes featured in today's Holiday Recipe Exchange? If so, be sure to to use the Ziplist Web Recipe Clipper to add your holiday favorites to your online recipe box.
This Week's Prize:
$159.79 Value. Prizes provided by Red Star Yeast.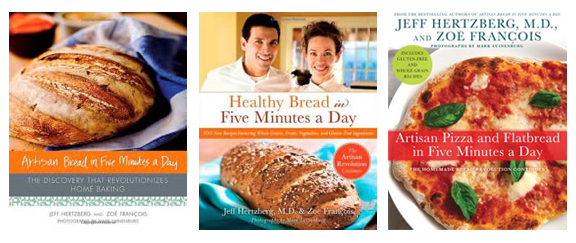 3 hard cover cookbooks:
Red Star Yeast Products: apron, bread pan, cutting board, pizza cutter, dough whisk, oven mitts.
A carton of Red Star Yeast (eighteen 3-strips)
Recipe Theme Schedule: